Fried Egg Burger
Fried Egg Burgers are breakfast burgers with fried egg, bacon and avocado with a beautifully golden yolk "sauce". Serve as a delicious breakfast for dinner recipe.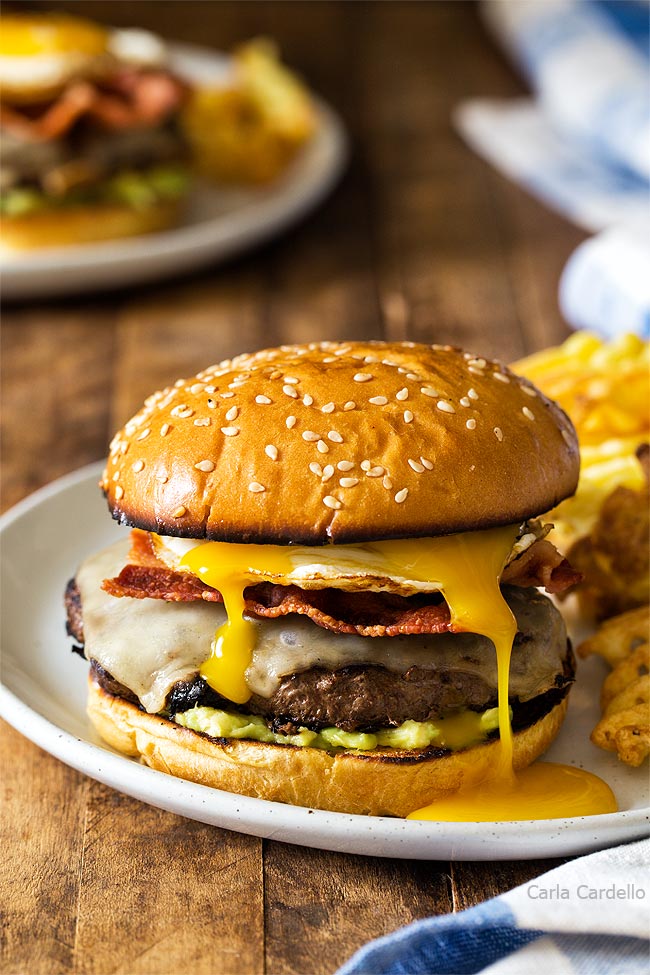 This is a sponsored post written by me on behalf of
BUBBA burger
. All opinions are 100% mine.
I am not a morning person.
Sometimes I wonder how I ever functioned as a kid starting school at 7 AM. Even starting work at 8 AM is a struggle for me, although I can certainly do it when required.
Since I'm self employed, I can start my work a little later in the morning. As long as everything gets done, it's a win win for me.
That usually means I'm never awake enough to cook breakfast in the morning. I do love eggs, bacon, and hashbrowns, but it's just not going to happen most mornings.
Sometimes if I'm super lucky, my past self made Quiche Florentine for dinner the night before, so then I have leftovers for breakfast.
But when I don't? I grab some fruit and coffee to start my day. Then I eat an early lunch because I didn't bother with a big breakfast. Whoops.
That's why I love brinner (breakfast for dinner) because by the time dinner time rolls around, I'm wide awake and ready to cook.
Take this Fried Egg Burger for example. It's a breakfast burger with bacon, fried egg, and avocado between two toasted buttered buns.
The "sauce" is that beautifully golden runny egg yolk.
A friend and I were arguing about whether this is a brunch burger or a breakfast burger. I mean, at the end of the day is there really a difference?
You can also serve my Avocado Burgers and BBQ Bacon Burgers for brinner if you really wanted to.
Whatever you call it, this Fried Egg Burger is an easy breakfast for dinner you can bring to your table thanks to the convenience of BUBBA burgers.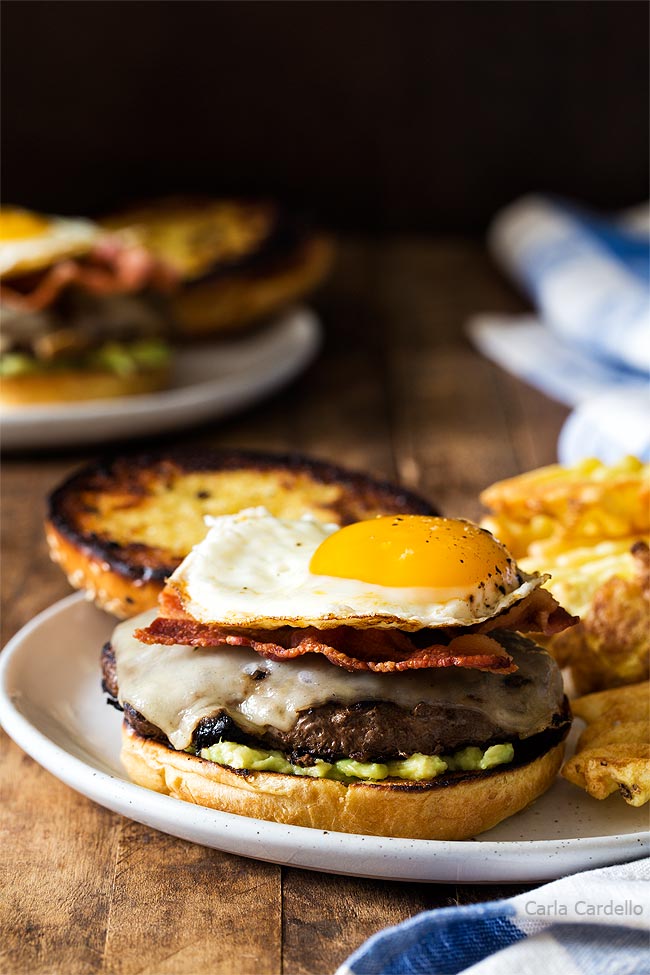 Ingredients For Fried Egg Burgers
To make this recipe for breakfast burgers, you'll need the following ingredients:
Burger: I used BUBBA burgers to make cooking dinner easier because of their high quality and convenience. More on that below.
Cheese: Who doesn't love a burger with cheese? I used Swiss but cheddar would also be a great option!
Avocado: Balances out the heaviness with some freshness.
Bacon: You'll need to precook your bacon before adding it. Whether you make microwave bacon or oven bacon is up to you.
Egg: The star of the burger! The runny yolk acts as the burger sauce, but you can certainly cook your eggs a little longer if you want it more done.
Butter: Needed to toast the buns and fry the eggs.
Buns: Use a sturdy bun such as brioche buns.
To make my delicious burgers with fried egg, I used BUBBA burgers. They're ready-to-cook burgers made from 100% beef chuck with no additives or preservatives.
Normally I make my own burgers like I did with my Pittsburger.
However, there are days I'm so busy with work, sometimes I need a shortcut to save time.
BUBBA burgers help me out in the kitchen because of their convenience; you cook the burgers straight from the freezer. Nothing is worse than realizing you forgot to defrost your meat for dinner.
Add your BUBBA burger to a hot dry skillet then wait. You don't need to fuss with them until juices begin to form on top then you flip and cook until 165F in the middle.
They take roughly 10 minutes to cook, so you can prep your bacon and avocado while you wait.
I used BUBBA Sweet Onion burgers, but they have other varieties you can choose including Turkey, Veggie, and more.
You can also make Pesto Burgers and Teriyaki Turkey Burgers.
Click Here To Learn All About BUBBA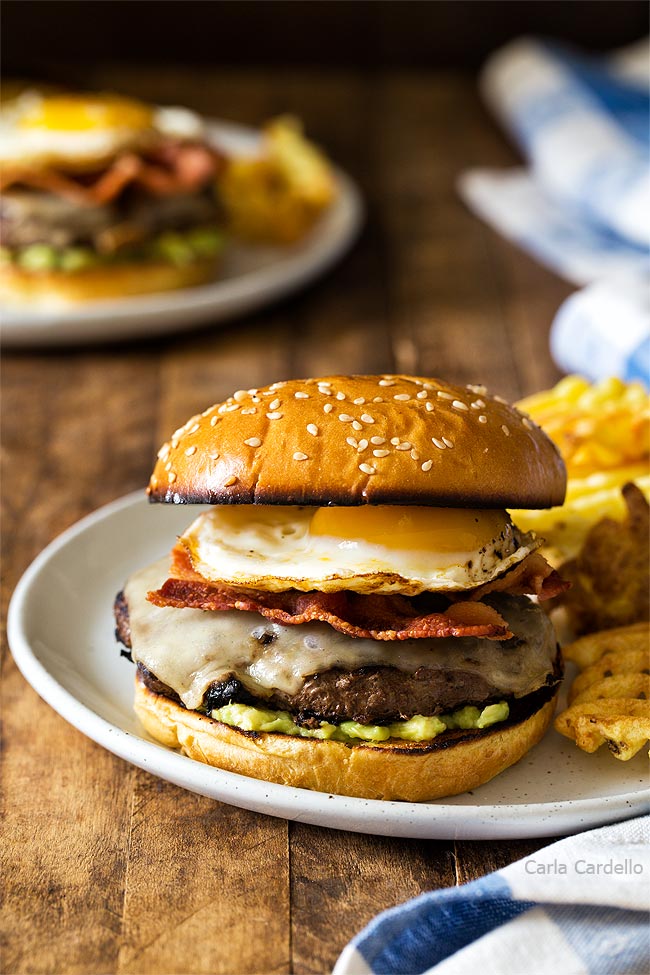 How To Make Fried Egg Burgers
To make a breakfast burger with BUBBA burgers, first heat a large dry skillet. This means you don't need to add any oil to the pan.
You may want to have a splatter screen ready as the grease will sputter. Trust me – your stove top will thank you.
Once your skillet is hot, add your frozen BUBBA burgers in a single layer, making sure there's enough room in between. Cook according to the package directions.
While the burgers are cooking, prep your avocado and bacon.
After your burgers are ready, add your cheese. Cook until the cheese melts then transfer to a plate lined with paper towels.
Next, scrape out your skillet and then add your butter. Once melted, add your buns and cook until toasted. Transfer to a plate.
Finally, add more butter to the skillet. Once melted, turn the heat down then add your eggs. Fry until the whites are completely set but the yolks still wiggle a little, roughly 3-4 minutes.
After everything is ready, assemble your burgers and dig in!
What To Serve With Fried Egg Burgers

Serve your breakfast burgers with one of these side dishes: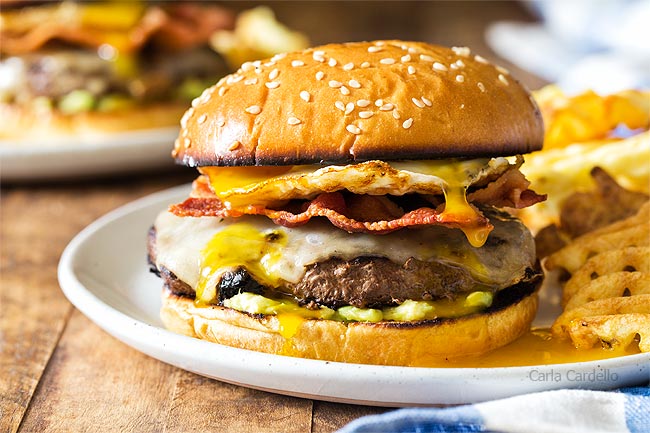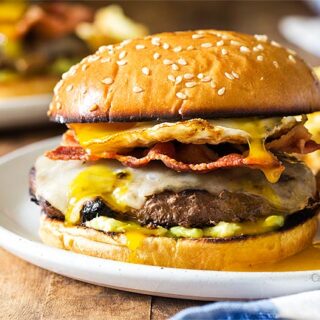 Fried Egg Burger
Yield: 2 burgers
Prep Time: 15 minutes
Cook Time: 25 minutes
Total Time: 40 minutes
Fried Egg Burgers are breakfast burgers with fried egg, bacon and avocado with a beautifully golden yolk "sauce". Serve as a delicious breakfast for dinner recipe.
Ingredients
2 BUBBA Sweet Onion beef burgers, frozen
2 slices Swiss or cheddar cheese
2 tablespoons smashed avocado
2 strips bacon, cooked and cut into 4 slices
2 tablespoons butter
2 large eggs, room temperature
Salt and pepper, for seasoning
2 hamburger buns
Instructions
In a large 12 inch skillet, cook your BUBBA burgers according to package directions. During the last minute of cooking, add your cheese on top then cook until melted. Transfer to a paper towel-lined plate.
If necessary, scrape your skillet clean then add 1 tablespoon butter. Once melted, add all 4 bun halves, sliced side down. Cook for about 1-2 minutes or until golden brown. Remove from the skillet.
Add the remaining 1 tablespoon butter. Once melted, turn the heat down to low. Crack each egg, add to the skillet, and season with salt and pepper.. Cook until the whites are set but the yolks still wiggle a little, about 3-4 minutes. Immediately remove from the heat so the yolks don't overcook.
Once ready to assemble, add 1 tablespoon avocado to the bottom of one bun. Add 1 burger, 2 slices bacon, and 1 egg. Gently add the top bun, being careful to not break the yolk yet. Repeat with the remaining ingredients.
When ready to serve, smash the top bun down to break the yolk then eat immediately.
Recommended Products
As an Amazon Associate and member of other affiliate programs, I earn from qualifying purchases.
This post may contain affiliate links. As an Amazon Associate and member of other affiliate programs, I earn from qualifying purchase.