Amish Macaroni Salad
No picnic is complete without this sweet and creamy Amish Macaroni Salad! This Pennsylvanian Dutch recipe is better than Walmart's Amish Macaroni Salad with a tangy dressing made of mayonnaise, mustard, vinegar, and smoked paprika.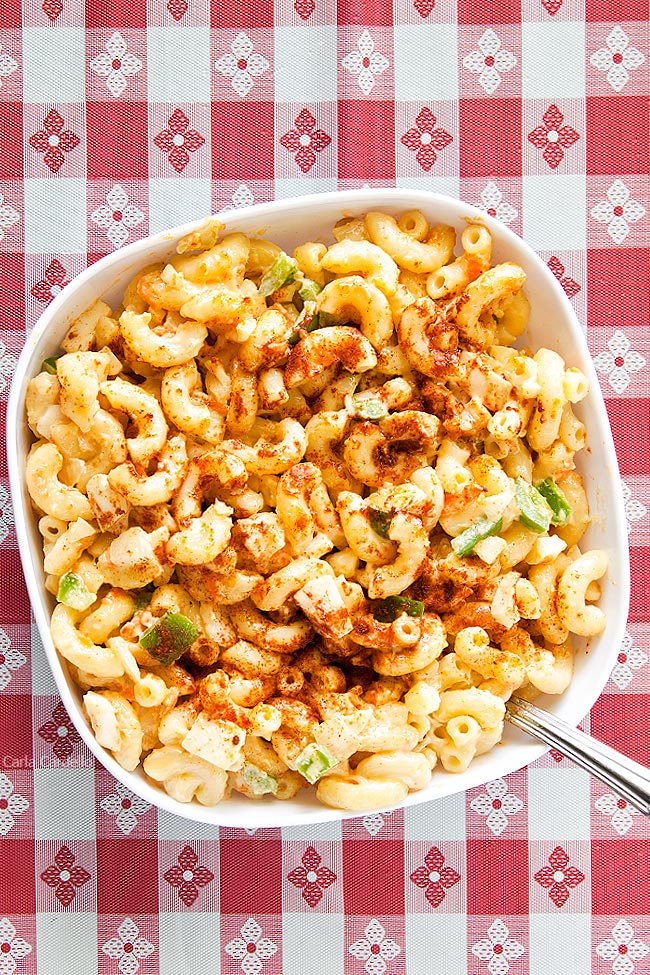 When I was in Ireland back in 2007, I learned the first thing people think of when I tell them I'm from Pennsylvania is the Amish.
Even when I was at Kate Voegele's concert, her opening act was amazed she saw Amish people.
Pittsburgh's side of the state isn't really Amish country; it's more towards the Lancaster area.
However, I have seen Pennsylvania Dutch near where I went to college and at the zoo on the carousel.
If there is one thing I'm glad they invented, it's their food, including their Amish Potato Salad and Amish Macaroni Salad.
Amish macaroni salad? What is that, you ask.
I have grown up eating this from the Walmart deli. Yes, I said Walmart deli. I have no clue if it's only PA Walmarts or if all Walmarts sell it, but their macaroni salad is based off of an Amish recipe.
Now I make my own Amish macaroni salad recipe, which is really easy to do. Cook the pasta, whisk together the dressing, toss, and done.
And since typically macaroni salad makes tons of serving, I made small batch pasta salad, which makes about 4 servings or so.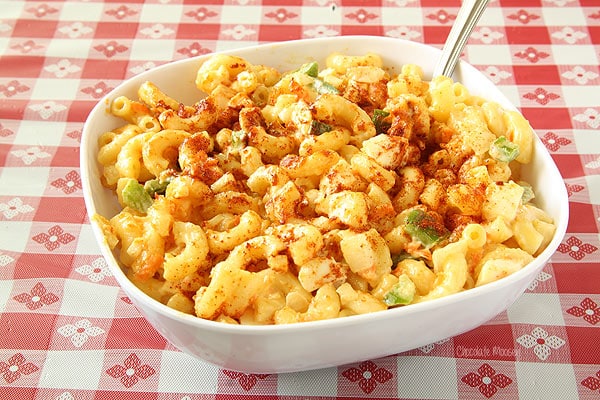 What is Amish Macaroni Salad?
The difference between Amish macaroni salad and regular macaroni salad is in the dressing.
Both versions use cooked pasta, hard boiled eggs, and a creamy mayonnaise dressing.
However, Amish macaroni salad has a sweet and tangy dressing thanks to the yellow mustard and vinegar added to it.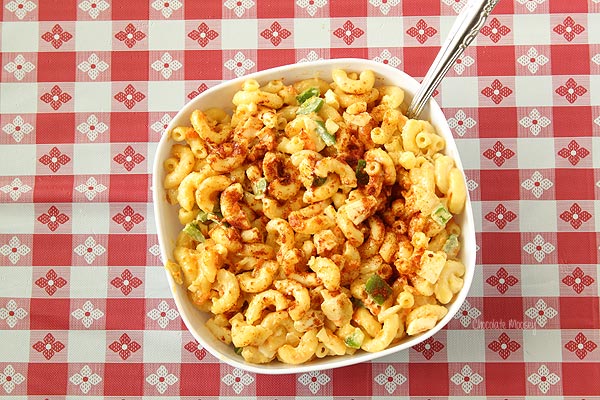 Ingredients For Amish Macaroni Salad
The ingredients for this Amish Macaroni Salad recipe are:
Elbow macaroni: Macaroni is most often used because its shape holds the dressing perfectly. You can also use farfalle (bow tie pasta).
Mayonnaise: Use real mayo for best results but if you prefer to use Miracle Whip, read below on how to adjust for that.
Sugar: Some people think the sweetness is the correct amount while others said to cut back next time. It really comes down to how sweet your mayo (or Miracle Whip) is.
Yellow mustard: What makes Amish macaroni salad special is its use of acidic yellow mustard, which helps cut through the fat.
Vinegar: Helps balance the richness of the pasta salad
Paprika: Adds a bit of a smoky kick plus some color
Hard boiled eggs: Adds some protein. Learn how to make hard boiled eggs
Carrot: Adds both color and crunch
Bell pepper: Traditionally most macaroni salads use celery. I personally don't like celery, so I opted for bell pepper instead.
Onion: Adds a bit of a bite to your macaroni salad to balance out the sweetness
Can I substitute Miracle Whip for mayonnaise?

Miracle Whip is different than mayo because it has less vegetable oil and isn't qualified to be called mayonnaise (hence it's called salad dressing).

This recipe has been developed using real mayo which has a different (better) taste. It's also not as sweet, which affects the amount of sugar used.

You can certainly substitute Miracle Whip, but you will need to taste and adjust the dressing accordingly, likely less sugar.
How To Make Amish Macaroni Salad
Making the best Amish Macaroni Salad is easy! First, start boiling your water for the pasta.
I personally don't salt the water until after it boils and before adding the pasta. That's because if you salt it first then get distracted, the water will reduce and become too salty.
While you wait for the water, to boil, whisk together the dressing and prep the vegetables. By the time the pasta is finished, everything is ready to assemble.
This is also the perfect recipe to use up those hard boiled eggs you may have leftover from your Easter dinner for two.
Make sure you leave enough time to chill! Refrigerate it for at least 24 hours to allow the flavors to develop. However, if you're in a hurry to serve, chill for at least 1 hour minimum.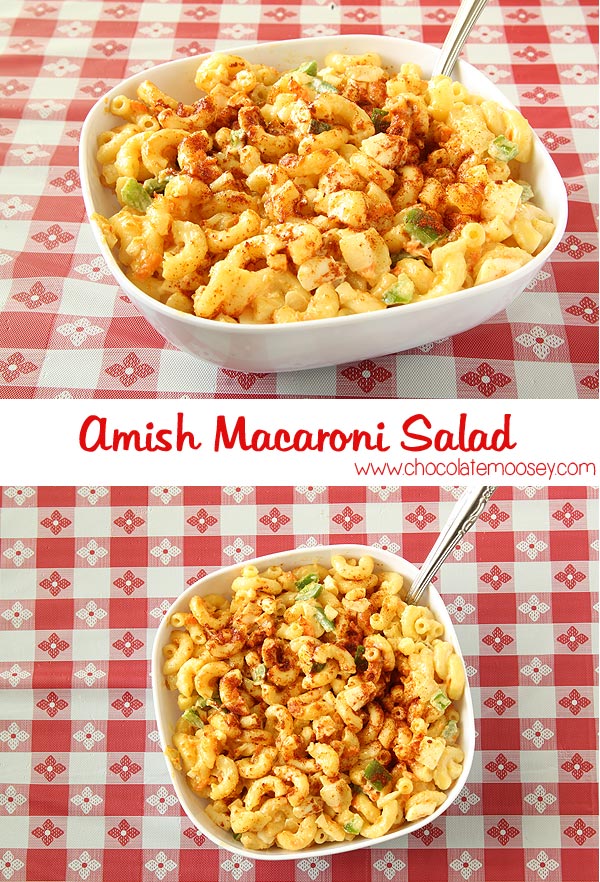 How To Keep Pasta Salad From Sticking
Typically when you drain pasta, you don't rinse it because you're serving it hot. Cold water would bring the temperature down, and you certainly don't want to eat cold noodles for dinner.
However, you definitely want to rinse it under cold water when making pasta salad because you're intentionally serving it cold.
Not only does this stop the cooking process, it helps keep the pasta from sticking together because it washes the starches away. When left unrinsed, the starch causes the pasta to clump together.
How do I keep Amish macaroni salad from drying out?
Ever make pasta salad, only to have it absorb all of the mayonnaise and leave you with dry pasta salad?
You want to make sure the pasta is completely dry after draining and rinsing it. If there's water left on the noodles, the dressing won't coat it and instead get diluted and absorbed.
If you want to ensure a foolproof creamy macaroni salad, you can use the same method I do for my Caesar Pasta Salad.
Toss the pasta with half of the dressing then chill as directed. Right before serving, stir in the remaining half of the dressing.
Although it's not a necessary step, it guarantees at least half of the dressing won't be absorbed.
Storing your Amish macaroni salad in an airtight container also helps keep it from drying out in the fridge.
What Can I Serve With Macaroni Salad?

Getting ready to plan a cook out or a picnic? Here are more recipes you can serve with macaroni salad: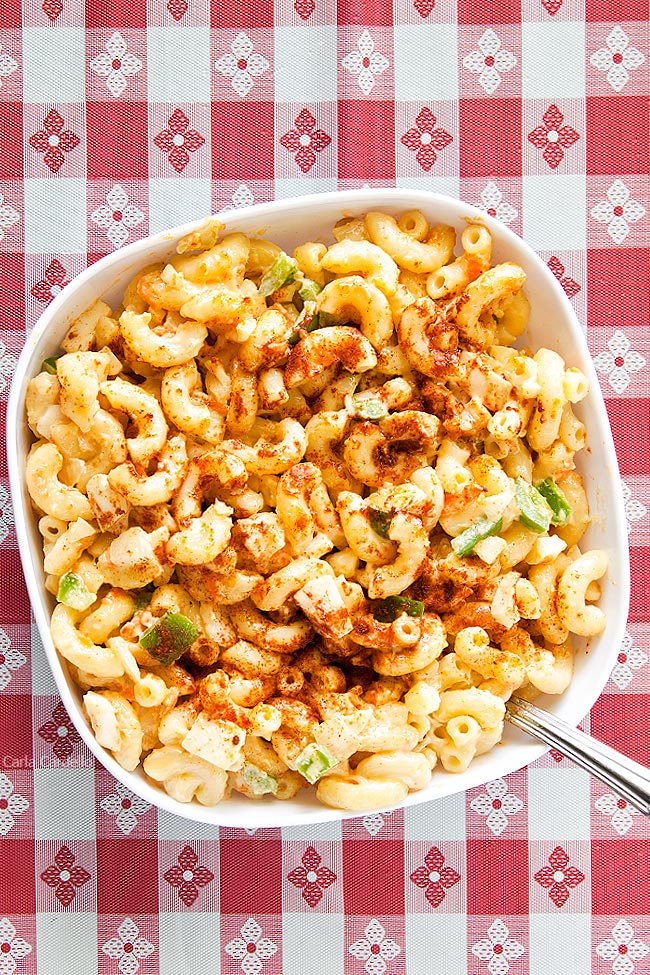 Amish Macaroni Salad
Yield: 4 servings
Prep Time: 20 minutes
Cook Time: 10 minutes
Chill Time: 1 hour
Total Time: 1 hour 30 minutes
No picnic is complete without this sweet and creamy Amish Macaroni Salad! This Pennsylvanian Dutch recipe is better than Walmart's Amish Macaroni Salad with a tangy dressing made of mayonnaise, mustard, vinegar, and smoked paprika.
Ingredients
1/2 pound (8 ounces) uncooked elbow macaroni
1 cup mayonnaise* (see Note about using Miracle Whip)
2 tablespoons granulated sugar
2 tablespoons yellow mustard
2 tablespoons white distilled vinegar
1 teaspoon smoked paprika
2 hard boiled eggs, chopped
1 large carrot, peeled and grated
1/4 cup chopped green bell pepper or celery
1/4 cup chopped onion
Instructions
Bring a large pot of water to a boil. Once boiling, add a big handful of salt then add macaroni. Cook as directed on the package until al dente, about 10 minutes. Drain into a colander and rinse with cold water. Let dry completely.
Meanwhile, in a medium bowl, whisk together the mayonnaise, sugar, mustard, vinegar, and paprika.
Add the cooked macaroni to a large bowl. Stir in the eggs, carrots, green pepper, onion, and dressing. Dust with additional paprika on top, if desired.
Cover and refrigerate at least 1 hour or until cold (24 hours is preferred to allow the flavors to develop).
Notes
This recipe has been developed with mayonnaise, which has a different taste than Miracle Whip. If you do substitute Miracle Whip, you may need to adjust the other ingredients accordingly.
Enjoyed this recipe? Check out my Amish Potato Salad and Caesar Pasta Salad.
Originally published July 11, 2009
This post may contain affiliate links. As an Amazon Associate and member of other affiliate programs, I earn from qualifying purchase.