These easy Steak Fajitas for two are juicy and tender beef fajitas with onions and bell peppers served in corn tortillas with sour cream, guacamole, and cilantro. Serve for cinco de mayo or as an easy gluten free Mexican dinner.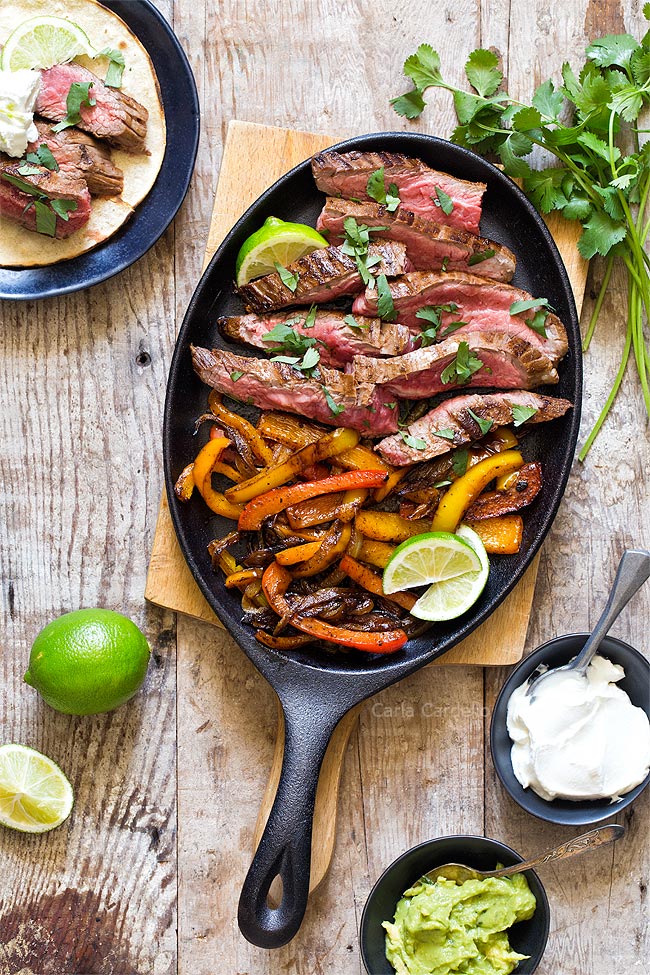 One thing I hate doing on a weekly basis but can't stop doing is my weekly menu planning.
I've never been one to hate grocery shopping, but I do hate writing my grocery list because I never know what I want to make for dinner one week from today.
When I'm struggling with dinner planning, I have a few go-to recipes. Ones where I'm always in the mood to eat no matter what my week looks like.
One of those recipes is Steak Fajitas, whether I serve them in corn tortillas or as a salad.
I've been making some form of fajitas for dinner since college, whether it's chicken fajita salad, chicken fajita pasta, fajita shrimp tacos, or these steak fajitas.
I can't believe I haven't shared this steak fajita recipe with you until now! It's not something I thought about blogging until I realized I never posted it.
Buying beef used to intimidate me (so many cuts!), but once you understand what you're looking for (hint: I'll tell you exactly which cuts to buy), making steak fajitas with onions and peppers for dinner is easy.
Whether you make them for cinco de mayo or add them to your weekly menu planning, easy Steak Fajitas are a delicious way to enjoy Mexican food at home.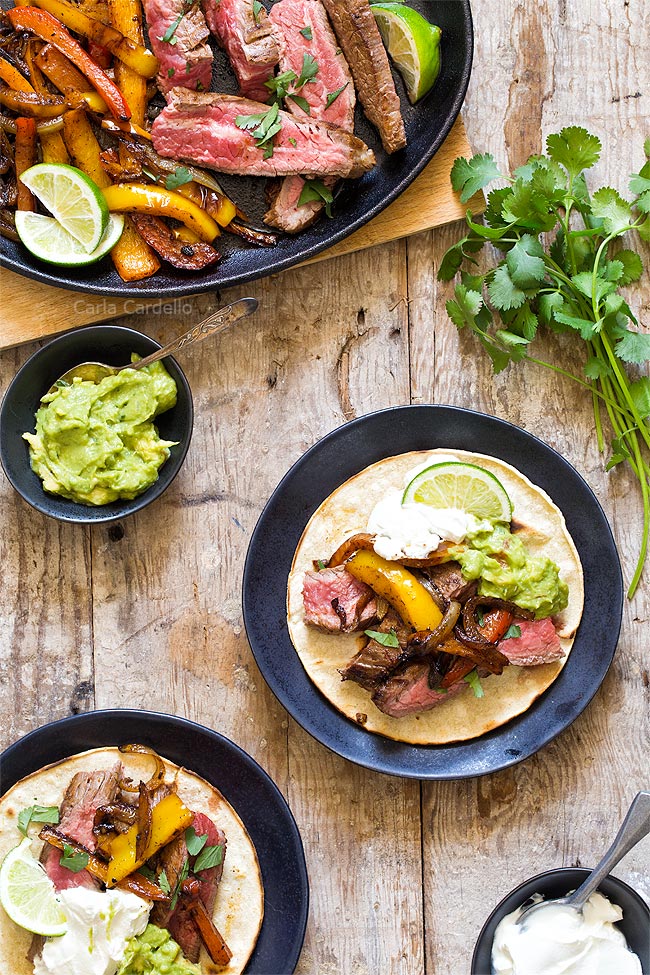 What are fajitas?
Fajitas (pronounced fah-hee-tahs) are a Tex-Mex dish of grilled meat (usually beef or chicken) with fajita seasoning, colorful sweet bell peppers, and onions served in a tortilla.
What kind of steak for fajitas?
The most popular question for making steak fajitas is what type of steak to buy.
There are three recommended cuts: skirt steak, flank steak, and hanger steak.
Skirt steak is a thin flap of beef that hangs near the front of the cow's stomach. This is the most classic cut for fajitas.
Flank steak is a cut of beef taken from the abdominal muscles of the cow. It's a great alternative when skirt steak isn't available.
Hanger steak is a cut of beef taken from the upper stomach of the cow. It's harder to find in grocery stores, so you may need to order it directly from your butcher.
I personally think the best steak for fajitas is skirt steak because it's a bit thinner than flank steak. It cooks faster and is easier to eat especially if you have jaw issues from chewing. It's also the most traditional fajita steak.
However, there are times the grocery store didn't have skirt steak and I had to buy flank.
Since you're likely cooking dinner for two with this steak fajita recipe, you're usually forced to buy several pounds at once (unless you can order directly from a butcher).
Luckily, you can portion and freeze the extra meat.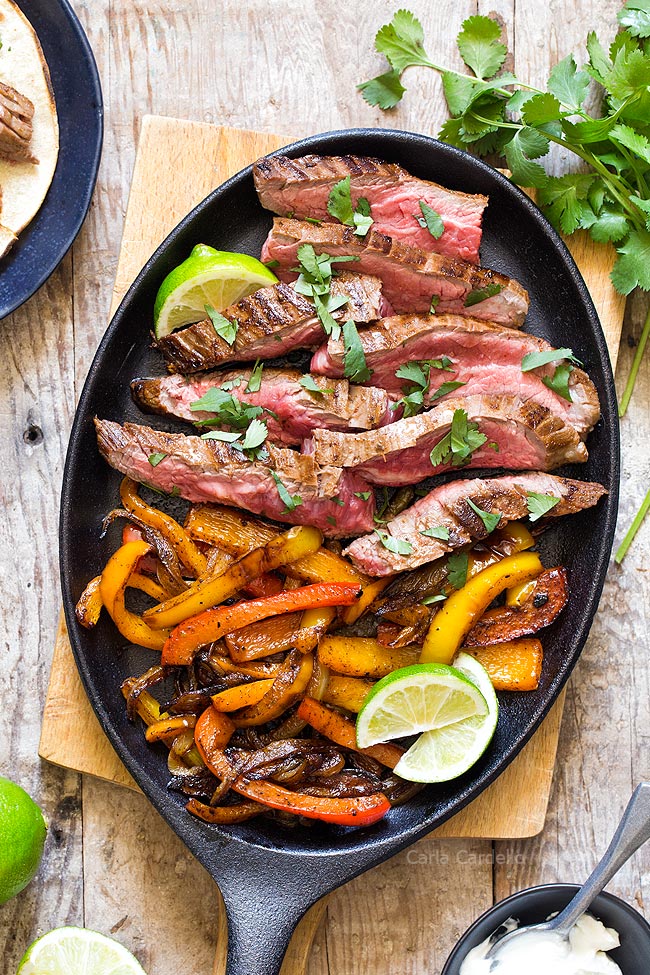 How do you tenderize fajita meat?
Because fajita steak contains connective tissue, it can be rather chewy. One way to reduce chewiness is to make a steak fajita marinade.
Steak fajita marinade contains both oil and an acid.
The oil is an emulsifier, which makes it thick and stick more efficiently to your steak. It also helps with distributing flavor because the garlic and spices are oil-soluble.
The acid is a tenderizer, which helps break down the connective tissue. It also makes the steak have a pop of flavor and not taste flat.
Lime juice is the ideal choice for acid, but you can also use orange juice if your pantry ingredients are limited.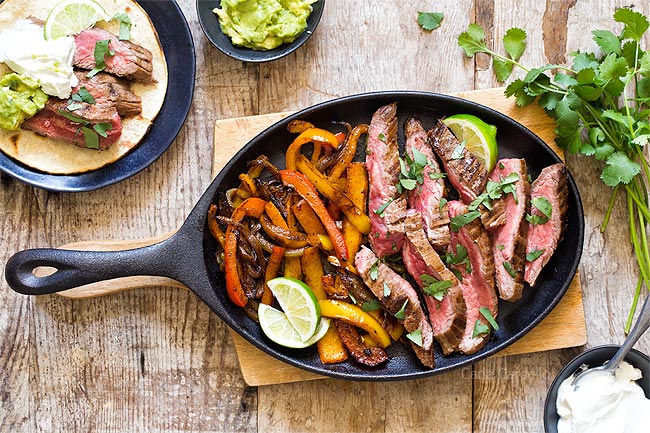 How long do you marinate flank steak fajitas?
The recommended marinating time for this steak fajita recipe is 2-8 hours.
Less than 2 hours and the flavors haven't developed into the meat yet. Longer than 8 hours and the meat starts to break down into mush.
Unfortunately this means you cannot marinate overnight. However, you can prepare the marinade itself ahead of time. Refrigerate it overnight then in the morning add it to your meat.
That way you're not trying to squeeze limes before you had your morning coffee.
Do you have to marinate fajitas before cooking?
Because fajita meat can be chewy, it's often recommended to marinate first.
However, there are instances I don't have time (or completely forgot) to marinate the meat. In these cases, I've rubbed skirt steak directly with fajita seasoning and cooked as normal.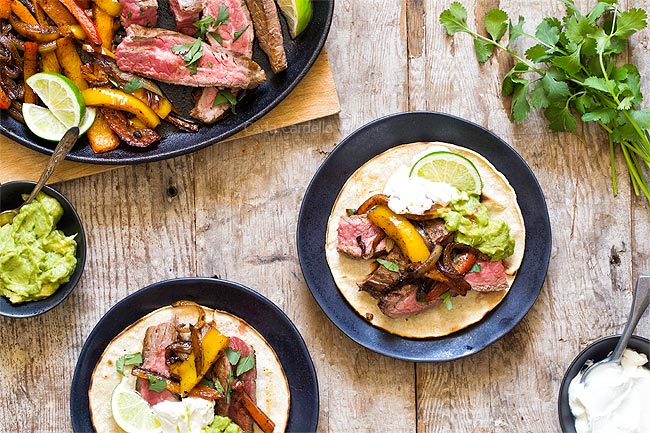 How To Make Steak Fajitas
To make the best steak fajitas, first you need to marinate your beef.
Whisk together the oil, lime juice, fajita seasoning, garlic, and salt. Reserve 2 tablespoons to coat the vegetables later.
Add your steak to a freezer bag then pour in the remaining marinade. Massage the meat until completely coated. Refrigerate for 2-8 hours.
While the steak is marinating, prep your vegetables by slicing the onion and bell pepper.
You can choose red, orange, or yellow bell pepper. Green isn't as sweet so I don't like it as much. You only need one bell pepper, so pick one color or use a little of all three.
Once the steak is ready to cook, remove it from the marinade and pat completely dry. Discard the used marinade.
Heat 1 tablespoon oil in a large 12 inch skillet. Once hot, add the steak. Let it sear until brown and charred then flip and cook until desired doneness.
It's important the oil is hot to ensure tender meat. You will hear it sizzle. If not, remove the meat and keep heating.
Once the steak is done, transfer it to a plate and tent with some foil. This will keep the meat warm while it rests. Let it rest for 10 minutes so you don't lose the juices when slicing.
While the meat is resting, toss your onion and bell pepper with the reserved marinade then add to the hot skillet. There should be enough oil leftover from the meat, but if not add a little more.
Cook until softened and browned, about 8-10 minutes. At this point your meat should be done resting. Add any juices left on the plate to your veggies.
Slice your meat thinly against the grain. The grain refers to the lines you see in the meat. Cutting against the grain means cutting perpendicular to the grain.
If you cut in the same direction as the grain, your meat will be tougher to chew.
Serve your steak fajitas for two on top of warmed tortillas with sour cream, guacamole, fresh garden salsa, and cilantro.
How long do you cook steak?
The amount of time to cook your steak depends on thickness and whether you want it medium rare (115-120F) or medium (125-130F).
Anything less than medium rare and the steak fajitas are too chewy, no matter how long you marinated it.
Skirt steak fajitas take about 6-8 minutes where as flank steak fajitas are a bit thicker and will take a few minutes longer.
What To Serve With Steak Fajitas

Now that you're ready to eat your steak fajitas for two, what do you serve with them? Try these recipes: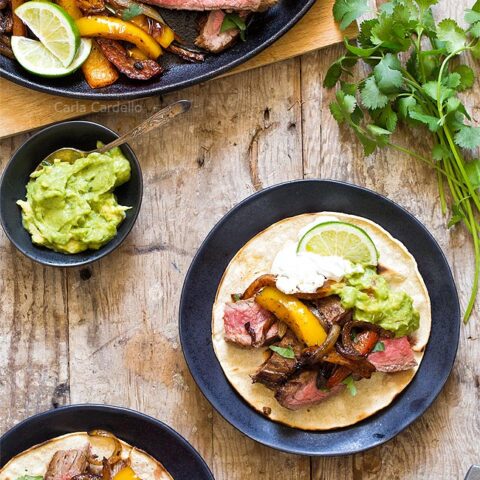 Steak Fajitas For Two
Total Time:
2 hours
50 minutes
Easy Steak Fajitas for two are juicy tender beef fajitas with onions and bell peppers served in corn tortillas with sour cream and guacamole.