BBQ Bacon Burgers
This BBQ Bacon Burger is a BBQ burger recipe with bacon, cheddar cheese, and crispy onion rings smothered in a honey BBQ sauce. It's sweet, tangy, and delicious!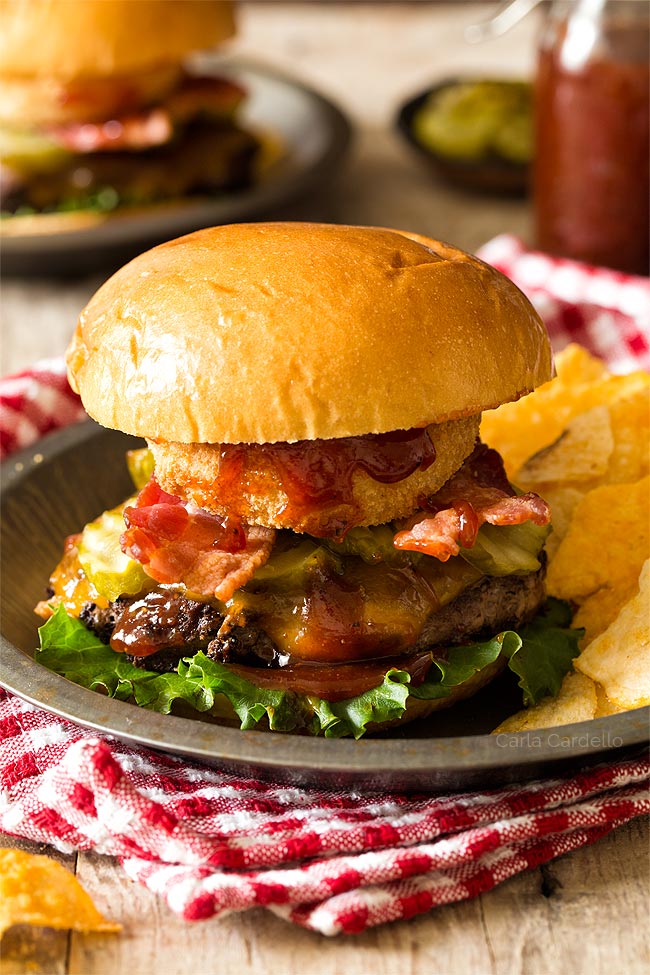 This is a sponsored post written by me on behalf of BUBBA burger. All opinions are 100% mine. Thank you for supporting me and the companies I work with as sponsored posts help pay for website hosting and groceries.
Memorial Day is coming up, so you know what that means?
Freshly grilled burgers to kick off summer! I can already smell the charcoal heating up.
Of course I live in an apartment, so technically I can't grill. But we can pretend with these BBQ Bacon Burgers with crispy onion rings for dinner.
They're BBQ bacon cheeseburgers smothered with a honey BBQ sauce then stacked with onion rings on top. It's like my bacon cheeseburger dip but in sandwich form.
It's what you would call a gourmet burger with all the fancy toppings, much like my Avocado Burger, Fried Egg Burger, Pesto Burger, and Teriyaki Turkey Burgers.
I first had a gourmet BBQ burger at a local restaurant. My family and I went to Linesville Spillway in Pymatuning to feed the fish (roughly 90 minutes north of Pittsburgh) then stopped on the way home for dinner.
Any time I have a choice to order onion rings instead of fries, I'm there. And since they were putting onion rings ON my burger, I knew it was going to be spectacular.
On the plate I served my bacon BBQ burgers with barbecue chips because every burger needs a side.
It's an easy summer dinner you can bring to your table thanks to the convenience of BUBBA burgers.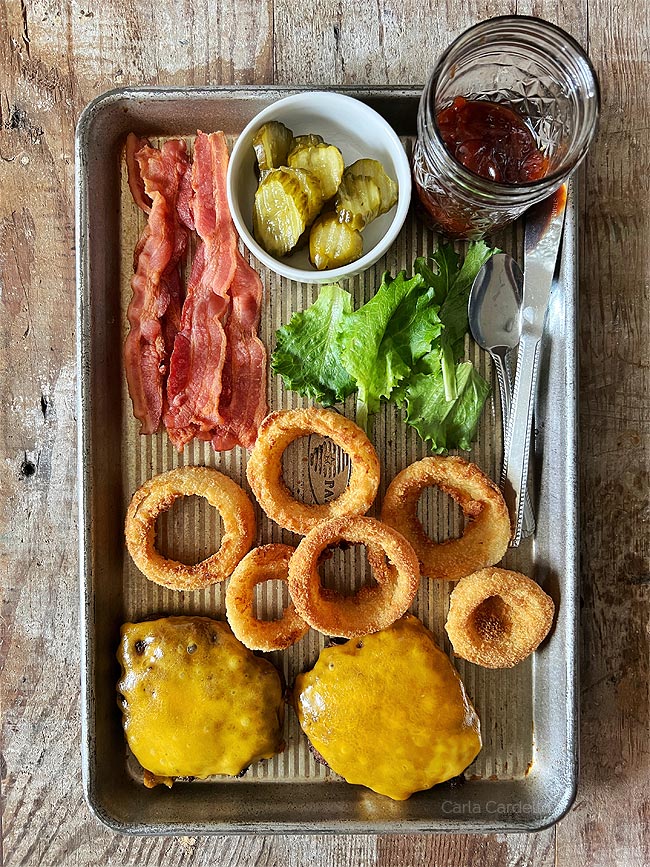 Ingredients For BBQ Bacon Burgers
To make your BBQ burgers, you'll need the following ingredients:
Burger: I used BUBBA burgers to make cooking dinner easier because of their high quality and convenience. More on that below.
BBQ sauce: These BBQ burgers are smothered in my homemade honey BBQ sauce, but you can also use your favorite bottled sauce.
Lettuce: As delicious as these burgers are, you'll want to balance out the heaviness with some freshness.
Bacon: You'll need to precook your bacon before adding it. Whether you make microwave bacon or oven bacon is up to you.
Cheese: Cheddar cheese is most traditional for BBQ bacon cheeseburgers, but you can add a bit of spice by using pepper jack.
Pickles: Their acidity balances the fat from the beef and bacon. Plus they're my favorite snack, so I'll add them to anything I can.
Onion rings: To make dinner easier, I bought frozen onion rings and cooked them in my air fryer while the burgers were cooking. If you're feeling ambitious, you can make homemade baked onion rings.
Buns: I used brioche buns since they're a bit sturdier than the cheaper sandwich buns. This is helpful since you're topping your burger with onion rings.
To make my delicious BBQ Bacon Burgers, I used BUBBA burgers. They're ready-to-cook burgers made from 100% beef chuck with no additives or preservatives.
Normally I make my own burgers like I did with my Pittsburger.
However, when I have a long day of working and been on my feet all day after shooting my Mini Banana Bread, sometimes I need a shortcut so I can sit down sooner.
BUBBA burgers help me out in the kitchen because of their convenience; you cook the burgers straight from the freezer. Nothing is worse than realizing you forgot to defrost your meat for dinner.
Add your BUBBA burger to a hot dry skillet then wait. You don't need to fuss with them until juices begin to form on top then you flip and cook until 165F in the middle.
They take roughly 10 minutes to cook, so you can cook your onion rings and bacon while you wait.
I used BUBBA Angus beef burgers, but they have other varieties you can choose including Original Beef, Veggie, Turkey, and more.
Click Here To Learn All About BUBBA
How To Make BBQ Bacon Burgers
To make a BBQ Burger with BUBBA burgers, first heat a large dry skillet. This means you don't need to add any oil to the pan.
You may want to have a splatter screen ready as the grease will sputter. Trust me – your stove top will thank you.
Once your skillet is hot, add your frozen BUBBA burgers in a single layer, making sure there's enough room in between. Cook according to the package directions.
While your burgers are cooking, start cooking your onion rings. That way they are still crispy by the time you're ready to assemble.
Once your burgers are ready, add your cheese. Cook until the cheese melts then transfer to a plate lined with paper towels.
Pour the grease leftover in the pan into a disposable container to throw away. Or let it cool in the pan until solid then throw away.
Do not pour grease down the drain because it'll harden when cool. Otherwise you will be calling a plumber.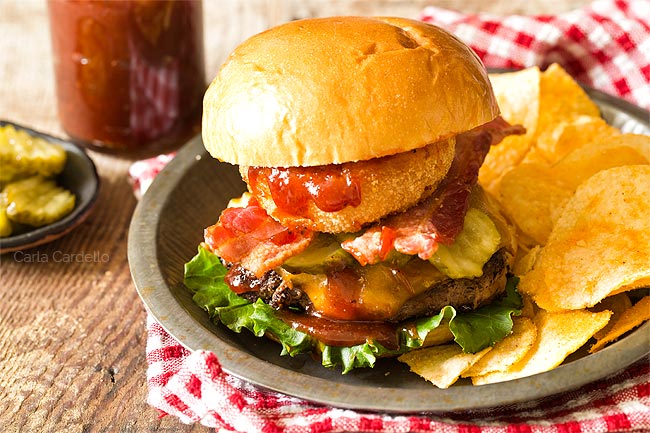 What To Serve With BBQ Burgers

Every burger needs a side! Here's what you can serve with your BBQ bacon burgers: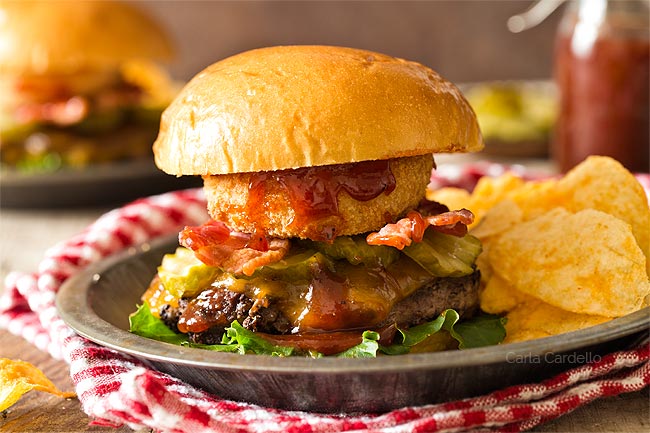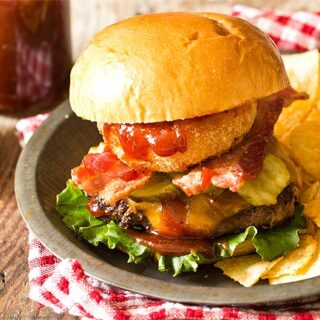 BBQ Bacon Burgers
Yield: 2 servings
Prep Time: 15 minutes
Cook Time: 15 minutes
Total Time: 30 minutes
This BBQ Bacon Burger is a BBQ burger recipe with bacon, cheddar cheese, and crispy onion rings smothered in a honey BBQ sauce. It's sweet, tangy, and delicious!
Ingredients
2 BUBBA Angus beef burgers, frozen
2 slices cheddar cheese
2 large lettuce leaves
8 pickle slices
4 strips bacon, cooked
2 frozen onion rings
2 tablespoons honey BBQ sauce (homemade or store bought)
2 hamburger buns
Instructions
Cook your BUBBA burgers according to package directions. During the last minute of cooking, add your cheese on top then cook until melted.
Meanwhile, cook your onion rings according to package directions.
Once your burgers are cooked, add 1 lettuce leaf to the bottom of one bun. Add 1 burger then 4 pickle slices, 2 strips bacon, and 1 onion ring. Spread 1 tablespoon sauce on the bottom of the top bun then top the burger to complete.
Repeat with the remaining ingredients.
This post may contain affiliate links. As an Amazon Associate and member of other affiliate programs, I earn from qualifying purchase.