BBQ Bacon Burgers
BBQ Bacon Burgers are a BBQ burger recipe with smoky bacon, gooey cheddar cheese, and crispy onion rings smothered in a honey BBQ sauce. It's sweet, tangy, and delicious!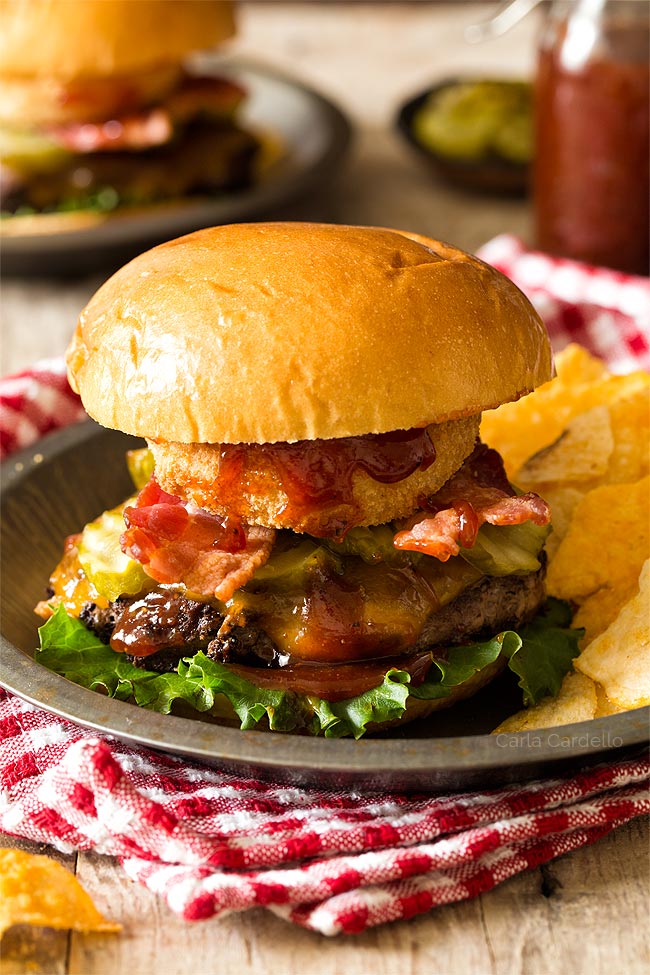 Memorial Day is coming up, so you know what that means?
Freshly grilled burgers to kick off summer! I can already smell the charcoal heating up.
Of course I live in an apartment, so technically I can't grill. But we can pretend with these BBQ Bacon Burgers with crispy onion rings for dinner.
They're bacon cheeseburgers smothered with a honey BBQ sauce then stacked with onion rings on top. It's like my bacon cheeseburger dip but in sandwich form.
Not only do these barbeque bacon burgers have bacon strips on top, there's also plenty of bacon in the patty itself!
It's what you would call a gourmet burger with all the fancy toppings, much like my Pittsburger, Avocado Burger, Fried Egg Burger, Pesto Burger, and Teriyaki Turkey Burgers.
I first had a gourmet BBQ burger at a local restaurant. My family and I went to Linesville Spillway in Pymatuning to feed the fish (roughly 90 minutes north of Pittsburgh) then stopped on the way home for dinner.
Any time I have a choice to order onion rings instead of fries, I'm there. And since they were putting onion rings ON my burger, I knew it was going to be spectacular.
On the plate I served my bacon BBQ burgers with barbecue chips because every burger needs a side.
They're an burger dinner you can bring to your table to kick off the unofficial start to summer.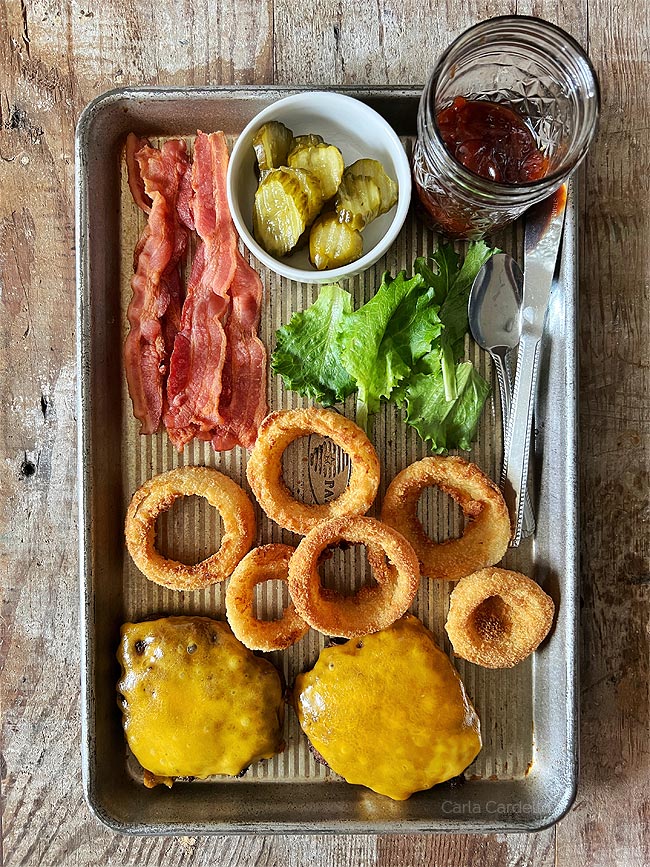 Ingredients For BBQ Bacon Burgers
To make your barbeque bacon burgers, you'll need the following ingredients:
Ground beef: Choose a good fat-to-lean ratio for a juicy, flavorful burger. I personally recommend 80/20. You can even take it one step further and grind your own, but pre-ground beef is perfectly acceptable too.
BBQ sauce: You can use either homemade honey BBQ sauce or your favorite bottled sauce.
Lettuce: Balances out the heaviness with some freshness.
Bacon: You'll need to precook your bacon before adding it. Whether you make microwave bacon or oven bacon is up to you.
Cheese: Cheddar cheese is most traditional for bacon cheeseburgers, but you can add a bit of spice by using pepper jack.
Pickles: Their acidity balances the fat from the beef and bacon. Plus they're my favorite snack, so I'll add them to anything I can.
Onion rings: To make dinner easier, I bought frozen onion rings and cooked them in my air fryer while the burgers were cooking. If you're feeling ambitious, you can make homemade baked onion rings.
Buns: I used brioche buns since they're a bit sturdier than the cheaper sandwich buns. This is helpful since you're topping your burger with onion rings.
How To Make BBQ Burgers
Here's how to make BBQ bacon burgers:
Mix together your ground beef, onion, crumbled bacon, and salt. Gently shape into two 1/2 inch thick patties that are slightly bigger than your buns. Don't overwork shaping the patties or your meat will get tough.
Make an indent in the middle with your thumb as this will help prevent shrinkage.
Heat a large skillet with oil. Once hot, add your patties. You may want to have a splatter screen ready as the grease will sputter. Trust me – your stove top will thank you.
Cook for 4 minutes then flip and cook another 4 minutes or until the internal temperature reaches 160F. During the last minute, add your cheese so it'll melt on top.
Prepare your onion rings as the burgers are cooking. That way they're still crispy by the time you're ready to assemble.
Assemble your burgers then enjoy!
If you prefer grilling your meat, check out this guide on how to grill burgers from Flavor the Moments.
You can also add homemade caramelized onions and mushrooms from The Culinary Compass on top.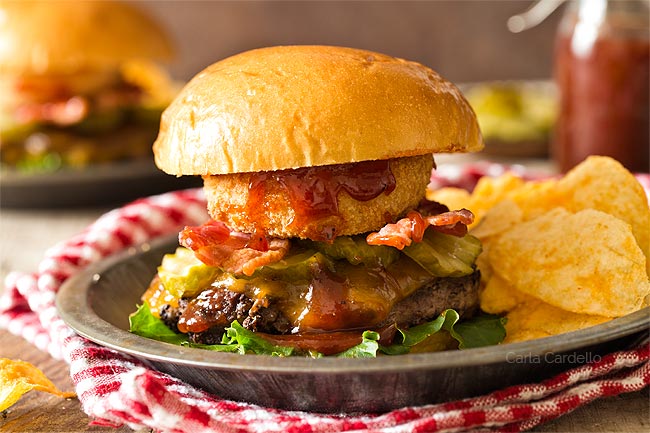 Can I make BBQ Bacon Burgers ahead of time?
Yes, you can make your bacon burgers ahead of time! This allows you to meal prep as well as spend less time in the kitchen if you're having guests over for dinner.
After mixing and shaping the patties, place them on a baking tray lined with parchment paper or plastic wrap. Cover them on top with plastic wrap to minimize exposure to the air.
Refrigerate your homemade burger patties for up to 2 days. Any longer than that and you'll have to transfer them to a freezer-safe bag and freeze them for up to 3 months.
When ready to cook, let your chilled burgers sit at room temperature for about 15 minutes to warm up then cook as directed.
If you cook a cold burger straight from the fridge, the patty won't heat through the middle at the same rate as the outside, so you'll have a cooked outside with a raw middle (or a cooked middle with dry, overcooked outside).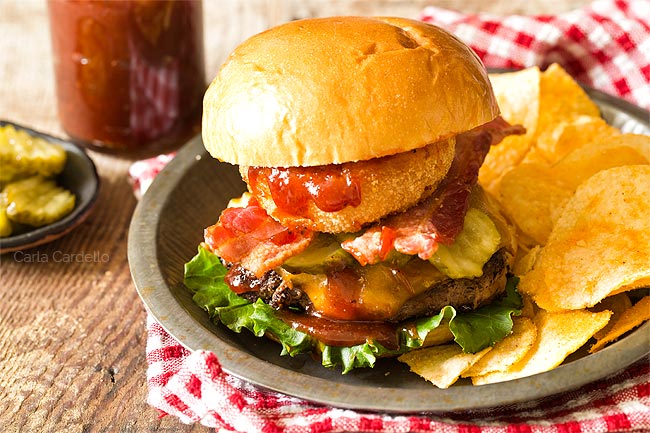 What To Serve With BBQ Bacon Burgers

Every burger needs a side! Here's what you can serve with your bacon cheeseburgers: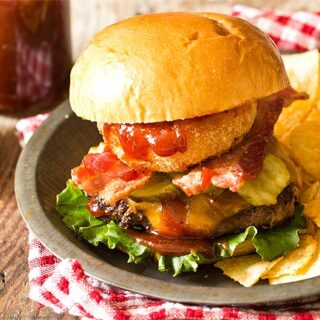 BBQ Bacon Burgers
Yield: 2 servings
Prep Time: 15 minutes
Cook Time: 15 minutes
Total Time: 30 minutes
BBQ Bacon Burgers are a BBQ burger recipe with smoky bacon, gooey cheddar cheese, and crispy onion rings smothered in a honey BBQ sauce. It's sweet, tangy, and delicious!
Ingredients
1/2 pound (8 ounces) ground beef (80/20 blend)
4 strips bacon, cooked
1 tablespoon finely diced white or yellow onion
1/4 teaspoon kosher salt
1 teaspoon vegetable oil
2 slices cheddar cheese
2 large lettuce leaves
8 pickle slices
2 large or 6 small frozen onion rings
2 tablespoons honey BBQ sauce (homemade or store bought)
2 hamburger buns, toasted
Instructions
In large bowl gently mix together beef, onion and salt. Finely dice 2 slices bacon then add.
Shape meat into two patties that are roughly 1/2 inch thick and slightly larger than your buns, making a slight indent in the middle with your thumb. You don't want to overwork your meat or they'll become tough.
In a large skillet, heat oil over medium heat. When hot, add patties. Cook for 4 minutes. Flip then cook another 4 minutes or until they reach an internal temperature of 160F degrees. During the last minute of cooking, add cheese on top to melt.
Meanwhile, cook your onion rings according to package directions.
Once your burgers are cooked, add 1 lettuce leaf to the bottom of one bun. Add 1 burger then 4 pickle slices, 1 strip bacon broken in half, and 1-3 onion rings depending on size. Spread 1 tablespoon sauce on the bottom of the top bun then top the burger to complete.
Repeat with the remaining ingredients.
Recommended Products
As an Amazon Associate and member of other affiliate programs, I earn from qualifying purchases.
First published May 24, 2022
This post may contain affiliate links. As an Amazon Associate and member of other affiliate programs, I earn from qualifying purchase.