Teriyaki Turkey Burgers
Fire up the grill (or stovetop) for these Teriyaki Turkey Burgers with pineapple and pickled red onion! Finish it off with a pineapple teriyaki sauce for a sweet and savory note.
Pineapple is one of my favorite fruits to eat. However, it takes time to prep with all of the cutting so I don't buy it often.
When I do buy it, I always do two things with it – snack on it for breakfast and turn it into my pineapple teriyaki sauce which I use for my grilled pineapple shrimp.
As I was making it again the other day, I knew the sauce would also work really well for turkey burgers I had in the freezer leftover from my pesto burgers.
Thus the Teriyaki Turkey Burger was born.
Since there was leftover fresh pineapple from the sauce, I sliced a few rings to go on top along with pickled red onion and fresh lettuce leaves.
In my mind, this recipe for teriyaki turkey burgers seems perfect to grill.
However living in an apartment building means I can't grill, but fortunately these burgers can easily be made on the stove as well, either in a skillet or on a grill pan.
Whichever cooking method you choose, you can cook up these easy turkey burgers.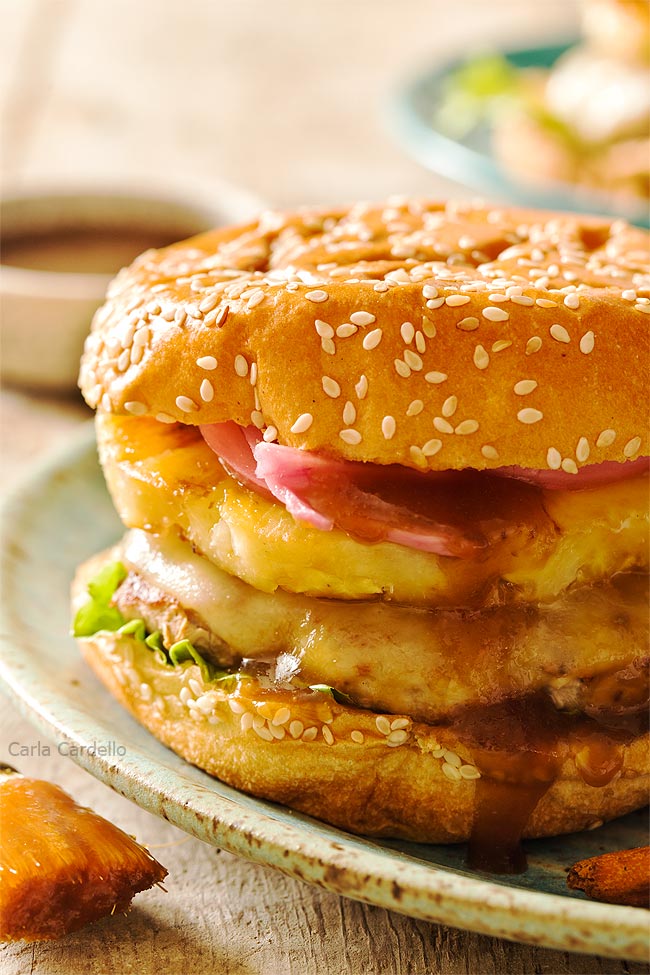 Ingredients For Teriyaki Burgers
To make this recipe for teriyaki burgers, you'll need the following ingredients:
Ground turkey: I used lean light meat since that's pretty common. If you have dark meat available, grab it as it'll taste even better.
Mayo: Since ground turkey is pretty lean, adding mayo helps keep your burgers moist. You can also use sour cream or Greek yogurt for a healthier version.
Worcestershire sauce: Adds more flavor to the meat.
Swiss cheese: Who doesn't love a burger with cheese?
Teriyaki sauce: These turkey burgers are slathered with my homemade pineapple teriyaki sauce, but you can also buy bottled to save time.
Pineapple slices: Pineapple adds a bit of acidity and freshness. Learn how to cut pineapple from Namely Marly.
Pickled red onion: Adds a bit of crunch. Keep a jar of pickled red onion in your fridge to make prep easier.
Lettuce: Balances out the heaviness with some freshness.
Buns: Use a sturdy bun such as brioche buns.
For more burger recipes, check out Avocado Burgers, BBQ Bacon Burgers, and Fried Egg Burgers.
How To Make Teriyaki Burgers
Here's how to make teriyaki turkey burgers:
Mix together your ground turkey, mayo, Worcestershire sauce, salt, and pepper. Gently shape into two 1/2 inch thick patties that are slightly bigger than your buns. Don't overwork shaping the patties or your meat will get tough.
Make an indent in the middle with your thumb as this will help prevent shrinkage.
Heat a large skillet with oil. Once hot, add your patties.
Cook for 6 minutes then flip and cook another 6 minutes or until the internal temperature reaches 160F. Only flip once and do not press down with your spatula.
Cook your pineapple slices after the burgers are done.
Assemble your burgers then enjoy!
What To Serve With Teriyaki Burgers

Serve your teriyaki turkey burgers with one of these side dishes:
Teriyaki Turkey Burgers
Yield: 2 burgers
Prep Time: 20 minutes
Cook Time: 20 minutes
Total Time: 20 minutes
Fire up the grill (or stovetop) for these Teriyaki Turkey Burgers with pineapple and pickled red onion! Finish it off with a pineapple teriyaki sauce for a sweet and savory note.
Ingredients
1/2 pound ground turkey
1 tablespoon mayo, sour cream, or Greek yogurt
1 teaspoon Worcestershire sauce
1/2 teaspoon salt (preferably kosher)
1/4 teaspoon ground black pepper
1 teaspoon vegetable oil
2 slices Swiss cheese
2 pineapple rings
2 tablespoons pineapple teriyaki sauce (homemade or store-bought)
2 large lettuce leaves
1/4 cup pickled red onion (homemade or store-bought)
2 hamburger buns
Instructions
In large bowl gently mix together turkey, mayo, Worcestershire, salt, and pepper. Shape into two patties that are roughly 1/2 inch thick and slightly larger than your buns, making a slight indent in the middle with your thumb. You don't want to overwork your meat or they'll become tough.
In a large skillet, heat oil over medium heat. When hot, add patties. Cook for 6 minutes. Flip then cook another 5-6 minutes or until they reach an internal temperature of 160F degrees. During the last minute of cooking, add your cheese on top then cook until melted. Transfer burgers to a plate lined with paper towels.
Using the same heat source, add your pineapple slices. Cook until browned, about 1-2 minutes, then flip and cook until browned on the second side, another 1-2 minutes.

If using a skillet, you may need to add some oil if the skillet is too dry.
Add 1 lettuce leaf to the bottom of one bun. Add 1 burger then 1 pineapple slice and half of the pickled red onion. Spread 1 tablespoon sauce on the bottom of the top bun then top the burger to complete.
Repeat with the remaining ingredients.
This post may contain affiliate links. As an Amazon Associate and member of other affiliate programs, I earn from qualifying purchase.