Pesto Burgers
These Pesto Burgers are homemade turkey burgers with tomato and mozzarella then slathered with basil pesto. It's refreshing and tastes like summer in every bite! Plus learn the secret to making moist turkey patties.
With 4th of July around the corner, that means one of my favorite summer activities is here – farmer's markets!
My favorite one is every Sunday morning, but if I can't make it then I go to one in downtown Pittsburgh on Thursdays.
But that also means it's super hot outside. Sometimes a little too hot to eat anything heavy like my BBQ Bacon Burgers or Fried Egg Burgers.
And right now, avocados can be a bit pricy to make my Avocado Burger.
You want something light and refreshing. Preferably something you can buy with your farmer's market bounty.
Enter the Pesto Burger. It's similar to a caprese burger with basil, mozzarella, and tomato.
I've used those flavors with my tomato mozzarella flatbread and knew they'd be refreshing for a turkey burger.
Plus they're healthier than a beef burger since turkey has less fat. And I promise they aren't dry and tough like most turkey burgers thanks to one secret ingredient!
On the plate I served my pesto turkey burgers with sweet potato fries.
You can also serve it with fresh veggies or homemade pita chips with pesto dip.
Ingredients For Pesto Burgers
To make this recipe for turkey burgers with pesto, you only need 5 ingredients:
Ground turkey: I used lean light meat since that's pretty common. If you have dark meat available, grab it as it'll taste even better.
Mayo: Since ground turkey is pretty lean, adding mayo helps keep your burgers moist. You can also use sour cream or Greek yogurt for a healthier version.
Worcestershire sauce: Adds more flavor to the meat.
Pesto: These turkey burgers are slathered with my homemade basil pesto, but you can also use jarred pesto.
Tomato: Use tomatoes fresh from the garden or the farmer's market and do not refrigerate them. Refrigeration will cause the tomato cells to break down, resulting in a mushy texture.
Fresh mozzarella: Buy a ball of mozzarella (the fresher, the tastier) then slice the same size as your tomato.
Buns: Use a sturdy bun such as brioche buns.
For a Hawaiian twist on turkey burgers, check out my Teriyaki Turkey Burgers.
What is a good binder for turkey burgers?
Because ground turkey has less fat than ground beef, you need to add a binder so your turkey burgers stay moist and don't fall apart.
Normally you would add an egg but since we're dealing with small batch burgers, 1 whole egg is too much.
Instead of dealing with half an egg, I used mayonnaise instead with some Worcestershire sauce for extra oomph.
You can even use Greek yogurt or sour cream instead of mayo for a healthier option.
How To Make Pesto Burgers
To make your pesto turkey burgers:
Mix together your ground turkey, mayo, Worcestershire sauce, salt, and pepper. Gently shape into two 1/2 inch thick patties that are slightly bigger than your buns. Don't overwork shaping the patties or your meat will get tough.
Make an indent in the middle with your thumb as this will help prevent shrinkage.
Heat a large skillet with oil. Once hot, add your patties.
Cook for 6 minutes then flip and cook another 6 minutes or until the internal temperature reaches 160F. Only flip once and do not press down with your spatula.
Make your pesto as the burgers are cooking.
Assemble your burgers then enjoy!
What To Serve With Pesto Burgers

Serve your pesto turkey burgers with one of these side dishes: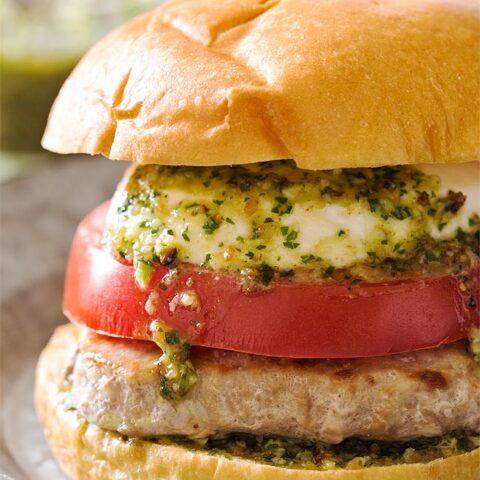 Pesto Burgers
Yield: 2 burgers
Prep Time: 15 minutes
Cook Time: 15 minutes
Total Time: 30 minutes
These Pesto Burgers are a turkey burger recipe with tomato and mozzarella then slathered with basil pesto. It's refreshing and tastes like summer in every bite!
Ingredients
1/2 pound ground turkey
1 tablespoon mayo, sour cream, or Greek yogurt
1 teaspoon Worcestershire sauce
1/2 teaspoon salt (preferably kosher)
1/4 teaspoon ground black pepper
1 teaspoon vegetable oil
2 tablespoons basil pesto (homemade or store-bought)
2 slices tomato
2 slices fresh mozzarella
2 hamburger buns
Instructions
In large bowl gently mix together turkey, mayo, Worcestershire, salt, and pepper. Shape into two patties that are roughly 1/2 inch thick and slightly larger than your buns, making a slight indent in the middle with your thumb. You don't want to overwork your meat or they'll become tough.
In a large skillet, heat oil over medium heat. When hot, add patties. Cook for 6 minutes. Flip then cook another 5-6 minutes or until they reach an internal temperature of 160F degrees.
To assemble: Add some of the pesto to the bottom of one bun. Add 1 burger then 1 slice tomato and 1 slice mozzarella. Add half the pesto then finish with the top bun.
Repeat with the remaining ingredients.

Recommended Products
As an Amazon Associate and member of other affiliate programs, I earn from qualifying purchases.
First published June 29, 2022
This post may contain affiliate links. As an Amazon Associate and member of other affiliate programs, I earn from qualifying purchase.