These Pesto Burgers are a turkey burger recipe with tomato and mozzarella then slathered with basil pesto. It's refreshing and tastes like summer in every bite!
This is a sponsored post written by me on behalf of BUBBA burger. All opinions are 100% mine.
With 4th of July around the corner, that means one of my favorite summer activities is here – farmer's markets!
My favorite one is every Sunday morning, but if I can't make it then I go to one in downtown Pittsburgh on Thursdays.
But that also means it's super hot outside. Sometimes a little too hot to eat anything heavy like my BBQ Bacon Burgers.
And right now, avocados can be a bit pricy to make my Avocado Burger.
You want something light and refreshing. Preferably something you can buy with your farmer's market bounty.
Enter the Pesto Burger. It's similar to a caprese burger with basil, mozzarella, and tomato.
I've used those flavors with my tomato mozzarella flatbread and knew they'd be refreshing for a turkey burger.
On the plate I served my pesto burgers with sweet potato fries.
You can also serve it with fresh veggies and pesto dip.
It's an easy summer meal you can cook up thanks to the convenience of BUBBA burgers.
Ingredients For Pesto Burgers
To make this recipe for pesto burgers, you only need 5 ingredients:
Burger: I used Turkey BUBBA burgers to make cooking dinner easier because of their high quality and convenience. More on that below.
Pesto: These turkey burgers are slathered with my homemade basil pesto, but you can also use jarred pesto.
Tomato: Use tomatoes fresh from the garden or the farmer's market and do not refrigerate them. Refrigeration will cause the tomato cells to break down, resulting in a mushy texture.
Fresh mozzarella: Buy a ball of mozzarella (the fresher, the tastier) then slice the same size as your tomato.
Buns: Use a sturdy bun such as brioche buns.
To make my delicious Pesto Burgers, I used Turkey BUBBA burgers. They're ready-to-cook burgers made from 100% turkey with no additives or preservatives.
Normally I make my own burgers like I did with my Pittsburger.
However, now that summer is here I'm usually traveling in addition to working all day. Sometimes I need a shortcut to save time.
BUBBA burgers help me out in the kitchen because of their convenience; you cook the burgers straight from the freezer. Nothing is worse than realizing you forgot to defrost your meat for dinner.
Add your BUBBA burger to a hot dry skillet then wait. You don't need to fuss with them until juices begin to form on top then you flip and cook until 165F in the middle.
They take roughly 10 minutes to cook, so you can make your pesto while you wait.
I used BUBBA Turkey burgers (which you can also use to make Teriyaki Turkey Burgers), but they have other varieties you can choose including Original Beef, Veggie, and more.
Click Here To Learn All About BUBBA
How To Make Pesto Burgers
To make a pesto turkey burger with BUBBA burgers, first heat a large dry skillet. This means you don't need to add any oil to the pan.
You may want to have a splatter screen ready as the grease will sputter. Trust me – your stove top will thank you.
Once your skillet is hot, add your frozen BUBBA burgers in a single layer, making sure there's enough room in between. Cook according to the package directions.
While your burgers are cooking, slice your mozzarella and tomato. You can even make your basil pesto if you haven't yet.
Once your burgers are ready, transfer to a plate lined with paper towels.
What To Serve With Pesto Burgers

Serve your pesto turkey burgers with one of these side dishes: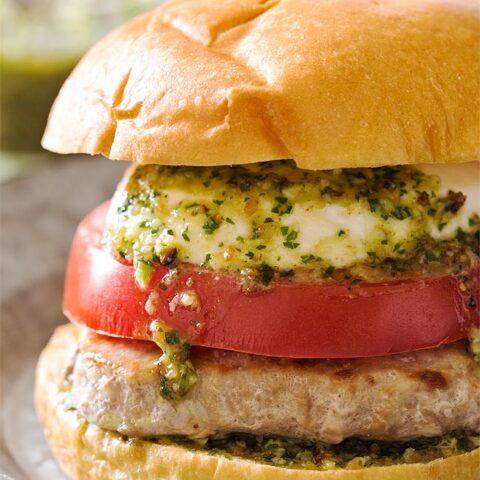 Pesto Burgers
These Pesto Burgers are a turkey burger recipe with tomato and mozzarella then slathered with basil pesto. It's refreshing and tastes like summer in every bite!
Ingredients
2 BUBBA turkey burgers, frozen
2 tablespoons basil pesto (homemade or store-bought)
2 slices tomato
2 slices fresh mozzarella
2 hamburger buns
Instructions
Cook your BUBBA burgers according to package directions.
Once your burgers are cooked, add some of the pesto to the bottom of one bun. Add 1 burger then 1 slice tomato and 1 slice mozzarella. Add half the pesto then finish with the top bun.
Repeat with the remaining ingredients.

Recommended Products
As an Amazon Associate and member of other affiliate programs, I earn from qualifying purchases.