Made with only 5 ingredients, this Pickled Red Onion recipe is an easy way to pack extra flavor into your meals. Eat them straight from the jar or add them to tacos.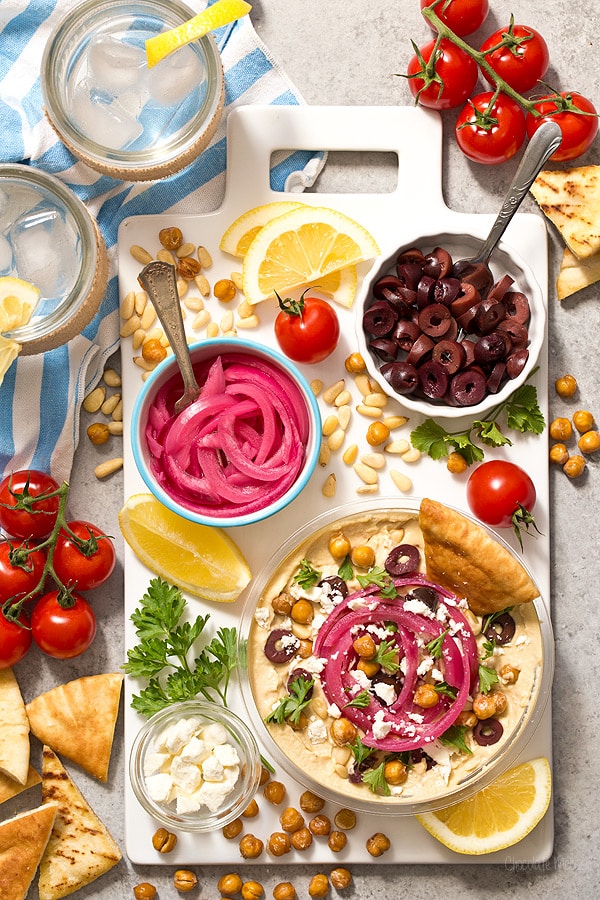 Have you ever been so hungry before dinner time, you had to eat a snack before you could think about cooking dinner? That's me.
Back when I was an in-house videographer, I would walk through the door right at 5 PM and make a bee line for the fridge, ravenous to eat something, anything, before I could start prepping dinner.
Usually I ended up in the pickle jar. If I have pickled jalapenos on hand, those would be gone too. Olives? Gone. Marinated mushrooms? You mean there were still some left?
Sometimes if I was really lucky, there would be hummus or salsa. I've said this numerous times on the blog in the past – I love snacks, more than regular meals and even dessert.
I have self control around cookies but not around pickles. Or chips. Or cheese dip.
Even though I work from home now, I still have office hours. That means once late afternoon rolls around – usually 3-4 PM – I'm starving but don't want to ruin dinner.
This is where my snacking can get me in trouble and why it helps to keep something fresh on hand.
Remember how I said I love pickles so much? It isn't just pickles. It's pickled anything – quick pickled jalapenos, carrots, cauliflower, onions, you name it.
I've been craving pickled red onions lately. They're so simple to make, I wonder why I don't make them more often.
Made with only 5 ingredients, all you need to do for this pickled red onion recipe is mix, pour, and wait. The only difficulty you'll have is making sure you don't eat them all in one sitting.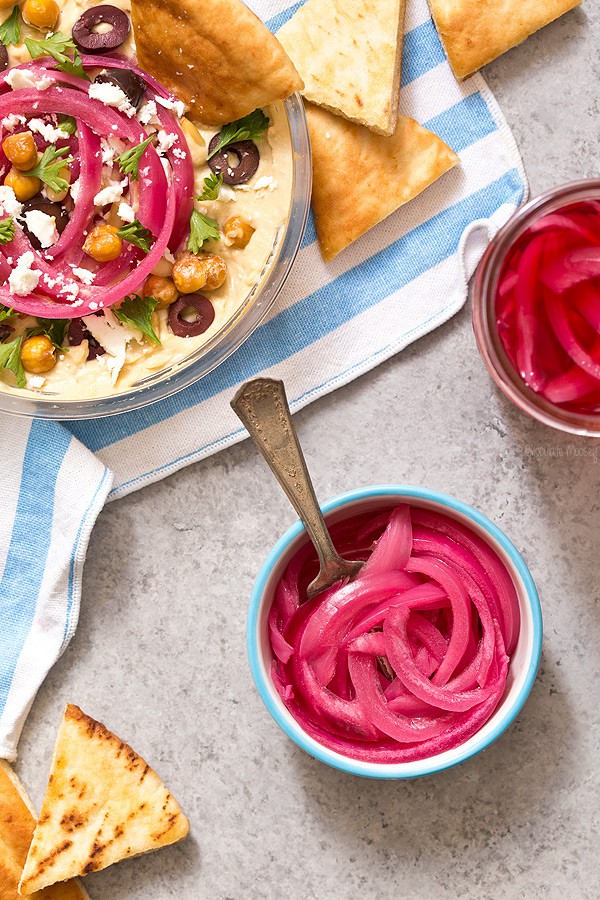 After eating them on tacos, I thought about what else I could do with pickled red onions. I had a ton of leftover ingredients from my
Greek Baked Eggs
.
Rather than waste them, I opted to set up a Greek hummus bar complete with homemade pita chips, kalamata olives, feta cheese, tomatoes, fresh parsley, pine nuts, and roasted chick peas.
You can also add them to my avocado burgers.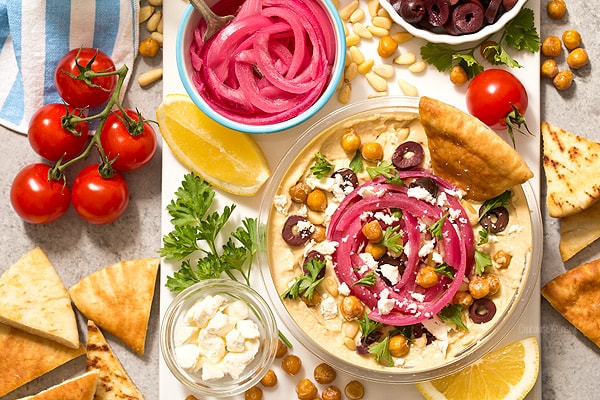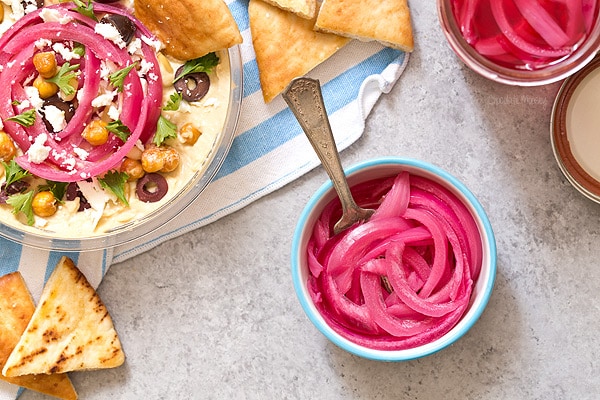 As I mentioned earlier, you only need 5 ingredients for pickled red onions: sugar, salt, vinegar, water, and of course red onion. It's best to use either apple cider vinegar or white wine vinegar as regular distilled white vinegar may be too harsh for onions. You can also play around with adding different spices and herbs.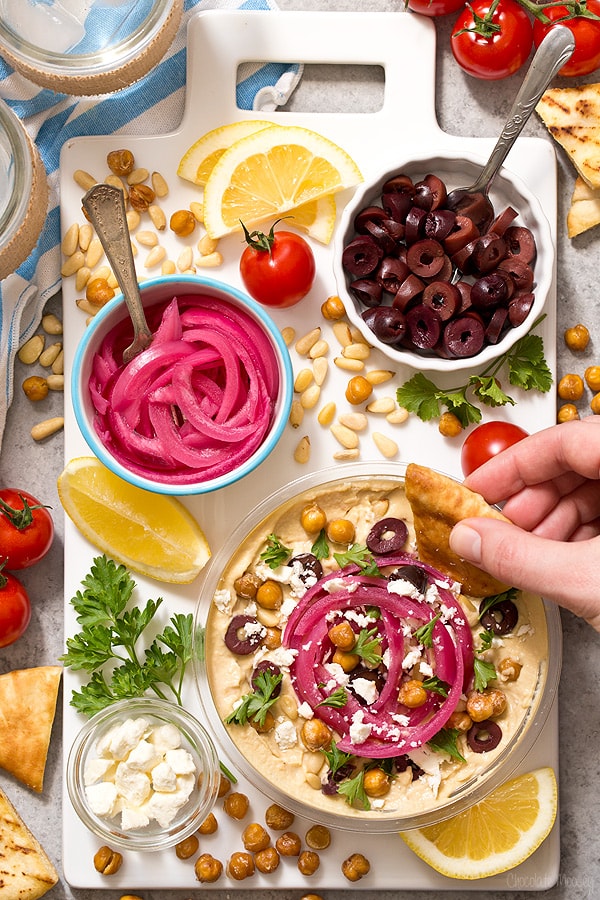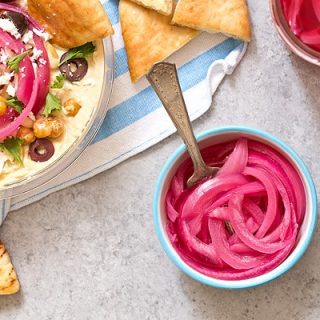 Pickled Red Onions
Total Time:
1 hour
15 minutes
Made with only 5 ingredients, Pickled Red Onions are an easy way to pack extra flavor into your meals. Eat them straight from the jar or add them to tacos.
Ingredients
1 cup water
3/4 cup apple cider vinegar
1 tablespoon granulated sugar
1 teaspoon salt
1 small red onion (roughly 4-5 ounces), sliced
Instructions
In a medium saucepan, whisk together the water, vinegar, sugar, and salt. Bring to a boil and whisk until sugar and salt has dissolved, about 1-2 minutes.
Add the onion slices to a heatproof jar or container. Pour the hot vinegar mixture over the onions. If you don't have enough to cover the onions, top it off with water.

Let sit at room temperature for at least 1 hour before serving. Store in the fridge for up to 1 week.
Recommended Products
As an Amazon Associate and member of other affiliate programs, I earn from qualifying purchases.