Need a vegan summer side dish for your picnic or BBQ? Italian Potato Salad without mayo is an eggless potato salad made with oil and vinegar.
Potato salad. It's such a classic side dish to serve at potlucks, picnics, and backyard BBQs yet there are so many ways you can dress it up.
You're familiar with traditional mayonnaise potato salads and even Amish potato salad with mustard, but what if I told you one of the best ways to make it involves oil and vinegar?
This easy Italian Potato Salad (No Mayo) is exactly that. It's an olive oil potato salad with vinegar, onion, garlic, and parsley.
I learned this recipe for Italian Potato Salad from my dad who learned it from his mom. Now I'm teaching it to you for your next picnic.
Although potato salad is often associated with outdoor events, you can certainly serve it indoors as a side dish for steak dinner for two, balsamic chicken with tomatoes, or stuffed peppers for two.
Ready to make the best no mayo Italian Potato Salad recipe?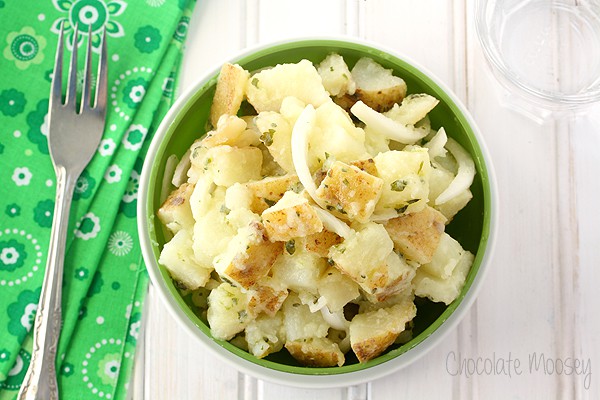 What is Italian Potato Salad?
Italian Potato Salad is a cold olive oil potato salad often served as a summer side dish.
It's not often you see a potato salad without mayo and eggs. In fact, because it's an oil and vinegar potato salad, this Italian potato recipe is 100 percent vegan. No mayo, no eggs, no milk.
I'm not vegan, so you definitely don't need to be either to enjoy this eggless potato salad recipe!
However, I have several vegan friends who would appreciate this recipe because who wants to be left out from eating potato salad?
Ingredients For Italian Potato Salad
The ingredients for Italian Potato Salad are:
Potatoes: Use Russet potatoes as they are starchier than most potatoes (more on that below).
Olive oil: Since you're using it as a dressing rather than frying, use a high-quality extra virgin olive oil as taste will matter.
Vinegar: Use either white distilled or cider vinegar.
Parsley: Adds a bit of freshness
Salt: Brings out the flavor of the dressing and potatoes
Onion: I used sliced onion instead of diced so they would be a similar size to the potatoes.
Garlic: It's not Italian without garlic!
What is the best kind of potatoes for potato salad?
I used russet potatoes for my Italian potato salad recipe. They're starchier than most potatoes and soak up the dressing quite nicely.
Because of the high starch, they do have a tendency to fall apart more easily, so you want to be extra careful you don't overcook your potatoes.
Peeling is optional. Personally I always peel mine.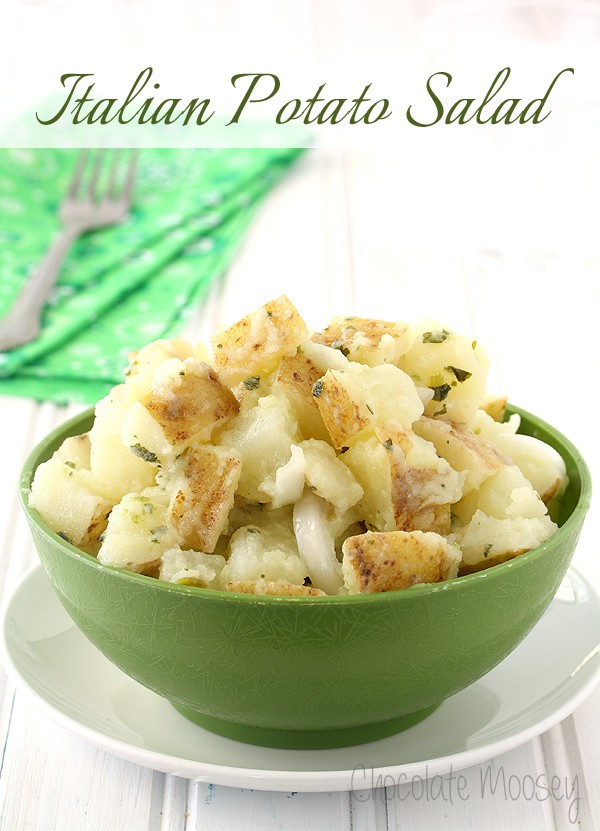 Best Way To Cook Potatoes For Potato Salad
The best way to cook potatoes for potato salad is to put them in a large pot, cover them completely with cold water, add some salt, then bring to a boil.
This method ensures the potatoes are cooked all the way through. If you were to add them to boiling water like you do with pasta, the outsides would cook while the insides would still be hard. By the time the insides would cook, the outsides would be mush.
Once the water boils, turn the heat down to a simmer. Potatoes are fragile and if you continue to cook at a rolling boil, the speed of the water will throw them around, causing them to disintegrate and fall apart.
After you drain the potatoes, they need to be dry and cool before tossing with Italian dressing.
Rinsing them under cold water will not only help stop the cooking process, it'll cool down the potatoes so they don't overcook or melt the dressing.
Should I cut potatoes before boiling for potato salad?
Yes, you need to cut potatoes before boiling for potato salad. This ensures each piece is evenly cooked.
If you were to cook whole potatoes, the outside will cook while the middle remains raw. By the time the middle is cooked, the outside will be overdone.
How many potatoes do you need for potato salad per person?
To serve Italian potato salad as a side dish, you'll need roughly 1/2 pound per serving.
My small batch potato salad makes 4 servings (roughly 2 helpings per person), so you'll need 2 pounds Russet potatoes.
Of course if you're making this for an outdoor event, you may want to double this oil and vinegar potato salad recipe.
How To Make Italian Potato Salad
Making the best Italian Potato Salad is easy! First things first, start cooking the potatoes.
While you wait for the potatoes to cook, whisk together the olive oil, vinegar, parsley, garlic, and salt for the dressing.
You'll want to make the Italian dressing slightly saltier than you'd like. It's going to season the entire potato salad, so go a bit aggressive.
Next, add your onion to the oil and vinegar. This will marinate the onion slightly so there is less of a bite eating raw onion.
Once the potatoes are done, toss them with the oil and vinegar then cover and refrigerate for at least 24 hours to allow the flavors to develop.
However, if you're in a hurry to serve, chill for at least 1 hour minimum.
Can you make potato salad the day before?
Yes, you can make potato salad a few days before serving. In fact, I recommend letting your Italian potato salad chill in the refrigerator for 24 hours to allow the flavors to develop.
As long as it's properly stored in an airtight container and not left sitting out for more than 2 hours, Italian potato salad can last about up to 5 days.
What Can I Serve With Potato Salad?

Getting ready to plan a cook out or a picnic? Here are more recipes you can serve with potato salad:
In the mood for a snack with your extra potatoes? Check out my Salt and Vinegar Chips and BBQ Chips.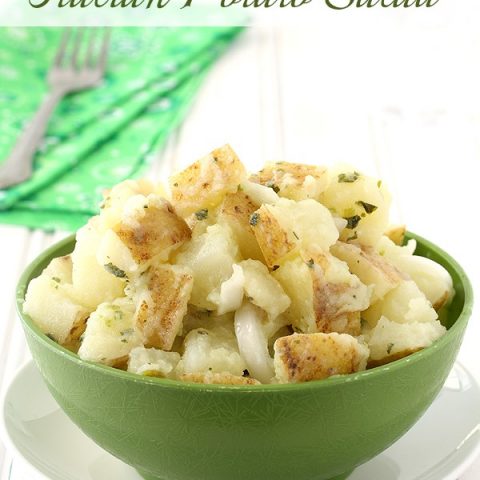 Italian Potato Salad (No Mayo, Eggless, Vegan)
Total Time:
1 hour
45 minutes
Need a vegan summer side dish for your picnic or BBQ? Italian Potato Salad without mayo is an eggless potato salad made with oil and vinegar.
Ingredients
2 pounds russet potatoes, cut into 1/2-inch cubes (roughly 4-5 medium potatoes)
1/4 cup extra virgin olive oil
1 tablespoon apple cider or white distilled vinegar
1 tablespoon fresh chopped parsley
1/4 teaspoon salt (preferably kosher)
1/2 cup sliced white or yellow onion
1 garlic clove, minced (or 1 tablespoon garlic paste)
Instructions
Add the potatoes and a handful of salt to a large pot and cover with water. Bring to a boil.
Once boiling, turn the heat down to a simmer and cook until fork tender, about 5-8 minutes. Drain and rinse under cold water. Spread in a single layer onto a baking sheet to dry. Cool for 15 minutes.
While the potatoes are cooking: In a large measuring cup or jar, whisk together the olive oil, vinegar, parsley, garlic, and salt. Taste and add up to an additional 1/4 teaspoon salt if needed (it should be slightly salty because this will season the entire potato salad).
Stir onion into the dressing. Let them marinate while the potatoes finish cooking.
Add the cooked potatoes to a large bowl then pour the dressing on top. Mix everything together until coated.
Cover and refrigerate at least 1 hour or until cold (24 hours is preferred to allow the flavors to develop).

Store in the refrigerator for up to 5 days.
Recommended Products
As an Amazon Associate and member of other affiliate programs, I earn from qualifying purchases.
Originally published May 18, 2014