Mini Banana Bread
Mini Banana Bread with chocolate chips is a one banana banana bread made in mini loaf pans. They're the perfect size for when you want small batch banana bread.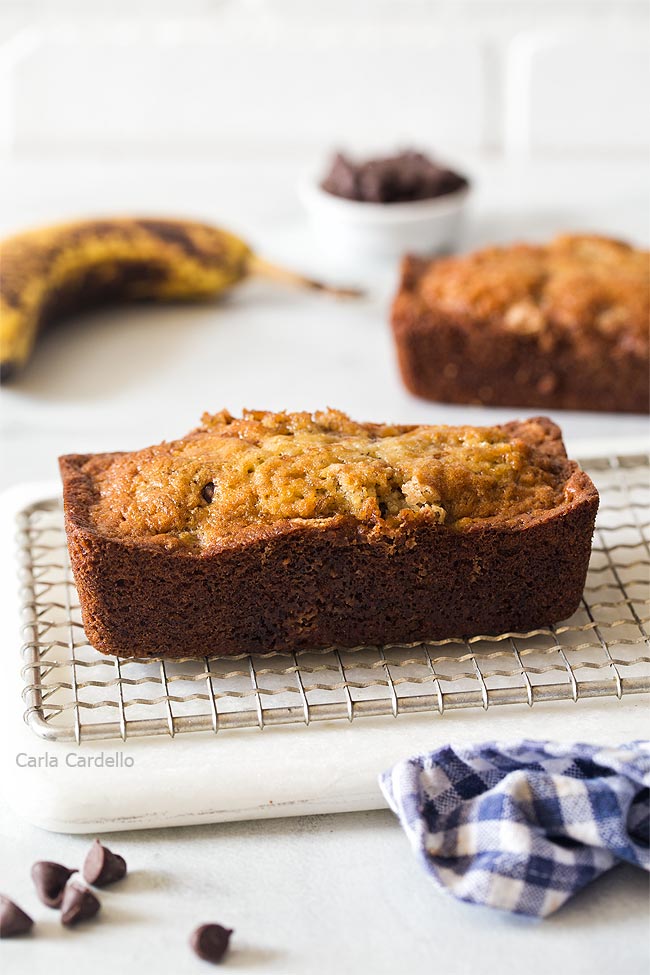 If you're anything like me, my guess is you can probably eat an entire loaf of banana bread in one sitting. I know I can.
In those cases where it's a challenge to resist, making Mini Banana Bread is a great way to control portions. After all, you can't eat what isn't there.
It's the same way with my small batch chocolate chip cookies. I make a small batch so I don't accidentally eat a full batch by myself.
Usually I'm really good at restraining myself and giving extras away at my coworking space, but there are certain recipes where I can't stop eating.
These banana bread mini loaves are based off of my Small Batch Banana Muffins where you only need one banana and one bowl.
I was hesitant making this mini banana bread recipe at first because it requires special mini loaf pans. But when I asked for your opinion in my private Facebook group, a lot of you already owned these pans!
All I had to do was buy my own set and now I'm reading to bring you all the mini loaf pan recipes including my pumpkin bread mini loaves.
Banana bread for two seemed like an easy place to start since almost everybody loves it. If this recipe goes over well, I will be back with more classics such as zucchini and pumpkin.
If you want that to happen, make sure you rate the recipe and leave your feedback!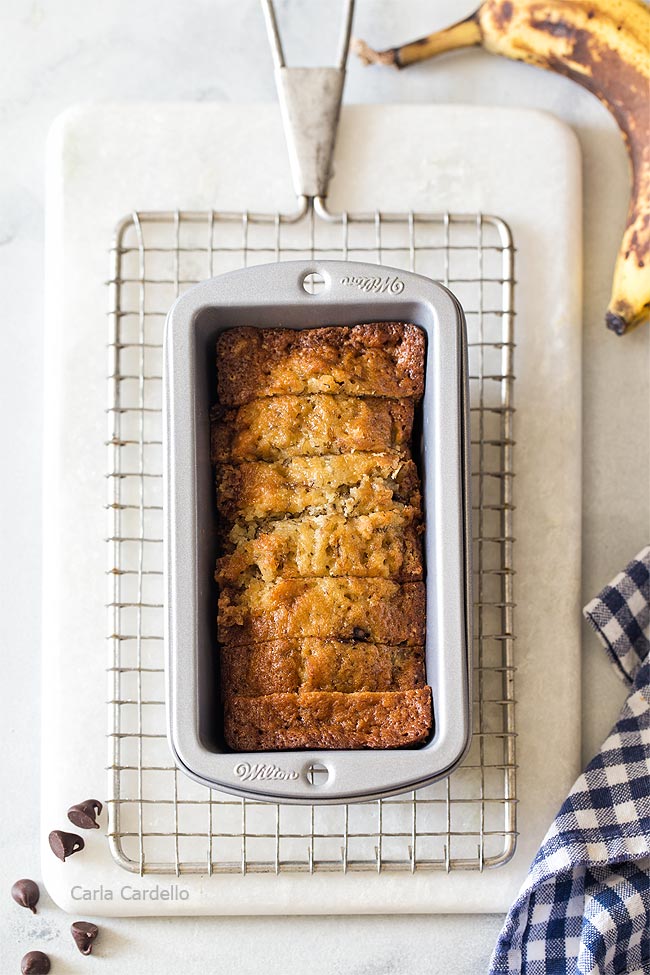 What pans do I need to bake Mini Banana Bread?
Before you get started, you will need one of two types of pans:
If you use the 5×3 pans, you will make 2 banana bread mini loaves. If you use the 8-cavity pan (roughly 2.5×3 per cavity), you will make 4 loaves.
Don't have small loaf pans? Use a muffin pan to make 6 muffins. Or make my 9×5 banana chocolate chip bread.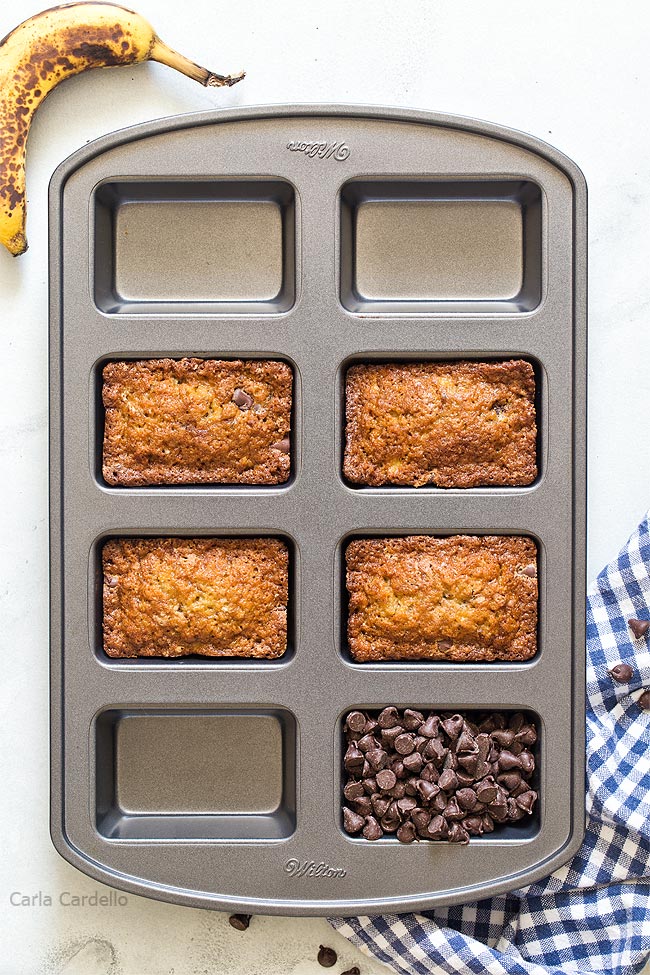 Why bake mini banana bread loaves?
If you can bake this one banana bread recipe in a muffin pan, why do you even need mini loaf pans?
In addition to making small batch banana bread, you can also give a mini loaf of banana bread as a Christmas gift.
Ingredients For Mini Banana Bread
To make one banana banana bread, you'll need the following ingredients:
Sugar: In addition to adding sweetness, sugar helps keep your loaves moist as well as contributes to their golden brown color.
Butter: Creaming the sugar and butter together helps create little air pockets, which contributes to the bread rising. It also helps create a tender crumb.
Egg: Use a standard large egg.
Banana: Use the most brown, overripen banana you can find for best results. You want a medium banana, but because they vary greatly in size, measure your mashed banana so you know exactly how much you have.
Vanilla: Helps boost the banana flavor.
All-purpose flour: Measure your flour by spooning it into your measuring cup. Using the scoop and pack method adds too much flour.
Baking soda: Helps the bread rise.
Salt: Also helps boost flavor.
Chocolate chips: Chocolate chips are my favorite part about banana bread! Use semisweet or dark chocolate as milk chocolate may be too sweet.
In the mood for chocolate? Follow my recipe for Small Batch Chocolate Banana Muffins then add to your mini loaf pans.
You also make Small Banana Cake for dessert.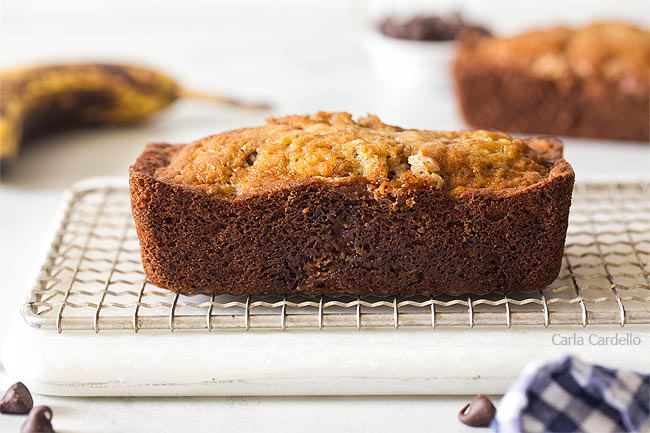 How To Make Mini Banana Bread
To make banana bread for two from scratch, first cream together your butter and sugar.
Next, beat in your egg, banana, and vanilla.
Gradually add your flour, baking soda, and salt.
At this point, switch to a rubber spatula and stir your chocolate chips in by hand. Flour is very finicky so if you overbeat your batter with the mixer, you'll end up with tough, dry bread.
Fill your bread pans then bake at 350F for about 30 minutes or until a toothpick inserted in the center comes out clean. A few crumbs are ok as long as it's not wet batter.
If the loaves start to brown too quickly, you can loosely cover them with some foil.
Store your banana bread in an airtight container at room temperature for up to 1 week.
How to Ripen Bananas For Banana Bread
Buying bananas at the grocery store can be tricky because usually the bananas aren't ripe enough to make banana muffins the same day.
Most of the time they have some green on them. Other times they are yellow but without brown spots.
You need overripen bananas for banana muffins. This means lots of brown spots without a hint of green.
If you have several days to spare, place your banana in a brown paper bag.
As the banana ripens, it lets off ethylene gas, which is what causes bananas to brown. Because the brown bag encloses this gas, the banana will ripen much faster than leaving it out on the counter.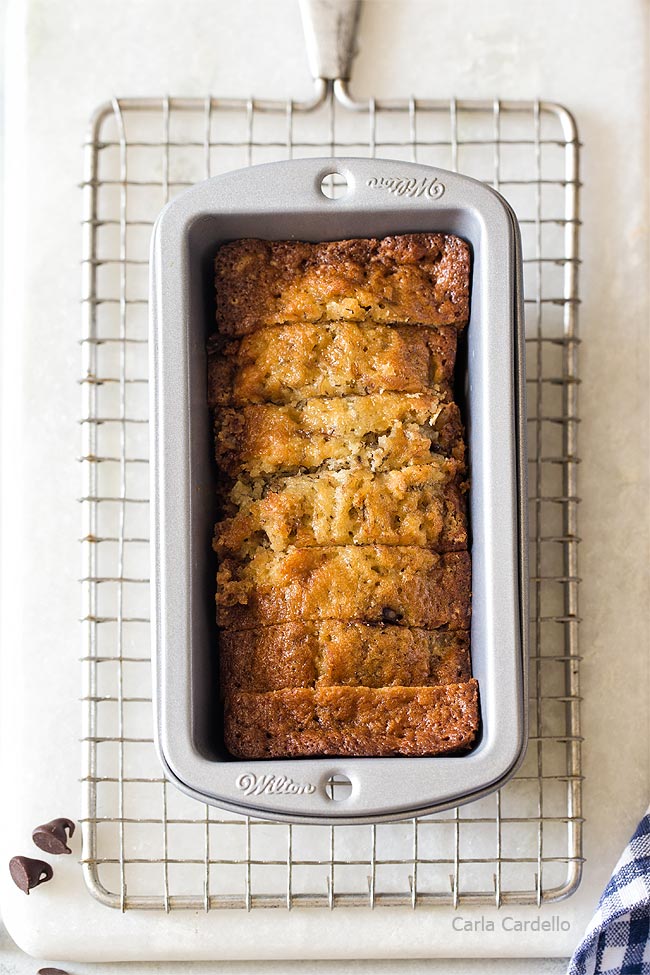 How To Quickly Ripen Bananas
Buying bananas can be tricky because they're usually not ripe enough to make banana bread right away.
Normally you'd put your banana in a brown paper bag and let the ethylene gas it gives off ripen your banana.
But what if you want banana bread now but your banana isn't ready?
Luckily, you can ripen your banana quickly in the oven! It won't look pretty, but it'll do the trick.
Bake your banana in the oven at 350F for 30 minutes. The peel will turn completely black but the inside becomes soft and slightly roasted.
The banana does leak juice a little, so line a cookie sheet with foil for easy clean up.
Cool for a few minutes before peeling and mashing so you don't burn your fingers.
How To Freeze One Banana Banana Bread
To freeze your one banana bread, first put the loaves on a baking tray or plate and place them in the freezer. Freeze until firm, about 1 hour.
Next, wrap each loaf individually in plastic wrap then place in a freezer-safe plastic bag. Freeze for up to 3 months.
To thaw, place on a wire rack and let them come to room temperature, about 15-30 minutes. The wire rack helps keep the bottoms dry as they thaw.
Can you double mini banana bread?
If you find yourself with 2 bananas for banana bread, yes you can easily double my recipe. Multiply everything by two.
Your bake time should be roughly the same, but always check with a toothpick then add a few more minutes if necessary.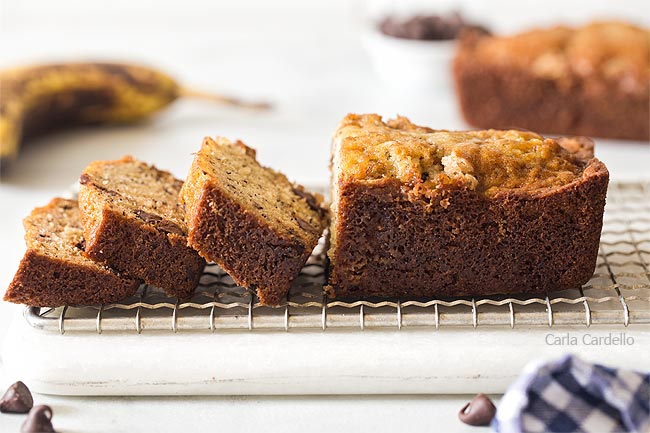 More Mini Loaf Recipes

Now that you have the mini loaf pans, you can bake the following recipes: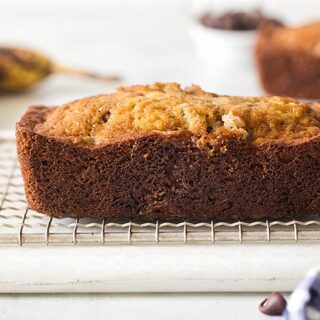 Mini Banana Bread
Yield: 2-4 mini loaves
Prep Time: 15 minutes
Cook Time: 30 minutes
Total Time: 45 minutes
Mini Banana Bread with chocolate chips is a one banana banana bread made in mini loaf pans. They're the perfect size for when you want small batch banana bread.
Ingredients
1/2 cup granulated sugar
1/4 cup (4 tablespoons or 2 ounces) unsalted butter, softened
1 egg, room temperature
1/2 cup mashed banana (roughly 1 large banana)
1/2 teaspoon vanilla extract
3/4 cup all purpose flour
1/2 teaspoon baking soda
1/4 teaspoon salt
1/3 cup semisweet chocolate chips
Instructions
Preheat oven to 350F. Lightly grease two 5.75x3 mini loaf pans or 4 cavities of an 8-cavitiy mini loaf pan.
In a large bowl mixing bowl on high speed (with the paddle attachment if using a stand mixer), beat together the sugar and butter until smooth and creamy, about 1-2 minutes.
Beat in the egg until incorporated then beat in the mashed banana and vanilla.
Turn your mixer speed to low then gradually add the flour, baking soda, and salt. Don't overbeat the batter.
Switch to a rubber spatula, scrape down the bowl, then stir in the chocolate chips.
Transfer the batter to the pan. Bake 30-35 minutes or until a toothpick inserted in the center comes out clean. Cool for 15 minutes then remove to a wire rack to cool completely.

Store in an airtight container at room temperature for up to 1 week.
Recommended Products
As an Amazon Associate and member of other affiliate programs, I earn from qualifying purchases.
This post may contain affiliate links. As an Amazon Associate and member of other affiliate programs, I earn from qualifying purchase.