Antipasto Pasta Salad
Turn a traditional Italian appetizer into a meal with Antipasto Pasta Salad! It's a zesty Italian pasta salad with salami, cheese, tomatoes, peppers, olives, and mushrooms tossed in Italian dressing.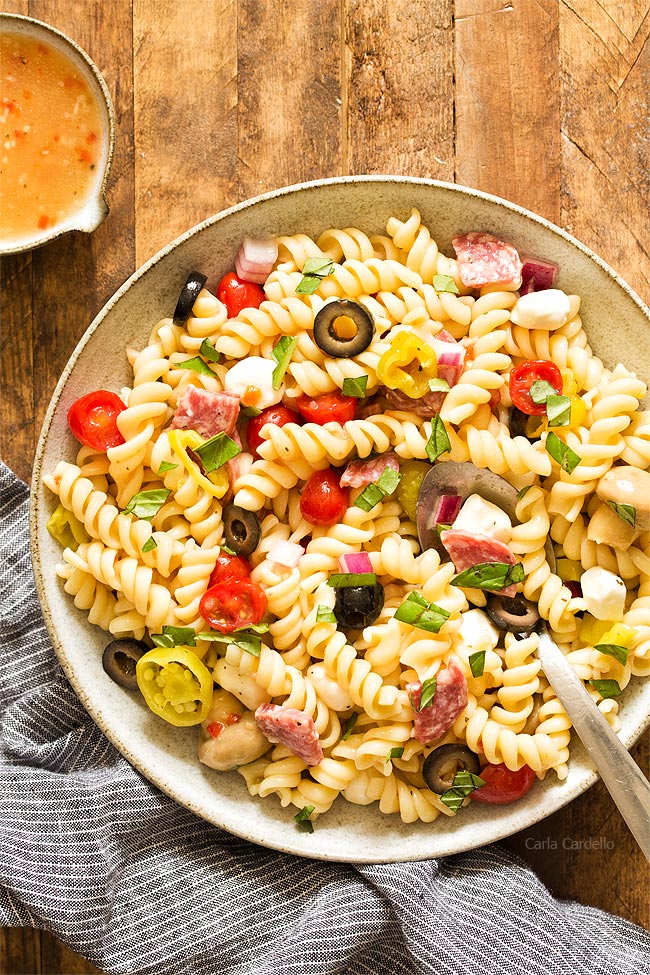 Ever since I started my first job at the mall back in high school, I've packed most of my work lunches.
Sure, occasionally I'd walk down to the mall food court and splurge on chicken teriyaki or a chicken sandwich with waffle fries, but most of the time I didn't have the money to spare.
Fast forward to adulthood at my first career job after college, I still packed the majority of my lunches so I would save time and money.
When eating out costs $10 (or more!), it really adds up when you have rent to pay.
Now I'm a self-employed full-time freelancer. Even though I don't have a traditional 9-5 job anymore, I do work at a coworking space 1-2 times a week.
If you're not familiar with how that works, it's a shared office space where I can show up with my laptop and work. It's better than a coffee shop because I can leave my stuff unattended when I go to the bathroom or lunch.
Plus it's like having coworkers again, so I bring in my extra desserts for them to eat.
On those days I stay home to work, I still need to eat a quick lunch so I can get back to work. Especially if I'm in the middle of a food shoot where I'm starving but can't eat the food yet.
Most of the time I eat leftovers but because I cook small portions, sometimes I eat it all for dinner with nothing left.
The best way to ensure I have lunch ready to eat is to make something ahead of time, like pasta salad. It keeps well in the fridge and even benefits from sitting over time.
Since I already have Amish macaroni salad and Caesar pasta salad, what else could I make?
Staring at the salami in my fridge, I knew I didn't want to make a sandwich. Then it hit me.
What about Antipasto Pasta Salad?
It's a zesty Italian pasta salad with salami, cheese, peppers, tomatoes, olives, and mushrooms tossed in Italian dressing.
Typically antipasto is an appetizer made of meats, cheeses, and marinated vegetables. By serving it with pasta, you can transform it into a flavorful and fulfilling side dish.
Whether you pack it for lunch or serve it alongside some pesto burgers, you don't want to pass up this recipe for antipasto pasta salad.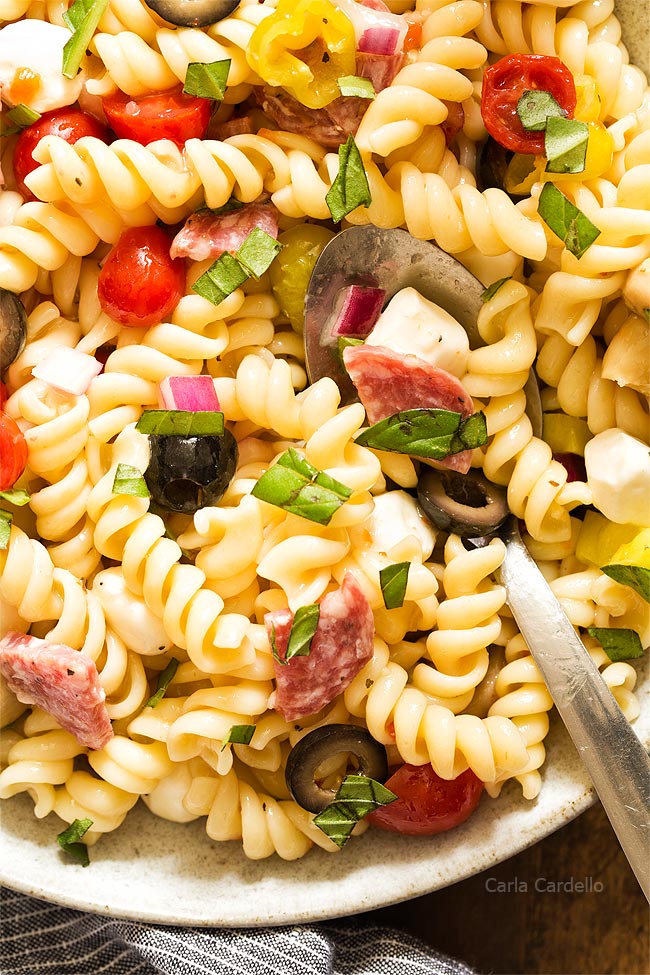 What is antipasto?
Antipasto is the first course of a traditional Italian meal. In Latin, "anti" means before and "pasto" means meal, so it literally translates into "before meal".
Despite the name, traditional antipasto has nothing to do with pasta. Rather it's a collection of snacks like cured meats, cheese, and marinated vegetables, similar to a charcuterie board.
I thought it would be clever to play with the name and add pasta to these antipasto snacks. Hence, antipasto salad with pasta was born.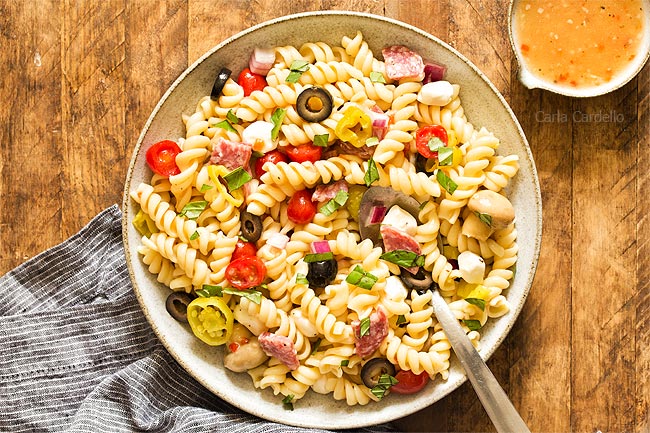 Ingredients For Antipasto Pasta Salad
To make this recipe for antipasto pasta salad, you'll need the following ingredients:
Pasta: I used rotini, but you can use other shapes such as farfelle or elbow.
Salami: It's not antipasto without salami! Serve any leftover salami on a Charcuterie Board For Two.
Mozzarella pearls: Also known as mozzarella ciliegine (cherry-sized mozzarella balls). Using pearls makes prep a little easier, but you can also chop up a fresh large mozzarella ball.
Cherry tomatoes: Adds a bit of freshness to your pasta salad.
Marinated mushrooms: Typically it would be artichoke hearts, but I personally don't like them so I subbed mushrooms instead. Find a jar by the pickles or pick up a few spoonfuls at your grocer's deli if that's an option.
Pepperoncini: A pepperoncini is an Italian chili pepper which is often pickled. You can also substitute banana peppers.
Black olives: I always have a can of black olives in my pantry. You can also use kalamata olives.
Red onion: I opted for raw red onion because the dressing will help mellow it out. You can also use pickled red onion.
Basil: Basil is a traditional Italian herb and goes hand in hand with Italian pasta salad.
Italian dressing: Normally I would make my own dressing, but after prepping that long ingredient list I decided to cut myself some slack by buying a bottle. You can certainly make homemade Italian dressing from Carlsbad Cravings if you'd like.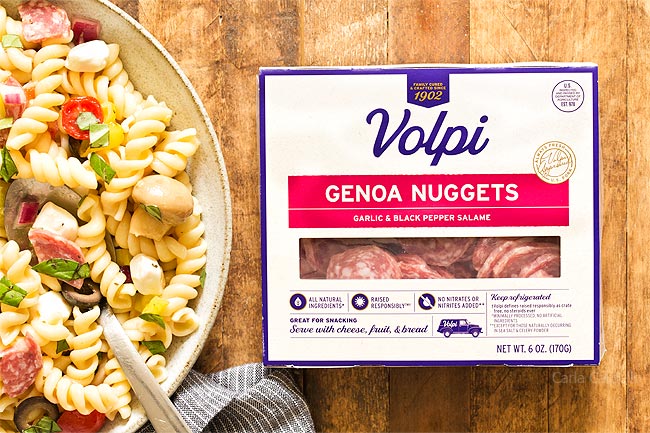 For the salami, I used Volpi's Genoa Garlic and Black Pepper Salami, which has a smooth rich flavor and clean finish.
Volpi is a 4th generation family-owned and operated cured meat brand who's been making specialty cured meats for the last 120 years. They definitely know their salami!
They sustainably produce their products through their Raised Responsibly™ program, meaning they source products from trusted, local Midwest family farms that adhere to their animal wellness standards.
For more information and a store locator, please visit the Volpi Foods website.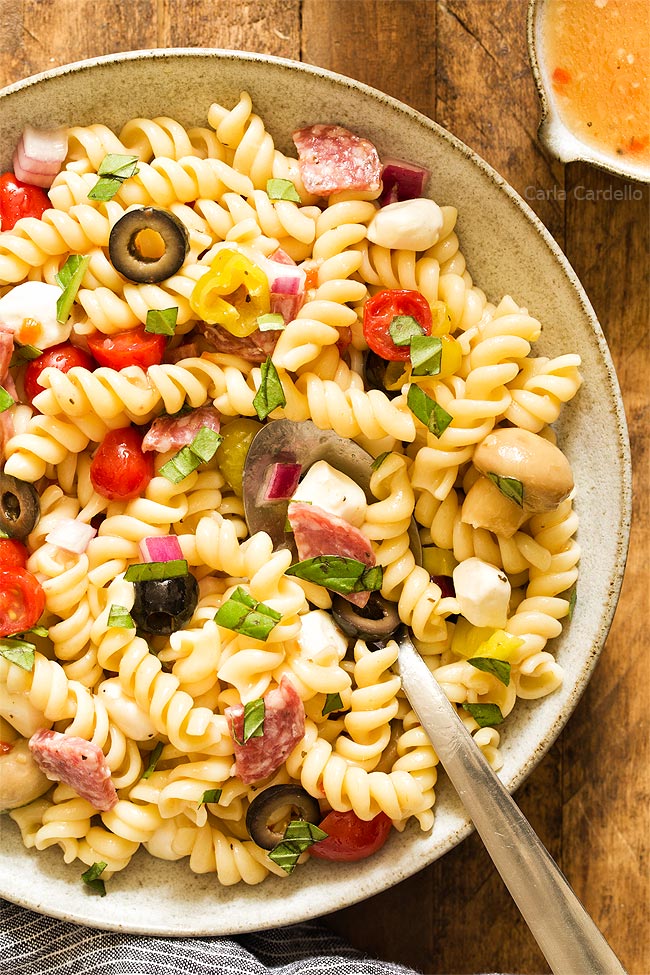 How To Make Antipasto Pasta Salad
To make Antipasto Pasta Salad, first cook your rotini until al dente, about 10-12 minutes. If you're using another shape, the time is listed on your pasta box.
While you're waiting for the water to boil, start prepping your ingredients as there is quite a bit of chopping and slicing.
Once the pasta is done cooking, mix it with your antipasto ingredients and Italian dressing.
Refrigerate for a minimum of 1 hour (preferably overnight if you have the time) before serving. It'll last up to 5 days.
Should you rinse pasta for pasta salad?
Typically when you cook pasta, you don't rinse it because you want to keep the starch.
However, for making a cold pasta salad you always want to rinse it under cold water.
One, it quickly cools the pasta, keeping it from overcooking. Plus you don't want to mix hot pasta with your dressing because it'll melt too quickly.
Two, it washes away the starch, which is what makes pasta clump together. By rinsing the pasta, it'll remain loose and not sticking together.
What goes with pasta salad?

Whether you're getting ready for an outdoor BBQ or eating in the air conditioning, here are some recipes to serve with pasta salad: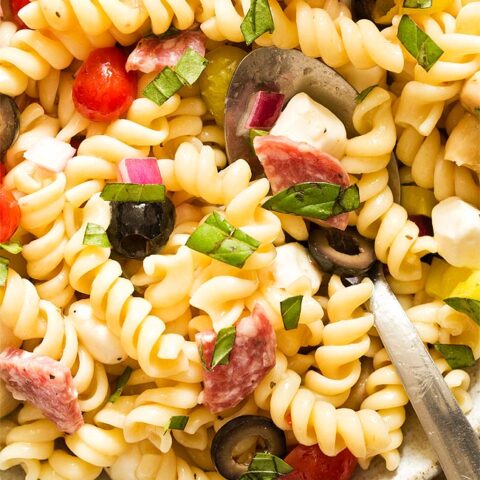 Antipasto Pasta Salad
Yield: 4 servings
Prep Time: 20 minutes
Cook Time: 10 minutes
Chill Time: 1 hour
Total Time: 1 hour 30 minutes
Turn a traditional Italian appetizer into a meal with Antipasto Pasta Salad! It's a zesty Italian pasta salad with salami, cheese, tomatoes, peppers, olives, and mushrooms tossed in Italian dressing.
Ingredients
8 ounces uncooked rotini
1/2 cup quartered salami slices
1/2 cup mozzarella pearls
1/2 cup halved cherry tomatoes
1/2 cup marinated mushrooms
1/4 cup sliced pepperoncini
1/4 cup sliced black olives
1/4 cup diced red onion
1 tablespoon fresh chopped basil
1 cup Italian dressing
Instructions
Bring a large pot of water to a boil. Once boiling, add a big handful of salt then add rotini. Cook as directed on the package until al dente, about 10-12 minutes. Drain into a colander and rinse with cold water. Spread in a single layer on a baking sheet to dry.
Meanwhile, in a large bowl mix together salami, cheese, tomatoes, mushrooms, pepperoncini, olives, onion, and basil.
Add the cooked pasta and dressing then toss until everything is coated.
Cover and refrigerate at least 1 hour or until cold (24 hours is preferred to allow the flavors to develop).
Disclosure: This post is sponsored by Volpi Foods. Thank you for supporting me and the companies I work with as sponsored posts help pay for website hosting and groceries.
This post may contain affiliate links. As an Amazon Associate and member of other affiliate programs, I earn from qualifying purchase.