Apple Butter BBQ Potato Salad
Sweet and tangy Apple Butter BBQ Potato Salad tossed with bacon, corn, and scallion will be the winning side dish at your next picnic.
What is it about picnic food that makes us go crazy?
Is the smell of the grill, charring our iconic hot dogs and hamburgers?
Is it the roasting of fresh sweet corn that is later slathered in butter?
Is it the BBQ ribs that are smoked to perfection and practically fall off the bone?
Or is it the wide assortment of side dishes that stretch as far as the eye can see, ranging from potato and macaroni salads to coleslaw and baked beans?
Is your mouth watering yet?
When I think about picnic food, I think about two things – meat and side dishes.
My choice of meat is BBQ ribs, something I don't have very often (which makes it even more special to eat).
My choice of side dish is a toss up between potato and macaroni salad.
Lately I've been craving a good potato salad. With so many variations out there – mayonnaise-based, mustard-based Amish Potato Salad, German style, even San Francisco style (that I haven't heard of until a reader mentioned it) – how can I make mine different?
Simple – with Apple Butter BBQ Potato Salad, which is a sweet and tangy potato salad tossed with bacon, corn, and scallion.
Your meal isn't complete without this beauty.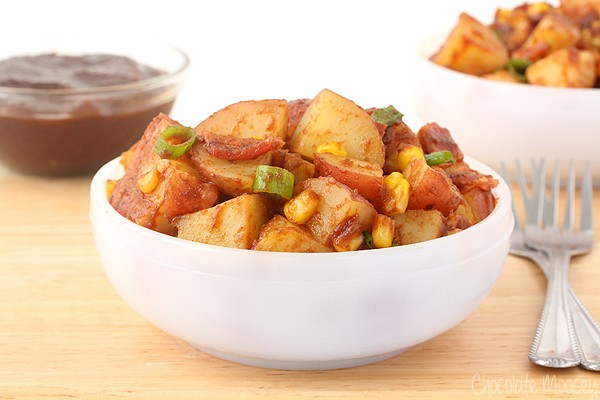 Pairing potatoes and BBQ sauce together is nothing new to me.
When my family makes ribs at home, we often serve them with mashed potatoes.
Instead of gravy, we pour extra honey BBQ sauce over. What better way to soak up all that extra sauce than with mashed potatoes?
This potato salad is just like that. The red potatoes soak up the sauce while having a party with the bacon, corn, and scallions.
I kicked my BBQ sauce up a notch by using apple butter which gives it a unique sweetness.
Most of the time people use apple butter as a spread or an ingredient in baked goods, but this time I wanted apple butter to shine as a savory side dish.
You can either buy a jar or make crockpot apple butter.
BBQ sauce reminds me of meat and potatoes, and although the only meat in this recipe is the bacon, the essence of the idea is still there.
I know I've been pushing this recipe for picnics, but that doesn't mean you can't serve it all year round. How often do you serve meat and potatoes for dinner?
My married friends often say that's the only thing their husbands will eat.
Instead of serving a side of red potatoes, serve a side of Apple Butter BBQ Potato Salad. It's pretty much just red potatoes tossed in BBQ sauce. And who can say no to that?
For more apple butter recipes, check out my guide on what to do with apple butter.
Apple Butter BBQ Potato Salad
Yield: 4 servings
Prep Time: 30 minutes
Cook Time: 20 minutes
Total Time: 50 minutes
Sweet and tangy Apple Butter BBQ Potato Salad tossed with bacon, corn, and scallion will be the winning side dish at your next picnic.
Ingredients
BBQ Sauce
1/2 cup apple butter
1/4 cup ketchup (homemade or store-bought)
1 tablespoon Worcestershire sauce
1/2 - 1 teaspoon chili powder
1/2 teaspoon smoked paprika
1/4 teaspoon onion powder
1/4 teaspoon garlic powder
Potato Salad
1 pound red potatoes, cubed (roughly 8 small potatoes)
1/2 cup crumbled bacon (roughly 5-6 slices)
1/4 cup chopped green onion (green part only)
1/2 cup corn kernels
Instructions
In a large pot of salted water, add the potatoes. Bring to a boil. Once boiling, cook for 10-15 minutes or until potatoes are soft (but not mushy). Drain and cool slightly.
Meanwhile, make the sauce: In a large saucepan, whisk together the apple butter, ketchup, Worcestershire sauce, 1/2 teaspoon chili powder (add the extra 1/2 teaspoon if desired), paprika, onion powder, and garlic powder. Bring to a boil. Turn the heat down to simmering, cover with a lid, and cook for 10 minutes, stirring occasionally*.
Toss the still-warm potatoes with the sauce. Let sit for 20 minutes.
Stir the bacon, green onion, and corn into the potato salad. Chill in the refrigerator at least an hour or until cold before serving.
Notes
*The sauce can be made ahead of time. Store in an airtight container in the refrigerator until ready to use.
Want more picnic recipes?

Italian Potato Salad

Amish Macaroni Salad

Herbed Cream Cheese Grilled Bell Pepper Boats

Beef Stir Fry Kabobs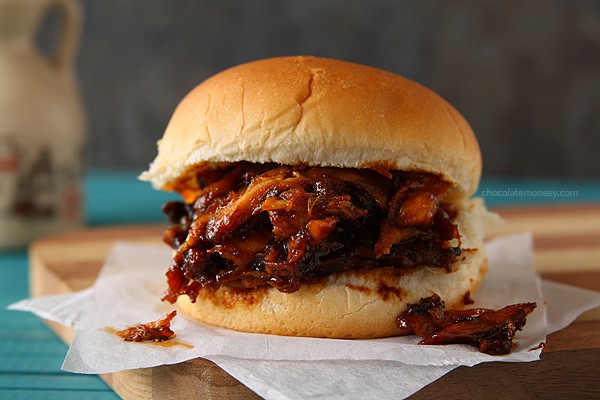 Maple BBQ Pulled Chicken Sandwiches
Disclosure: I was compensated by Musselman's for this recipe. As always, thank you for reading and supporting brands I work with, which allows me to bring you more recipes. All opinions, text, and photographs are my own.
This post may contain affiliate links. As an Amazon Associate and member of other affiliate programs, I earn from qualifying purchase.