BLT Pasta Salad
Because your pasta salad shouldn't be boring! BLT Pasta Salad with homemade ranch dressing, tomatoes, lettuce, and of course plenty of crispy bacon.
Eek how is it one week until 4th of July already?! Pretty soon I'll be going to the local arts and heritage festival then over to my parents for food and neighborhood fireworks.
We usually stick with the same menu every year – hamburgers and hot dogs, 1-2 side dishes, and dessert.
One of those side dishes is always macaroni or potato salad, whether it's Amish Macaroni Salad, Caesar Pasta Salad, Amish Potato Salad, or Italian Potato Salad.
This year I'm thinking of changing it up with a new kind of pasta salad.
I know, I know – do you really need another pasta salad recipe? Can't you stick with your favorite tried and true dishes?
Yes, yes you do need another recipe because this BLT Pasta Salad is one you don't want to miss.
It's loaded with bacon, lettuce, tomato, mozzarella cheese, and homemade ranch dressing – all of the flavors you love about a classic BLT sandwich with a few added extras.
Bacon and ranch go hand in hand if you ask me, and as a Pittsburgher, we love to eat ranch on everything.
For the pasta I used farfalle because the store was out of rotini. I'm not entirely sure why all of the rotini was gone. Maybe everyone was making rotini salad at the same time? Personally bowtie pasta is more fun to eat.
The grape tomatoes put me in the mood for caprese salad, so I decided to throw in some fresh mozzarella balls from the local Italian deli.
Maybe it's not traditional for BLT, but who could say no to fresh cheese?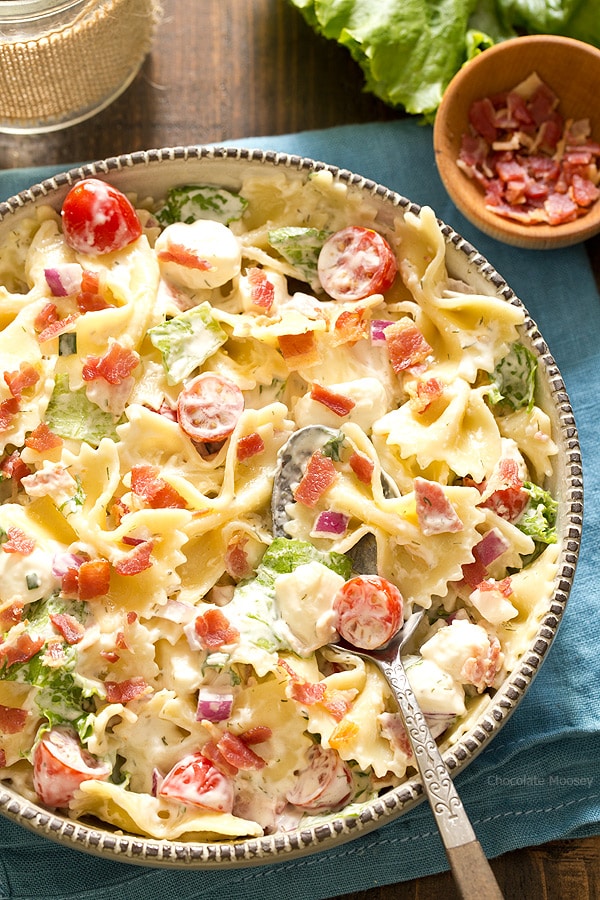 Although pasta salad is considered a picnic side dish, I've totally eaten it as a full meal before.
It's not much different than eating macaroni and cheese for dinner since it has pasta, sauce, and cheese.
Think of it like eating a cold dish for dinner when it's too hot outside to eat.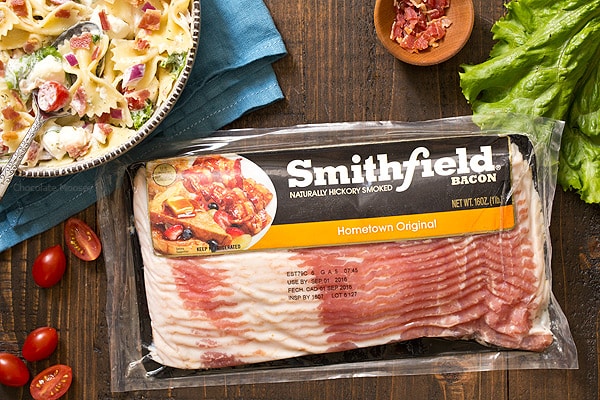 The best part about this recipe? The bacon! I made sure there was plenty of bacon in every bite with 1 cup crumbled bacon.
If you're anything like me, you'll need to make extra bacon because I tend to, um, taste test a slice or two while crumbling the rest for the recipe.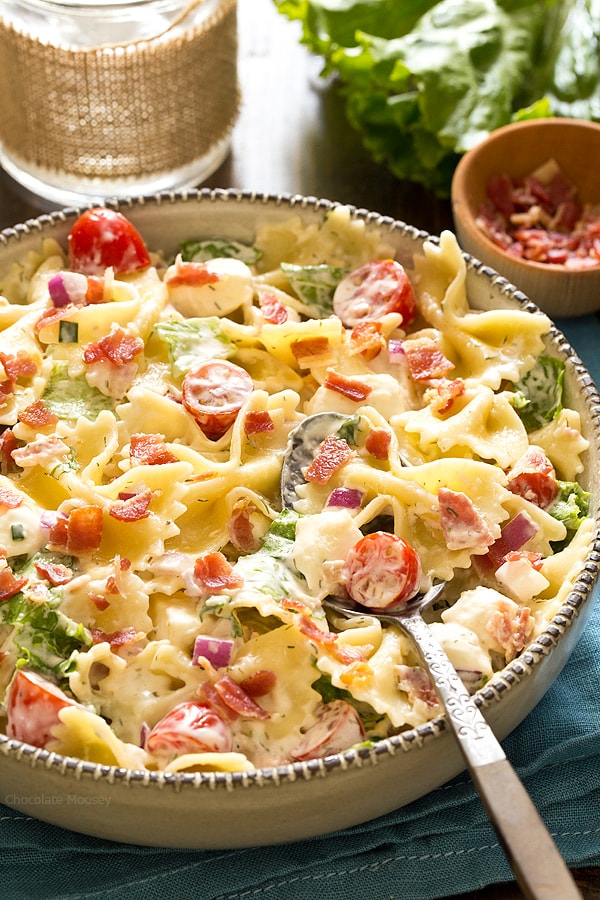 I love bacon so much, I even talked a coworker into buying me some for lunch at my old job.
He was going out to lunch at a diner and asked if I wanted anything. I jokingly said bring me back some bacon.
45 minutes later, he hands me a take-out container full of crispy bacon. Now that's one thing I miss about working in an office.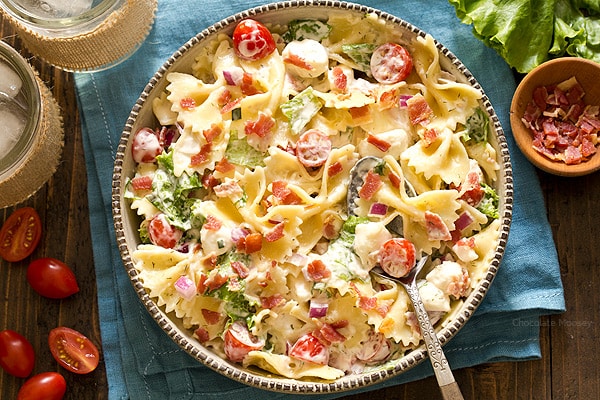 Enjoyed this pasta salad? Check out my Antipasto Pasta Salad!
BLT Pasta Salad
Yield: 4-6 servings
Prep Time: 1 hour 20 minutes
Cook Time: 12 minutes
Total Time: 1 hour 32 minutes
Ingredients
1/2 pound (8 ounces) uncooked farfalle (bow tie) pasta
1 cup mayonnaise
1/4 cup buttermilk
2 tablespoons lemon juice
1 tablespoon fresh chopped parsley
1 tablespoon fresh chopped chives
1 teaspoon garlic paste or 1 clove garlic, minced
1 teaspoon dried dill
1 teaspoon salt
1/2 teaspoon onion powder
1 cup crumbled Smithfield Hometown Original Bacon
1 cup halved grape tomatoes
1 cup fresh mini mozzarella cheese balls, quartered if necessary
1/2 cup chopped red onion
1 cup chopped romaine lettuce
Instructions
Bring a large pot of salted water to a boil. Cook farfalle as directed on the package until al dente, roughly 12-14 minutes. Drain into a colander.
Meanwhile, whisk together mayonnaise, buttermilk, lemon juice, parsley, chives, garlic, dill, salt, and onion powder . Reserve half of the dressing.
In a large bowl, mix together the cooked pasta, remaining half of the dressing, bacon, tomatoes, mozzarella, and onion. Refrigerate at least 1 hour.
Right before serving, add the reserved dressing and lettuce. Serve immediately.
This post may contain affiliate links. As an Amazon Associate and member of other affiliate programs, I earn from qualifying purchase.