Liven up your picnic side dishes with Amish Potato Salad – a twist on traditional potato salad with a creamy dressing using yellow mustard, vinegar, and a little bit of sugar.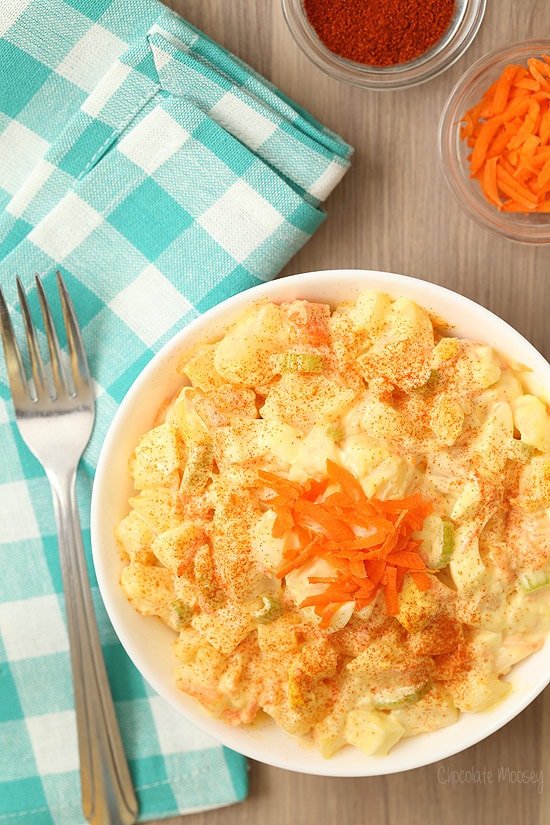 Even though I'm very happy with my choice last summer about living in the suburbs of Pittsburgh again, there are a few things I miss about living in the country. First, there's less traffic. That's probably a given, but you don't have to plan your day around rush hour traffic to get where you're going. On the bright side, we aren't stuck going up the mountain at 20 miles per hour behind trucks or stuck on back country roads where you can't (legally) pass the cars in front of you. Second, I miss the Mennonite and Amish markets. I could name at least 5 markets in the area that sold Amish food, but in Pittsburgh I'm struggling to find anything close. I miss buttery Amish pretzels (think Auntie Anne's pretzels at the mall but a million times better). I miss Amish doughnuts stuffed with peanut butter cream. Now I can still get fresh Amish doughnuts near my parents where an Amish family sets up their tent once a month, but peanut butter glazed is not the same as peanut butter cream. I also miss Amish sides, like macaroni salad, potato salad, and coleslaw. As much as I love making everything from scratch, sometimes if my family was visiting the entire weekend (Friday night – Sunday night), I needed a little help with dinner because often we were running around keeping busy and not home in time to make anything that can't be served right away (who really wants to eat homemade potato salad at 7 PM when you were ready for dinner 2 hours earlier?). And since the sides were still technically homemade (just not by me), we had no problems devouring a pound.
With the season of potato salad upon us, my craving for Amish Potato Salad is back. But first, let me back up a minute. What is Amish Potato Salad? It's a twist on classic potato salad where you add yellow mustard, vinegar, and sugar to your mayonnaise based dressing. It's a bit sweeter than most potato salads, but the mustard and vinegar help balance it out so it's not too sweet to serve. Growing up I wasn't a huge fan of mayo-heavy salads, but adding mustard really changed my mind. I also know most of you agree with me as my Amish Macaroni Salad is one of my most popular recipes, even when it's not summer (macaroni salad in December? Why not!). Now it's time to bring you my potato salad recipe. Serve up this Amish Potato Salad for your summer picnics, and I guarantee it'll be the star of side dishes.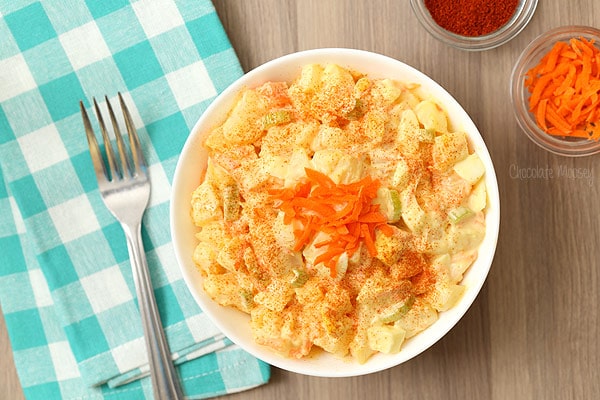 The key to any great potato salad? It's right there in the name – the potato. I used
Idaho® russet potatoes
, which you can easily identify by the "Grown In Idaho" seal. Idaho potatoes are different than other russets because of the way they are grown. Their growing methods leads to a better tasting potato with a low moisture content, which means more potato, less water. And with this Amish Potato Salad, you definitely want to use the best potatoes.
For more information about Idaho Potato Commission, please visit their website and say hello on Facebook, Twitter, and Pinterest.
Amish Potato Salad
Ingredients
1 pound Idaho® potatoes, peeled and cubed (roughly 2 large potatoes)
2 carrots, peeled and grated
2 hard boiled eggs, chopped
1 rib celery, chopped
1/2 cup chopped onion
1/4 cup mayonnaise
1 tablespoon yellow mustard
1 tablespoon white distilled vinegar
1 tablespoon sugar
1/4 teaspoon smoked paprika
1/4 teaspoon salt
Instructions
Bring a large pot of water to a rolling boil. Once boiling, add the potatoes. Cook until soft but not overdone, roughly 10-12 minutes. Drain and cool 15 minutes.
In a large bowl, add the potatoes, carrots, eggs, celery, and onion.
In another bowl, whisk together the mayonnaise, mustard, vinegar, sugar, paprika, and salt. Pour over the potato mixture and stir together. Refrigerate at least 1 hour before serving. Dust with paprika before serving, if desired.
More Picnie Side Recipes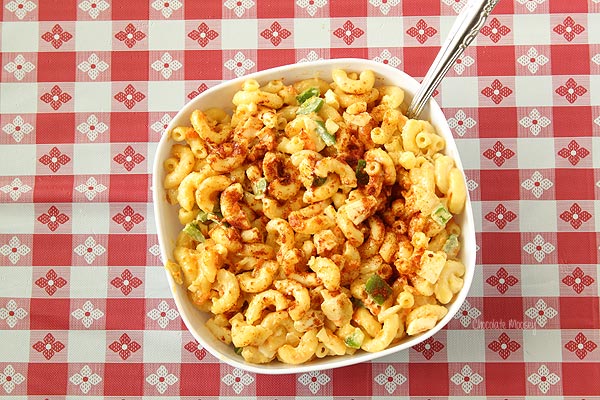 Amish Macaroni Salad

Italian Potato Salad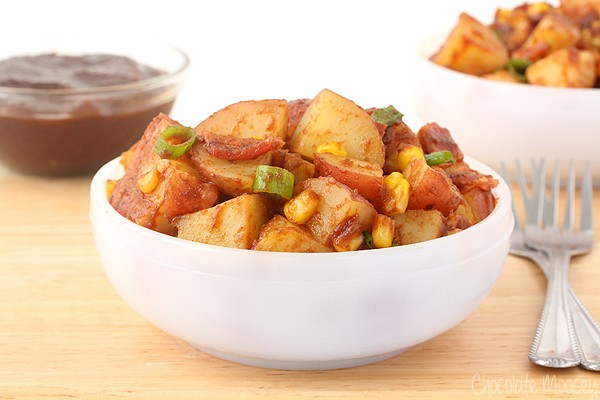 Apple Butter BBQ Potato Salad
Disclosure: This post is sponsored by Idaho Potato Commission. Thank you for supporting me and the companies I work with as sponsored posts help pay for the costs of running Chocolate Moosey, including website hosting and groceries for recipe development.