Small Batch Cheesecake (Loaf Pan Cheesecake)
The best loaf pan cheesecake with no water bath needed! Small Batch Cheesecake in a loaf pan makes about 6 strawberry cheesecake bars, ideal if you're looking for portion control.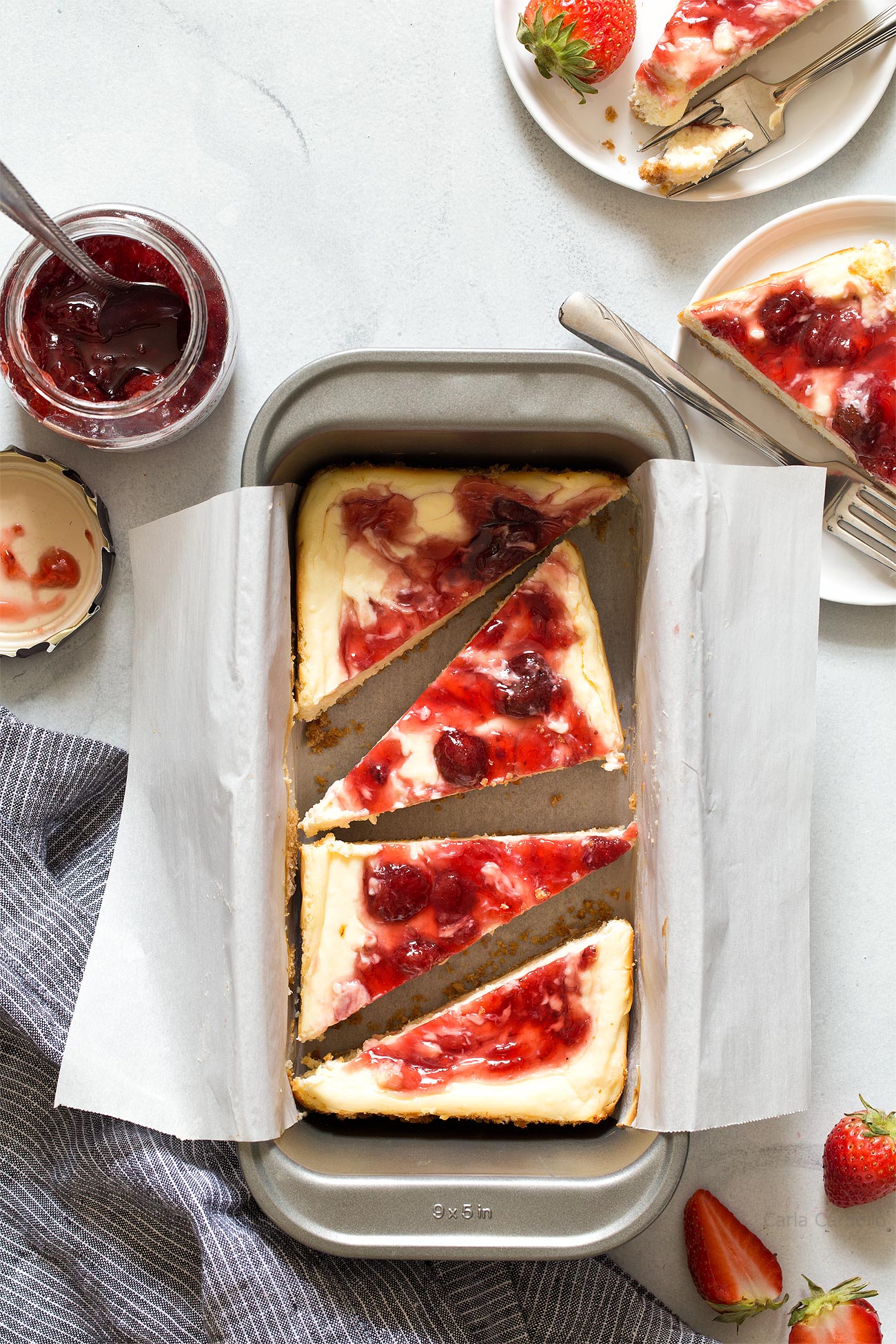 As I was looking through my archives, I discovered something I thought would never happen.
It's been a year since I posted my last cheesecake recipe.
For awhile I was posting a new cheesecake recipe every month, but as I started focusing more and more on dessert for two, I put it on hold. It was only a matter of time until I figured out how to make cheesecake in a loaf pan.
I've been on a roll making small batch recipes such as my small batch brownies and small batch lemon bars in my loaf pan.
In fact, I bought a second loaf pan so I could keep up with the baking.
Usually it takes me a few tries to perfect the recipe, so it's easier to have a second pan rather than wait for the dessert to cool, remove, wash the pan, and try again.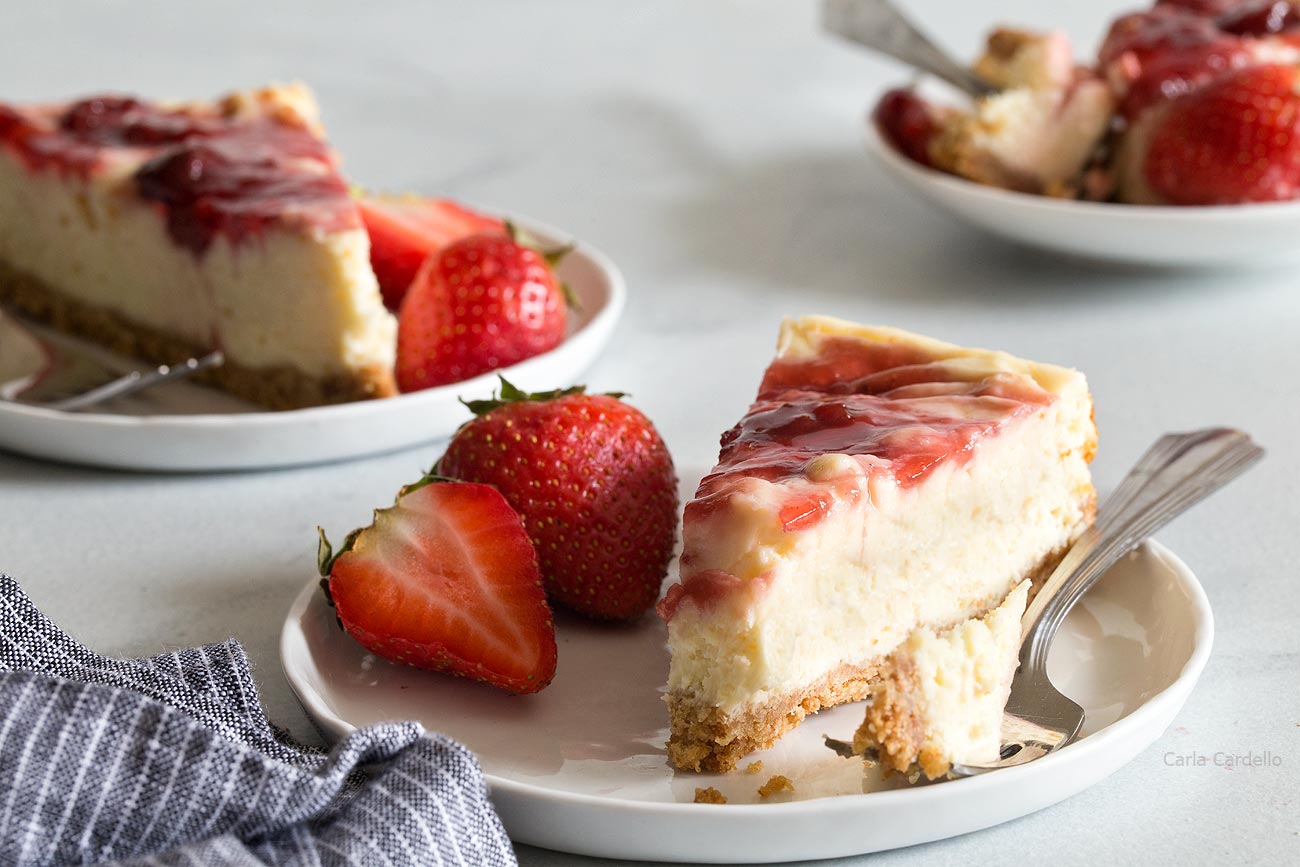 These Small Batch Strawberry Swirl Cheesecake Bars were inspired by my popular
Strawberry Swirl Cheesecake
with
strawberry curd
.
It took me two tries to get the cheesecake bar recipe right. I started with my classic cheesecake recipe and divided it by 3 to scale it down to 1 egg.
The first time I used only 8 ounces of cream cheese, which resulted in thin bars. The second time I used 16 ounces for that perfect thickness.
I cut the bars into triangles so you have the illusion you're serving a regular-sized cheesecake. However, you can also cut them into rectangles or even in half into squares.
The key to a lump free cheesecake is making sure the cream cheese is 100% room temperature. That means it should not be cold to the touch. If it's even the slightest bit cold, it'll develop lumps once the egg is added.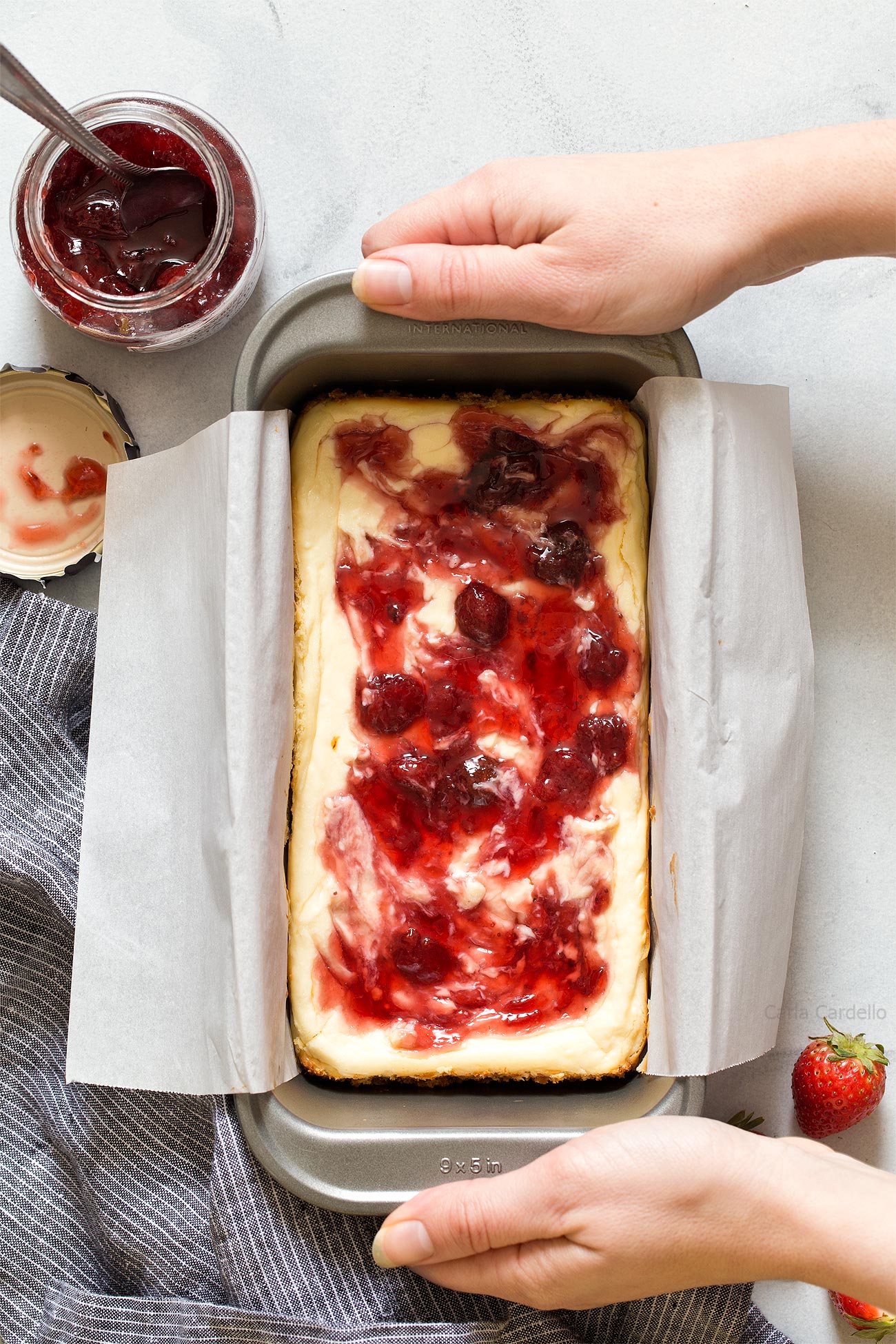 If the cream cheese is still cold after leaving it out on the counter, microwave it in 5 second bursts until it no longer feels cold to the touch. Make sure you take it out of the foil because you can't microwave that.
As much as I love to bake completely from scratch, sometimes I give myself permission to take a little break in the kitchen; I'm ok with buying graham crackers and strawberry preserves when the rest of the recipe is homemade.
After all, my kitchen philosophy is making from scratch while still staying realistic.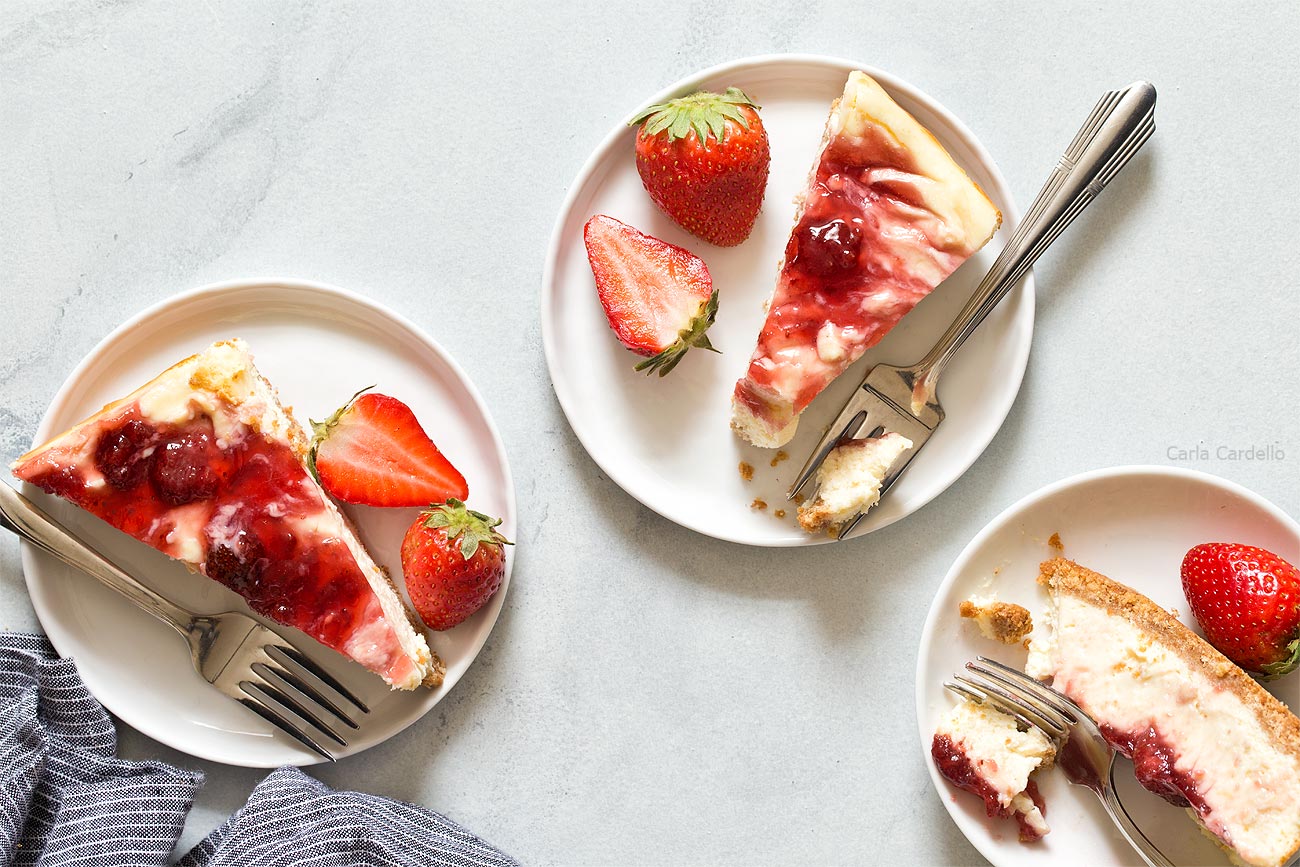 For the strawberry swirl, I used
strawberry jam without pectin
.
You can also use blueberry jam without pectin, raspberry jam without pectin, peach jam without pectin, or even sour cherry jam.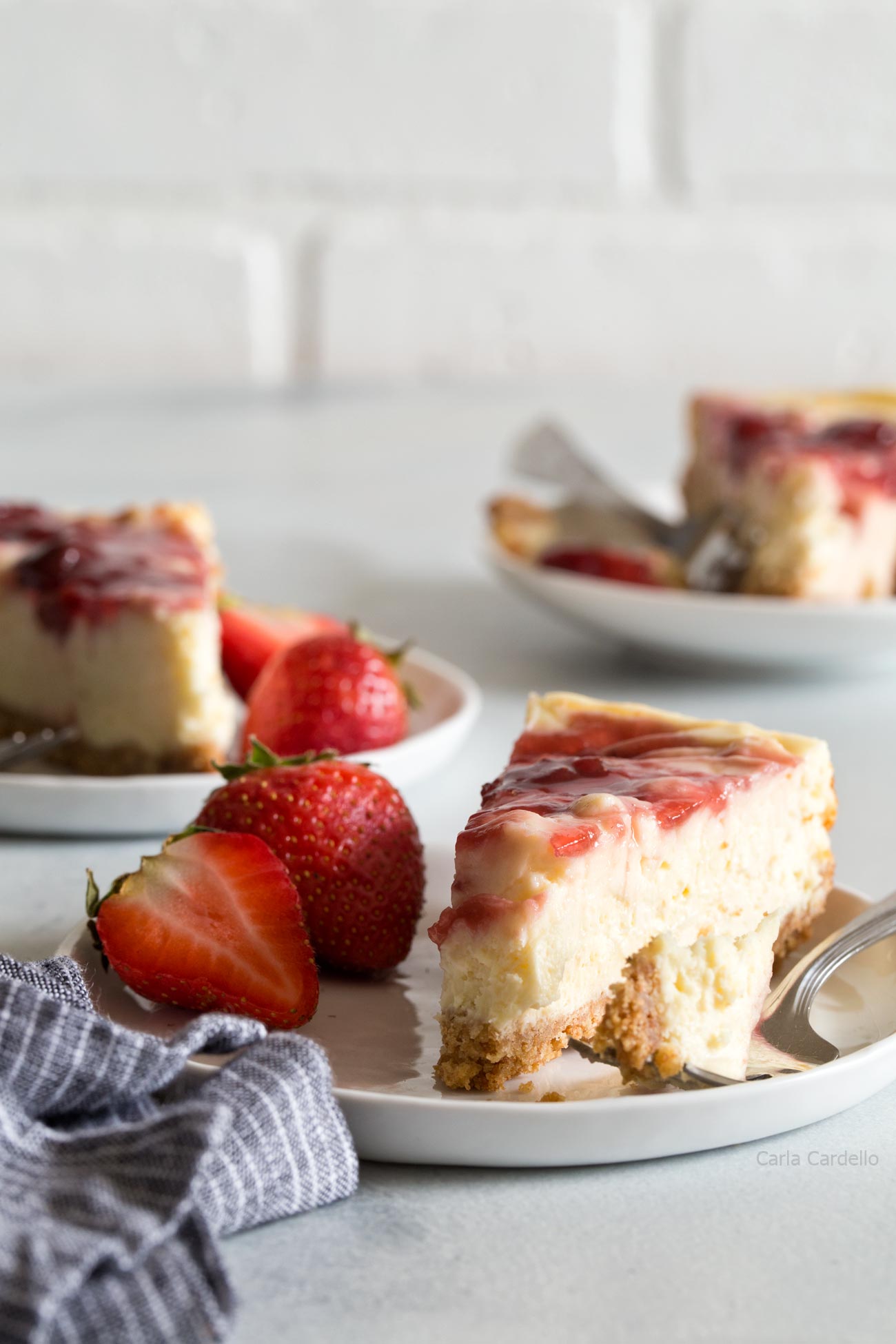 Got a springform pan? Check out my 6 inch cheesecake recipe, 7 inch cheesecake recipe, and 9 inch classic cheesecake recipe.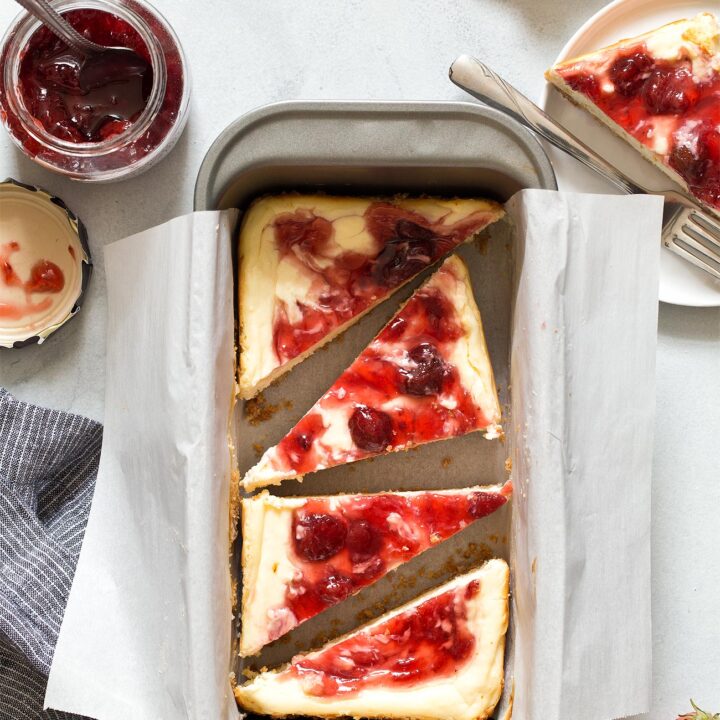 Small Batch Strawberry Swirl Cheesecake Bars
Yield: 6-8 cheesecake bars
Prep Time: 25 minutes
Cook Time: 35 minutes
Total Time: 1 hour
The best cheesecake recipe baked in a loaf pan with no water bath needed! These Small Batch Strawberry Swirl Cheesecake Bars makes about 6 bars.
Ingredients
1 cup graham cracker crumbs
1/4 cup (4 tablespoons or 2 ounces) unsalted butter, melted
16 ounces full-fat cream cheese, room temperature (do not use fat free)
1/2 cup granulated sugar
1 egg, room temperature
1 teaspoon vanilla extract
1/4 cup strawberry jam
Instructions
Preheat oven to 350F. Line a 9x5 loaf pan with parchment paper, leaving extra on the sides for handles.
In a medium bowl, mix together the graham cracker crumbs and melted butter. Press into the bottom of the pan.
In a large mixing bowl on medium speed, beat the cream cheese and sugar until smooth, about 1-2 minutes. Scrape down the bowl.
On low speed beat in the egg and vanilla.
Transfer the batter to the pan. Add spoonfuls of fruit preserves on top and swirl with a knife.
Bake for 35-40 minutes minutes or until the center is almost set (it will wiggle when shaken but the top should be firm). Cool for an hour in the pan then carefully remove. Cover and refrigerate for at least 4 hours or overnight.
This post may contain affiliate links. As an Amazon Associate and member of other affiliate programs, I earn from qualifying purchase.