No Bake Blueberry Cheesecake Pie
Use up your fresh blueberries in this No Bake Blueberry Cheesecake Pie made with homemade blueberry pie filling and graham cracker crust. Made without Cool Whip.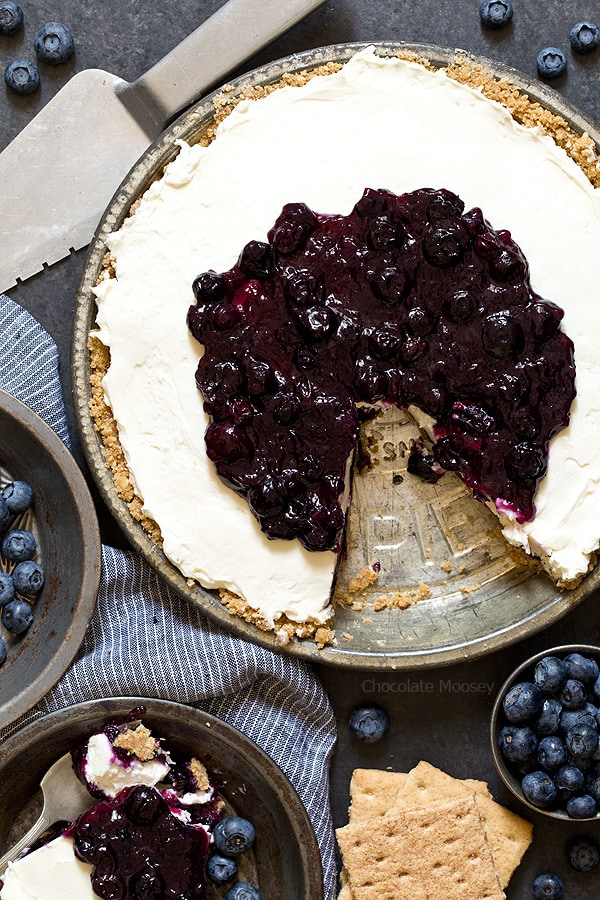 It's rare I make a new dessert for a party first then remake it later for the blog.
Usually it's the other way around – either it's up on the blog already and I'm making it for the umpteenth time or I finished shooting it and brought over the leftovers.
After this No Bake Blueberry Cheesecake Pie was deemed a success, I knew I wanted to share it with you.
I first made this no bake blueberry cheesecake for 4th of July. I needed a dessert that could be made ahead of time, didn't make me cranky with the oven, and could be transportable via a cake carrier I own (with an ice pack, of course).
I own about 10 pie plates now (most for photography purposes), so I wanted an excuse to use my pie plate that says "pie". Yes, this is pie.
As the recipe name suggests, you add a no bake cheesecake filling to a graham cracker pie crust along with homemade blueberry pie filling.
The only cooking you need to do is about 10 minutes on the stovetop. Once you chill the pie overnight, you have the perfect summer dessert to share with family and friends.
Normally I don't use canned pie filling, especially during the summer when fresh fruit is in season, but I had several cans sitting in my pantry from a shipment I received a few months ago.
My dad enjoys blueberries, and since I was going over my parents' house for the holiday, I surprised him with pie.
Although I used canned filling for that particular pie, the pie in today's post is made with homemade blueberry pie filling using fresh blueberries.
For the cheesecake filling, I adapted it from a recipe a long, long time ago (can't remember the source – Kraft?) where I use homemade whipped cream for the Cool Whip.
I grew up eating Cool Whip, but nowadays I find it easier to make my own whipped cream as a substitute.
You don't need to worry about a stabilizer between the cream cheese mixture and chill time. Just make sure you beat your heavy cream long enough so it stays thick and stiff.
I chose blueberries because of the color contrast – vibrant blue against creamy white – but most fruits will work just as well. You can use cherries, raspberries, strawberries, even peaches.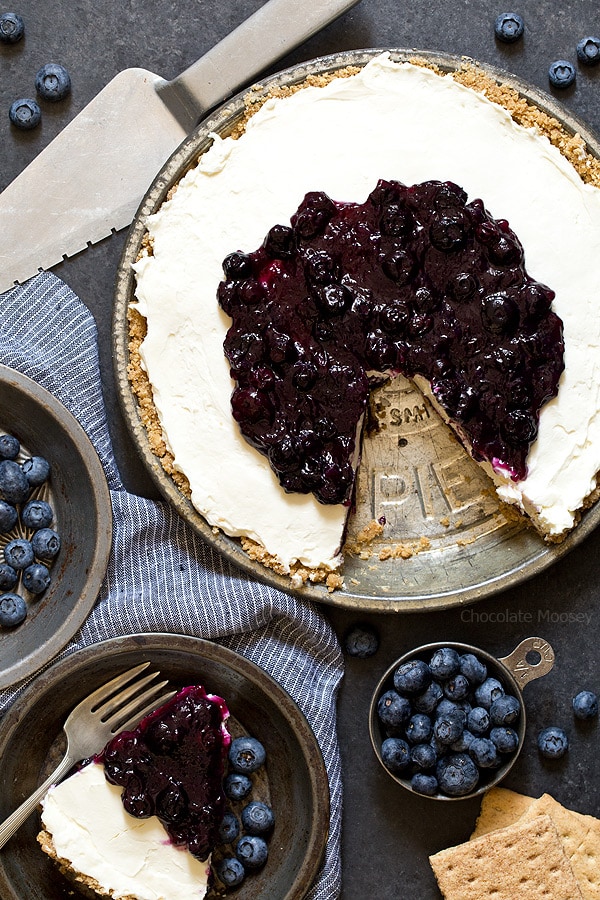 Looking for more blueberry recipes? Check out these easy blueberry recipes:
More No Bake Dessert Recipes

Loved this no bake cheese cake recipe? Check out these other no bake dessert recipes:
No Bake Blueberry Cheesecake Pie
Yield: 6-8 servings
Prep Time: 20 minutes
Chill Time : 4 hours
Total Time: 4 hours 20 minutes
Use up your fresh blueberries in this No Bake Blueberry Cheesecake Pie made with homemade blueberry pie filling and graham cracker crust. Made without Cool Whip.
Ingredients
Blueberry Pie Filling
2 cups fresh blueberries
1/2 cup water
1/2 cup granulated sugar
2 tablespoons cornstarch
1/2 teaspoon vanilla
Cheesecake Pie
2 cups graham cracker crumbs
6 tablespoons unsalted butter, melted
3/4 cup heavy whipping cream, cold
8 ounces cream cheese, softened
1 cup powdered sugar
1 teaspoon vanilla extract
Instructions
Make the pie filling: In a large saucepan, combine blueberries, water, sugar, and cornstarch. Bring to a boil over medium heat, stirring often. Cook for another 3-5 minutes or until thickened and blueberries have cooked down. Remove from heat and stir in vanilla. Cool to room temperature.
Make the pie: In a large bowl, mix together graham cracker crumbs and melted butter. Pat into a 9-inch pie plate. Chill at least 30 minutes before filling.
In a large mixing bowl (with whisk attachment if using stand mixer), beat the heavy cream until it thickens and stiff peaks form, roughly 3-4 minutes (when you pull the beaters up, peaks will form and not fall over). Transfer to another bowl and keep cold in the refrigerator.
In the same mixing bowl (no need to clean bowl - switch to paddle if using stand mixer), beat together the cream cheese and sugar until smooth and creamy, about 2-3 minutes. Beat in vanilla. Scrape down the bowl.
Fold the whipped cream into the cream cheese mixture until fully incorporated.
Spread half of pie filling into the bottom of the pie crust. Spread cream cheese mixture on top. Top with the remaining pie filling.. Refrigerate at least 4 hours or overnight before serving.
This post may contain affiliate links. As an Amazon Associate and member of other affiliate programs, I earn from qualifying purchase.