Honey Blueberry Oatmeal Bars
Soft, moist, and reminiscent of oatmeal cookies, Honey Blueberry Oatmeal Bars are filled with a homemade blueberry jam without pectin.
I've been trying really, really hard this summer to like blueberries.
I never liked them much during childhood, mainly because a few times I've eaten them, I've gotten sick afterwards. I've told myself, oh I can't eat blueberries because my stomach doesn't like them.
Fast forward to a few years ago when my first landlord baked a triple berry pie with blueberries and invited me upstairs to chat.
Not wanting to decline the invitation, we sat on her porch and ate a slice. I learned blueberries were still not my favorite, but on the plus side I didn't get sick.
Fast forward to this summer, I decided to give blueberries another whirl. Mainly because blueberries are vibrant for photos but also I have so many strawberry, cherry, and raspberries recipes, I was starting to get bored; I needed to change it up.
Last month I posted recipes for no bake blueberry cream cheese pie and blueberry cream sodas, but these Honey Blueberry Oatmeal Bars were by far my favorite way to eat blueberries, mainly because of three simple words – homemade blueberry jam.
They are reminiscent of oatmeal raisin cookies – soft and spiced with the right amount of sweetness from the honey and blueberry jam.
Thanks to the honey, they stay moist for a few days after baking, so you don't have to stress about how something will taste if you can't serve it right away.
And now I can move blueberries over to my "no longer hate" list.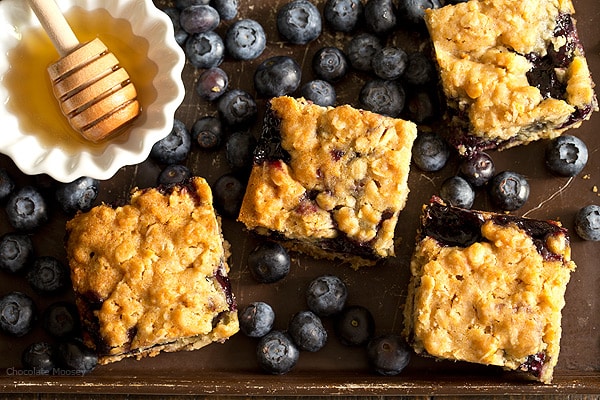 Making homemade
blueberry jam without pectin
is easy. All you need are blueberries, sweetener, lemon juice, and about 10-15 minutes of cooking time on the stove.
You don't need to worry about pectin because the jam will cook down and thicken on its own or about canning jars because you'll be using the jam as soon as it cools.
If you don't have blueberries, you can also make my peach jam without pectin, strawberry jam without pectin, or sour cherry jam.
I used one special ingredient in these bars – honey! With more than 300 varietals available in the U.S., honey adds its own unique flavor.
Because honey is slightly sweeter than sugar, I was able to cut back on how much sweetener I used in both the dough.
Honey also provides and retains moisture, so it's almost a guarantee these oatmeal bars will stay soft and moist, even after a few days. I took them to share at a coworking space two days after baking them, and they were pretty much gone by lunchtime.

If you have leftover blueberries, use them up in my Small Coffee Cake recipe!
Honey Blueberry Oatmeal Bars
Yield: 12-16 squares
Prep Time: 45 minutes
Cook Time: 30 minutes
Total Time: 1 hour 15 minutes
Soft, moist, and reminiscent of oatmeal cookies, Honey Blueberry Oatmeal Bars are filled with a homemade blueberry honey jam without pectin.
Ingredients
1 recipe Small Batch Blueberry Jam (get recipe here)
1 1/2 cups all-purpose flour
1 1/4 cups old-fashioned oats
1/2 teaspoon ground cinnamon
1/2 teaspoon baking soda
1/2 teaspoon salt
3/4 cup (6 ounces or 12 tablespoons) unsalted butter, softened
1/2 cup honey
2 tablespoons brown sugar
1 egg, room temperature
1 teaspoon vanilla extract
Instructions
Make the Small Batch Blueberry Jam (get instructions here). Cool completely before using.
Preheat oven to 350F. Line an 8x8 square pan with parchment or grease with cooking spray.
In a large bowl, mix together the flour, oats, cinnamon, baking soda, and salt.
In another large bowl, beat together the butter, honey, and brown sugar until creamy, about 2-3 minutes.
Beat in the egg and vanilla until incorporated, about 1 minute (it may look curdled).
Gradually beat in the flour mixture.
Evenly spread half of the dough into the bottom of the pan. Top with cooled blueberry jam. Top with the remaining dough.
Bake 28-30 minutes or until golden brown. Cool completely before cutting into squares.
This post may contain affiliate links. As an Amazon Associate and member of other affiliate programs, I earn from qualifying purchase.