Raspberry Crumb Bars
Everyone's favorite jam bars baked in a loaf pan! These Small Batch Raspberry Crumb Bars are made with a buttery dough and raspberry jam in the center. Makes roughly 8 squares.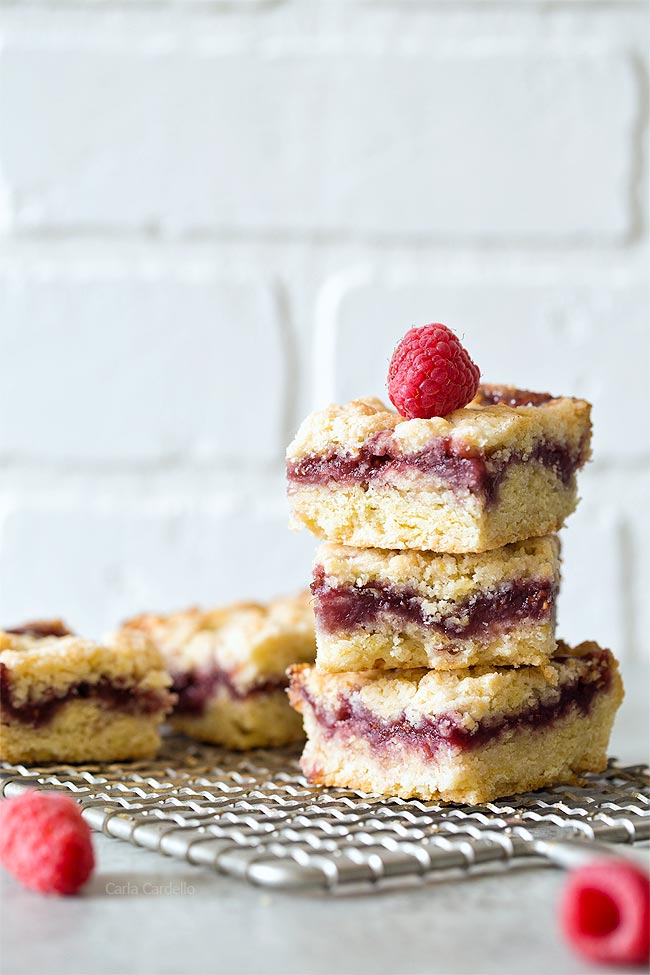 Hello September!
I've been in a bit of a funk lately, so I'm trying to figure out how to push through that.
Most of it is a long story and not one I'm ready to share publicly yet, but you may (or may not) have noticed I've pulled back on posting.
Maybe it was a summer slump. Maybe adulting is catching up to me. Maybe I needed more of a break than I realized.
I'm still really super active on Instagram, so as always find me on @homemadeinthekitchen and @citylifeadventures.
To get myself back into it, I decided to go back to the beginning – baking. I baked all the time even before it became my job.
It's always hard to bake in the summer due to the heat, so when there was a break in the weather due to the rain (look at how crazy!), I took advantage.
It's still hard to tell whether it's summer or fall based on the weather, but regardless I'm back doing some small batch baking with my trusty loaf pan.
If you don't have one already, I highly recommend you buy a 9×5 loaf pan, even two if you bake a lot like I do.
I've been making (and eating) jam bars for as long as I can remember. These Small Batch Raspberry Crumb Bars is one of those recipes every baker starts out with in the beginning.
They're bars with a buttery crust and a raspberry jam filling. The crumb part is the same dough as the crust, so you only need to make one component for the whole thing.
You don't even need to use your mixer!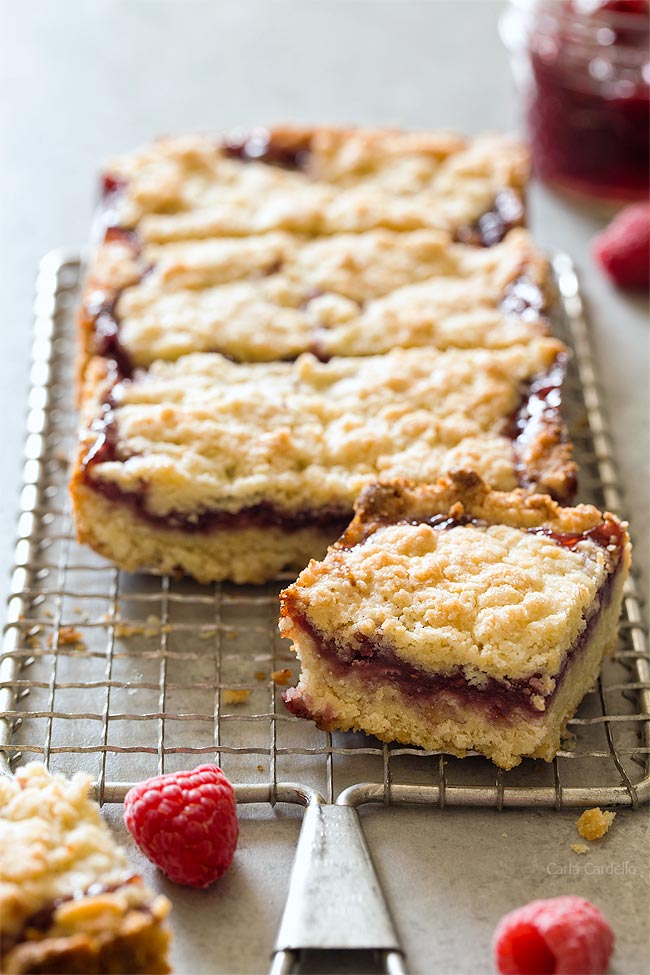 For my first test batch, I adapted my
Apple Pie Crumb Bar recipe
and cut the recipe in half using 1 egg yolk.
I didn't have enough dough for both the bottom and the top, so I went back to using 1 whole egg. Fine by me because then I don't have to worry about what to do with egg whites.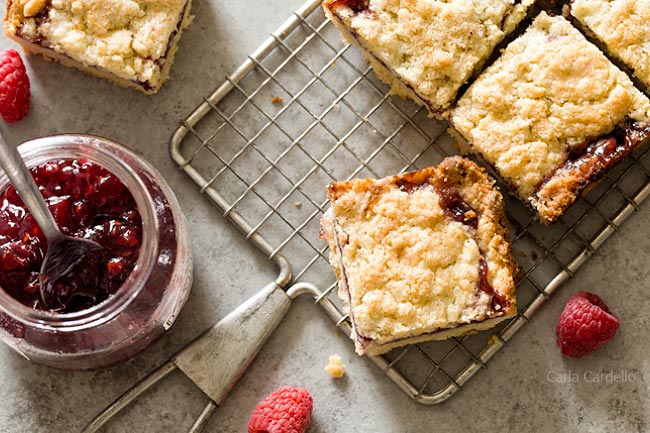 The second batch I baked it at 375F. I'm not entirely sure why other than that's what the original recipe called for, so I tested it a third time at 350F.
Although both were wonderful, I liked it slightly better at 375F because the edges were a little browner.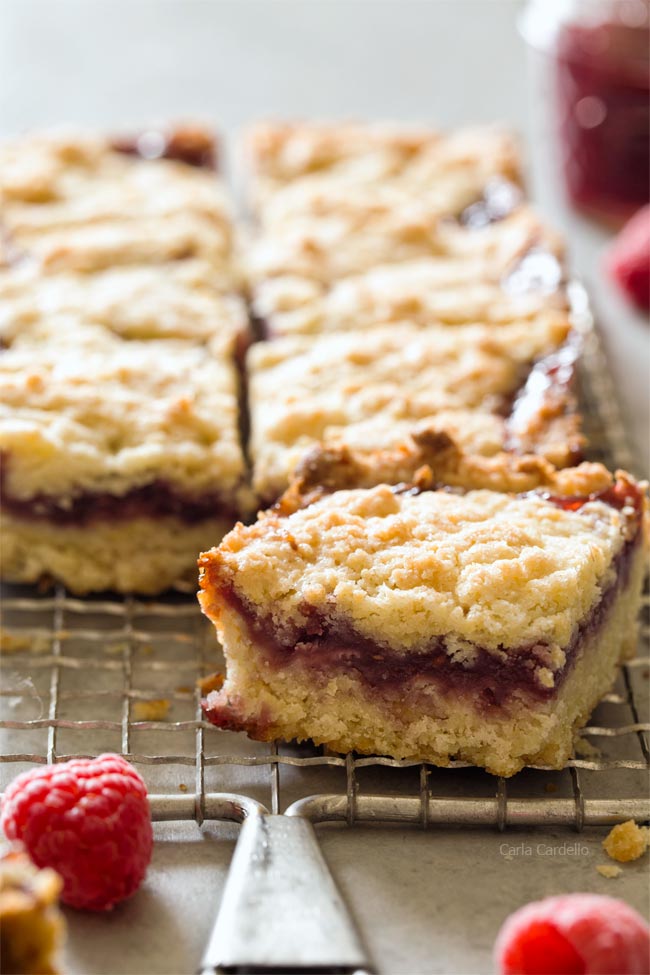 The dough will be a bit crumbly and dry; however, it should form a dough when pressed together with your fingers.
If it's still too crumbly to handle, add a drop or two of water to bind it together (but not too much because it shouldn't be wet and sticky).
For the filling, I used raspberry jam. You can certainly buy a jar, but if you're feeling ambitious, you can make raspberry jam without pectin or even raspberry jalapeno jam.
You can also use blueberry jam, strawberry jam without pectin, peach jam without pectin, or sour cherry jam.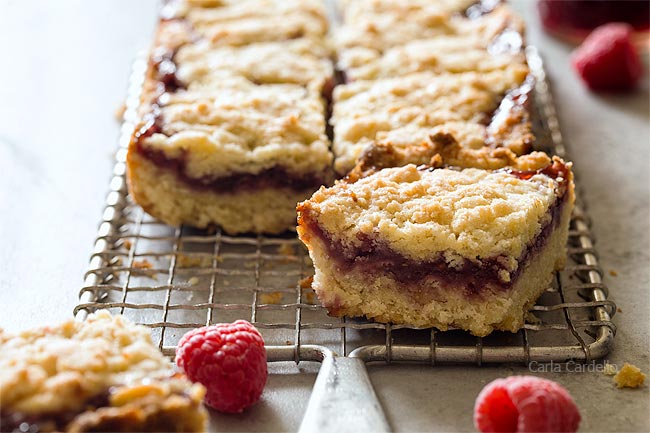 This recipe makes up to 8 squares, depending on how you cut it. They also last up to 1 week in an airtight container (assuming you don't eat them all by then).
Items You May Need: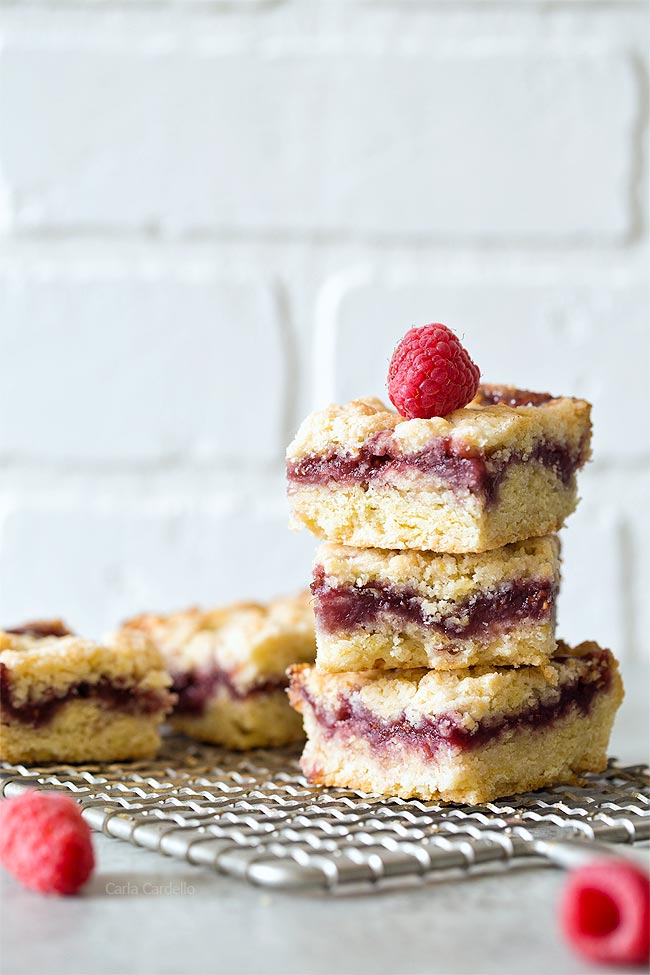 Small Batch Raspberry Crumb Bars
Yield: 8 squares
Prep Time: 20 minutes
Cook Time: 40 minutes
Total Time: 1 hour
Everyone's favorite jam bars baked in a loaf pan! These Small Batch Raspberry Crumb Bars are made with a buttery dough and raspberry jam in the center. Makes roughly 8 squares.
Ingredients
1/2 cup granulated sugar
1 1/2 cups all purpose flour
1/2 teaspoon baking powder
1/2 teaspoon salt
1/2 cup (4 ounces) cold butter, cut into 8 tablespoons
1 egg
1/2 cup raspberry jam (homemade or store bought)
Instructions
Preheat the oven to 375F. Lightly grease a 9x5 loaf pan and line with parchment paper.
In a large bowl, whisk together the sugar, flour, baking powder, and salt. With a pastry cutter or two knives, cut in the butter until the pieces look like small pebbles.
Cut in the egg with the pastry cutter. Dough will be dry and crumbly but should form a dough when pressed together. If it's too dry, add a drop or two of water. Dough should not be wet and sticky.
Reserve 1/2 cup for the topping. Pat the rest into the bottom of the pan. Top with raspberry jam.
From the 1/2 cup reserved dough, press some of the dough together to form pieces then cover the preserves as much as you can.
Bake 40-45 minutes or until the top is golden brown and the edges pull away from the pan sides. Cool completely before serving. Store leftovers in an airtight container for up to one week.
More Loaf Pan Recipes
This post may contain affiliate links. As an Amazon Associate and member of other affiliate programs, I earn from qualifying purchase.