Red White and Blue Cheesecake
Beat the heat with Red White and Blue Cheesecake! It's a no bake cheesecake for two in a cup with fresh strawberries and blueberries. Made with heavy whipping cream (no Cool Whip) and cream cheese. Serve them in a cup or ramekin or layer it with mixed berries like a parfait.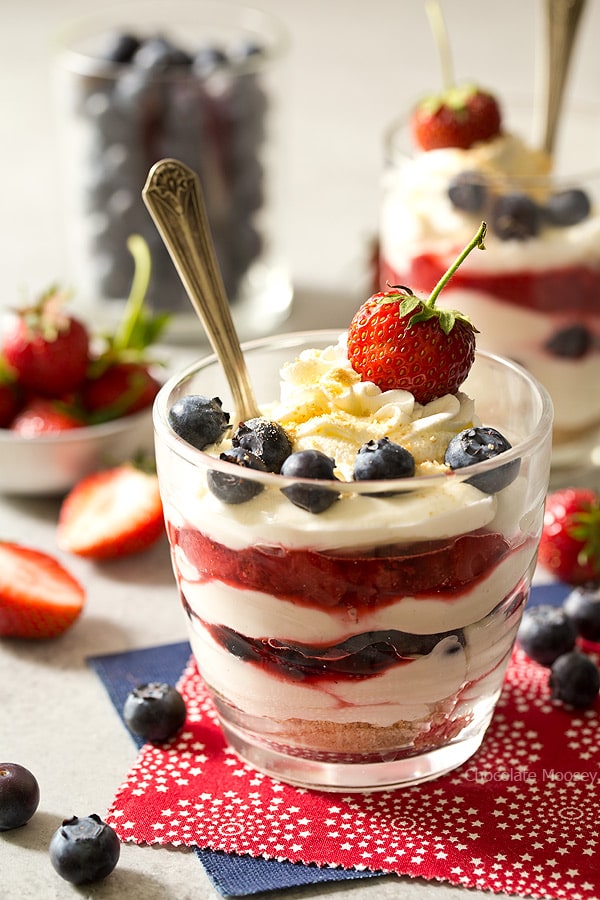 What kind of summer person are you?
Do you like to soak up the sun as much as possible and find yourself outdoors every chance you get?
Or do you hibernate inside with the a/c on full blast, cooling down with strawberry popsicles?
I'm in the latter category. Sure, I need my sunlight and go for a walk almost every evening, but if you asked would I rather go to the pool or stay indoors, my vote is definitely indoors (that and I hate swimming).
The only exception would be the beach, but even then I wouldn't want to lay outside in 90 degrees for too long. I'd listen to the waves crash, dip my feet into the water, then go inside and buy an ice cream cone.
No matter which group you're in, we can both agree nobody wants to turn on the oven in the summer.
Sure, I'll still do it but then I'm cranking up the a/c on high. If I can make a recipe without turning my apartment into a giant hot box, then I'm all in.
With 4th of July coming up quickly, I thought I would treat you to a red, white, and blue dessert for the holiday. My plans are walk around the city for whatever they have planned and watch fireworks.
Since I don't want to go all summer without making cheesecake, this Red White And Blue Cheesecake with strawberries and blueberries will do the trick.
It's no bake cheesecake in a cup. Then it's layered with fresh berries to make a cheesecake parfait.
You can also serve no bake cheesecake for two in ramekins and top with mixed berries.
I can get my cheesecake fix AND not die from the heat. Win win.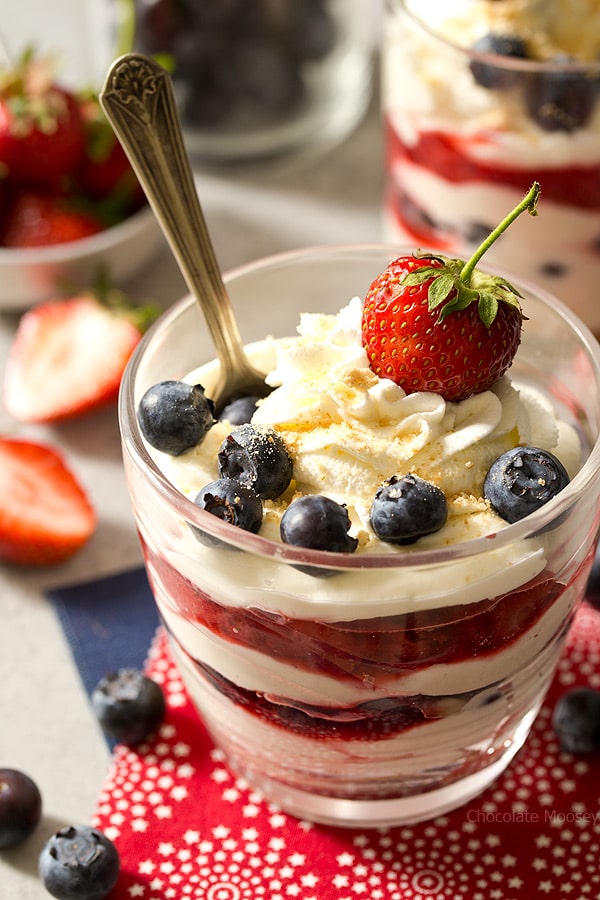 No bake cheesecake is very easy to whip up. Traditional cheesecake filling uses eggs. No bake cheesecake uses heavy whipping cream.
Instead of using Cool Whip, I made homemade whipped cream to fold into the cream cheese mixture.
I developed the recipe so you don't even need to clean the mixing bowl in between steps. Just make sure you scrape really well.
And since you'll want to garnish your no bake cheesecakes with more whipped cream on top, I made sure you make enough all at once so you wouldn't have to double up on steps.
If you're making no bake cheesecake parfaits, I found it easier to assemble them as soon as you make the filling.
If you let it chill first, it's a little harder to spoon and spread into cups.
Not impossible so if you absolutely must do it this way, so you'll be fine. You might want to let it warm up a bit at room temperature if you're having trouble assembling.
If you're celebrating 4th of July, you can incorporate fresh berries to make them red, white, and blue like I did with my
No Bake Mini Cheesecakes
.
White is the cheesecake and whipped cream.
Blue is the blueberries, which I left untouched because I wanted them to remain blue and not turn purple if I cooked them down into a sauce.
Red is homemade strawberry sauce because I wanted some type of sauce component.
You can certainly use freshly sliced strawberries, but I highly recommend taking the extra time for the sauce. Sauce + cheesecake = extra delicious.
Or layer your cheesecake with strawberry jam without pectin or strawberry curd.
You can also make the sauce on a separate day and use when ready to assemble.
And once it's fall again, check out my No Bake Caramel Apple Cheesecake! Same concept but with apples instead.
More Cheesecake For Two Recipes
No Bake Cheesecake For Two With Fresh Berries
Yield: 2 servings
Prep Time: 30 minutes
Chill Time: 1 hour
Total Time: 1 hour 30 minutes
Beat the heat with red, white, and blue No Bake Cheesecake For Two in a cup with fresh strawberries and blueberries. Made with heavy whipping cream (no Cool Whip) and cream cheese. Serve them in a cup or ramekin or layer it with mixed berries like a parfait.
Ingredients
1/4 cup graham cracker crumbs plus more for garnish
2 tablespoons unsalted butter, melted
1/4 cup cold heavy whipping cream
1 tablespoon powdered sugar
1/2 teaspoon vanilla
4 ounces cream cheese, softened
2 tablespoons granulated sugar
Fresh blueberries, fresh sliced strawberries, and/or Homemade Strawberry Sauce, for garnish
Instructions
In a small bowl, mix together the crumbs and melted butter. Press into the bottom of two glasses or ramekins. Refrigerate for at least 15 minutes or until firm.
Meanwhile, in a large mixing bowl on medium-high speed (with whisk attachment if using 5 quart stand mixer), beat the heavy cream until it starts to thicken, about 1 minute.
Gradually beat in the powdered sugar and 1/4 teaspoon vanilla then continue beating until stiff peaks form, about 2-3 minutes (when you pull the beaters up, peaks will form and not fall over).
Transfer to another bowl and reserve 2 tablespoons whipped cream for garnish. Keep both cold in the refrigerator.
In the same mixing bowl (no need to clean bowl - switch to paddle if using stand mixer), beat together the cream cheese, granulated sugar, and remaining 1/4 teaspoon vanilla until smooth and creamy, about 1-2 minutes. Scrape down the bowl.
Fold the whipped cream into the cream cheese mixture until fully incorporated.
Add some of the cheesecake filling on top of each chilled crust then add some blueberries and strawberry sauce. Finish layering with the cheesecake and berries.
Garnish with the reserved 2 tablespoons whipped cream. Refrigerate at least 1 hour before serving. Keep cold until ready to serve.
This post may contain affiliate links. As an Amazon Associate and member of other affiliate programs, I earn from qualifying purchase.