Time to jam out this summer with small batch Sour Cherry Jam without pectin! Use it as a cake filling, swirl it into Greek yogurt, or simply spread it on toast.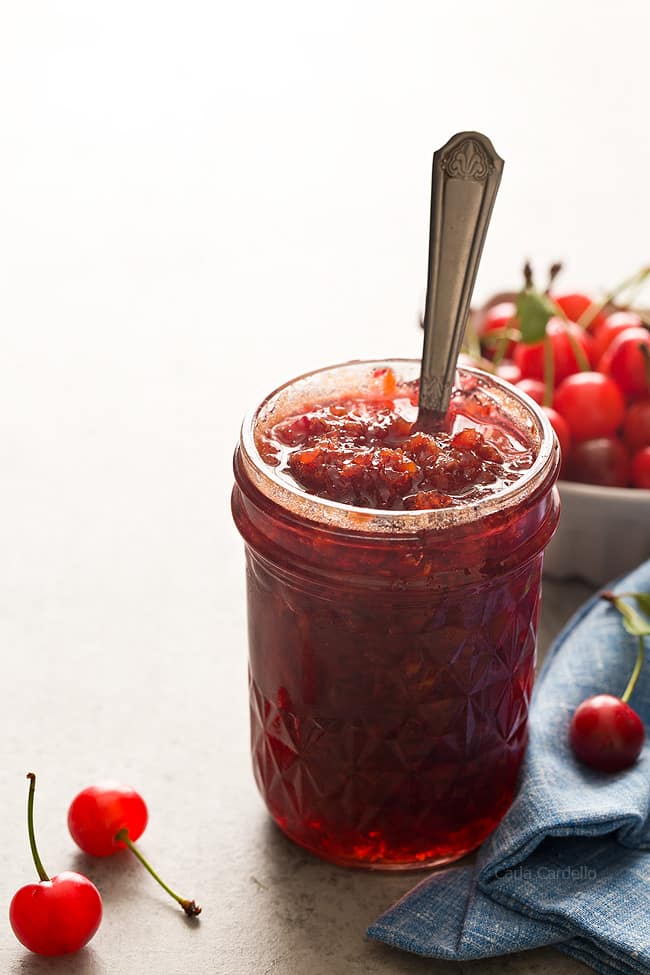 Sometimes I can be a grandma at heart – home by 10 on a Friday night, love for all things cats, being annoyed by conversations outside of my apartment, playing bingo.
I used to cross stitch and latch hook. I never did pick up knitting, but I bet I could and it would be fun.
Another characteristic that makes me all grandmotherly – making Sour Cherry Jam. How many people under 35 do you know can can their own jam?
I've been jamming since I was 25. If that doesn't scream wild party animal, I don't know what will.
And not only did I figure out how to make no pectin sour cherry jam, I also figured out how to make a small batch, leaving you with only one jar of jam.
Because if there's one thing this single girl doesn't have, it's a pantry big enough for an endless supply of jam to get us through the apocalypse.
Of all the small batch jam recipes I've posted, I'm missing one fruit from that list.
If you said cherry, you get a gold sticker for observation skills today (considering the name of this post and all).
I told myself when I picked tart cherries this year, I was going to make small batch Sour Cherry Jam in addition to homemade cherry pie filling. It's been on my recipe idea list for YEARS.
As the name implies, sour cherries aren't as sweet as other types of cherries. In fact, they are often referred to as tart cherries.
They are too tart to eat on their own, but with a little bit of sugar and love, they become magically delicious in this sour cherry jam recipe.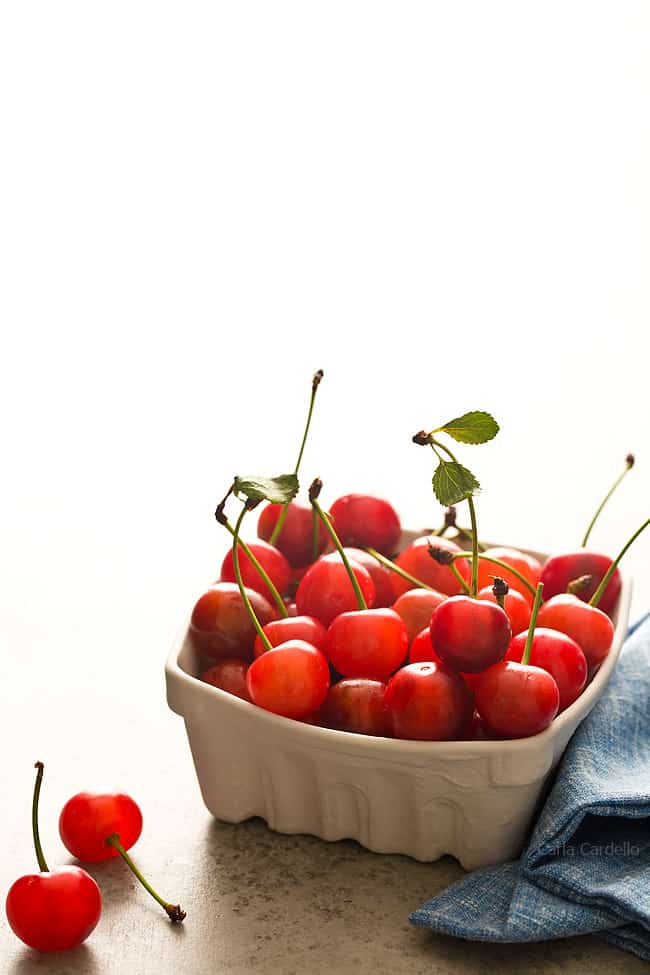 What is the difference between preserves and jam?
Jam uses crushed fruit or pulp while preserves use more whole, chunky fruit.
According to that, I technically made sour cherry preserves without pectin. Whatever you call it, it spreads well on toast.
What is pectin?
As you read more and more about how to make jam, you'll come across an ingredient called pectin. Pectin is a thickening agent often used in jams and jellies so they set up properly after cooling.
You can often buy pectin in the canning section of a store, but it's mostly only used when making jam.
However, I don't want to buy an ingredient I'd only use a few times a year. Luckily for us, I found a way to make tart cherry jam without pectin.
How to make jam without pectin
Although a lot of fruits are a natural source for pectin, stone fruits like cherries are not. However, you can still boil the cherries to a thick jam.
Be careful you don't cook the cherries down too much; otherwise, the jam becomes really sticky and difficult to spread.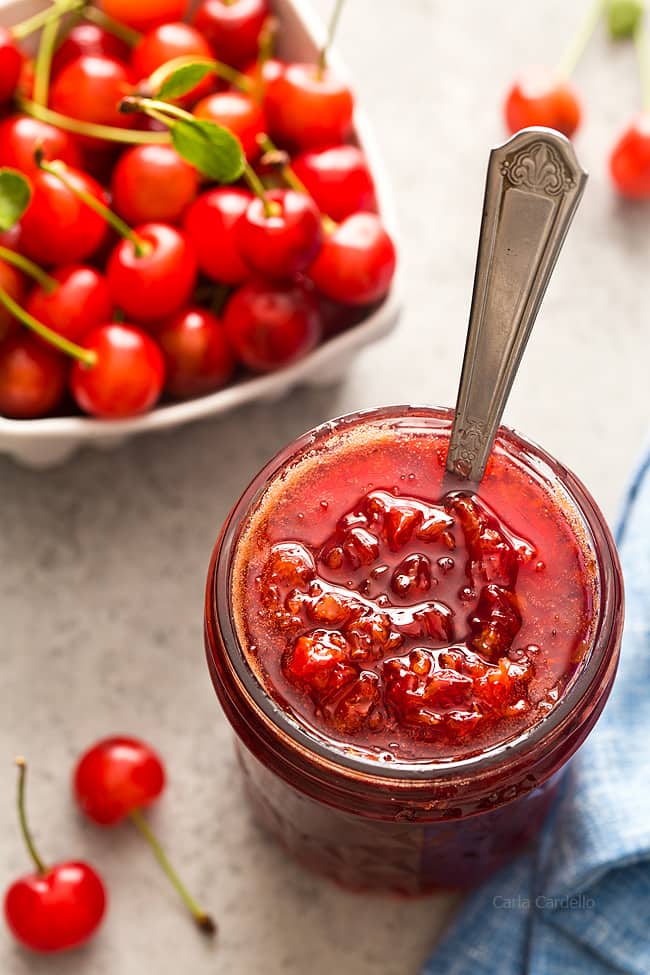 How to know when your jam is done
Your jam is done when it has thickened enough. However, you won't know this until it has finished cooling. At that point, it's too late to fix it.
That's why I use the frozen plate technique. Because the plate is frozen, it'll instantly cool down the jam so you can determine how thick it is.
Before you start, place a small plate in the freezer. When you're ready to test your jam, take the plate out and add a small spoonful to the plate.
Next, tilt your plate. If the jam slides too fast, it needs more time. If it slides slowly, it's done. However, if it doesn't move at all, you may have overcooked it.
If your jam needs to cook longer, be careful not to overcook it. Even a minute too long can be the difference between done and overdone. It's best to check too often than not enough.
Can you substitute sweet cherries for sour cherries?
Since tart cherries have a short harvesting window and are hard to find, yes you can substitute sweet cherries for sour cherries.
As the name implies, sour cherries are very tart, so I didn't add any lemon juice to the jam.
However, if you substitute sweet cherries, you want to add about a tablespoon of lemon juice. This helps balance the sweetness in the jam.
You may also want to cut back on how much sugar you use. I recommend starting at 3/4 cup sugar then adjust from there.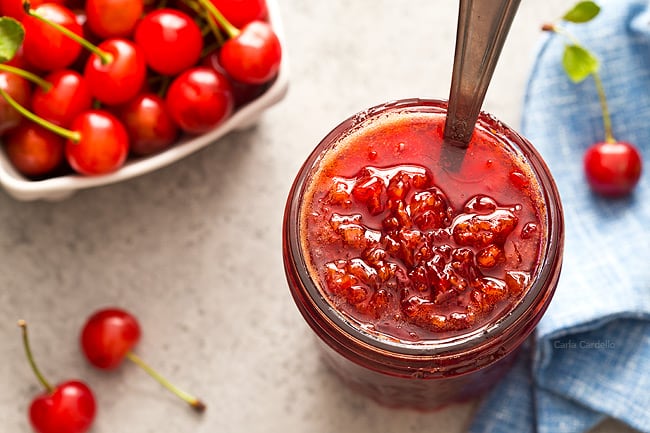 What to do with homemade cherry jam
In addition to spreading it on toast for breakfast, you can use tart cherry jam in recipes, such as Small Vanilla Cake, Strawberry Swirl Cheesecake Bars, and Raspberry Crumb Bars (substitute cherry for those last two).
More Small Batch Jam Recipes

Have other summer fruits you want to turn into jam? Check out these other easy small batch jam recipes:
Items You May Need (affiliate links)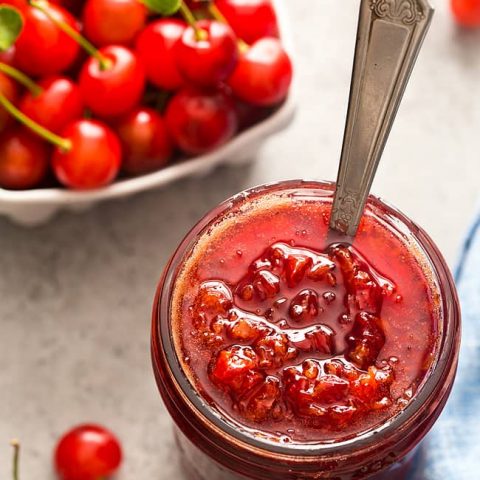 Sour Cherry Jam (No Pectin, Small Batch)
Time to jam out this summer with small batch Sour Cherry Jam without pectin! Use it as a cake filling, swirl it into Greek yogurt, or simply spread it on toast.
Ingredients
2 cups sour cherries*, pitted and chopped
1 cup granulated sugar
1 teaspoon vanilla bean paste, seeds from 1 vanilla bean, or vanilla extract
Instructions
Place a small dish in the freezer to use for testing the jam.
In a large deep skillet, add cherries, sugar, and vanilla. Bring to a rolling boil, stirring often. Once boiling, cook until it thickens, about 10 minutes.
When it seems thick enough, take your plate out of the freezer. Put a small spoonful of the jam onto the plate and let sit for 30 seconds. Tilt it. If it slides too fast, keep cooking in 1-2 minute increments. If it moves slow, it is done.
Transfer to a heat-proof container. Cool to room temperature. Use within 2 weeks. Once opened, store in the refrigerator.
Recommended Products
As an Amazon Associate and member of other affiliate programs, I earn from qualifying purchases.