Apple Butter Cream Cheese Danishes
No need to make a bakery run when you can make these easy Apple Butter Cream Cheese Danishes at home in about an hour or so using frozen puff pastry. Serve them for breakfast, brunch, snack, and dessert.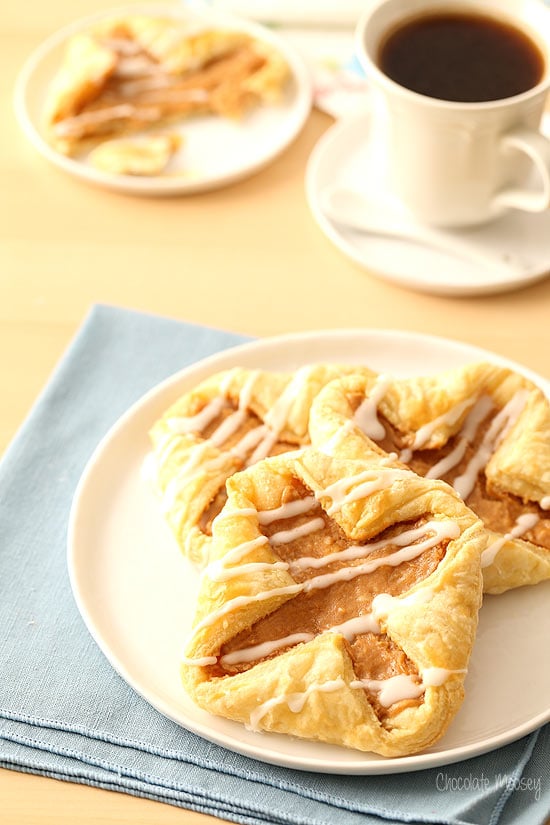 My sweet tooth sometimes leads me to making really bad breakfast choices.
I know I'm supposed to start the day off right with some fruit and yogurt or even a bowl of hearty oatmeal, but if there's dessert in the house, it's probably also going to be my breakfast.
Pastries are my biggest weakness – cinnamon rolls, doughnuts, chocolate stuffed croissants, Danishes.
Growing up, it was a special treat for my parents to buy Danishes from the grocery store bakery.
If you're not familiar with them, they are sweet, flaky pastries with a filling on top then drizzled with a glaze. My favorite was cream cheese, although cherry was a close second.
I can't remember the last time I ate a Danish, but my parents still buy them on occasion. With Mother's Day coming up this weekend, I decided to make some easy Apple Butter Cream Cheese Danishes using puff pastry as an ode to my mom.
Danishes also make a great brunch treat since most people associate Mother's Day with brunch or even breakfast in bed.
Don't be fooled though; Danishes make an excellent dessert too. And snack. And an afternoon coffee companion. Too bad they don't make a great dinner (or do they??).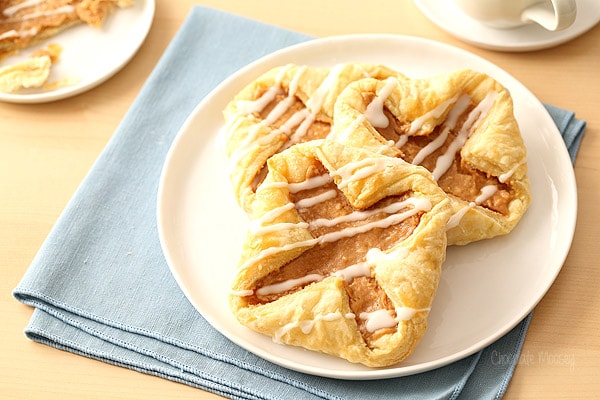 The Danishes I ate growing up came in a variety of flavors – cream cheese, cherry, apricot, apple.
As I was brainstorming flavor combinations, the apple Danishes got me thinking about pairing apple and cream cheese together.
Instead of traditional apple, I took it one step further and used apple butter for some sweetness and of course that spiced apple taste.
The filling tasted almost like cheesecake. In fact, I bet I could've called these cheesecake Danishes, but I didn't. Oh well – c'est la vie.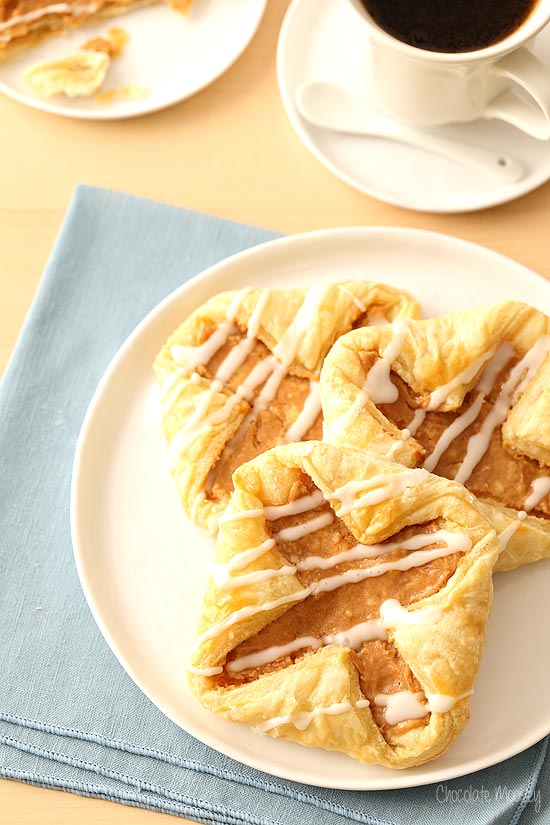 For the dough, I used store bought puff pastry.
As much as I love making dough by hand, I also love just pulling out a sheet from the freezer and being able to whip up some pastries in under an hour.
I did it with puff pastry cinnamon rolls, so why not do the same thing with Danishes?
Some may call it lazy; I call it smart baking.
After spreading on the apple butter cream cheese filling, I folded in the corners so they are almost touching the center, making an X.
As soon as I did that, I couldn't help but think, X marks delicious pastries.
For more apple butter recipes, check out my guide on what to do with apple butter.
Apple Butter Cream Cheese Danishes
Yield: 8 pastries
Prep Time: 30 minutes
Cook Time: 20 minutes
Total Time: 50 minutes
No need to make a bakery run when you can make these easy Apple Butter Cream Cheese Danishes at home in about an hour or so using frozen puff pastry.
Ingredients
2 sheets puff pastry, thawed according to package directions
4 ounces cream cheese, softened
2 tablespoons granulated sugar
1 egg yolk, room temperature
1/4 cup Musselman's Apple Butter
1/2 teaspoon vanilla extract
1 egg white, room temperature
Glaze
3/4 cup powdered sugar, sifted
1-2 tablespoons milk
1/8 teaspoon vanilla extract
Instructions
Preheat oven to 400F. Line two baking sheets with parchment paper.
In a large mixing bowl, beat together the cream cheese and sugar until smooth. Beat in the egg yolk then beat in the apple butter and vanilla.
On a lightly floured surface, unfold one of the puff pastry sheets. Roll it out slightly to a 10x10 square. Cut the dough into 4 even squares. Repeat with the second puff pastry sheet.
Spoon about 1-2 heaping tablespoons of apple butter filling into the center of each square and spread evenly with a knife. Fold each corner in towards the center, making an X. Place on the baking sheet. At this point if the dough feels too warm, refrigerate for 15 minutes.
In a small bowl, beat together the egg white and a little bit of water. Brush the tops of each danish. Bake for 20 minutes or until the dough is puffed and golden brown. Cool 15 minutes.
After 15 minutes, make the glaze. In a large bowl, whisk together the powdered sugar, 1 tablespoon milk, and vanilla. If it's too thick, add the remaining milk. Drizzle over top of each danish. Serve warm or at room temperature. Store in an airtight container in the refrigerator for up to 2 days.
More Sweet Brunch Recipes

Apple Butter Crumb Cake

Apple Butter Baked Doughnut Holes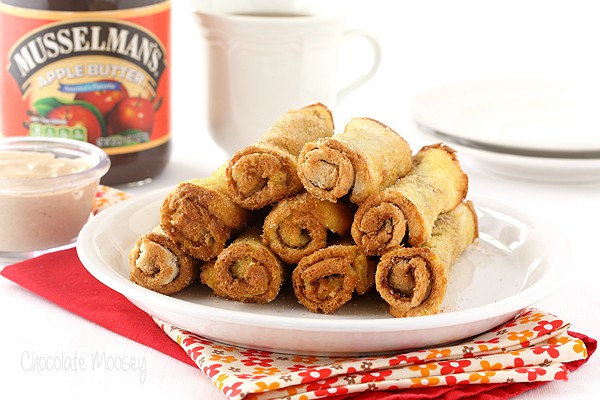 Apple Butter French Toast Roll Ups
This post may contain affiliate links. As an Amazon Associate and member of other affiliate programs, I earn from qualifying purchase.