Caprese Hummus Flatbread Pizza
Looking for something quick and fresh to eat? Try this Caprese Hummus Flatbread Pizza with fresh tomatoes, sliced mozzarella cheese, basil, and balsamic vinegar.
With summer creeping closer and closer, one thing I'm really looking forward to are farmer's markets.
There are two in particular in Pittsburgh where I walk away with a bag full of, well, everything – tomatoes, peaches, zucchini, corn, fresh herbs.
Sometimes I tend to buy more than I have planned, so when I get home, I stare at my bounty and go, well now what?
For this reason I have an arsenal of simple ideas to make. For example, when I buy tomatoes and basil, I make caprese – a simple Italian salad of tomatoes, sliced mozzarella, and basil.
Or I'll make homemade basil pesto.
If I'm feeling like meat for dinner, I'll make my Caprese Steak Dinner For Two or Pesto Burgers.
But sometimes if I'm feeling vegetarian, I'll make this Caprese Hummus Flatbread Pizza, which is loosely inspired by those cold veggie pizzas you often see at summer parties.
You can serve this recipe hot or cold, depending on whether you want your mozzarella cheese melted.
Drizzled on top is a balsamic vinegar reduction, which is a fancy way of saying slightly thickened vinegar that isn't as acidic as straight from the bottle.
I made this recipe easier and quicker by using store-bought flatbread. However, you can also use homemade pizza dough.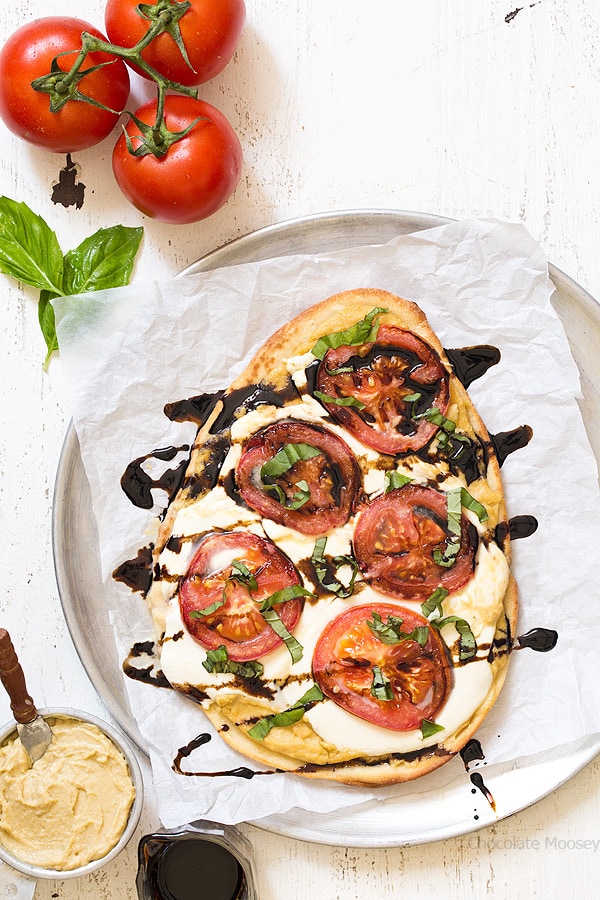 I've used
hummus
in past recipes, but every time I mention it, someone always asks what it is.
Hummus is a Middle Eastern spread made from ground chickpeas blended with tahini (sesame paste), olive oil, lemon juice, and a few other ingredients.
Most people eat it with homemade pita chips, but it can also be used as an ingredient.
Hummus is becoming more and more mainstream. In fact, this Saturday May 13 is National Hummus Day, and I'm celebrating with
Sabra
.
You probably recognize them from the store with their red lid containers. My love with them started when I won a year supply several summers ago. That's… a lot of hummus.
Caprese Hummus Flatbread Pizza also makes a good unofficial meal – a pre-dinner snack to feed your hunger while waiting for dinner to cook.
And considering how messy it can get after cutting, there are no formal meal rules here.
Enjoyed this pizza? Check out my
Prosciutto Arugula Pizza
!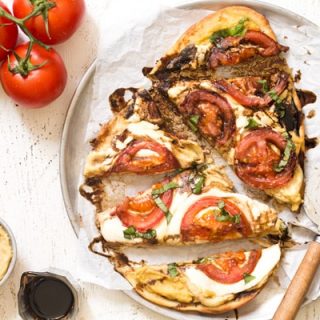 Caprese Hummus Flatbread Pizza
Yield: 1 pizza
Prep Time: 15 minutes
Cook Time: 10 minutes
Total Time: 25 minutes
Ingredients
1 piece flatbread or naan
1/2 cup Sabra hummus, any flavor
4-5 slices fresh mozzarella cheese
4-5 fresh tomato slices
1 tablespoon chopped fresh basil
1/4 cup balsamic vinegar
1 tablespoon brown sugar
Instructions
Preheat oven to 425F. Have a baking sheet ready.
Spread the hummus on top of the flatbread or naan. Top with mozzarella and tomatoes.
Bake for 8-10 minutes or until the cheese has melted.
While the pizza is baking, in a small saucepan whisk together the vinegar and brown sugar and bring to a boil. Boil until the mixture has reduced to half and is slightly syrupy, about 5 minutes. Remove from the heat.
When pizza is ready, top with basil and drizzle with balsamic mixture.
Notes
This pizza can also be served cold. Skip steps 1 and 3.
Disclosure: This post is sponsored by Sabra. Thank you for supporting me and the companies I work with as sponsored posts help pay for the costs of running this blog, including website hosting and groceries for recipe development.
This post may contain affiliate links. As an Amazon Associate and member of other affiliate programs, I earn from qualifying purchase.