No Bake Caramel Apple Cheesecake For Two don't require turning on your oven and are much easier to eat than traditional caramel apples on a stick. Made with heavy cream and cream cheese (no Cool Whip). Serve them in a cup or ramekin or layer it with fresh apples like a parfait.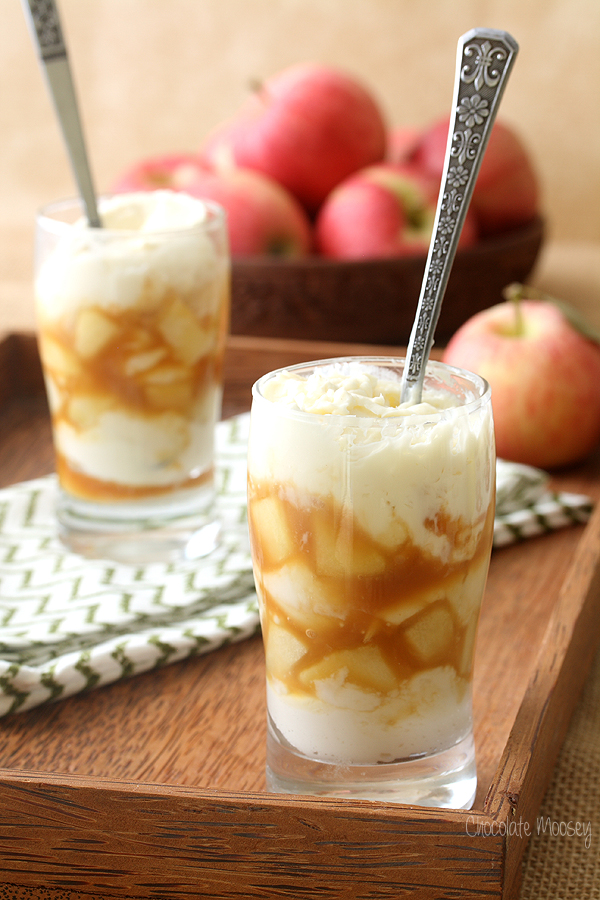 Can you feel it? The weather is finally cooling down.
I am now forced to wear a light jacket in the mornings when I wake up and in the evenings when I go for a walk at the park.
I went shopping at a farm last week where it was winter squash heaven (and ironically next to the watermelon).
I already went apple picking this month and am a little embarrassed to admit how many pumpkin spice lattes I've drank so far (and not all from Starbucks).
It's no secret that I've been ready for fall all month, and now Mother Nature finally caught up on her calendar.
Well, technically tomorrow, but today I am celebrating all things fall.
The ingredient of the month in my kitchen is apples, and there are two standard apple dessert recipes in the U.S. – homemade apple pie filling and caramel apples.
It's funny. I love caramel. I love apples.
However, I do not love caramel apples on a stick, mainly because that sticky, hard caramel is difficult to eat, and who wants to struggle while trying to eat?
But if I have the chance to put apples and caramel sauce together along side cheesecake, I'm taking it.
Whether you don't want to make a whole cheesecake, feel a little intimidated baking one, or simply want an easy dessert without turning on your oven, No Bake Caramel Apple Cheesecake For Two is the perfect treat to celebrate fall.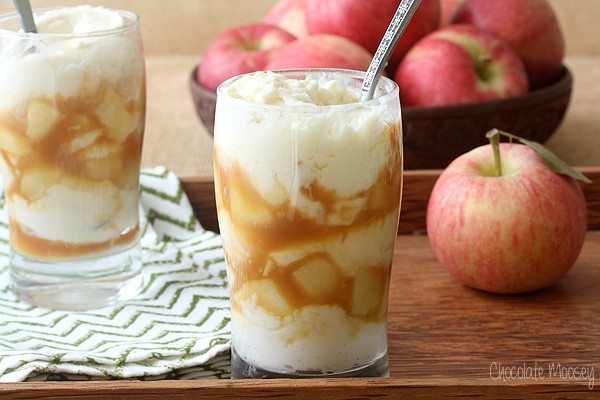 I have two cheesecake recipes that I always go to – my baked cheesecake recipe and my no bake cheesecake recipe. Simple enough, right?
That's the beauty of developing recipes. You take a trusted base recipe and tweak it until your heart's desire. My heart desired caramel apple cheesecake parfaits.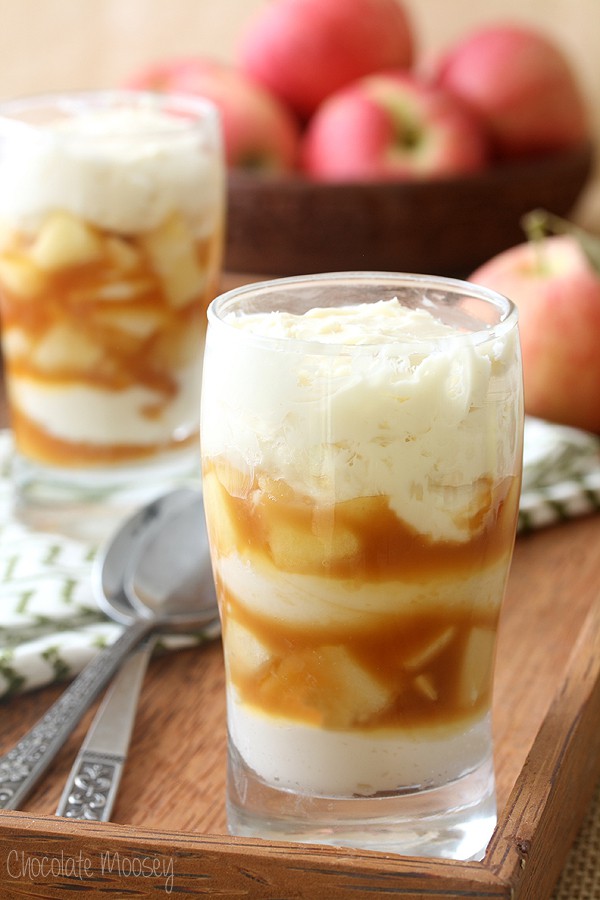 Want more apple recipes? Check out my
recipes using apple pie filling
.
No Bake Caramel Apple Cheesecake For Two
Total Time:
1 hour
40 minutes
No Bake Caramel Apple Cheesecake For Two don't require turning on your oven and are much easier to eat than traditional caramel apples on a stick. Made with heavy cream and cream cheese (no Cool Whip).
Ingredients
1/4 cup graham cracker crumbs plus more for garnish
2 tablespoons unsalted butter, melted
1/4 cup cold heavy whipping cream
1 tablespoon powdered sugar
1/2 teaspoon vanilla
4 ounces cream cheese, softened
2 tablespoons granulated sugar
Caramel Apples
1/2 cup chopped, peeled apples
1 tablespoon granulated sugar
1/4 teaspoon cinnamon
1/2 teaspoon lemon juice
2 tablespoons caramel sauce (homemade or store bought)
Instructions
For the apples: In a large saucepan, bring apples, sugar, cinnamon, and lemon juice to a boil. Boil for 5 minutes or until the apples soften. Remove from the heat and stir in caramel sauce. Cool to room temperature.
For the cheesecake: In a small bowl, mix together the crumbs and melted butter. Press into the bottom of two glasses or ramekins. Refrigerate for at least 15 minutes or until firm.
Meanwhile, in a large mixing bowl on medium-high speed (with whisk attachment if using 5 quart stand mixer), beat the heavy cream until it starts to thicken, about 1 minute.
Gradually beat in the powdered sugar and 1/4 teaspoon vanilla then continue beating until stiff peaks form, about 2-3 minutes (when you pull the beaters up, peaks will form and not fall over).
Transfer to another bowl and reserve 2 tablespoons whipped cream for garnish. Keep both cold in the refrigerator.
In the same mixing bowl (no need to clean bowl - switch to paddle if using stand mixer), beat together the cream cheese, granulated sugar, and remaining 1/4 teaspoon vanilla until smooth and creamy, about 1-2 minutes. Scrape down the bowl.
Fold the whipped cream into the cream cheese mixture until fully incorporated.
Add some of the cheesecake filling on top of each chilled crust then add some cooked apple. Finish layering with the cheesecake and apples.
Garnish with the reserved 2 tablespoons whipped cream. Refrigerate at least 1 hour before serving. Keep cold until ready to serve.
Want more fall dessert recipes?

No Bake Caramel Swirl Apple Butter Cheesecake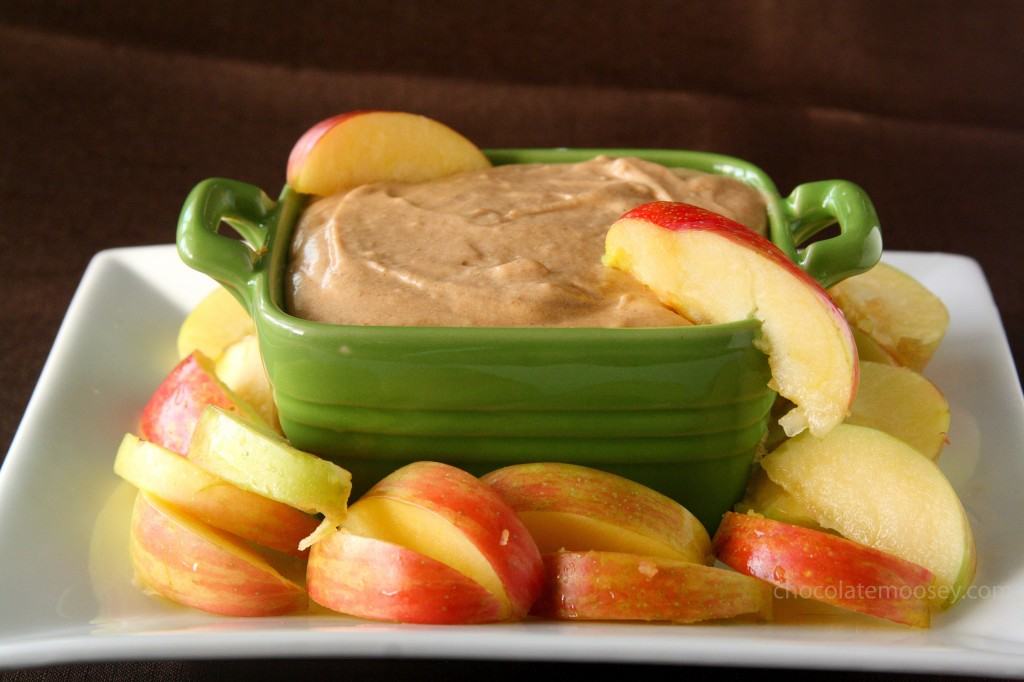 Caramel Apple Butter Cheesecake Dip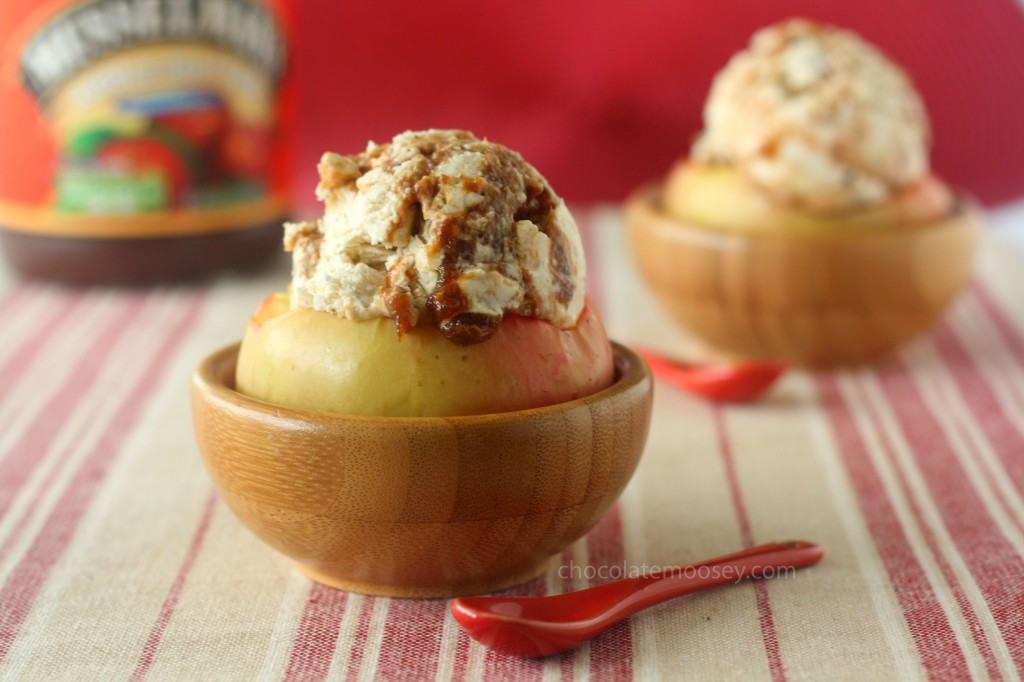 Apple Butter Cheesecake Ice Cream (served in apple bowls)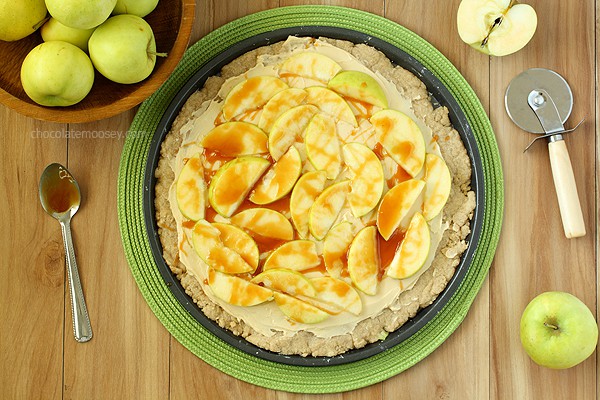 Caramel Apple Sugar Cookie Pizza

Apple Nachos