Apple Butter Cake
If you're looking for a show stopping cake but don't like to frost cakes, this naked cake is for you! Apple Butter Cake with Whipped Caramel Cream Cheese Filling and Caramel Apple Walnut Topping will impress at your next get together.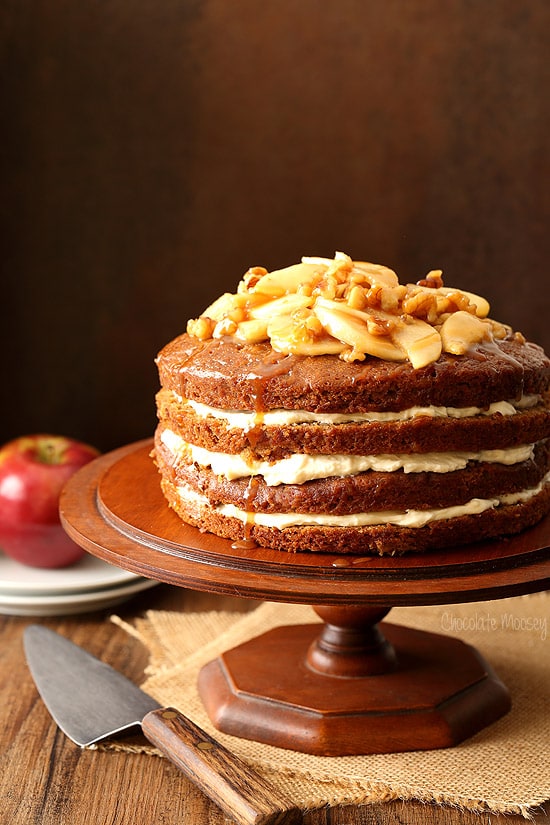 Does it feel like fall where you live?
Now that it's after Labor Day, mentally I'm ready. I'm ready to drink pumpkin spice lattes and eat the apples I picked this past Sunday.
However, it's still too darn hot outside; it's been almost in the 90s last week and most of this week!
I decided even though it feels like summer outside, I'm going to make it feel like fall in my kitchen. Take that, Mother Nature!
What better way to welcome fall than with a show stopping Caramel Apple Butter Layer Cake?
This isn't your typical frosted 2 layer cake. It's a 4 layer naked cake, which means the outside of the cake isn't covered in frosting (hence the name).
Instead, it has a filling-like frosting that holds the cake layers together.
I personally find them more stunning than a regular frosted cake (probably because I'm still working on my cake decorating skills).
Since caramel goes so well with apple butter, I made a whipped caramel cream cheese filling (think whipped cream meets cream cheese frosting) using my homemade caramel sauce then topped it with caramelized apples and walnuts.
If that doesn't scream fall to you, I'm not sure what will.
The key ingredient to this caramel apple butter layer cake is apple butter.
When I mention apple butter to friends, a lot of them still ask me what it is. I grew up with it, so it's hard to believe others still haven't tried it yet.
Apple butter is a highly concentrated form of apple sauce where the apples are cooked until the sugar in the apples caramelize, usually a few hours.
Most people spread it on toast for breakfast, but it's also versatile enough to use in recipes.
You can use either jarred or homemade crockpot apple butter.
My favorite part of the cake is the whipped caramel cream cheese filling because of its fluffy and creamy contrast to the cake; it's not a heavy buttercream frosting.
Plus it's caramel. I don't think I've ever turned down a caramel anything dessert.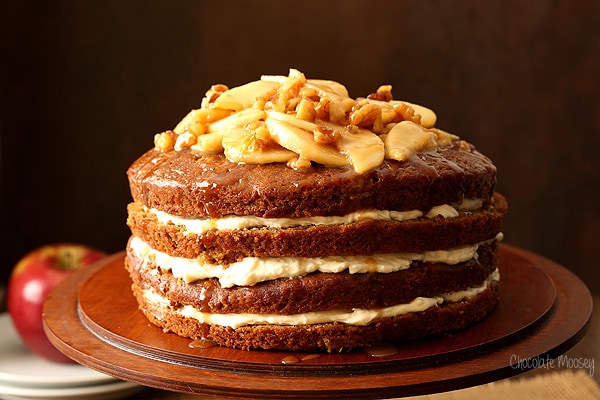 If you're nervous about cutting the cake layers in half, don't be! As long as you use 8 inch, 1 1/2 inch deep round cake pans, the cake layers will be thick enough (which means don't use anything smaller or the batter will overflow).
Here's an online guide on how to cut a cake horizontally.
If you're still unsure about cutting the cake, you can leave them whole and make a 2 layer cake.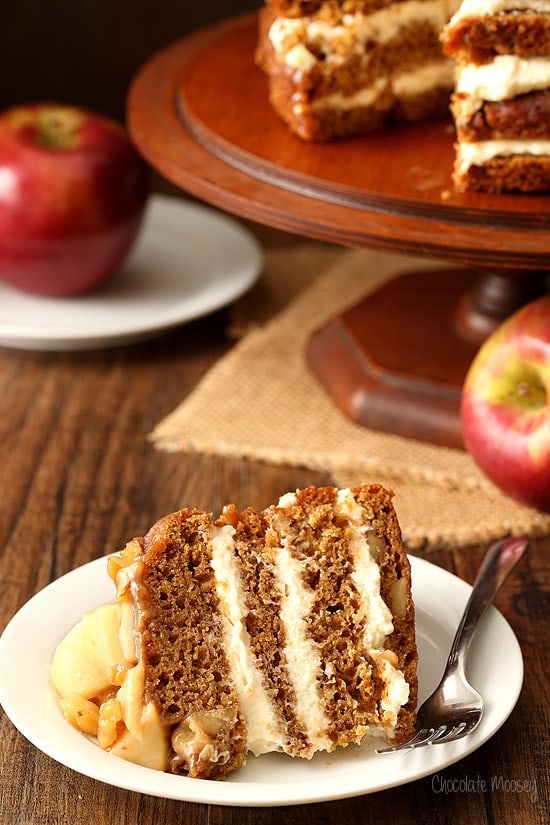 For more apple butter recipes, check out my guide on
what to do with apple butter
.
Caramel Apple Butter Layer Cake
Yield: 12
Prep Time: 1 hour 30 minutes
Cook Time: 35 minutes
Total Time: 2 hours 5 minutes
The cake and filling can be made up to 2 days before serving to help divide up the prep time.
Ingredients
Cake
2 1/2 cups all purpose flour
1 1/2 teaspoons baking powder
1 teaspoon baking soda
1 teaspoon ground cinnamon
1/2 teaspoon ground nutmeg
1/2 teaspoon salt
1/2 cup vegetable oil
1 cup granulated sugar
1/2 cup brown sugar
2 eggs, room temperature
1 1/2 cups Musselman's Apple Butter
1 teaspoon vanilla extract
1/2 cup whole milk, room temperature
1 cup chopped walnuts
Filling
1/2 cup heavy whipping cream
8 ounces full-fat cream cheese, room temperature
1 cup powdered sugar
Pinch of salt
1/2 cup caramel sauce (homemade or store bought)
1/4 teaspoon vanilla extract
Topping
1 tablespoon butter
1 large apple, cored, peeled, and thinly sliced
1/4 cup chopped walnuts
1/4 cup caramel sauce
Instructions
For the cake: Preheat oven to 350F. Line the bottom of two 8-inch round cake pans (1 1/2 inches deep) with parchment paper then lightly grease with cooking spray.
In a large bowl, mix together the flour, baking powder, baking soda, cinnamon, nutmeg, and salt.
In a large mixing bowl, beat together on medium speed the oil, sugar, and brown sugar until combined. Beat in the eggs, one at a time, until smooth. Beat in the apple butter and vanilla. Add the flour mixture alternately with the milk, adding the flour in 3 additions and the milk in 2 additions (begin and end with dry ingredients). Add the walnuts.
Divide the batter between the two cake pans and bake 30-35 minutes or until a toothpick inserted in the center comes out clean. Cool for 15 minutes then invert the cake pans. Cool completely on a wire rack.
For the filling: In a large mixing bowl (with whisk attachment if using stand mixer), beat the heavy cream until it thickens and stiff peaks form, roughly 3-4 minutes (when you pull the beaters up, peaks will form and not fall over). Transfer to another bowl and keep cold in the refrigerator.
In the same mixing bowl (no need to clean bowl - switch to paddle if using stand mixer), beat together the cream cheese, sugar, and salt until smooth and creamy, about 2-3 minutes. Beat in the caramel and vanilla. Scrape down the bowl as necessary.
Fold the whipped cream into the cream cheese mixture until fully incorporated. Refrigerate until ready to assemble.
Cut each cake layer horizontally into two layers for a total of four layers. Place one layer, cut side up, on a serving plate or stand. Spread one third of the filling on top. Place another layer, cut side down, on top. Repeat with the remaining filling and layers. Right before serving, garnish with caramel apple topping.
Make the topping right before serving: In a large skillet, melt the butter. Once hot, add the apples and walnuts. Cook for 5 minutes or until the apples start to soften. Add the caramel sauce and stir. Remove from the heat and cool 15 minutes before garnishing cake.
More Apple Butter Recipes
This post may contain affiliate links. As an Amazon Associate and member of other affiliate programs, I earn from qualifying purchase.