A new way to eat baked apples – Cheesecake Stuffed Apples filled with walnuts and caramel sauce. Makes 4 apples as a dessert for two people.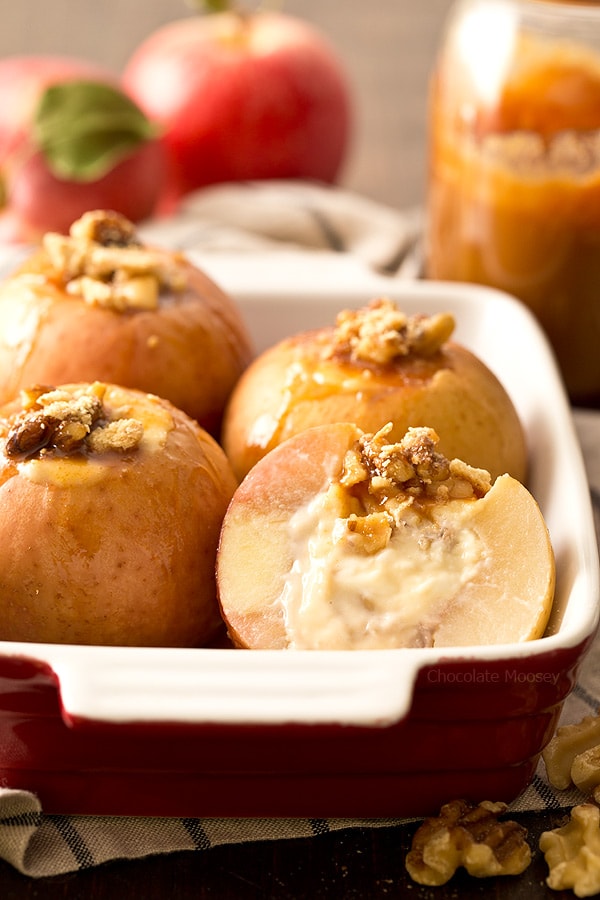 Happy (Official) First Day Of Fall!
Although to be honest, I've been ready for fall since Labor Day when Dad and I picked a peck of apples like we do every year.
I forgot to weigh the bag, but we like to compare it to my first cat Murray – "this weighs more than the cat!" Even after all these years we talk about him a lot.
The first thing I made when we got home was my Apple Dumpling Cobbler.
Since I have so many apple recipes on my blog, sometimes it's tough coming up with new ideas.
Then I started thinking about my cheesecake stuffed peaches.
That recipe is so popular for summer, how can I recreate it for fall? What fall fruit can I stuff?
Baked apples are pretty common, usually stuffed with butter, cinnamon, and nuts. Why not take it one step further with Cheesecake Stuffed Apples?
The apples are cored then stuffed with a caramel cheesecake filling and walnuts.
It's the ideal recipe to get a full serving size of fruit while also indulging in some dessert.
Although an apple corer isn't necessary, it makes stuffing apples so much easier.
I've been in the market to buy a new corer since my last one got all bent up, but it seems like most stores don't carry them.
They had the circular one that cores and slices at the same time, but that's not going to help me with baked apples.
I eventually went to a local kitchen store and bought this apple corer (affiliate link) but didn't expect it to be that difficult to find.
All of that to say if you don't have or want to deal with a corer, you can most certainly use your knife skills.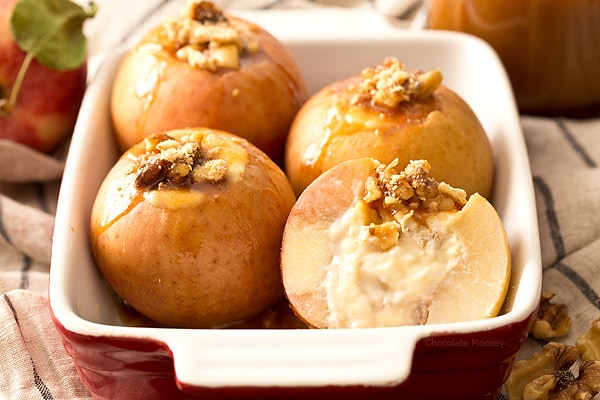 For the apples, you want to use a variety that can hold up to baking. That means no red delicious, which is only good for snacking.
I used gala apples in my recipe. Other varieties you can use are Fuji, Jonagold, Cortland, and Golden Delicious.
If you're not a fan of pumpkin pie, you can certainly serve these cheesecake stuffed apples for your Thanksgiving Dinner For Two.
Caramel Cheesecake Stuffed Apples
Ingredients
4 baking apples, cored
4 ounces full-fat cream cheese, softened
1/4 cup granulated sugar
1 egg
1/4 cup caramel sauce plus more for drizzle (homemade or store bought)
1 teaspoon vanilla extract
1/2 cup chopped walnuts plus more for garnish
Graham cracker crumbs, for garnish
Instructions
Preheat oven to 350F. Have an 8x8 baking pan or small casserole dish large enough to hold 4 apples ready.
In a large mixing bowl, beat together the cream cheese and sugar until light and fluffy, about 2-3 minutes. Beat in the egg then beat in the caramel sauce and vanilla. Add the walnuts.
If the apple centers are too small for stuffing after removing the core, cut the opening bigger with a small knife, being careful not to cut too close to the edge.
Place the apples in the baking pan then spoon the filling into each apple. Bake 20-25 minutes or until the center is set (it may still wiggle a little when shaken but should be firm when touched). Serve warm with caramel sauce, chopped walnuts, and graham cracker crumbs on top. Refrigerate any leftovers.