Caramel Apple Shortcakes (Small Batch)
Classic shortcake with tender, flaky biscuits gets a fall makeover with small batch Caramel Apple Shortcakes.
Sometimes I do my best recipe planning in front of the TV.
Maybe because it's when I finally get a minute to sit down and relax after working hard all day then walking at the park or doing Zumba.
Maybe because I'm a night owl and get most of my ideas while unwinding before bedtime.
Maybe because I'm a multi-thinker and sitting there mindlessly without doing anything else makes me antsy.
Recently I finished up watching Ghost Whisperer where the main character can talk to ghosts. I've seen a few episodes when reruns were on and it caught my interest, so I decided to borrow all 5 seasons from the library.
Funny how I loved Jennifer Love Hewitt on this show but not so much on Criminal Minds. Ghost Whisperer did go downhill halfway through season 4 when the writers messed up the husband's character.
I get that tension needed to happen in their seemingly perfect marriage, but really writers? That was the direction you took?
Now I'm starting to watch Orange Is The New Black, which is pretty…uncensored to say the least (do not watch if you're easily offended and/or have young ones around).
Once you get past that, it seems like a promising series to watch. I'll report back when I'm all caught up.
Anyway, I'm not entirely sure when or where I got the idea to make these shortcakes, but one minute I'm sitting on the couch watching JLH cross a spirit over into the light then the next minute I think, hey I should substitute out strawberries in strawberry shortcake with caramel apple.
Ah yes, just another evening with my brain.
Caramel Apple Shortcakes are made with tender, flaky biscuits topped with apple slices sautéed in homemade caramel sauce and homemade whipped cream.
Most of the time when I think shortcake, I think of sponge cake rather than biscuits.
This time, I wanted to stay classic and go the biscuit route (although I didn't go too classic since I threw some ground cinnamon into the dough. What can I say? I couldn't help myself).
I really enjoyed this dessert, mainly because I was in the mood for some good buttery biscuits but also because the sweetness is balanced really well.
I purposely didn't add that much sugar into the homemade whipped cream since the filling makes up for it.
Make sure you're paying attention and don't roll out the dough too thin. The first time I made this, I realized I went thinner than 3/4 inch, so my biscuits weren't tall enough to split in half. It's very important to measure the thickness before cutting.
This recipe makes a small amount, which is the perfect ending to your Thanksgiving Dinner For Two if you don't want pumpkin pie.
Items You Might Need (Affiliate Links):
Caramel Apple Shortcakes (Small Batch)
Yield: 3 servings
Prep Time: 30 minutes
Cook Time: 17 minutes
Total Time: 47 minutes
Classic shortcake with tender, flaky biscuits gets a fall makeover with small batch Caramel Apple Shortcakes.
Ingredients
3/4 cup all-purpose flour
2 teaspoons granulated sugar
1 teaspoon ground cinnamon
1 teaspoon baking powder
1/8 teaspoon salt
3 tablespoons cold butter, cut into 3 pieces
1/3 cup heavy whipping cream
Homemade Whipped Cream, for serving
Caramel Apples
1 tablespoon butter
1 large apple, cored, peeled, and sliced
1/4 cup caramel sauce (homemade or store bought)
Instructions
Preheat oven to 400F. Line a baking sheet with parchment paper.
In a large bowl, mix together the flour, sugar, cinnamon, baking powder, and salt. With a pastry blender or your fingers, cut in the butter until the pieces are the size of small pebbles.
Set aside 1 teaspoon heavy cream. Add the rest of the cream into the butter mixture and stir with a fork until a dough forms.
Lightly knead the dough a few times in the bowl then place it on a lightly floured surface. Roll the dough out to 3/4-inch thick. Using a 2-1/2 inch round biscuit cutter, cut out circles and place them on the baking sheet. Reroll the scraps and repeat.
Brush the tops with reserved 1 teaspoon cream then bake 15-17 minutes or golden brown. Cool completely.
To serve, cut each biscuit in half horizontally. Top the bottom half caramel apples and whipped cream then top with remaining biscuit half. Drizzle with caramel then serve immediately.
Caramel Apples
While the biscuits are baking: In a large skillet, melt the butter. Once hot, add the apples and cook for 5 minutes or until the apples start to soften. Add the caramel sauce and stir. Remove from the heat and cool 15 minutes before topping shortcakes.
Source: Biscuits adapted from
Love and Olive Oil
More Caramel Apple Recipes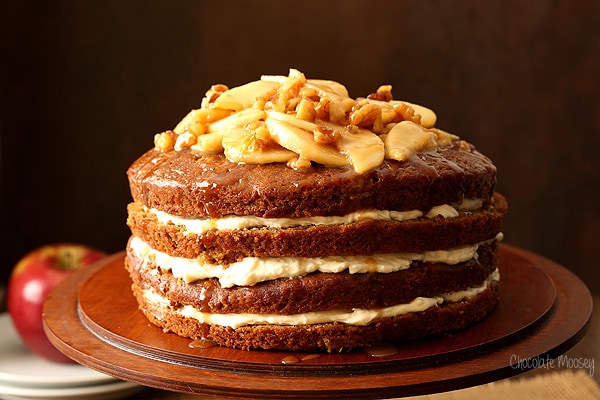 Caramel Apple Butter Layer Cake

Caramel Apple Pecan Cheesecake

Caramel Apple Pecan Tart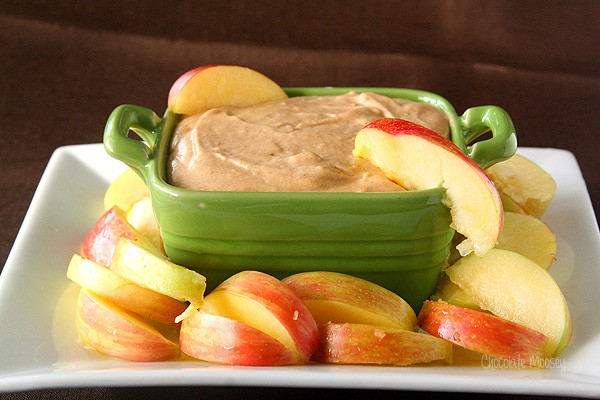 Caramel Apple Cheesecake Dip
This post may contain affiliate links. As an Amazon Associate and member of other affiliate programs, I earn from qualifying purchase.