No Bake Peach Cheesecake
No Bake Peach Cheesecake is a refreshing dessert for two to end your summer evening. Made with heavy cream and cream cheese (no Cool Whip). Serve in a cup or ramekin or layer it with fresh peaches like a parfait.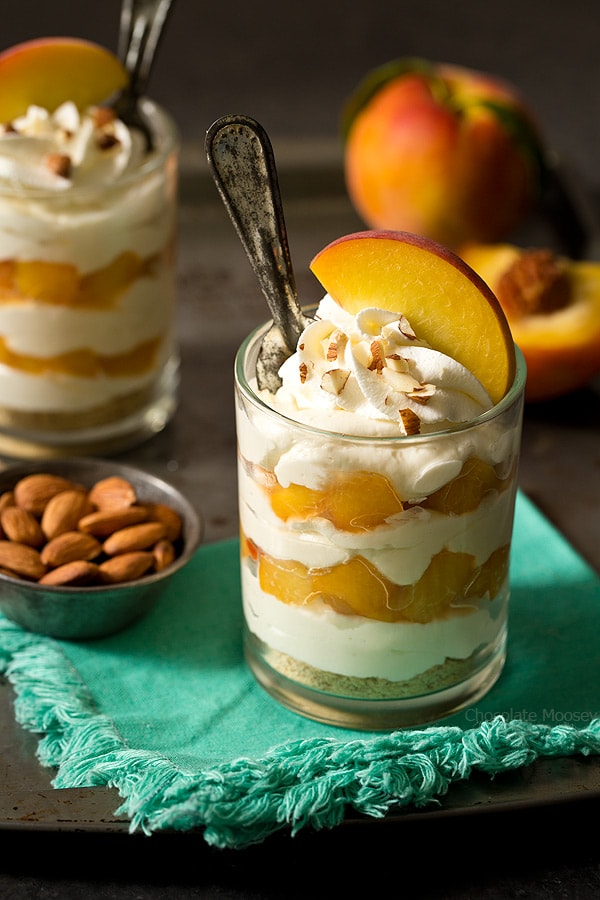 Every summer, Dad and I go peach picking at our favorite farm. Except this year I got the email saying due to the weather, the farm won't be offering pick-your-own peaches this year. Bummer.
Luckily peaches are still available at farmer's markets for consumption, so we aren't completely peachless.
I'm not a huge eat-fruit-as-a-snack person, but for peaches I make an exception. The juicier, the better. If juice is running down your arm after one bite, you know you're eating a good peach.
With favorite recipes such as Peach Cheesecake Crumb Bars, Peach Galette, and Cheesecake Stuffed Peaches, what could I make this year?
Do I really need another cheesecake recipe (answer: yes)?
Peaches and cream is a simple concept of serving fresh summer peaches with whipped cream.
I took it one step further and added cream cheese with the whipped cream to make No Bake Peaches and Cream Cheesecake For Two layered like a parfait.
It's a refreshing, cool way to end your summer evening.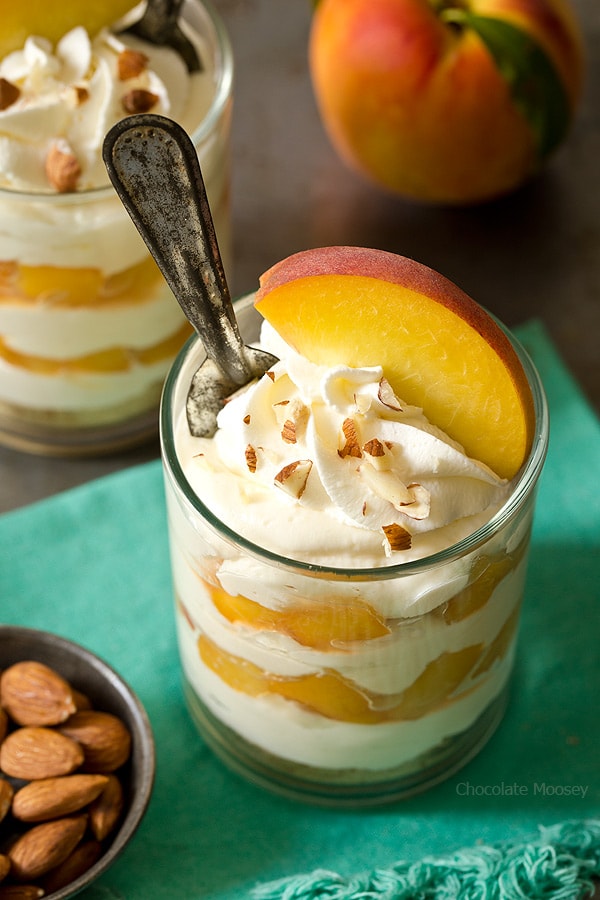 No bake cheesecake for two with peaches is one of the easiest desserts you can whip up.
First, there's no baking involved. You do cook the peaches, but other than that, you use minimal heat.
Second, you don't need to bake a crust or cut the cheesecake into slices. Ever attempt to cut a no bake pie when it's 90 degrees outside? It's a mess.
For a fancier presentation, layer everything into a glass of your choice like a parfait and dig in with a spoon.
Third, you can make it ahead of time because cheesecake tastes better as time passes.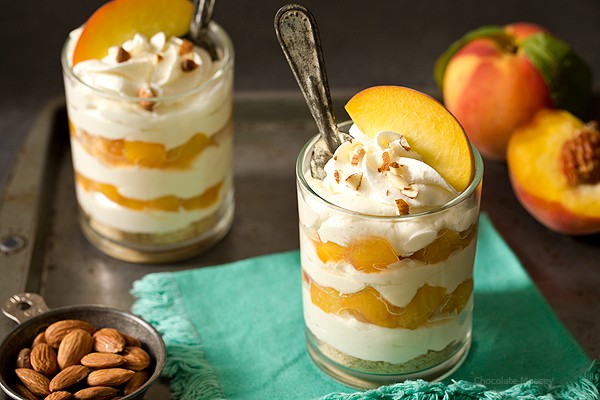 The peaches are cooked on the stovetop first to soften them. I like a little bit of crunch to mine, but you can also cook them until really soft.
Alternatively you can make homemade peach pie filling.
Then you layer the cheesecake filling with the cooked peaches and add chopped almonds for crunch.
Not in the mood for peaches? Use homemade cherry pie filling or make my No Bake Cheesecake For Two with Fresh Berries.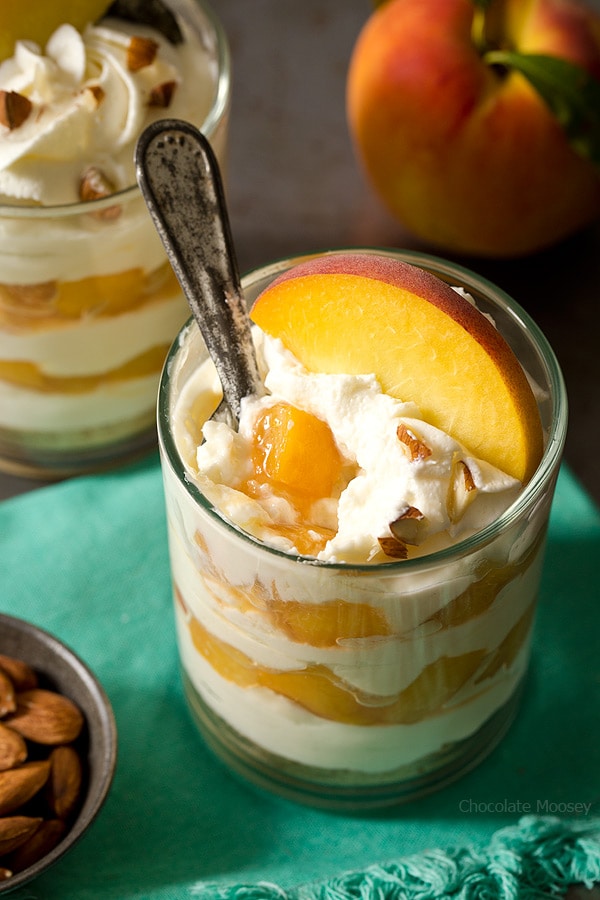 Instead of using Cool Whip, you make homemade whipped cream.
To save you some time, you make extra whipped cream in the recipe so you have some leftover to pipe on top.
Why bother making another batch when you can make it all at once?
No Bake Peaches and Cream Cheesecake For Two
Yield: 2 servings
Prep Time: 30 minutes
Cook Time: 15 minutes
Chill Time: 1 hour
Total Time: 1 hour 45 minutes
No Bake Peaches and Cream Cheesecake For Two – a refreshing, cool way to end your summer evening. Made with homemade whipped cream (no Cool Whip)
Ingredients
Cooked Peaches
1 cup chopped peaches
1 tablespoon granulated sugar
1 teaspoon lemon juice
1/2 teaspoon ground cinnamon
1/4 teaspoon vanilla extract
Cheesecake
1/4 cup graham cracker crumbs plus more for garnish
2 tablespoons unsalted butter, melted
1/4 cup cold heavy whipping cream
1 tablespoon powdered sugar
1/2 teaspoon vanilla
4 ounces cream cheese, softened
2 tablespoons granulated sugar
1/4 cup chopped almonds plus more for garnish
Instructions
For the peaches: In a large saucepan, bring peaches, sugar, lemon juice, and cinnamon to a boil. Boil for 5-10 minutes or until the peaches are soft. If there isn't enough liquid from the peaches, add a little bit of water. Remove from the heat and stir in the vanilla. Cool to room temperature.
For the cheesecake: In a small bowl, mix together the crumbs and melted butter. Press into the bottom of two glasses or ramekins. Refrigerate for at least 15 minutes or until firm.
Meanwhile, in a large mixing bowl on medium-high speed (with whisk attachment if using 5 quart stand mixer), beat the heavy cream until it starts to thicken, about 1 minute.
Gradually beat in the powdered sugar and 1/4 teaspoon vanilla then continue beating until stiff peaks form, about 2-3 minutes (when you pull the beaters up, peaks will form and not fall over).
Transfer to another bowl and reserve 2 tablespoons whipped cream for garnish. Keep both cold in the refrigerator.
In the same mixing bowl (no need to clean bowl - switch to paddle if using stand mixer), beat together the cream cheese, granulated sugar, and remaining 1/4 teaspoon vanilla until smooth and creamy, about 1-2 minutes. Scrape down the bowl.
Fold the whipped cream into the cream cheese mixture until fully incorporated.
Add some of the cheesecake filling on top of each chilled crust then add some peach filling and almonds. Finish layering with the cheesecake, peaches, and almonds.
Garnish with the reserved 2 tablespoons whipped cream. Refrigerate at least 1 hour before serving. Keep cold until ready to serve.
This post may contain affiliate links. As an Amazon Associate and member of other affiliate programs, I earn from qualifying purchase.