Caramel Apple Cheesecake
Caramel Apple Cheesecake is a caramel cheesecake topped with cooked apples and pecans tossed in caramel sauce.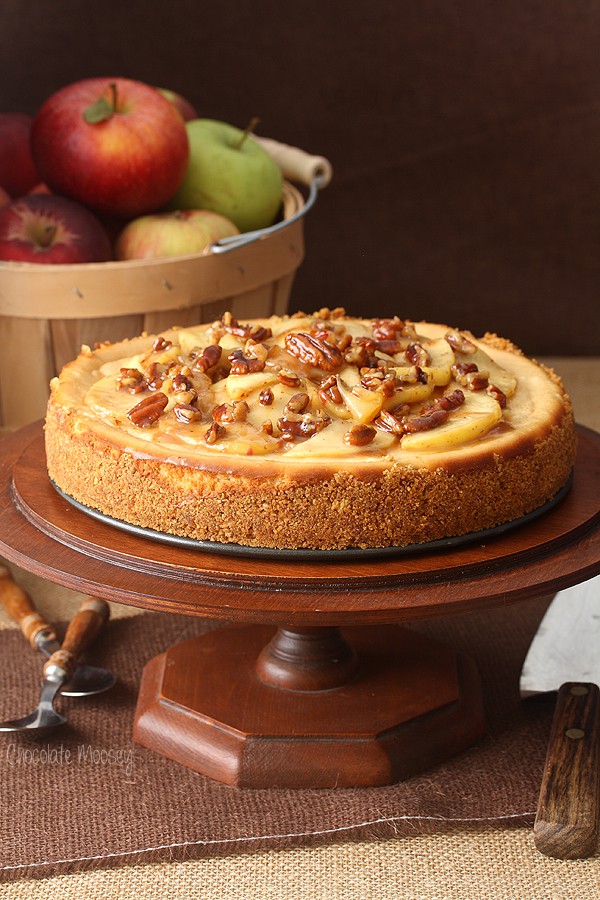 The other day I decided to have a little fun and count how many
cheesecake recipes
I had on the blog and how many blocks of cream cheese I've used.
The answer: 38 recipes and 63 blocks of cream cheese (not including any recipe testing/redos or any non-cheesecake recipes using cream cheese).
Needless to say, I use a ton of cream cheese (and somehow I still use more butter than that).
Now the count is up to 39 recipes and 66 blocks of cream cheese with this Caramel Apple Cheesecake.
Last month I brought you a no bake caramel apple cheesecake.
This month, I wanted to bake a full-sized cheesecake that screamed fall.
Since October also means going to the local apple festival, I knew I would have tons of apples to use in my baking. What goes better with apples than caramel?
Funny thing is I actually hate caramel apples on a stick but love the flavor combination.
It's mainly a texture thing; the apples in this cheesecake are much softer and easier to eat. Plus this is cheesecake. Everything is better when you add cheesecake to it.
I've talked about going to a local apple festival pretty much every year. This year was no different except it was much, much colder to the point where I wish I had gloves!
We didn't even get ice cream with our apple dumpling because it was that cold outside.
A few cups of hot apple cider was definitely in order. We left with a bushel of freshly picked apples and quarts of freshly pressed apple cider.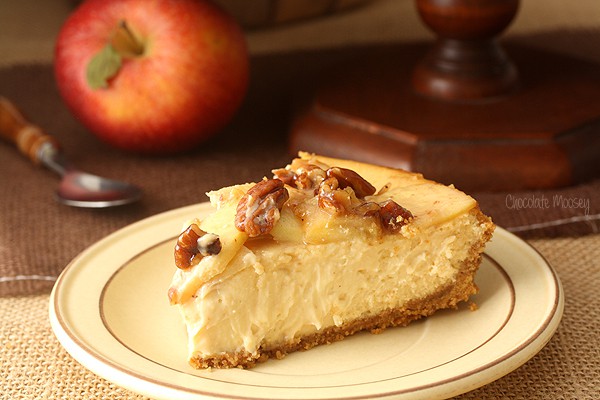 I actually almost didn't make this cheesecake because I couldn't decide how to add the apples.
I didn't want to fold apples into the batter. I thought about arranging apple slices on top in a pretty, circular pattern, but I didn't want the apples to be raw.
I decided to cook them in the skillet for a few minutes then arrange on top, but that idea flopped, so I just piled the apples on top.
I also added homemade caramel sauce to the cheesecake itself to tie the base and topping together.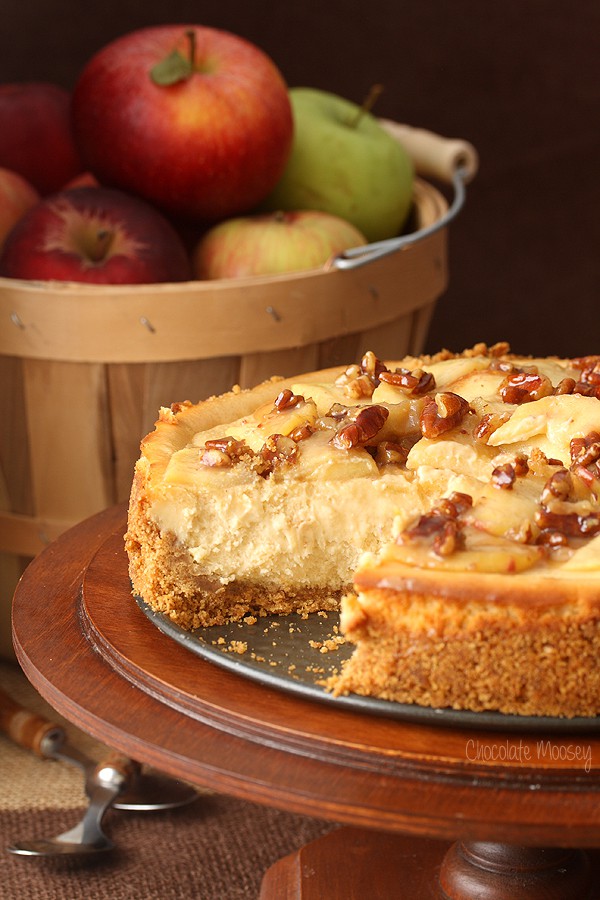 Oh and can we talk about spoons for a minute?
All of my life, I've eaten cheesecake, pies, and cake with a spoon, yet I was told recently that everyone uses forks.
Forks? For cheesecake?
I don't get it. It's creamy. Why wouldn't you use a spoon? And pies and cake – they come with ice cream. How do you eat ice cream with a fork?
So tell me in the comments below – are you Team Spoon or Team Fork?
Equipment you may need (Amazon affiliate links):
Caramel Apple Pecan Cheesecake
Caramel Apple Pecan Cheesecake is a caramel cheesecake topped with cooked apples and pecans tossed in caramel sauce.
Ingredients
2 1/2 cups graham cracker crumbs
1/3 cup (5 1/3 tablespoons) unsalted butter, melted
24 ounces cream cheese, softened
1 cup granulated sugar
3 eggs, room temperature
1 teaspoon vanilla extract
3/4 cup caramel sauce (homemade or store bought)
1 large apple, peeled, cored, and sliced 1/8-inch thick
1 tablespoon unsalted butter, softened
1/4 cup chopped pecans
Instructions
Preheat oven to 350F. Have a 9-inch springform pan ready.
In a medium bowl, mix together the graham cracker crumbs and 1/3 cup melted butter. Press into the bottom and up the side of the pan. Place on a cookie sheet and set aside.
In a large bowl, beat together the cream cheese and sugar until smooth. Add the eggs one at a time, beating after each addition. Beat in vanilla and 1/2 cup caramel sauce. Make sure there are no lumps because they will remain after baking.
Pour the batter into the pan. Bake for 35-40 minutes or until the center is almost set (it will still jiggle but the top should be solid when you touch it. If your oven is older, you may need to bake another 5 minutes; however, don't bake it too long or it'll crack on top). Cool for 10 minutes on a wire rack. Take a knife and run it around the edge of the pan to loosen it. Let cool on wire rack for an hour then refrigerate at least 4 hours or overnight.
Right before serving, make the caramel apple topping: In a large skillet, melt the 1 tablespoon butter. Add the apples and pecans. Cook for 5 minutes or until the apples start to soften. Add the remaining 1/4 cup caramel sauce and stir. Remove from the heat and cool 15 minutes. Remove the top part of the springform pan and spoon the apples on top of the cheesecake. Serve immediately. Store in the refrigerator in an airtight container for up to 1 week.
Source: Adapted from
Taste Of Home
You May Also Like These Fall Recipes
This post may contain affiliate links. As an Amazon Associate and member of other affiliate programs, I earn from qualifying purchase.