Caramel Waffle Cone Ice Cream
Are you ready to eat the ice cream of your dreams? Meet Caramel Waffle Cone Ice Cream – caramel ice cream with chocolate covered waffle cone pieces and a caramel swirl.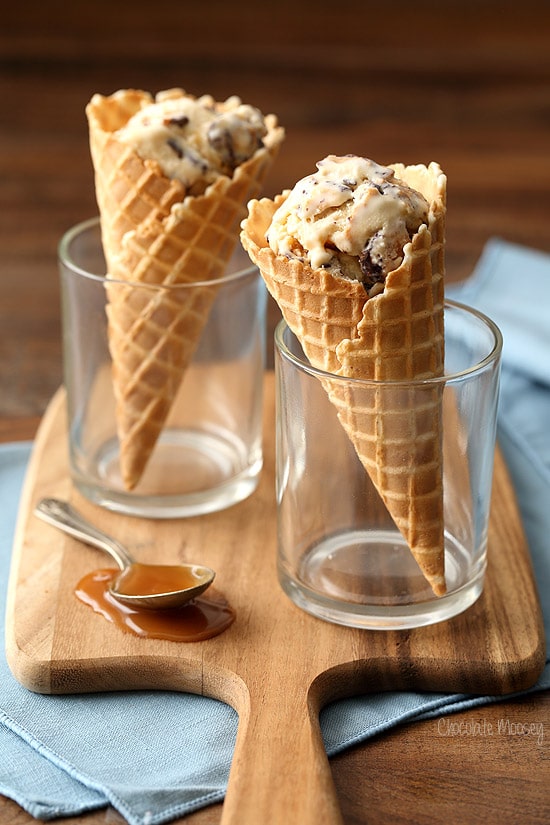 If you aren't following me on
Instagram
, these past few weeks I have been checking out various ice cream stands around Pittsburgh to see who is worth visiting.
Because I make my own ice cream, I have slightly higher standards than most people.
First, I want creative flavors. I can get your usual chocolate, cookie dough, mint chocolate chip, etc. anywhere from any ice cream stand in a 5 mile radius of you. Give me something I don't typically see, like Mexican Chocolate Ice Cream.
Second, if you don't have any fun flavors, your regular flavors better blow me away. I ordered an ice cream sundae from one place but was highly disappointed.
The chocolate ice cream wasn't chocolate-y enough. Maybe I ruined my expectations because I always make my chocolate ice cream extra fudgy.
The place was packed, so maybe it was good enough for the average person. I may go back later and order something else, especially if they rotate out seasonal flavors.
I felt like I was missing something since they have such rave reviews online.
As you can probably tell from that last paragraph, I'm a bit of an ice cream snob connoisseur.
Ice cream is no diet food, so if I'm going to spend my money and calories on a scoop, it better be worth a few moments of pure bliss.
Moments where you aren't talking to anyone because you're too caught up eating your ice cream with it all over your face.
Moments where you're trying not to eat your ice cream too fast because you want to savor every bite but then realize you better speed it up before it ends up all over your hand.
Moments where you're working at your desk all day and can't stop thinking about that homemade ice cream in your freezer you're just dying to eat again.
For me that would be this Caramel Waffle Cone Ice Cream. I couldn't stop thinking about this caramel ice cream when I first got the idea, couldn't stop thinking about it when I shot it, couldn't stop thinking about it when I had leftovers in the freezer. I just couldn't stop thinking about it.
There's something about those crunchy waffle cone pieces that I love. I almost bought a waffle cone maker years ago at a flea market but didn't and have regretted it since.
I couldn't tell you the last time I had a waffle cone, so it was about time I did something about it.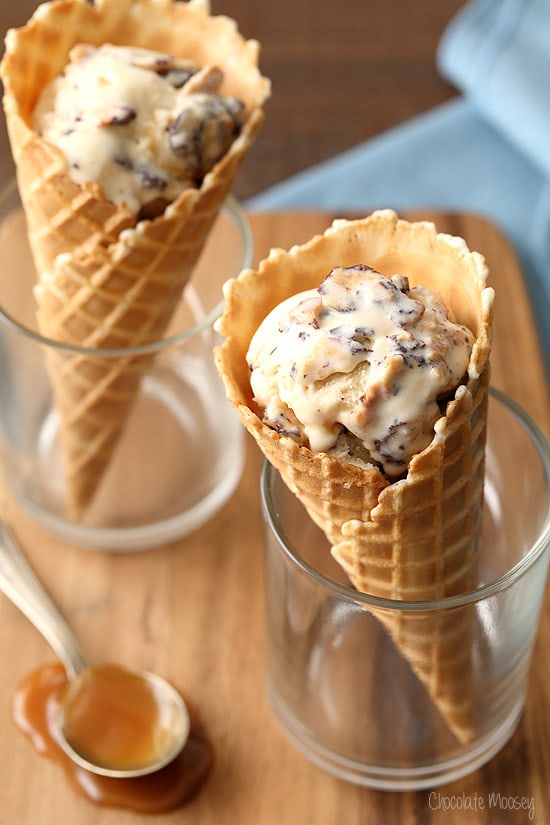 I got the idea for this waffle cone ice cream when I was browsing Target one evening. I was looking to see if anybody made peanut butter ice cream to use in my
chocolate peanut butter ice cream cake
.
They didn't, but I noticed they had a lot more fun ice cream flavors than I did as a kid, including caramel waffle cone ice cream.
However, it was vanilla ice cream with caramel and waffle cone pieces folded in. I wanted to make a caramel ice cream base with homemade caramel sauce to double the caramel flavor.
The key to keeping the waffle cone pieces crunchy in the ice cream is covering them in chocolate. Not only does the chocolate add another flavor element, it protects the pieces from getting soggy.
Caramel Waffle Cone Ice Cream
Yield: 1 pint
Prep Time: 20 minutes
Cook Time: 20 minutes
Total Time: 40 minutes
Are you ready to eat the ice cream of your dreams? Meet Caramel Waffle Cone Ice Cream – caramel ice cream with chocolate covered waffle cone pieces and a caramel swirl.
Ingredients
2 teaspoons cornstarch
1 tablespoon whole milk
1/2 cup heavy whipping cream
1 tablespoon corn syrup
1/3 cup granulated sugar
1 cup whole milk
2 tablespoons unsalted butter, softened and cut into 2 pieces
1/4 teaspoon sea salt
1 teaspoon vanilla extract
1 cup waffle cone pieces
1/2 cup semisweet chocolate chips, melted
2 tablespoons caramel sauce (homemade or store bought)
Instructions
In a small bowl, mix together the cornstarch and 1 tablespoon milk to make a slurry.
In a measuring cup, mix together the heavy cream and corn syrup.
In a heavy saucepan, heat the sugar. Do not stir until the middle starts to turn brown and the edges are still white. Use a heatproof spatula to bring the white edges to the center. Continue stirring and pushing around until all of the sugar is an amber color (don't let it get too dark). Remove from the heat and very carefully pour in some of the heavy cream. It will spit so be careful. Finish pouring in the cream (if it hardens, put back over the heat and keep stirring until it's smooth again).
Return the pan to the heat. Add the remaining 1 cup milk and bring to a boil. Boil for 4 minutes. Whisk in the cornstarch slurry. Boil 1 minute or until it slightly thickens. Remove from the heat then stir in the butter and salt until melted. Stir in the vanilla.
Transfer mixture to a heatproof bowl and cover with plastic wrap so that the plastic wrap touches the mixture. Place the bowl in an ice bath and cool to room temperature. Once cool, refrigerate for at least 1 hour or until cold.
Line a baking sheet with wax paper. Drizzle half of the melted chocolate chips on the paper. Add the waffle cone pieces on top. Drizzle the remaining chocolate on top, coating as much of the cone pieces as you can (the chocolate is what helps keep the pieces crunchy in the ice cream). Let the chocolate harden then store in an airtight container until ready to use.
Once the ice cream mixture is cold, churn it according to your ice cream machine's instructions. During the last few minutes of churning, add the waffle cone pieces. When transferring the ice cream to a freeze-proof container, layer with the caramel sauce. Freeze until firm, preferably overnight.
Source: Ice cream base adapted from
Jeni's Splendid Ice Creams at Home
More Ice Cream Recipes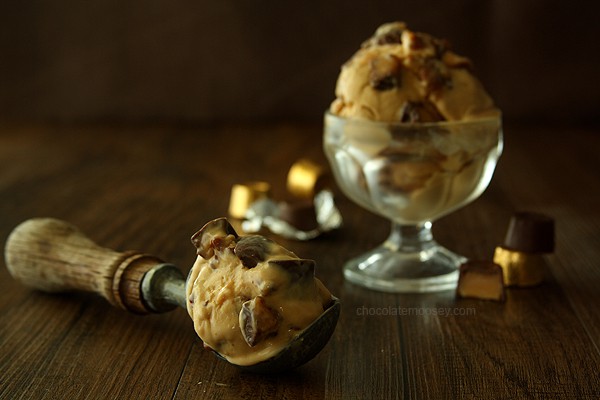 Triple Caramel Rolo Ice Cream

Chocolate Caramel Cheesecake Ice Cream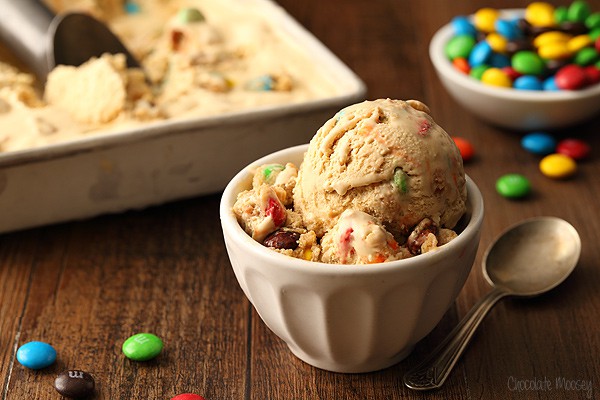 M&M Cookie Dough Ice Cream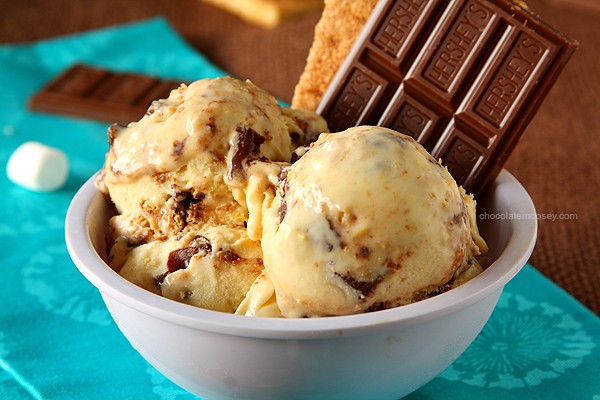 S'mores Ice Cream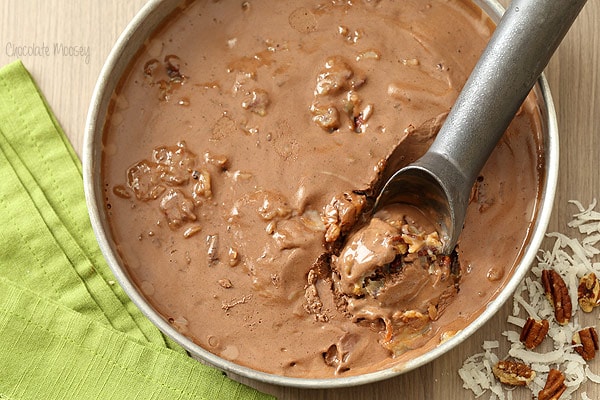 German Chocolate Cake Ice Cream
This post may contain affiliate links. As an Amazon Associate and member of other affiliate programs, I earn from qualifying purchase.