When you're craving chewy and fudgy brownies but only baking for two people, Small Batch Fudge Brownies are the answer! They're made with all cocoa powder and baked in a loaf pan. I also share the secret to getting shiny, cracked tops.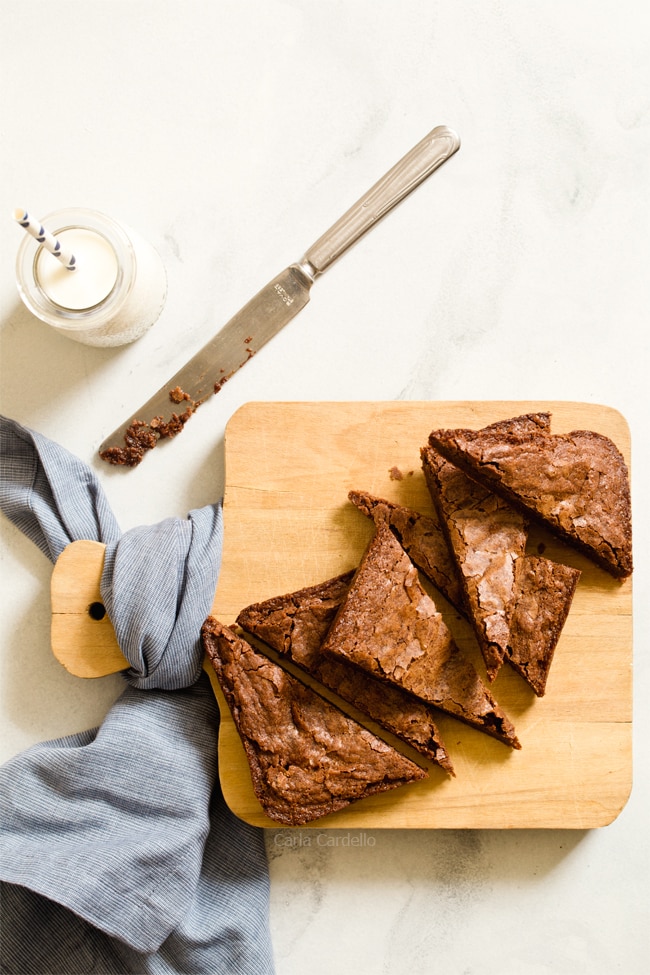 I've been working on a list of how to reduce your favorite recipes into smaller serving sizes. Desserts are a challenge to make
small batch
because baking is a science. Anything with eggs is the hardest because how *do* you cut an egg in half? You either have to use part of the egg or increase some of the dry ingredients (usually flour) to balance out the extra liquid. That's why I'm here to help you out.
The first small batch recipe on that list is Small Batch Fudge Brownies made in a loaf pan. Aka Loaf Pan Brownies.
I did a lot of experimenting to get the best fudgy brownie recipe for two people (ish). I knew they needed to be chewy and fudgy with shiny, cracked tops. I didn't want to take the extra time to frost them. I wanted them to be ready to serve straight from the loaf pan. Just bake and eat.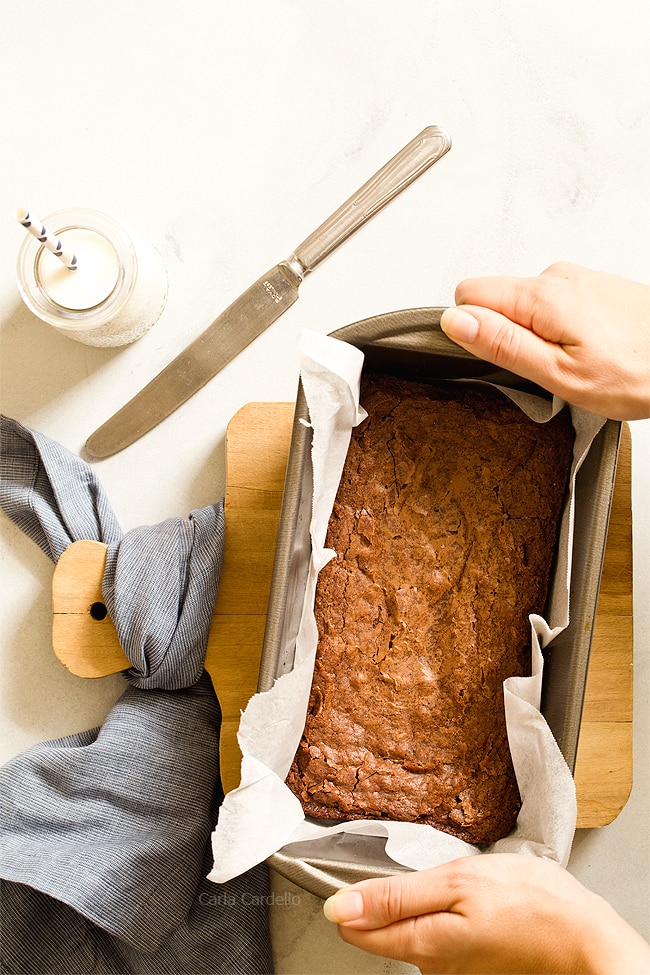 The answer to how to get shiny, cracked tops on brownies? Sugar. Probably not the answer you were expecting, right? I accidentally discovered this when I tried reducing it. One cup seems like a lot, but when I used less sugar, the tops were dull, not cracked, and more bitter than sweet (because the balance of cocoa and sugar were off, so you were tasting more cocoa than sugar).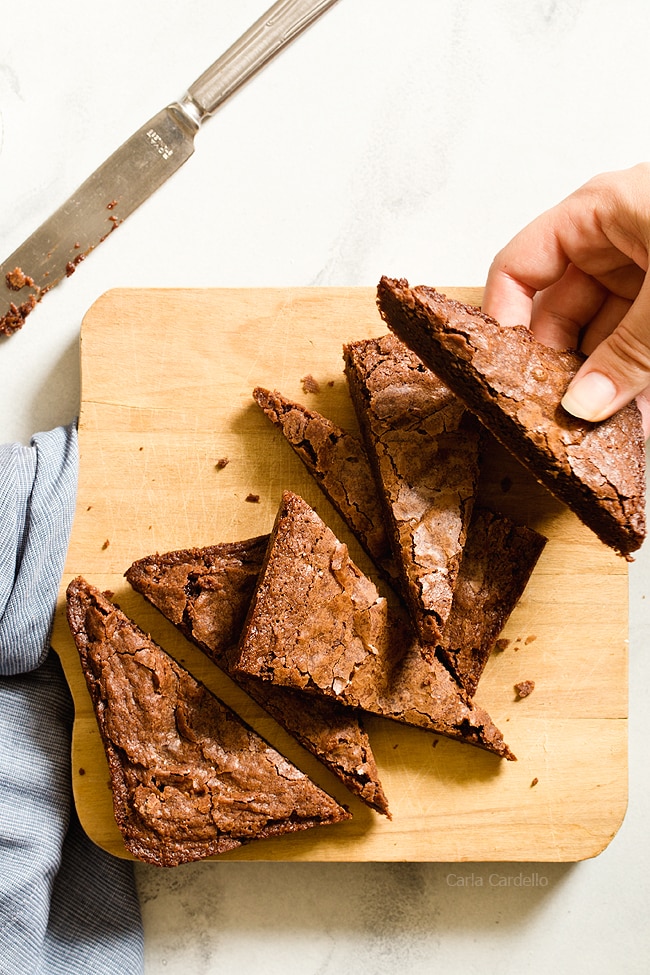 Here are the different ways I experimented:
1. As you see written in this post with the exception of being really thin. I wanted them slightly thicker, so I made minor adjustments to the ingredients.
2. Reduced the sugar to cut back on sweetness. I ended up with dull and bitter brownies.
3. Back to what you see written in this post. Except they were too underbaked and stuck to the pan.
4. Which meant I made another batch of the same brownies and made sure to bake them longer. They are still a little on the thin side, but they are rich, so less is more.
5. I used melted unsweetened chocolate as a substitute for the cocoa powder. They work in a pinch, but the cocoa brownies were far superior in texture.
Five batches of fudgy brownies later and we have our winner. Go with all cocoa powder and don't be scared of sugar.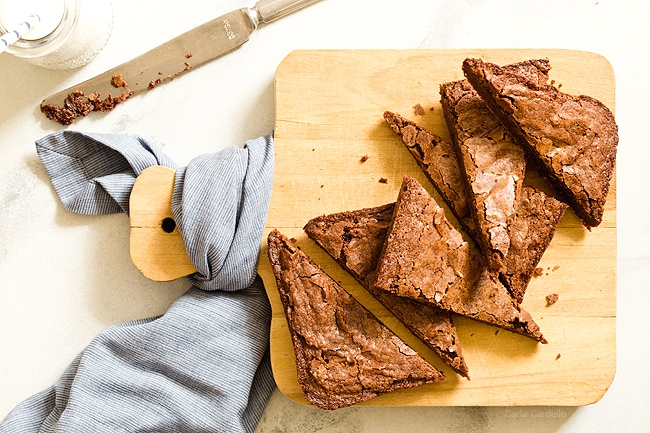 I was struggling with how many serving sizes brownies in a loaf pan make. If you cut them into large bakery-sized squares, you get 3, maybe 2 if you're feeling generous. If you cut them into triangles, you get 6. If you cut them into small squares, you get 8. If you're having a bad day, you get 1.
Don't forget the parchment paper! If you don't have any and find your brownies sticking to the bottom, chances are they're too warm and/or underbaked. Refrigerate them until cold, bring to room temperature, then try again.
Items You May Need (affiliate links):

Small Batch Fudge Brownies
Ingredients
6 tablespoons unsalted butter
1/4 cup unsweetened cocoa powder
1 cup granulated sugar
1/4 teaspoon salt
1 egg
1/2 teaspoon vanilla extract
1/2 cup all-purpose flour
1/2 cup chopped walnuts (optional)
Instructions
Preheat oven to 350F. Line a 9x5 loaf pan with parchment paper.
In a large saucepan, melt the butter.
Remove from the heat and whisk in cocoa powder, sugar, and salt (batter will be thick and somewhat grainy).
Whisk in the egg and vanilla.
Switch to a rubber spatula and stir in the flour and walnuts if using.
Spread into the pan. Bake 18-20 minutes or until the edges pull away from the sides and the center doesn't look wet.
Cool to room temperature then remove from the pan. If brownies stick, refrigerate until cold, bring back to room temperature, then try again. Store in an airtight container for up to 1 week.
Nutrition Information:
Serving Size:

1
Amount Per Serving:
Calories:

2060
Total Fat:

110g
Saturated Fat:

47g
Cholesterol:

183mg
Sodium:

600mg
Carbohydrates:

268g
Sugar:

203g
Protein:

26g