Small Batch Chocolate Chip Cookie Bars
When you want to bake a small batch of chocolate chip cookies, turn them into Small Batch Chocolate Chip Cookie Bars made in a loaf pan! They're easier and faster than scooping cookies plus they won't spread too thin.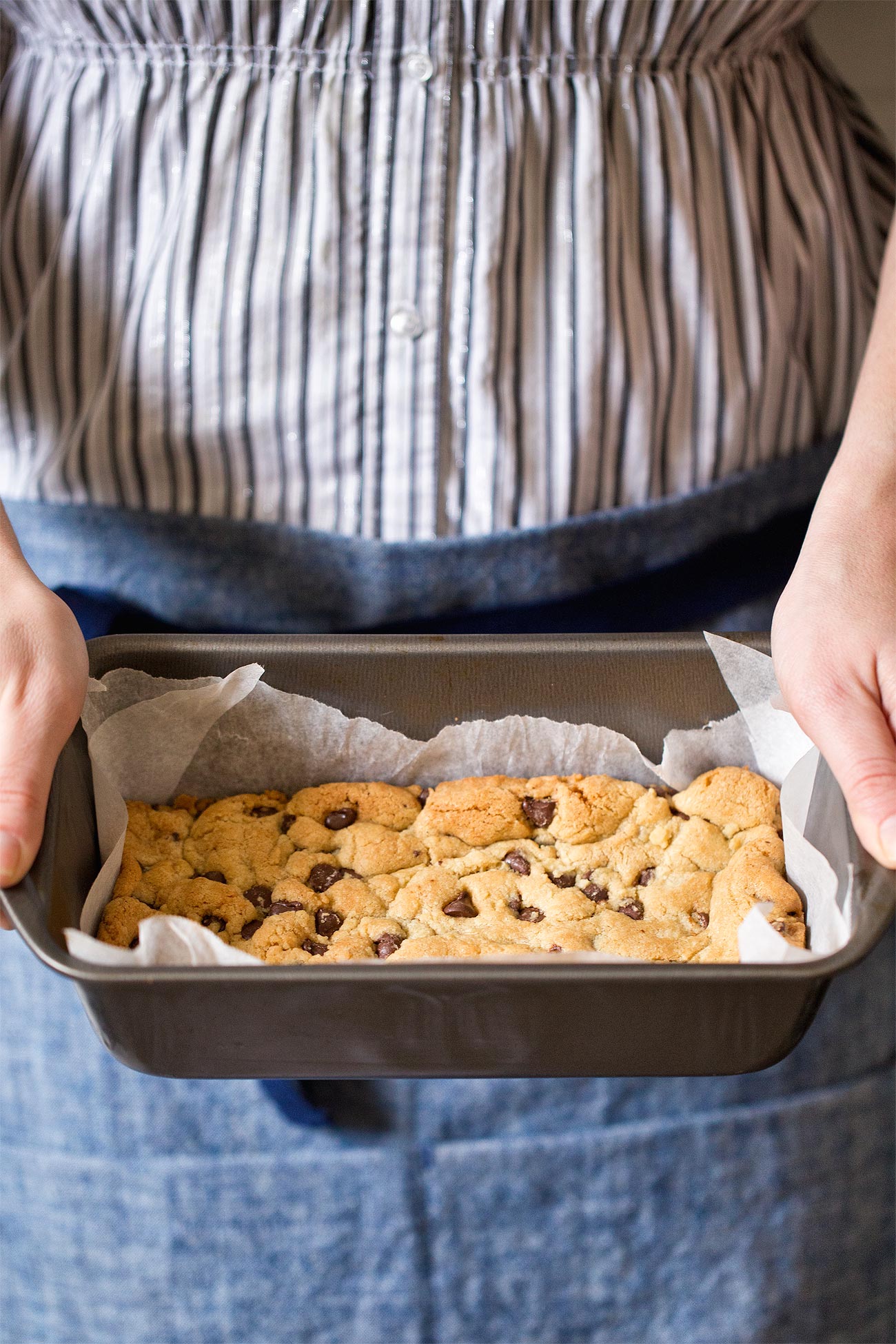 It's official – everything is switched over to Homemade In The Kitchen (Not sure where Chocolate Moosey went? Read my
announcement post
for details).
I thought it would be appropriate to kick off my new name with my favorite dessert in small batch form – Small Batch Chocolate Chip Cookie Bars baked in a loaf pan!
I did it with my Small Batch Brownies and Small Batch Lemon Bars. It was only a matter of time to bring you cookies.
In my opinion, the perfect chocolate chip cookie is soft and chewy in the middle while slightly crispy on the edges. If you agree, then these cookie bars have the perfect texture for you.
Why bake cookies in a loaf pan? It's faster, easier, and you don't have to worry about them spreading too thin. It also turns each piece into an end piece, which means no more fighting for the corner (there may, however, still be fighting for the last cookie).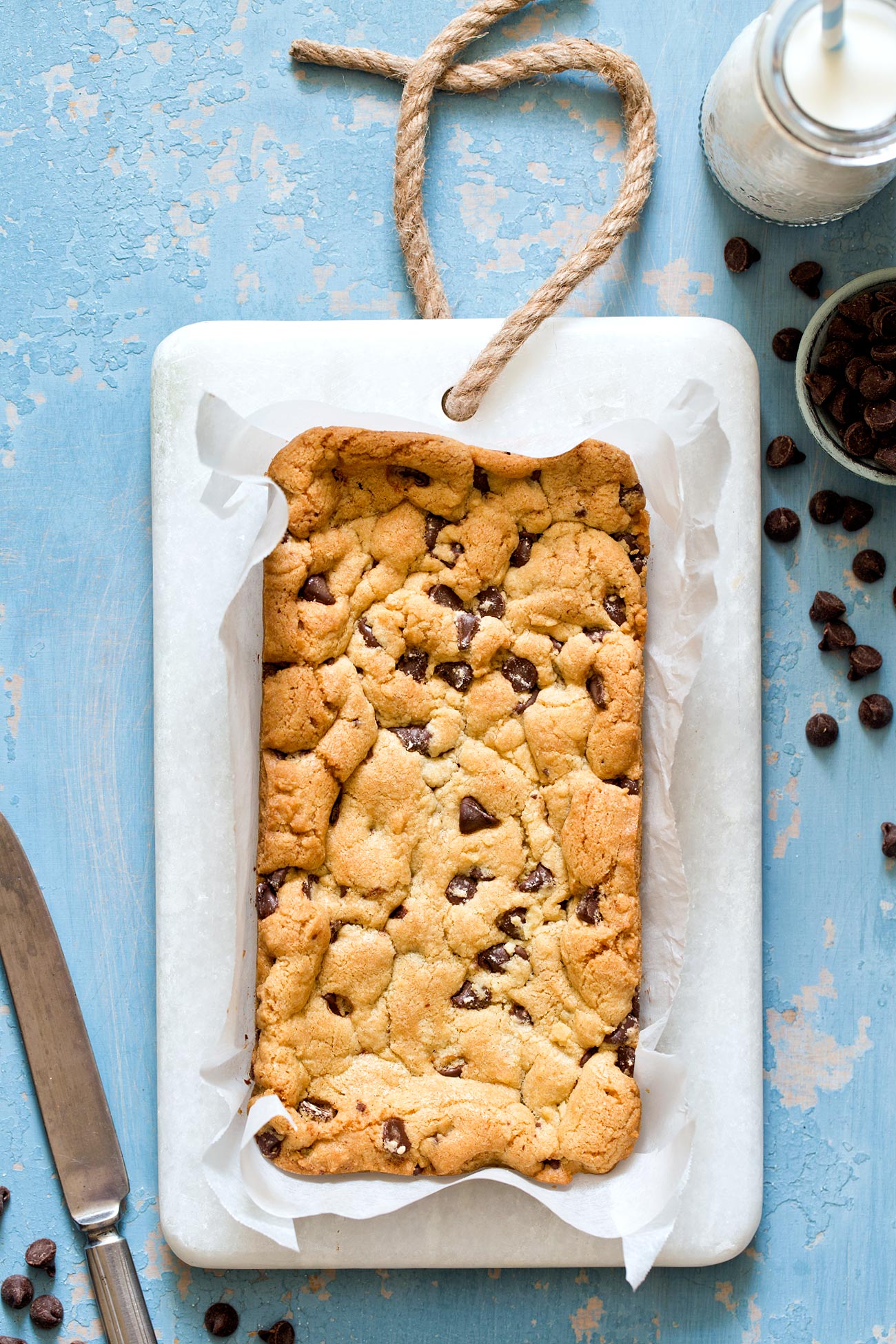 The concept seemed simple enough – make my
small batch chocolate chip cookies
but instead of dropping them on a cookie sheet, pat them into a
loaf pan
(affiliate link).
However, it wasn't that simple. Turned out the dough would rise in the middle but then sink after cooling, causing a giant sinkhole, albeit a delicious sinkhole.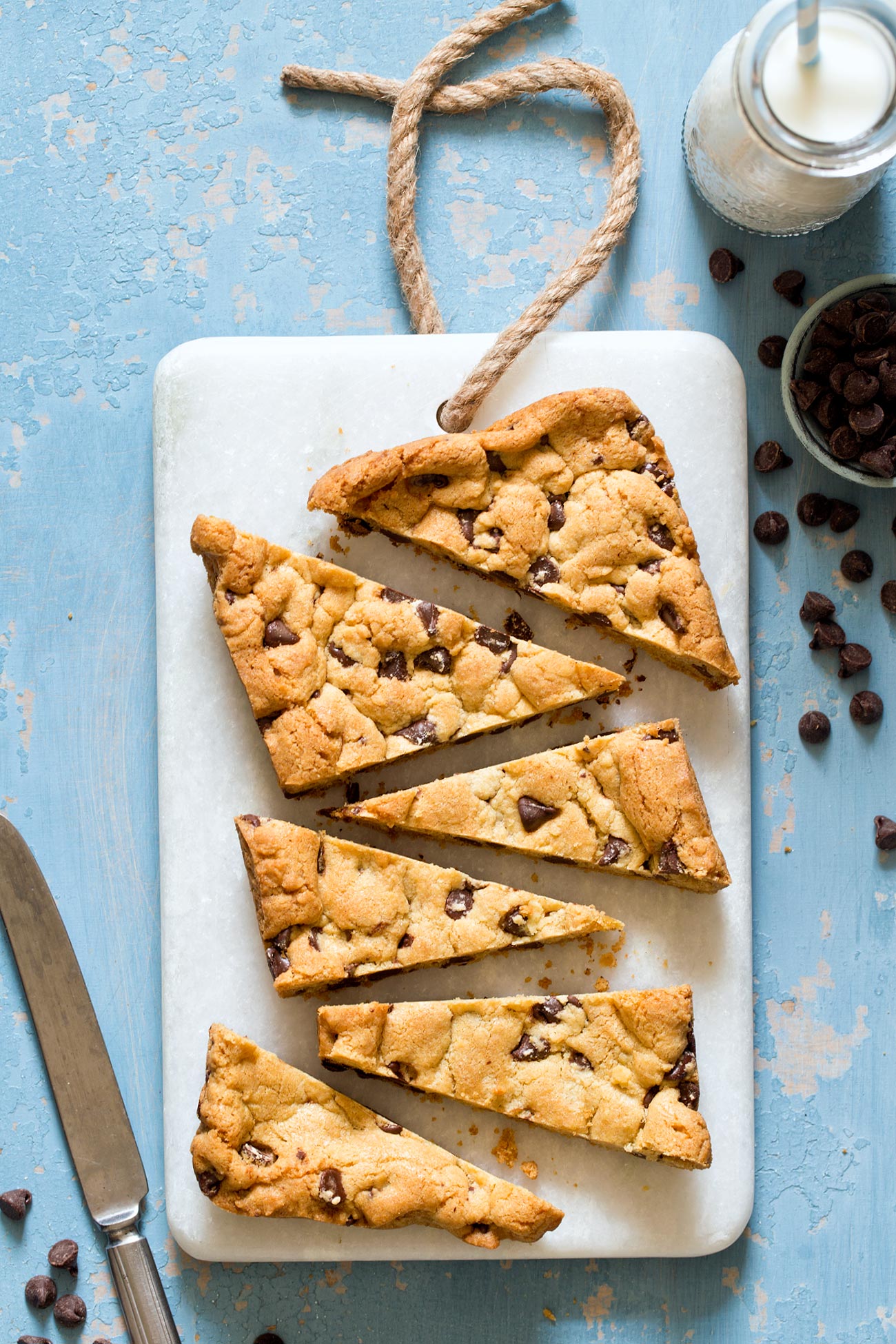 The obvious culprit was the baking soda because leavening is what causes recipes to rise. However, the middle kept sinking even when the baking soda was reduced to 1/8 teaspoon.
As I was debating on adding baking powder to the baking soda, my friend Susan, Miss Cookie Queen herself, messaged me that same idea. It sounds counterintuitive, but adding baking powder would help stabilize the baking soda and keep the middle from falling.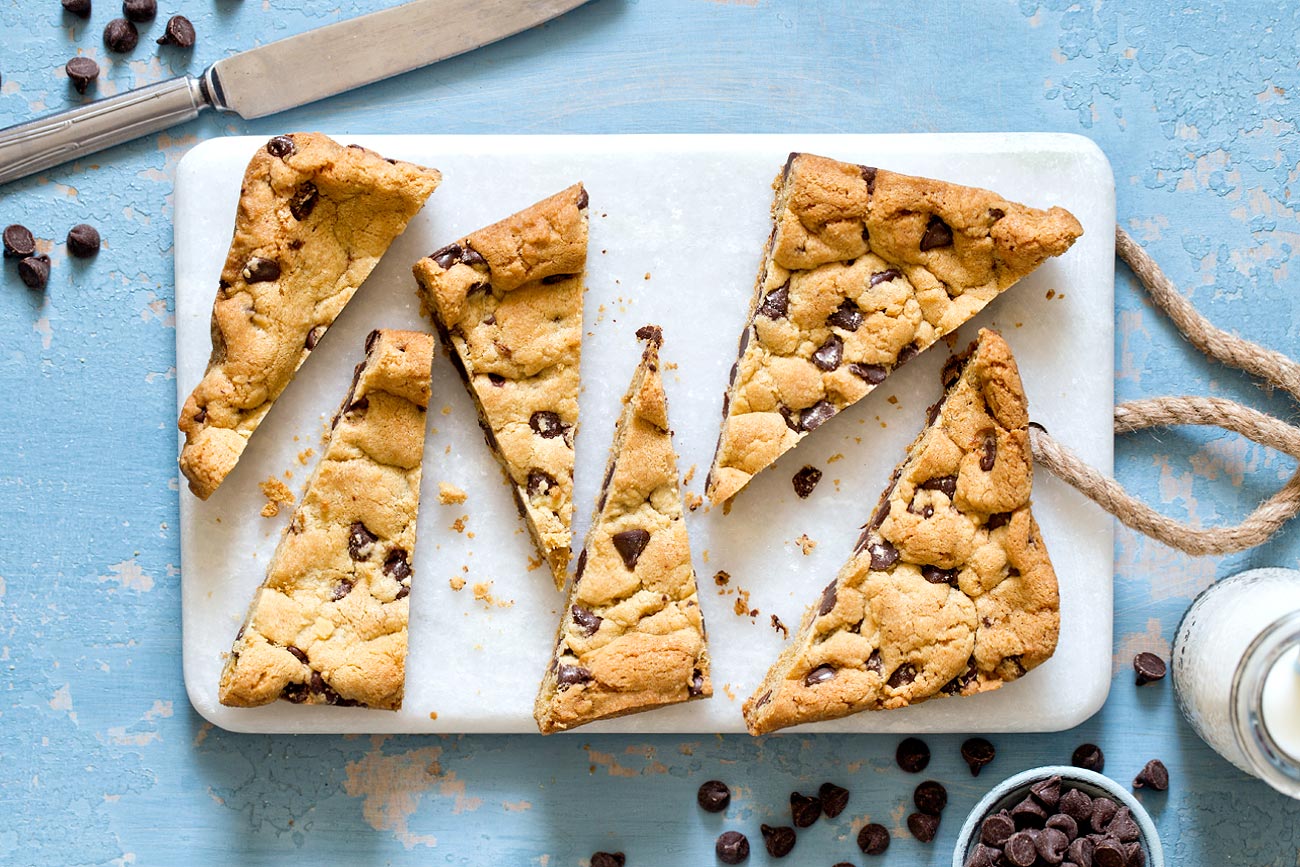 It helped but still not quite perfect. What else can cause sinking in my cookies? Sinking is a sign the structure isn't stable, which usually results in the flour to liquid ratio not being balanced.
However, when you look at the recipe, there is no liquid in the dough, not even an egg white. There's vanilla, but such a minute amount wouldn't throw off the ratio.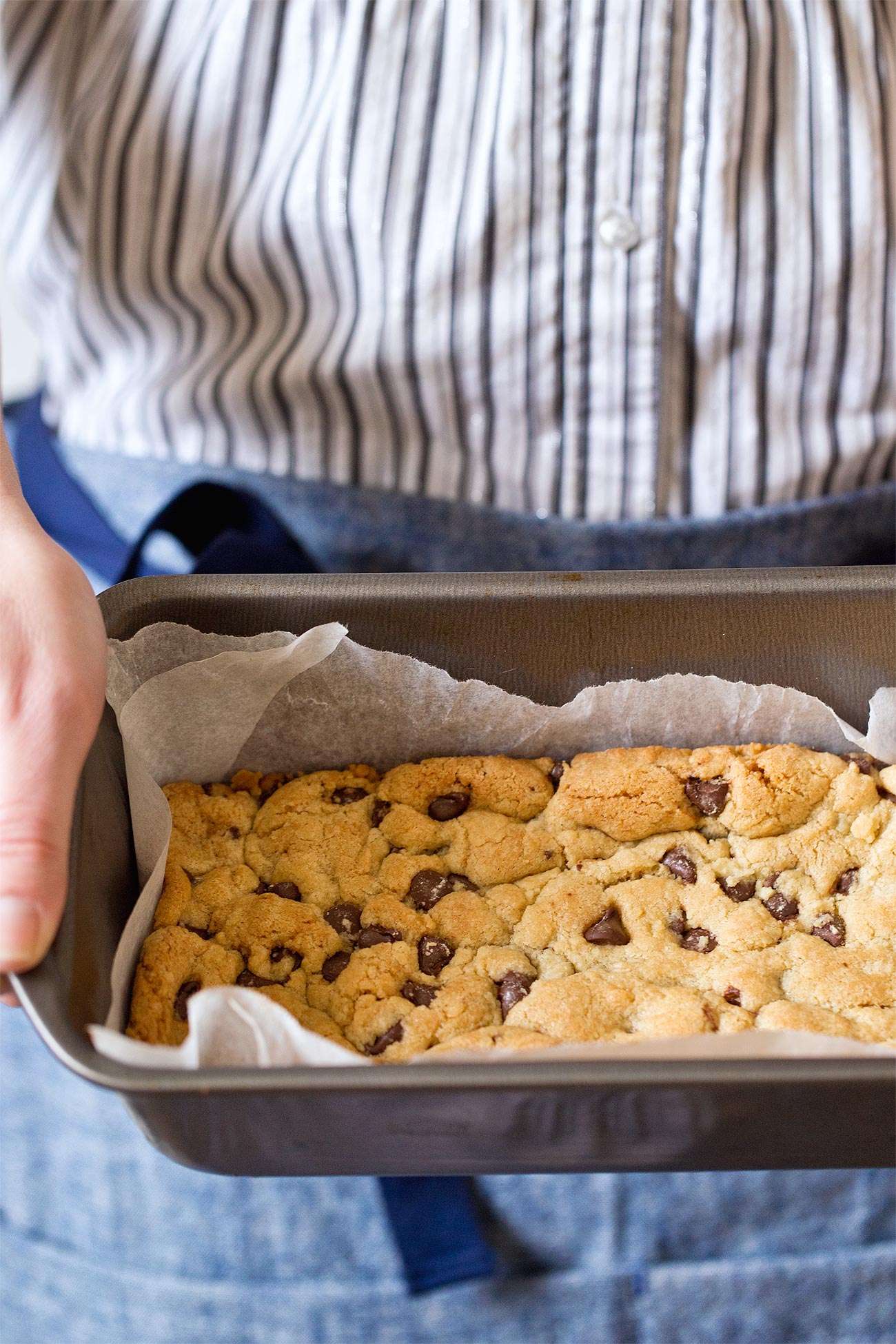 Although there's no obvious liquid like milk or egg whites, when sugar melts, it turns into liquid. That means when there's too much sugar and not enough flour, the structure won't hold. Hence sinking after cooling.
I cut back on the sugar and voila – it held! There is a slight dip in the middle, but that is the result of baking in a loaf pan. Think of it like turning each piece into an end piece.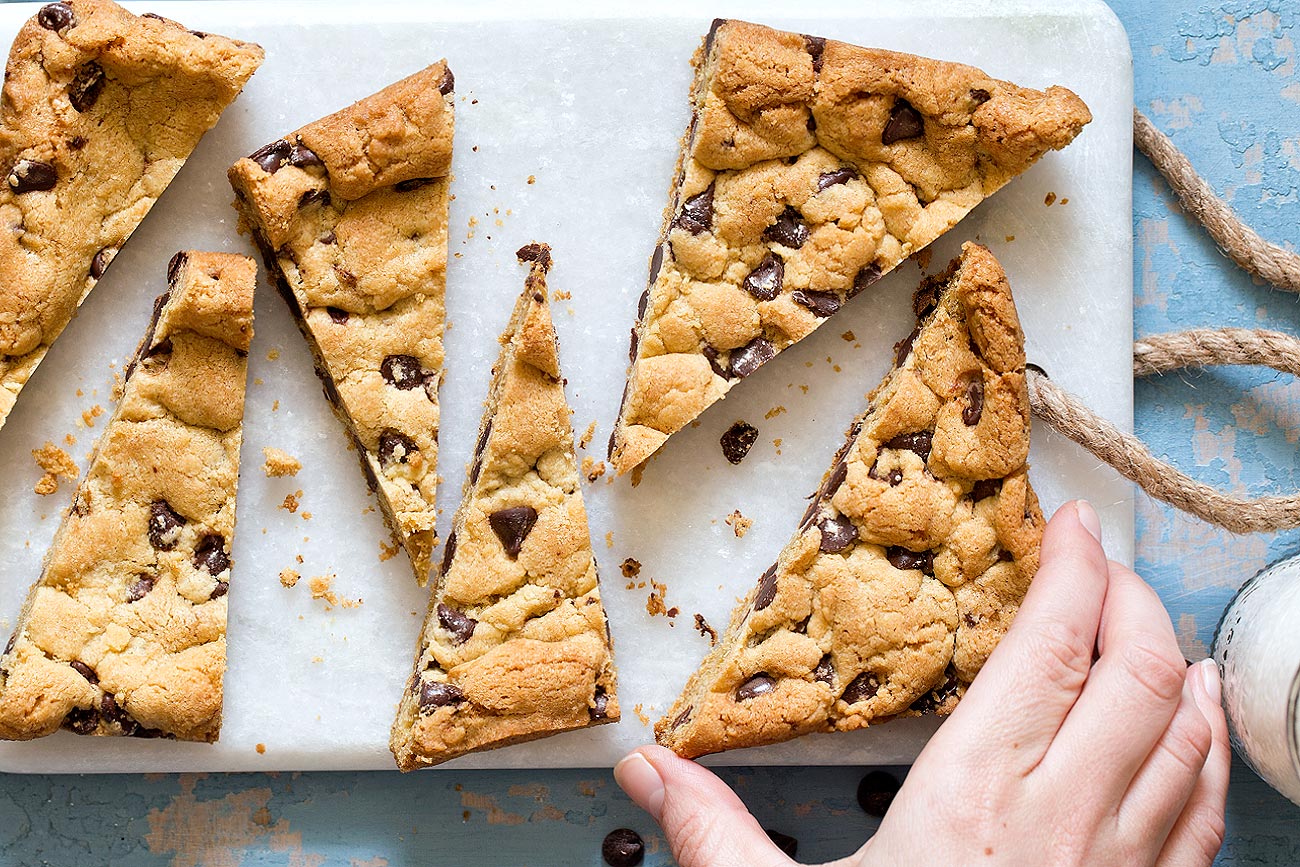 After going through at least 6 rounds of recipe testing, I can say I'm officially the first person to make a true to size small batch chocolate chip cookies in a loaf pan.
I googled for similar recipes to research and compare notes, but all of the "small batch" cookie bars were made in 8×8 pans. That's not small batch, my friends. This is.
Because I made so many cookie bars in one week, I wrapped a few pieces in plastic wrap and stuck them in my freezer. I can testify they do freeze well.
Looking to bake small batch cookies instead of bars? Check out my Small Batch Chocolate Chip Cookie recipe and Chocolate Chip Snowball Cookies.
Looking for only one chocolate chip cookie? Check out my Single Serving Chocolate Chip Cookie.
Want to roll out and decorate cookies? Check out my Chocolate Chip Cut Out Cookies.
Getting close to Easter? Check out my Cadbury Egg Cookies.
Need a no bake dessert? Check out my Chocolate Chip Cheese Ball.
Small Batch Chocolate Chip Cookie Bars
Yield: 6-8 cookie bars
Prep Time: 15 minutes
Cook Time: 23 minutes
Total Time: 38 minutes
Ingredients
3/4 cup all-purpose flour
1/4 teaspoon baking soda
1/4 teaspoon baking powder
1/4 teaspoon salt
1/4 cup (4 tablespoons or 2 ounces) unsalted butter, softened
1/4 cup packed brown sugar
2 tablespoons granulated sugar
1 egg yolk, room temperature
1/2 teaspoon vanilla extract
1/2 cup semisweet chocolate chips
Instructions
Preheat oven to 350F. Line a 9x5 loaf pan with parchment paper.
In a medium bowl, whisk together the flour, baking soda, baking powder, and salt.
In a large mixing bowl on medium speed, beat together the butter, brown sugar, and sugar until smooth and creamy, about 2 minutes.
Beat in the yolk and vanilla until smooth.
On low speed, gradually beat in the flour mixture for 1 minute or until the dough comes together. The mixture will look dry and crumbly but will come together to pat into the pan. Do not overbeat. Stir in the chocolate chips.
Evenly pat the dough into the pan. Bake 18-23 minutes or until golden brown and puffed. Let cool for 15 minutes before removing from the pan. Cool completely before cutting.
This post may contain affiliate links. As an Amazon Associate and member of other affiliate programs, I earn from qualifying purchase.