Banana Chocolate Chip Bread
A fresh baked loaf of Banana Chocolate Chip Bread will fill your kitchen with love (plus four troubleshooting tips to bake up the perfect loaf).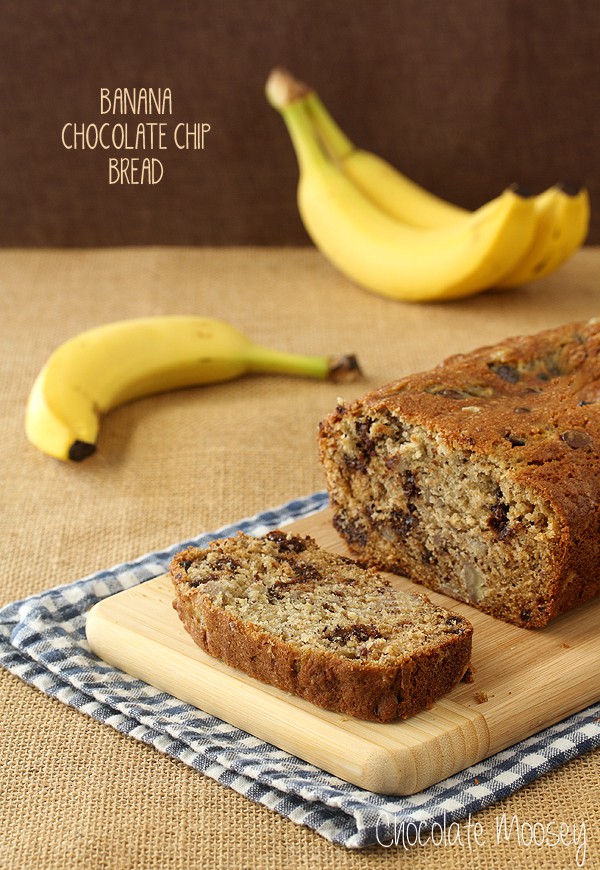 One of the best smells in life is the smell of fresh bread baking in the oven, especially when it's as prominent as banana bread. You walk in the kitchen and go "mmm must be banana bread."
Banana bread reminds me of my mother. I haven't made it in a long time, but when I used to live at home, she enjoyed it when I baked a loaf.
Today the Holiday Food Party bloggers are celebrating Mom for Mother's Day. My mom is more of a traditionalist when it comes to recipes, which is why I dedicate this classic Banana Chocolate Chip Bread to her, a recipe I've been making since middle school.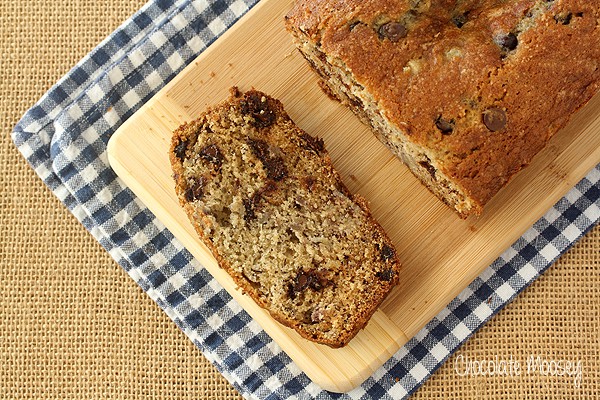 I was one of the lucky kids growing up who was forced to take home economics. We learned cooking, sewing, wood shop, and metal shop.
Of course cooking was my favorite (but I did enjoy the hands on work of both wood and metal shop).
I adjusted the original recipe slightly by lowering the baking temperature, using butter instead of shortening, and chocolate chips instead of nuts.
Who knew that something so simple as banana bread can give me trouble? I ended up making it three times before it came out right.
On the bright side, I have some troubleshooting tips for you when making banana bread:
Cover the bread with foil halfway through baking. My bread browned too much on top, making it look almost burnt. It makes you want to pull the bread before 60 minutes is up, causing the middle to be underbaked. The solution? Check on the bread after 30 minutes. If it's browning a little too much, loosely lay a piece of foil over the top of the loaf pan before baking.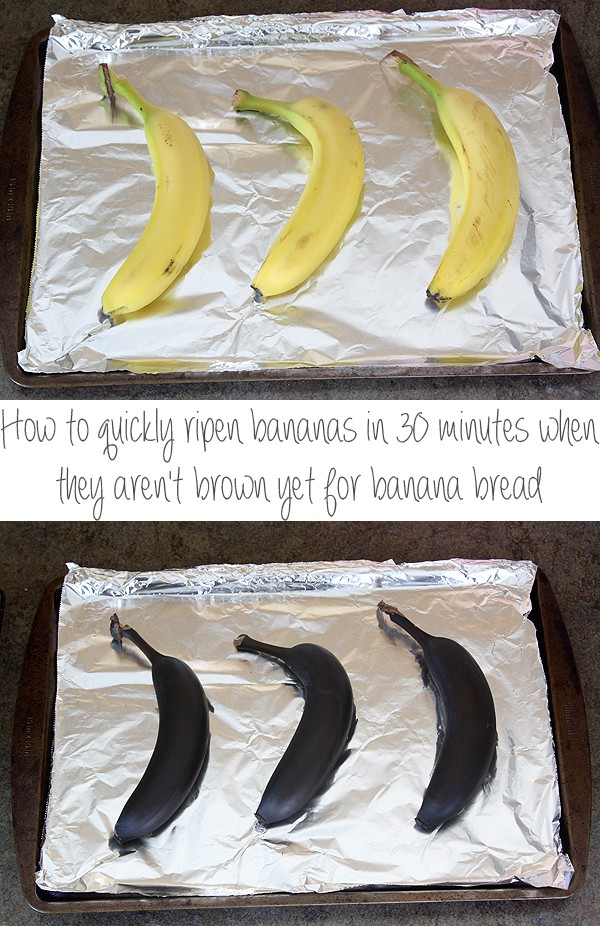 Quickly ripen bananas in the oven.
You need to use overripen bananas for banana bread, which means lots of brown spots and absolutely no green.
If you plan ahead a few days, you can buy bananas and let them ripen naturally. I didn't plan on making this bread three times, so that meant running out to the store for more bananas. And when you buy bananas from the store, they usually aren't ready for banana bread.
What's a woman to do? You can put the bananas in a brown bag, trapping in natural gas that speeds up the ripening process, but what if you need to make banana bread the same day?
Easy – you bake them in the oven at 350F for 30 minutes! The peels will turn completely black but the inside becomes soft and slightly roasted.
Cool them a few minutes before peeling and mashing so you don't burn your fingers.
The bananas do leak juice a little, so line a cookie sheet with foil for easy clean up.
Bake banana bread at 350F, not 375F. My original recipe said to bake at 375F, but the top burnt way before the middle was baked. I turned it down to 350F.
Some say it's because I used a glass loaf pan vs. a metal loaf pan. I don't have a metal loaf pan to experiment with, so just bake it at 350F and use the toothpick test to make sure it's baked.
Don't be lazy – mash your bananas. Don't be like me and think the mixer will mash the bananas for you when you add chunks to the batter. Take a few extra minutes and mash them before adding.
I used my potato ricer (Amazon affiliate), but don't be afraid to relieve some stress and mash them by hand. It's ok if there are a few little chunks, but you want it as smooth as possible.
In the mood for cake? Check out my Small Banana Cake.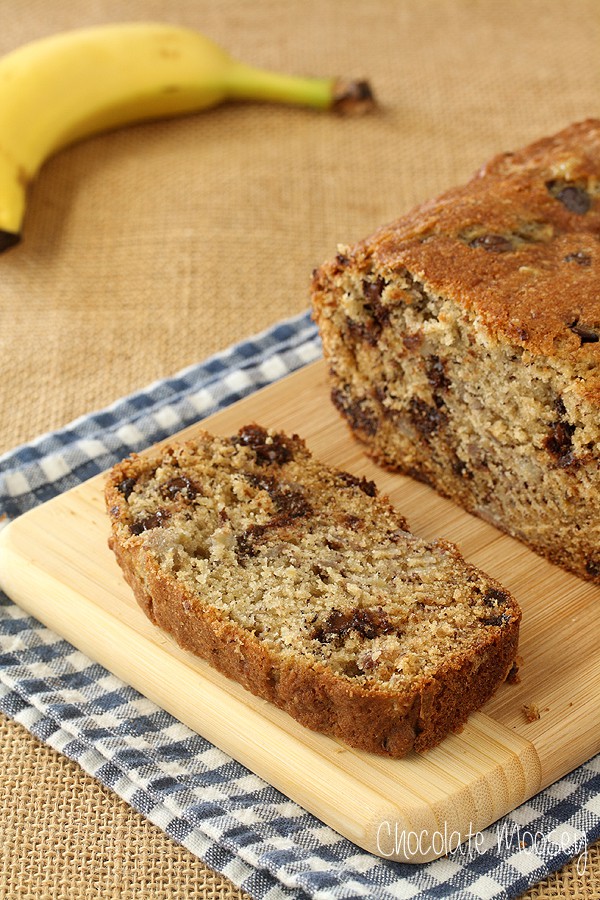 More Banana Bread Recipes
Banana Chocolate Chip Bread
Yield: 1 loaf
Prep Time: 30 minutes
Cook Time: 1 hour
Total Time: 1 hour 30 minutes
A fresh baked loaf of Banana Chocolate Chip Bread will fill your kitchen with love (plus four troubleshooting tips to bake up the perfect loaf).
Ingredients
1 1/2 cups all purpose flour
1 teaspoon baking soda
1/2 teaspoon salt
1 cup granulated sugar
1/2 cup (8 tablespoons or 4 ounces) unsalted butter, softened
2 eggs, room temperature
1 cup mashed banana (roughly 3 small or 2 large bananas)
1 teaspoon vanilla extract
1 cup semisweet chocolate chips
Instructions
Preheat oven to 350F. Lightly grease a 9x5 loaf pan.
In a large bowl, whisk together the flour, baking soda, and salt.
In a another large bowl, beat together the sugar and butter until smooth and creamy, about 2-3 minutes.
Beat in the eggs, one at a time, until incorporated. Beat in the mashed bananas and vanilla.
Gradually add in the flour mixture (do not overmix). Stir in the chocolate chips.
Scrape the batter in the pan. Bake 30 minutes then check on it. If it's browning too much, loosely add some foil on top.
Bake for another 25-30 minutes or until a toothpick inserted in the middle comes out clean. Cool for 15 minutes then invert on a cooling rack to cool completely.
Recommended Products
As an Amazon Associate and member of other affiliate programs, I earn from qualifying purchases.
This post may contain affiliate links. As an Amazon Associate and member of other affiliate programs, I earn from qualifying purchase.