Small Batch Lemon Bars In A Loaf Pan
The best lemon bars now baked in a loaf pan! Small Batch Lemon Bars with a melt in your mouth shortbread crust, a thick tart lemon filling, and a dusting of powdered sugar on top.
Two weeks ago, one of my biggest fears happened – my laptop broke.
One evening I was using it, shut it down to take my shower, then turned it back on with a blank white screen greeting me.
No matter what I did, the white screen wouldn't go away. I could tell my computer was still on; I simply couldn't view anything on my screen.
Long story short, I bought a new laptop while waiting for it to be fixed. It was old and probably time for a new one anyway. If I can get it working again, it can be my back up computer. For now, the repair shop is still figuring out what's wrong.
I went two days without a usable laptop. Technically I had my old brick laptop from college that took at least 20 minutes to load, let alone do any work. Plus any time the cat sat on, it would freak out and freeze.
When you're freelancing, time is precious. Although I had access to the internet on my phone, I couldn't edit photos. In theory I could write a blog post, but typing 500+ words on the phone is a bit much.
That left me with kitchen time, so off I went to work on the recipe for these Small Batch Lemon Bars made in a loaf pan.
As much as I love chocolate, I love lemon bars as equally as much.
Melt in your mouth shortbread crust with a tart lemon curd filling and a dusting of powdered sugar on top. How can you not love a good lemon bar?
As simple as these may look, I lost track of how many rounds I went through. Six maybe?
The crust was too thick. Now it's too thin. The filling isn't thick enough. The filling melted into the too thin crust. It's browning too much. It's not browning enough.
So many variables, but I finally figured it out.
This recipe makes 4 lemon bars or 8 lemon squares. They're a bit delicate so it's easier to serve them as smaller squares than large rectangles.
Although like with any loaf pan recipe, you can cut them as big as you want.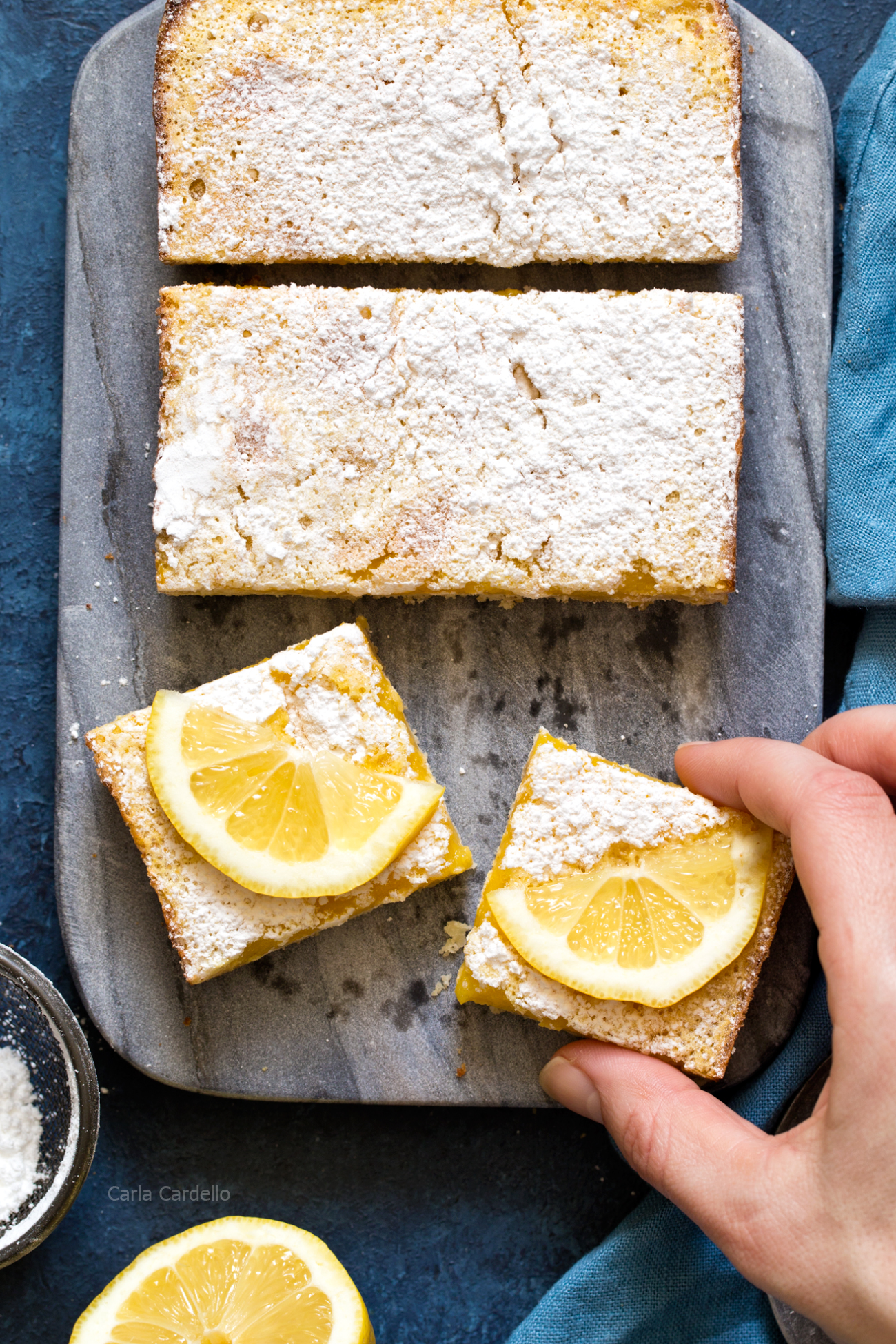 The best way to make lemon bars is baking the crust at 350F, adding the filling immediately so it "bakes" to the hot crust and prevents leaking, then turning the oven down to 325F.
Baking the entire recipe at 350F resulted in a little too much browning (albeit delicious browning).
However, baking the entire recipe at 325F resulted in the crust taking much longer to brown.
It's best to make the shortbread layer in a food processor, but if you don't have one, a pastry blender will work just as well.
The dough will look powdery and dry, but resist the urge to add any liquid. Everything will come together once you pat it into your loaf pan.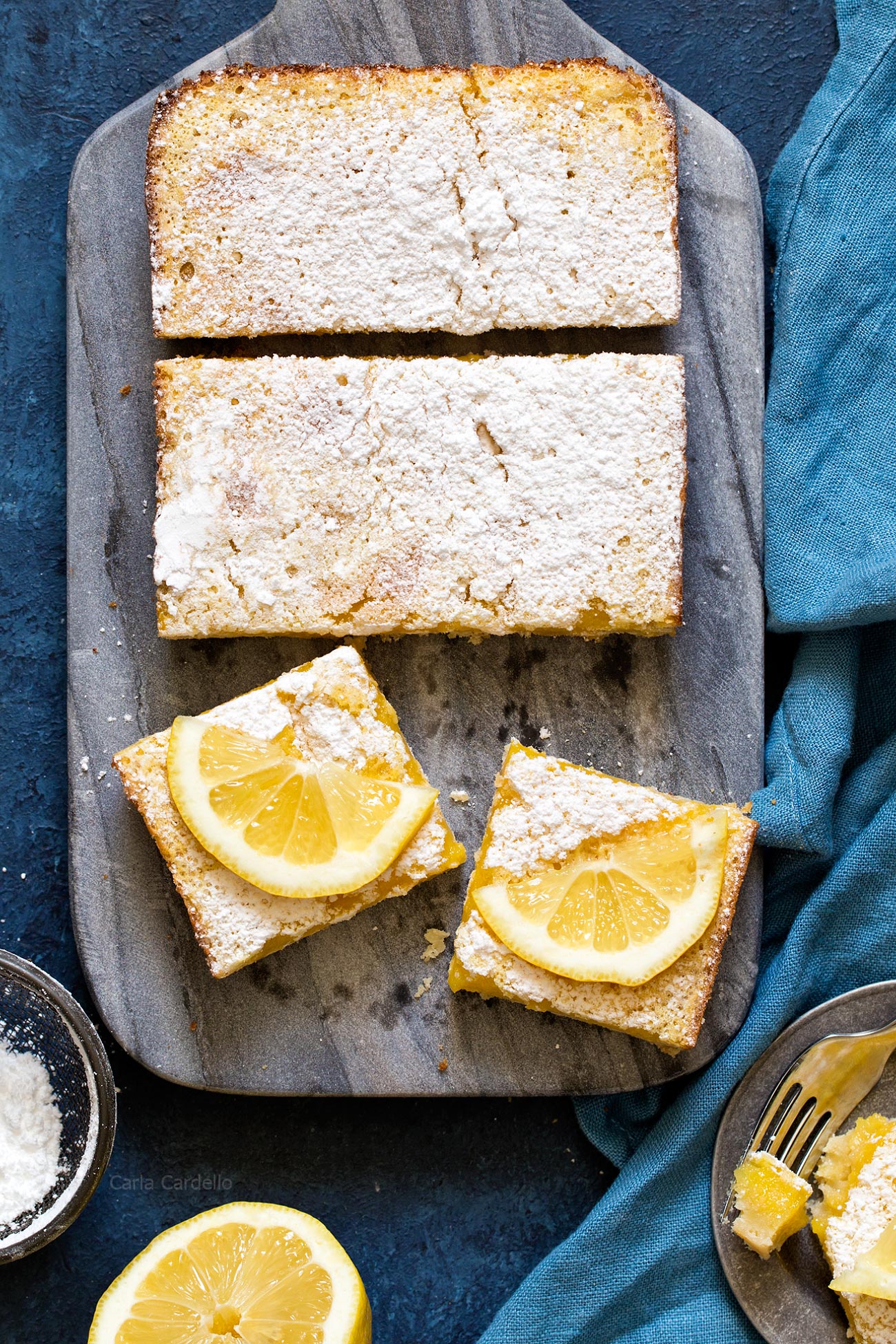 The lemon filling is similar to an uncooked lemon curd. Be careful not to whisk in too much air, or your bars will have a lot of air bubbles.
It's important you make the filling while the crust bakes because you need to pour it over the hot crust to create a seal, keeping it from getting soggy.
Not sure how many lemons to buy? The juice of one lemon is typically 2 tablespoons, depending on how large and juicy your lemon is. Since I call for 3 tablespoons, you'll need roughly 1 1/2 lemons.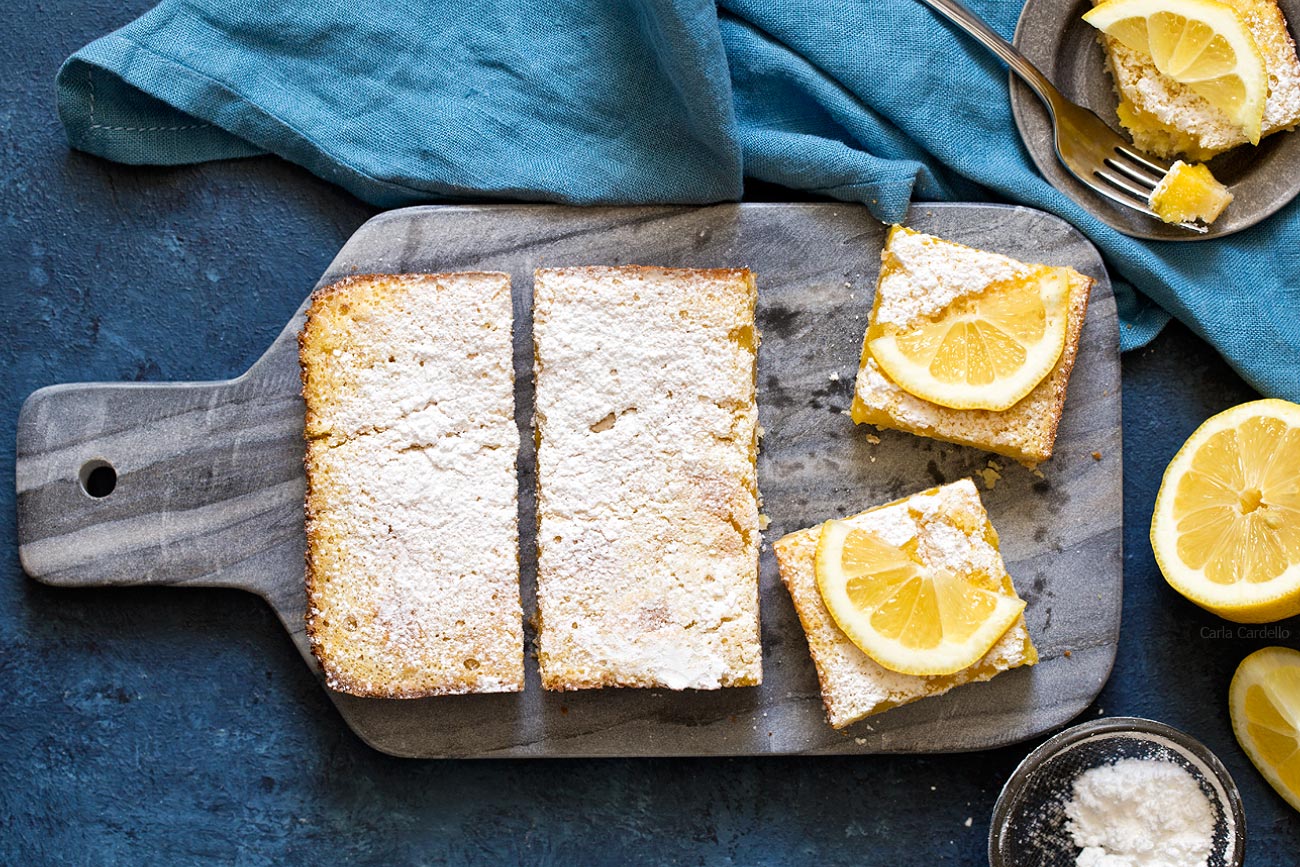 Cooling lemon bars is always the toughest part, mainly because I'm impatient when there's a fresh batch of lemon bars waiting to be devoured.
As tempted as you may be to skip it, refrigerate them for at least 2 hours, not only to make cutting easier but to also develop flavor. If you can wait overnight, even better.
Storing lemon bars in the fridge isn't necessary, although I prefer cold bars over room temperature. Plus if it's really warm in your kitchen, chilling them will help keep the filling from melting.
What To Do With Leftover Egg Whites

Adding an extra egg yolk to lemon bars makes the filling a little creamier, but it also adds a leftover egg white to your fridge. Here are some recipes to use up that extra egg white:
Equipment You May Need (affiliate links):
Small Batch Lemon Bars
Yield: 8 squares
Prep Time: 30 minutes
Cook Time: 50 minutes
Chill Time: 2 hours
Total Time: 3 hours 20 minutes
The best lemon bars now baked in a loaf pan! Small Batch Lemon Bars with a melt in your mouth shortbread crust, a thick tart lemon filling, and a dusting of powdered sugar on top.
Ingredients
3/4 cup all-purpose flour
1/4 cup powdered sugar
1/4 teaspoon salt
6 tablespoons cold unsalted butter, cut into 6 pieces
Lemon Filling
1 whole egg, room temperature
1 egg yolk, room temperature
1/2 cup granulated sugar
1 tablespoon powdered sugar plus more for dusting
1 tablespoon all-purpose flour
1/4 teaspoon baking powder
1 teaspoon lemon zest
3 tablespoons fresh lemon juice (from 1-2 lemons)
Instructions
Preheat oven to 350F. Lightly grease a 9x5 loaf pan then line with parchment paper.
In the bowl of a large food processor, add the flour, sugar, and salt. Add the cold butter and pulse until butter is finely cut into the flour, looking dry and powdery. Resist adding any liquid.
Transfer the mixture to the loaf pan and pat evenly into the bottom. Bake for 20-25 minutes or until golden brown on the edges.
Meanwhile, make the filling: In a large bowl, whisk together the egg, egg yolk, and both sugars until sugar dissolves and mixture looks pale yellow. Try not to whisk too much air into it. Whisk in the flour and baking powder then the lemon zest and juice.
Once the crust has finished baking, turn the temperature down to 325F. Immediately pour the filling over the hot crust and put back in the oven. Bake for 20-25 minutes or until set and golden brown (it may slightly wiggle but top should be solid when touched).
Cool in the pan for 30 minutes then carefully remove and transfer to a wire rack. Cool until room temperature.
Dust with powdered sugar then refrigerate for at least 2 hours. Cut into squares.
Recommended Products
As an Amazon Associate and member of other affiliate programs, I earn from qualifying purchases.
This post may contain affiliate links. As an Amazon Associate and member of other affiliate programs, I earn from qualifying purchase.