Pulled Pork Macaroni and Cheese
If you love barbecue as much as I do, then you're going to love this easy stovetop Pulled Pork Macaroni and Cheese made with smoked cheddar. Ready in 30 minutes thanks to one simple ingredient.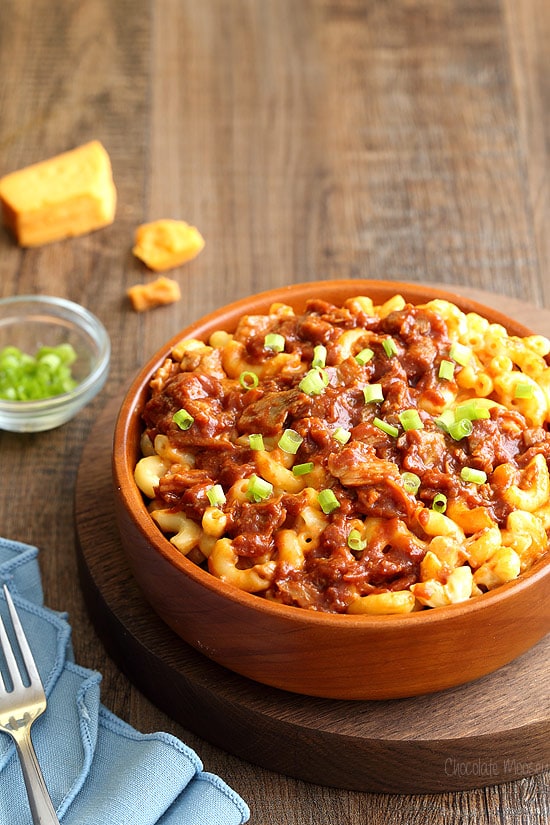 If there's one smell I love, it's the smell of fire. I'm not talking about being some crazy arsonist setting fires to buildings. I'm talking about cooking food with fire, whether it's campfires, grilling, smoking barbecued meats, or just bonfires in general. I haven't been around a bonfire in forever, but I remember on those nights, I would wear a hoodie then come home and smell like a bonfire for a few days. Such a great smell, mainly because so many of my favorite foods are made over an open flame – s'mores, barbecue ribs, pulled pork, the list goes on. When Dad and I visited Nashville and Memphis back in 2009, we made sure to add a few barbecue joints to our dinner list; after all, you cannot go to Memphis, home of the largest pork barbecue contest in the world, and not eat barbecue. When we went to
Harper's Ferry
a few years ago, there was a roadside barbecue set up that we stopped for lunch. We LOVE our barbecued meats and will gravitate towards it whenever possible (except for maybe the
BBQ daiquiri
. I feel like that would be too complicated to eat in a glass).
Here in Pittsburgh, they may not have a barbecue style named after them like Memphis does, but there are still some great places to buy it. Right down the road from my apartment about 2 minutes is a little barbecue joint. There are a few tables inside to eat in, but you can tell it's built for either pick up or for their food cart they use to travel to events. When I saw brisket mac and cheese on the menu, I knew I had to order it. Except it was so small, I didn't realize it must have been a side dish and not a full dinner. I was so disappointed as it only took a few minutes to inhale it. Ever since that moment, I've been wanting to make it at home with pulled pork, a BIG meal to fill me up, and now I have with this stovetop Pulled Pork Macaroni and Cheese made with smoked cheddar. No skimpy side dish portions here; just a big ol' bowl of creamy, comforting mac and cheese.
As much as I love barbecued meats, I rarely make them myself because they take hours and hours of care and patience. If there's one thing I don't have when it comes to cooking dinner, it's patience to wait 8 hours for something to cook, especially when you can smell it all day. Sure, I made
pulled pork
in the oven, but even that was pushing it for me as I tried to eat it after 1 hour of cooking (proof that it really does take almost 2 hours). Plus who really wants to turn on their oven for 2 hours during summer, air conditioning or not? That's when I got a little help from
Hormel Foods
Lloyd's Meats. I grew up eating Lloyd's, mainly their ribs, but we also ate the pulled pork tubs. In fact, for my birthday this year, Dad made me Lloyd's ribs for my birthday dinner (we aren't kidding when we say we love our barbecued meats). By using Lloyd's pulled pork, I can easily have dinner on the table in 30 minutes. They also make pulled beef, chicken, and turkey if you don't want to use pork.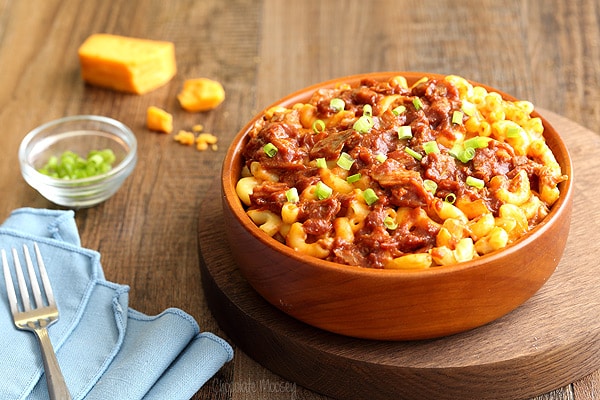 For the cheese, I played off the smokiness of the pulled pork by using smoked cheddar. You'll probably have to buy a block of it and shred it yourself, but the flavor is so amazing that you won't mind. There's something about smoked cheese that adds a little extra depth to your food. Of course you can use regular cheddar if you don't have smoked, but I do highly recommend using smoked if you can.
Pulled Pork Macaroni and Cheese
Yield: 4 servings
Prep Time: 15 minutes
Cook Time: 15 minutes
Total Time: 30 minutes
If you love barbecue as much as I do, then you're going to love this easy stovetop Pulled Pork Macaroni and Cheese made with smoked cheddar. Ready in 30 minutes thanks to one simple ingredient.
Ingredients
1/2 pound (8 ounces) uncooked elbow macaroni
2 tablespoons butter (add 1/8 teaspoon salt if unsalted)
1/4 cup chopped onion
2 tablespoons all-purpose flour
1 cup whole milk
1 cup shredded smoked cheddar cheese
1/4 teaspoon salt
1 pound (16 ounces) Lloyd's barbecue pulled pork
Green onion, for garnish
Instructions
Bring a large pot of salted water to a boil. Cook macaroni as directed on the package until al dente, roughly 10 minutes. Drain into a colander.
While the pasta is cooking, make the sauce. In a large saucepan over medium heat, melt the butter. Add the onion (and 1/8 teaspoon salt, if using) and cook for 5 minutes or until soften. Stir in the flour to coat and cook 1 minute. Slowly whisk in the milk. Bring to a boil and cook until thickened, about 3-5 minutes. Whisk in the cheese and salt until melted.
Heat the pulled pork according to package directions, either in the microwave or in another pan on the stove.
Stir together the pasta, sauce, and pork then serve hot. Top with green onion for garnish.
More Macaroni and Cheese Recipes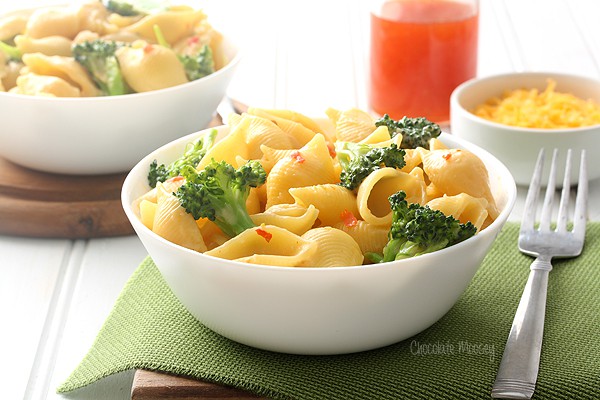 Sweet Chili Mac and Cheese Shells

Buffalo Chicken Macaroni and Cheese
Disclosure: This post is sponsored by LLOYD'S® Barbeque Company, LLC.. Thank you for supporting me and the companies I work with as sponsored posts help pay for the costs of running Chocolate Moosey, including website hosting and groceries for recipe development.
This post may contain affiliate links. As an Amazon Associate and member of other affiliate programs, I earn from qualifying purchase.