Love eating Fudgesicles? Make this easy Fudgesicle recipe from scratch without pudding mix! Small batch recipe makes 4 gluten-free fudgesicles.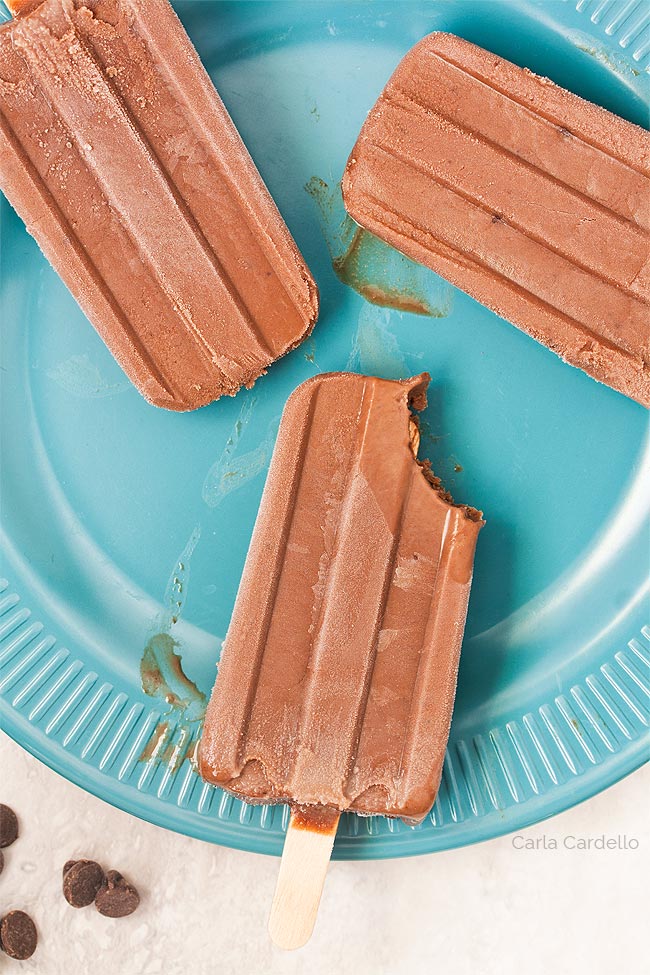 I don't think there's ever been a summer where I didn't eat at least one Fudgesicle.
Whether it's from an ice cream truck outside in the hot summer sun or directly from my freezer at home, I never could resist eating one.
In fact, I searched a long time for the right popsicle mold just so I could have that iconic look for making Homemade Fudgesicles.
They're easy to make too! Melt everything together in a saucepan then pour and freeze. You don't even need pudding mix for this fudgesicle recipe.
No more waiting around for the ice cream truck to deliver.
If you're in need of a double dose of chocolate, these rich and creamy Fudgesicles will cool you down in no time.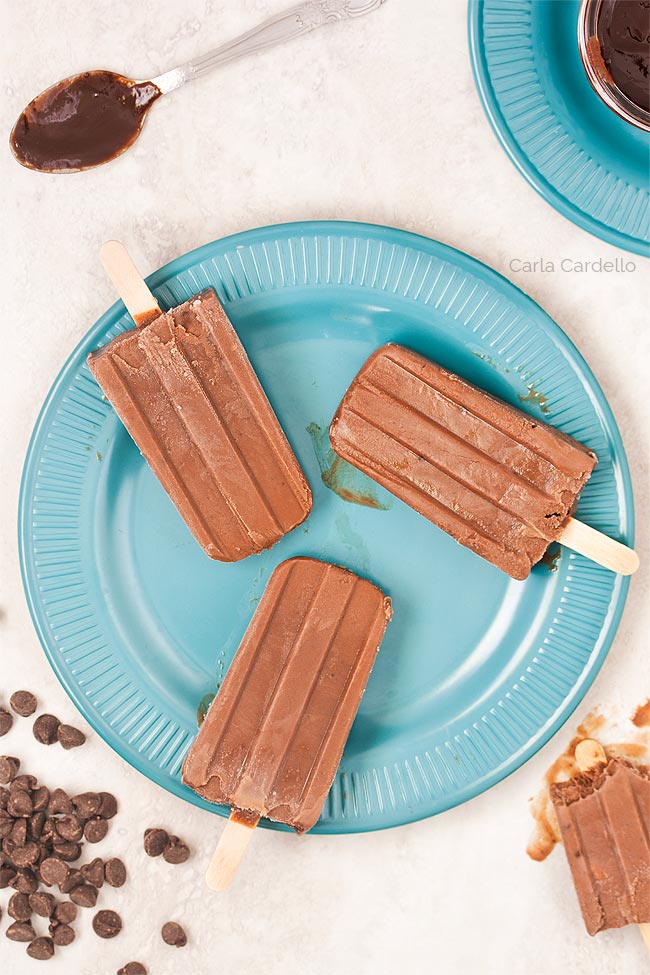 What are fudgesicles?
If you're not familiar with Fudgesicles, it's like eating frozen chocolate pudding on a stick. It has that rich, decadent fudge taste (hence the name).
If you're not a big chocolate fan, my Vanilla Popsicles are the non-chocolate version. Rich and creamy, like vanilla pudding.
Love peanut butter? Check out my Chocolate Peanut Butter Fudgesicles.
Ingredients For Fudgesicles
The ingredients for making fudgesicles are:
Milk: Makes the fudgesicles creamy and also ties the chocolate mixture together so you can transfer it to your popsicle mold
Sugar: Sweetens the fudgesicles
Cocoa powder: Adds a deeper chocolate flavor you can't achieve on baking chocolate alone. Make sure you're using high-quality baking cocoa as the taste will really shine through.
Cornstarch: Thickens the chocolate mixture
Salt: Enhances the chocolate flavor
Semisweet chocolate: Use a high-quality baking chocolate as the taste will be prominent. You can also use dark chocolate if that's your preference.
Vanilla: Much like salt, vanilla also enhances the chocolate flavor.
You'll also need a popsicle mold and popsicle sticks (either from Amazon (affiliate link) or at the store in the craft section).
But don't worry if you don't have official molds! You can use 3 ounce dixie paper/plastic cups like I did for my Peach Yogurt Popsicles and cut away the cup if they don't unmold easily.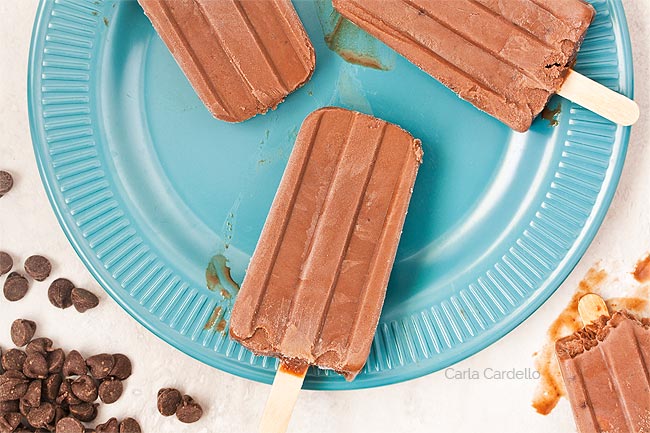 How To Make Fudgesicles
To make homemade fudgesicles, first add your milk, sugar, cocoa powder, cornstarch, and salt to a large saucepan.
Heat it up until hot and bubbly but not boiling. You don't want the milk to get too hot.
Whisk often so your dry ingredients dissolve into the milk, leaving you with a smooth mixture.
Next, add your chocolate and stir until melted then cook for another 1-2 minutes or until chocolate mixture is thickened from the cornstarch.
Remove from the heat and stir in the vanilla.
At this point, your mixture should look like chocolate pudding. It will be thick but should still be pourable for your molds.
Transfer your pudding to your molds. If you use the mold I have, you'll get 4 pops. If your molds are smaller, you will get a few more.
Add your sticks then freeze until firm, roughly 4-6 hours. Unless you make them early in the morning, it's probably best to let them chill overnight.
How To Unmold Homemade Fudgesicles
As you can see in the photos, I was a bit impatient with unmolding then refreezing, so they didn't take long to melt at all.
Ideally you'll want to unmold then re-freeze until firm again, but if you're cool with chocolate all over your face, I won't blame you for being impatient too.
The proper way to unmold your fudgesicles is to run each mold under lukewarm (not hot) water for a minute or so. Be careful you don't get water inside the mold!
After a minute under running water, carefully pull the fudgesicles out of their molds. If they won't release, run it under water again. Do not force them out or they may break.
Alternatively, you can fill a large deep container with water then let the entire mold (minus the tops!) sit in the water for 30-60 seconds then remove. This method is handy if you're unmolding a lot of pops at once.
If you're using paper cups, you can cut them to unmold.
How To Store Homemade Fudgesicles
Once unmolded, place the fudgesicles in a single layer on wax or parchment paper then place in a freezer-safe container for short-term storage. Eat these within a week.
If you want them to last longer, once they refreeze solid wrap each one in plastic wrap then place in a freezer bag or container. Eat these within a month.
More Popsicle Recipes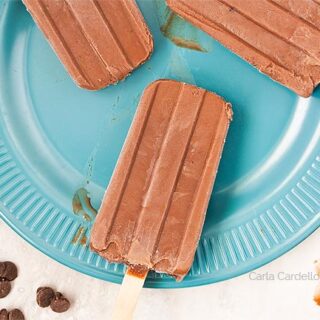 Homemade Fudgesicles
Love eating Fudgesicles? Make this easy Fudgesicle recipe from scratch without pudding mix! Small batch recipe makes 4 gluten-free fudgesicles.
Ingredients
1 cup whole milk, room temperature
1/3 cup granulated sugar
2 tablespoons unsweetened cocoa powder, sifted
1 tablespoon cornstarch
1/8 teaspoon salt (preferably kosher)
1 ounce semisweet chocolate, chopped
1/2 teaspoon vanilla extract
Instructions
In a large saucepan, whisk together the milk, sugar, cornstarch, cocoa, and salt. Heat until hot and bubbly but not boiling.
Add the chocolate and stir until melted. Continue cooking until the mixture thickens, about 1-2 minutes.
Remove from the heat then stir in the vanilla.
Transfer the mixture to the popsicle molds. It'll be thick like pudding but should still be pourable. Add sticks then freeze until firm, at least 4 hours or overnight.
Recommended Products
As an Amazon Associate and member of other affiliate programs, I earn from qualifying purchases.
Source: Adapted from
Smitten Kitchen
Originally published June 10, 2014