Homemade Tomato Soup
You'll never reach for canned soup again once you try this creamy Homemade Tomato Soup for two. Pair it with a melty grilled cheese sandwich for a fulfilling lunch or dinner.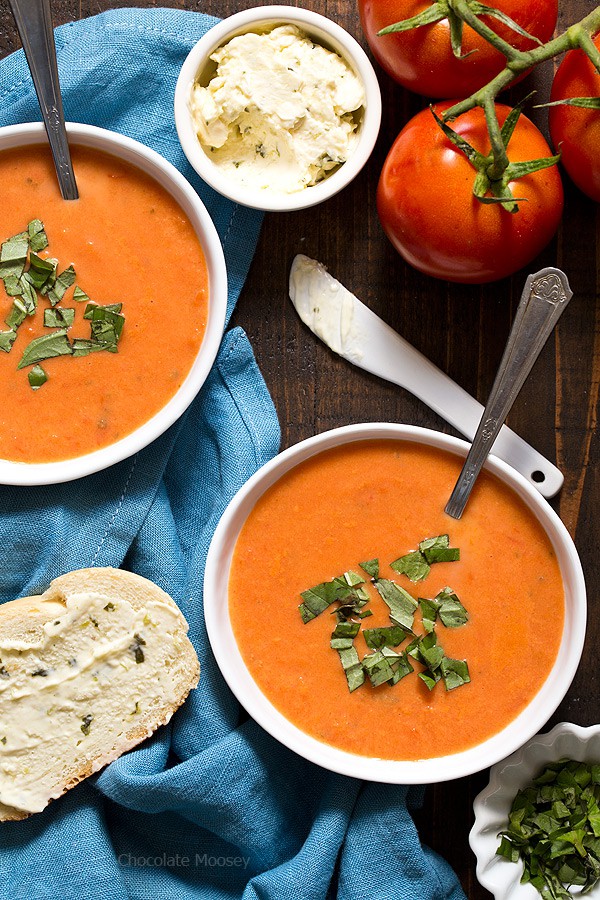 I wasn't planning on blogging this homemade tomato soup recipe, but from the moment I took my first bite, I knew I had to share it.
I'm not sure what happened to me this summer as I haven't done very many summery things, but there I was in the beginning of August and haven't made it to one farmer's market.
Not the one in the neighborhood next door. Not the one I went to multiple times last year. Not a new one to check out. Not a single one.
It's not like I've been busy every weekend and couldn't make it. I guess you can chalk it up to laziness because I don't have any excuses.
I finally made it to a farmer's market with my heart set on buying a basket of heirloom tomatoes because I wanted to make a tomato galette.
They taste so much better than regular tomatoes because of the way they are grown.
After making two galettes and my fresh garden salsa recipe, I still had plenty of heirlooms left. What else to make?
Weirdly enough, I decided to make tomato soup. Yes, soup when it's 90 degrees outside.
If you tell me you don't like tomato soup, I guarantee it's because you've never had homemade tomato soup before.
Canned soup is light years away from tasting like real tomato soup.
This is the recipe that'll convince you to never buy canned again. Fresh chopped tomatoes are lightly cooked, allowing the flavor to shine through every bite.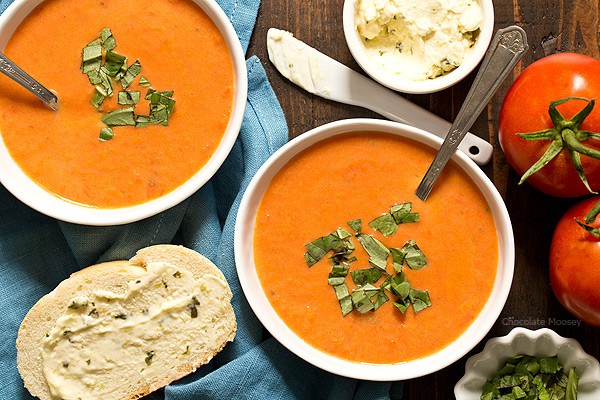 Is it weird to say I had a certain farmer's market on my summer bucket list? It's located in
downtown Pittsburgh
every Thursday.
I've never gone to it before because you have to pay for parking, which is another $5-$6 I'm not spending on produce.
I finally decided it was time to visit, even if I never come back.
I must admit it was the best farmer's market I've seen in Pittsburgh. Plenty of tents set up selling all kinds of produce, including heirloom cherry tomatoes.
I first made this soup recipe using heirloom tomatoes, which made the best tomato soup I've ever tasted.
Heirloom tomatoes are a variety of tomatoes that have been grown without crossbreeding for 40 or more years compared to hybrid tomatoes found in grocery stores.
Since heirlooms are more expensive and harder to find, I tested the recipe with regular garden tomatoes.
If you have the opportunity to use heirlooms, they make the best soup. If not, make sure your tomatoes are as fresh as possible.
If your tomatoes taste old, your soup will taste lackluster. This is one recipe where you need the best quality possible.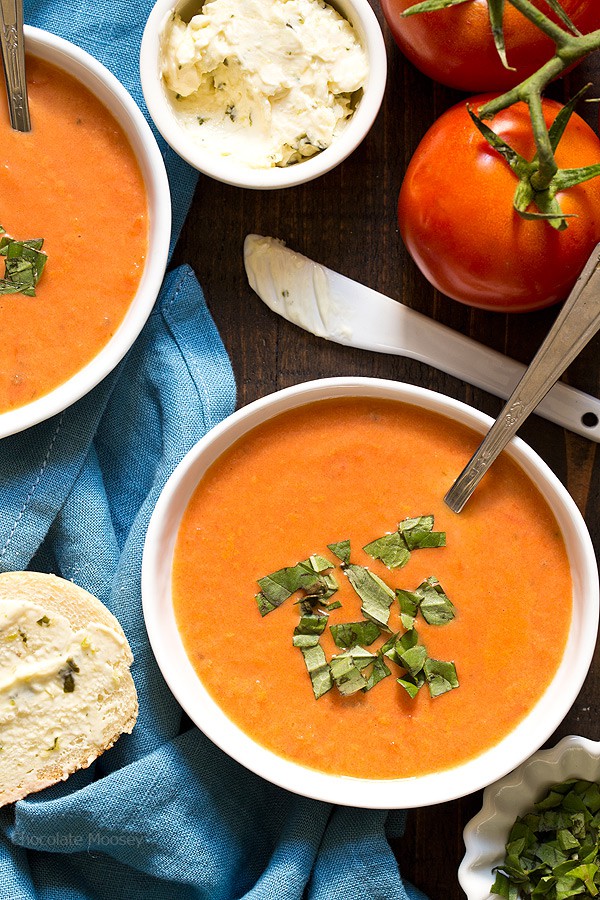 You may notice some basil herb butter in the photos. This is butter I make when I buy a loaf of fresh bread from a local bakery.
You mix together butter, basil, garlic, and sea salt. It's a quick and easy way to make dinner a little special when you don't have time to make homemade bread.
Looking for some grilled cheese recipes to serve alongside this soup? Check out
Buffalo Chicken Grilled Cheese
,
Salsa Chicken Grilled Cheese
, and
Grilled Cheese Roll Ups
.
Want more soup recipes? Check out my Kohlrabi Soup!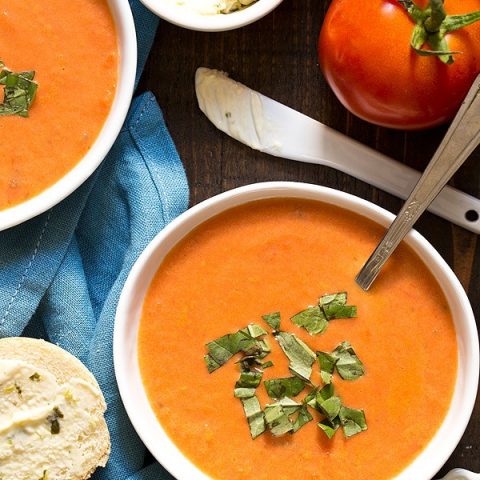 Homemade Tomato Soup For Two
Yield: 3-4 bowls
Prep Time: 20 minutes
Cook Time: 20 minutes
Total Time: 40 minutes
Ingredients
1 tablespoon olive oil
1/2 cup chopped onion
1 clove garlic, minced
4 large tomatoes, seeded and chopped (roughly 1 1/2 pounds)
1 cup vegetable or chicken broth
1 tablespoon chopped fresh basil
1/2 cup whole milk
1 tablespoon brown sugar
1/2 teaspoon salt
Instructions
In a Dutch oven or large pot, heat the oil until hot. Add the onion and cook until soft, about 5 minutes. Add the garlic and cook 30 seconds.
Add the tomatoes, broth, and basil. Bring to a boil then turn down to a simmer. Simmer for 10 minutes, stirring occasionally.
Add the soup to a blender then puree until smooth, roughly 1-2 minutes (be very careful as hot liquid expands when blended).
Pour the soup back into the pot and bring to a simmer. Stir in the milk, brown sugar, and salt. If the soup is too thick, add more broth.
This post may contain affiliate links. As an Amazon Associate and member of other affiliate programs, I earn from qualifying purchase.