Watermelon Slushies
Cold and refreshing Watermelon Slushies will hit the spot as the days get hotter and cravings for watermelon get stronger.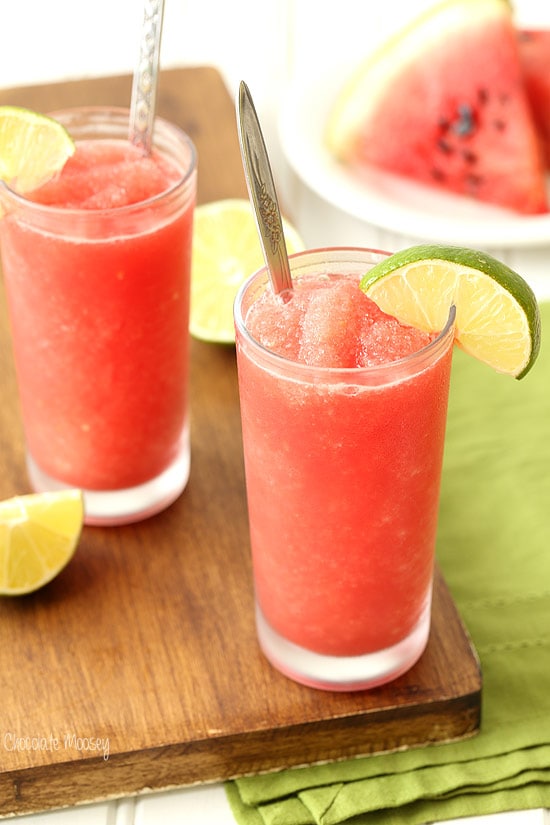 What I love about my job is that recipes can be very powerful; often times memories are tied to specific foods that take you back to your childhood.
When I was in elementary school, there was a roller skating rink nearby where everyone would have their birthday parties.
I never did get the hang of roller blades, but I could at least roller skate.
You would skate around to your favorite 90s songs and even do dances like the chicken dance and the hokey pokey.
Of course since you're there for several hours, you got thirsty, which then you would head towards the snack bar.
The snack bar had one of those dual slushie machines where you could pick from two flavors. Most of the time it was cherry or blue raspberry, but sometimes they would also have Coke.
When I ordered one, I would almost always get a mix of cherry and blue raspberry in one cup (but secretly the cherry was my favorite).
Unfortunately, the skating rink closed. Another company did reopen it again as a skating rink, but it just wasn't the same after that. Now I think it's a restaurant and gym.
I'm trying really hard to remember the last time I had a slushie. I'm sure I had one a few more times after my skating rink days, but nothing that really stands out.
Now that the weather is getting hotter, I'm craving a lot of cold drinks and treats.
I tried my hand at some watermelon ice cream, but I have mixed feelings on the recipe. I already did watermelon sorbet and margarita popsicles.
How else can I cool down this summer with watermelon? That's when I got the idea to do these Watermelon Slushies.
Watermelon may not have been a flavor that the skating rink sold, but they should have! It's sweet. It's refreshing. It's the perfect way to rehydrate yourself after a long day of exercise.
Even if you have no plans of exercising, you can still enjoy these watermelon slushies as the days get hotter and the cravings for watermelon get stronger.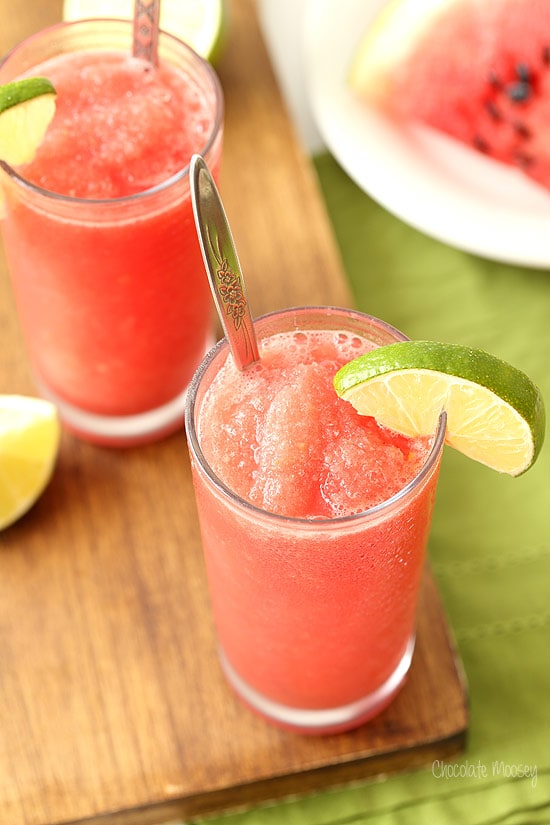 Watermelon is the perfect way to rehydrate yourself as watermelon is 92 percent water.
You probably already know that watermelon is healthy, but did you know it's now certified by the American Heart Association as a heart healthy food?
I certainly didn't know that! I knew it was packed full of vitamins and nutrients but didn't realize it was super healthy for your heart.
Another great reason to eat more watermelon.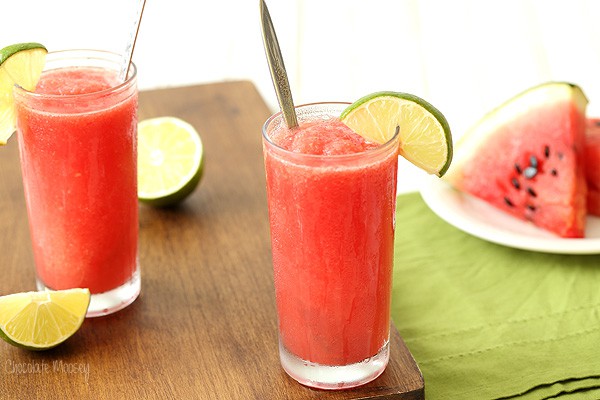 Let's talk about the definition of a slushie.
A slushie is a frozen drink usually made with fruit and ice processed in a blender, similar to my frozen mango margarita recipe but without the alcohol.
Although if you wanted alcohol, you can add wine to my strawberry slushies.
Since I'm not a fan of ice, I tried this recipe both ways – with ice and with frozen watermelon cubes instead of ice.
It was easier to blend with ice as the watermelon turns into liquid needed to make it smooth.
With the frozen watermelon cubes, I had to add some water to get it started.
You can absolutely make this recipe either way, especially if you have some frozen watermelon you need to use up. You can also use lemons instead of lime (and even add some alcohol if you had a long day ;) )
Watermelon Slushies
Yield: 2 servings
Prep Time: 15 minutes
Total Time: 15 minutes
Cold and refreshing Watermelon Slushies will hit the spot as the days get hotter and cravings for watermelon get stronger.
Ingredients
3 cups cubed watermelon
1 cup ice
1/4 cup lime juice
2-4 tablespoons sugar
Instructions
In a blender, blend together the watermelon, ice, lime juice, and 2 tablespoons sugar. Taste and add extra sugar, if necessary. Serve immediately.
Notes
You can skip the ice and use frozen watermelon cubes. Add a little bit of water to the blender before blending.
More Watermelon Recipes

Spicy Shrimp Tacos with Watermelon Salsa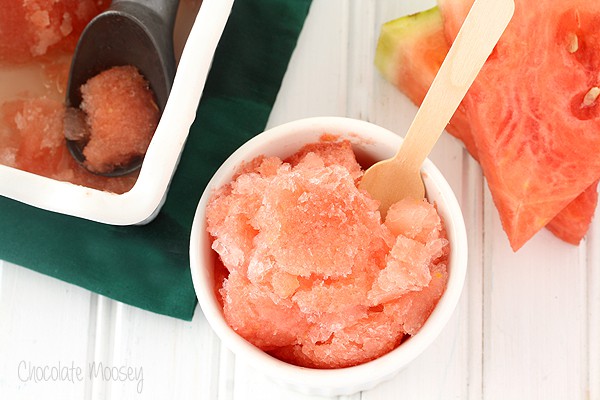 Watermelon Italian Ice
This post may contain affiliate links. As an Amazon Associate and member of other affiliate programs, I earn from qualifying purchase.