Peach Cheesecake Crumb Bars
Peach Cheesecake Crumb Bars are delectable cinnamon crumb bars with creamy cheesecake and sweet peach pie filling.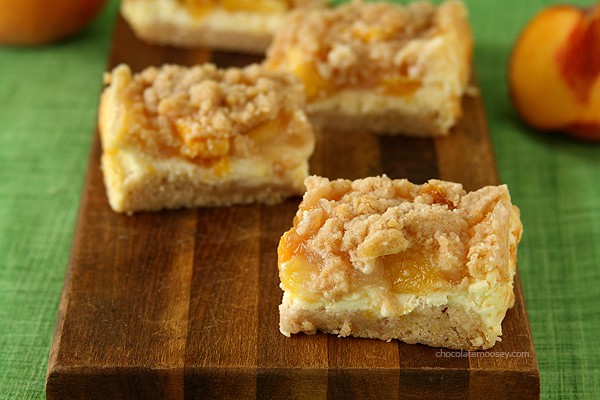 Can you believe that today is September 1 and that tomorrow is Labor Day?
Wasn't it just yesterday I was sharing with you 4th of July recipes, and now it's time to wrap up summer?
It seems like these past few weeks, the universe gave up on summer and dove straight into fall. Stores have Halloween decorations ready. Apple and pumpkin recipes are popping up in my timeline.
I even saw a recipe for Thanksgiving pumpkin pie. Thanksgiving. Really?
Hate to break it to you, but summer isn't over until the pumpkin spice lattes are in.
Until then, I am squeezing in one last peach recipe – Peach Cheesecake Crumb Bars.
I had the idea for these peach bars but didn't know where to start. Cobbler bars? That would mean a biscuit like topping. Crisp bars? Getting closer.
Then I saw them on Smitten Kitchen – Blueberry Crumb Bars.
Crumb bars. I like the sound of that. All you do is reserve some dough from the bottom layer and sprinkle on top.
Of course it isn't me without throwing some cheesecake into the mix.
I took the cheesecake layer from my chocolate chip cookie dough cheesecake bars and layered that on top of the bottom layer.
Topped it with peach pie filling then sprinkled bits of dough on top.
You do need to peel the peaches, but I provide easy step by step photos on my How To Peel Peaches post.
If you don't want peach, you can use cherry pie filling or apple pie filling.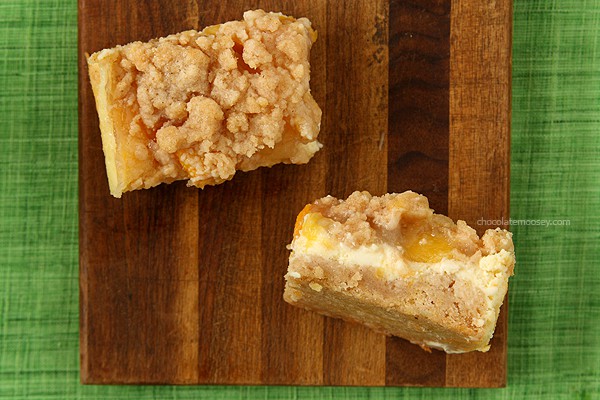 I call these take along treats, but truth is they can be a tad bit messy when you pick them up. Just lick your fingers when done.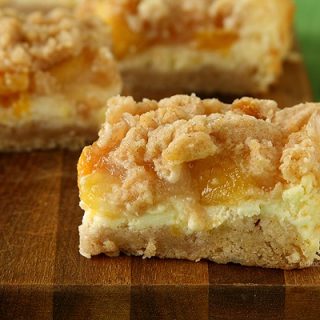 Peach Cheesecake Crumb Bars
Ingredients
1 1/2 cups all purpose flour
1/2 cup granulated sugar
1 teaspoon ground cinnamon
1/2 teaspoon baking powder
1/8 teaspoon salt
1/2 cup (1 stick) cold unsalted butter, cut into 8 pieces
1 egg
2 cups peach pie filling (get the recipe here)
Cheesecake
8 ounces cream cheese, softened
1/4 cup granulated sugar
1 egg
1 teaspoon vanilla
Instructions
Preheat the oven to 375F degrees. Line an 8x8 pan with parchment paper.
In a medium bowl, mix together flour, sugar, cinnamon, baking powder, and salt.
With a pastry cutter or two forks, cut in the butter until the pieces look like pebbles then cut in the egg. Dough will be crumbly. Reserve 1/2 cup for the topping and pat the rest into the bottom of the pan.
In a large mixing bowl, beat together the cream cheese and sugar until smooth. Beat in the egg and vanilla. Pour over the base layer. Top with the peach pie filling then top with the reserved 1/2 cup of topping.
Bake 38-40 minutes or until the top is slightly brown and looks set when given a gentle shake. Cool completely before cutting into 12 bars. Refrigerate leftovers for up to one week.
Adapted from
Smitten Kitchen
This post may contain affiliate links. As an Amazon Associate and member of other affiliate programs, I earn from qualifying purchase.