Peach Ice Cream Recipe (No Eggs, No Cook)
Turn your summer bounty of peaches into Peach Ice Cream Recipe (No Eggs, No Cook) using only your blender and freezer.
Week three of living back in Pittsburgh, and I think I'm finally getting settled in.
Half of my boxes are unpacked, finally got cable and Internet, found my go-to grocery stores (and quickly realizing the one just two minutes up the street doesn't carry half of what is on my list), found my closest Walmart (which also doesn't have half of my list), and attending Zumba again.
To celebrate moving back, Dad and I visited my favorite farm where we picked up four quarts of fresh juicy peaches and half a dozen just-picked sweet corn.
Ever since I made my strawberry ice cream back in June, I knew the first recipe I was making with my peaches was this Peach Ice Cream Recipe (No Eggs, No Cook).
It's so easy to make too – just throw everything in a blender then churn in your ice cream maker.
Or if you don't have an ice cream maker like me, just freeze and whisk often.
See? Now you don't have any excuses not to make this ice cream.
It's funny – I've moved before but don't remember it ever being this stressful.
During my first week of unpacking, I was craving ice cream at the end of my long, busy days. Probably because before I moved, I had at least five different flavors in my freezer.
I did venture out to a nearby ice cream stand one night but knew I couldn't do that often.
That's why I was extra excited to make this peach ice cream, not only to use my peaches but to finally have ice cream in my kitchen again.
Peaches are one of my favorite fruits to eat as is.
Usually if I have fruit like apples or raspberries, I prefer to make recipes rather than snack on them. Not peaches.
I could eat peaches like one would eat potato chips (except a lot messier with juice running down your arm).
You'll need to peel the peaches before cutting, but don't fear! Peeling peaches is ridiculously easy.
You can see my photos on how to peel peaches, but pretty much you boil them in hot water for 30 seconds then quickly run them under cold water. That makes the skin loose and much easier to peel.
Besides eating eggless peach ice cream in a bowl as is, serve it on top of peach pie or peach cobbler for two instead of traditional vanilla ice cream.
It adds that extra peach oomph to your dessert, and who doesn't want extra peaches in the summer?
Enjoyed this recipe? Check out my other Small Batch Ice Cream Recipes you can make.
Peaches And Cream Ice Cream (No Cook, Egg Free)
Turn your summer bounty of peaches into Peach Ice Cream Recipe (No Eggs, No Cook) using only your blender and freezer.
Ingredients
2 cups peeled, diced peaches (learn how to peel peaches)
2 ounces cream cheese, softened
1/2 cup whole milk
1/2 cup heavy whipping cream
1/4 cup granulated sugar
1/2 teaspoon vanilla extract
Instructions
In a medium bowl, mash 1/2 cup peaches with a spoon or bottom of a flat glass.
In a blender, blend together the remaining 1 1/2 cups peaches, cream cheese, milk, heavy cream, sugar, and vanilla.
Freeze the mixture according to your machine's instructions. During the last few minutes of churning, stir in the mashed peaches. If freezing by hand, place in the freezer. Whisk every 30-45 minutes to break up the ice crystals until the mixture is frozen.
Source: Adapted from
Better Homes and Gardens
—-
Want more summer recipes?

Strawberries And Cream Ice Cream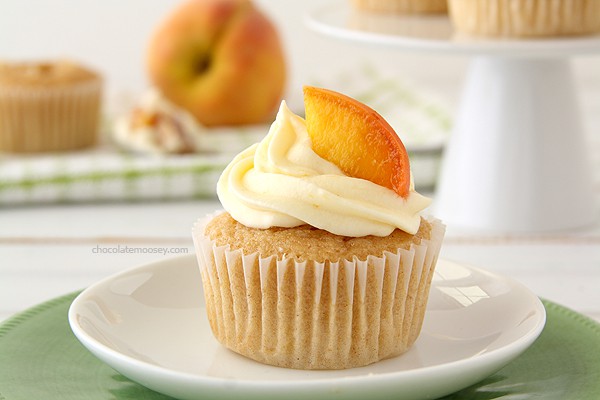 Peaches and Cream Stuffed Cupcakes

Homemade Peach Pie Filling

Peach Dumplings with Raspberry Sauce

Peach Cheesecake Crumb Bars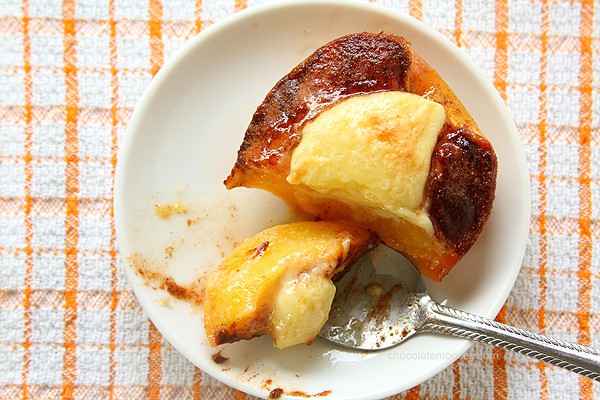 Cheesecake-Stuffed Peaches
This post may contain affiliate links. As an Amazon Associate and member of other affiliate programs, I earn from qualifying purchase.