This Green Onion Salad with cucumber and bell pepper then tossed in a lemon ginger vinaigrette is a healthy and easy vegan side dish. Serve it alongside pasta, salmon, roasted chicken, and more.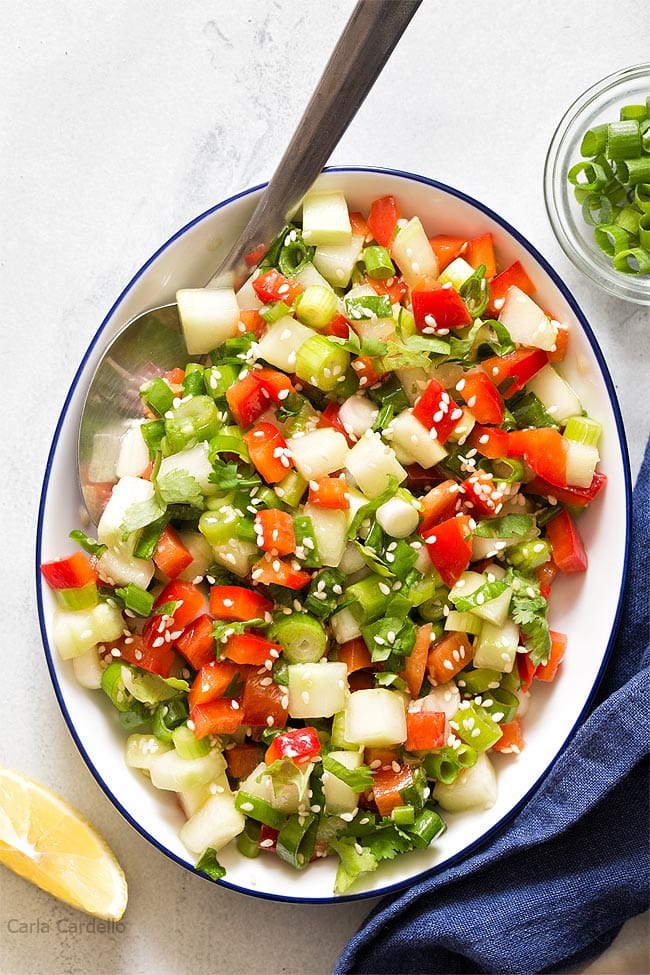 One of the hardest lessons I'm learning as an adult in my mid 30s is I need to eat healthy.
I'm to the point where if I don't add enough fruits and vegetables to my weekly meal planning, I physically feel sick. And who wants to feel like that all week?
Even while traveling, I need to include 1-2 refreshing meals with vegetables or buy fresh juice because I can really feel the difference.
I'm certainly not perfect and still eat my fair share of fried foods and ice cream, but I do try to balance that out.
Every morning I eat fruit for breakfast. If I don't have anything, I drink juice to fill in the gap.
Each week, I eat one dinner salad (think chicken fajita salad) and one rice bowl (like my gyro rice bowl).
It's a great start, but my downfall is adding side dishes to my meals. It's been my weakness since college. By the time you finish with the main dish, who wants to work on side dishes?
It doesn't help I hate most lettuce salads, which is why I have my freekheh salad.
Luckily I discovered this super easy Green Onion Salad from Ottolenghi's Simple cookbook. It's sliced green onion with cucumbers and bell pepper then tossed in a ginger lemon vinaigrette.
Normally I wouldn't publish something from a cookbook, but I'm not kidding when I say I made this salad at least 20 times already.
I did make some adjustments to the ingredient list, but this is too good not to share.
I'm willing to bet if you're still reading this far, you also struggle with adding healthy side dishes to dinner.
It's one of those recipes where you don't know what to make, but you know you can make Green Onion Salad.
Making Ginger Garlic Salmon? Add green onion salad.
Eating a carb heavy meal of Haluski and garlic toast? Add green onion salad.
Picking up a greasy pizza? Add green onion salad.
There's no cooking involved and it's completely vegan (not that it matters, but I'm often asked for more vegetarian friendly small batch recipes).
All you have to do is dice your vegetables then mix with a homemade dressing.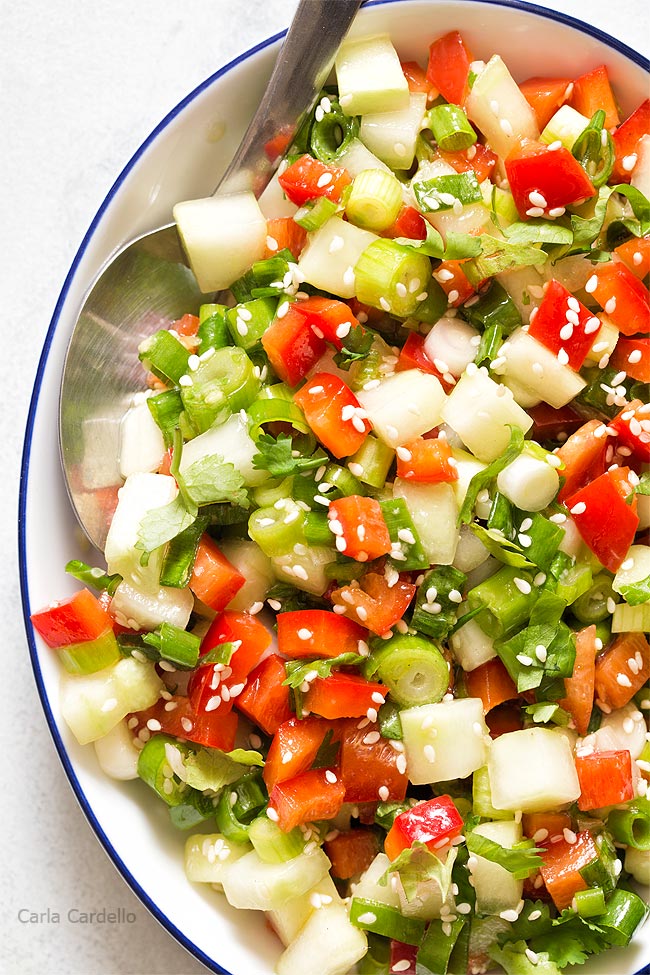 Ingredients For Green Onion Salad
To make this recipe for green onion salad, you'll need the following ingredients:
Green onion: Also referred to as scallions, green onion is the star of your salad. If you're worried about the bite of raw onion, it's tamed down by the dressing.
Cucumber: Peeling and deseeding the cucumber helps remove some of its bitterness. Learn how to deseed a cucumber from The Nourishing Gourmet.
Bell pepper: I used red bell pepper as it's sweeter than green, but really you can use any color.
Cilantro: Cilantro is my favorite herb, but you can definitely play around with your favorites! The original recipe called for a mix of cilantro and mint, but I don't like fresh mint. You can also use parsley.
Sesame seeds: A tiny bit of crunch.
Lemon juice: The acidity in the vinaigrette to balance the oil.
Ginger paste: Ginger paste makes the dressing so much easier to prepare, but you can easily use freshly grated ginger.
Olive oil: Use a high-quality olive oil since most of the flavor will come from the dressing.
Salt: You want your vinaigrette to be a bit on the salty side because it's seasoning the entire salad. I promise it won't taste as salty once you add it to the vegetables.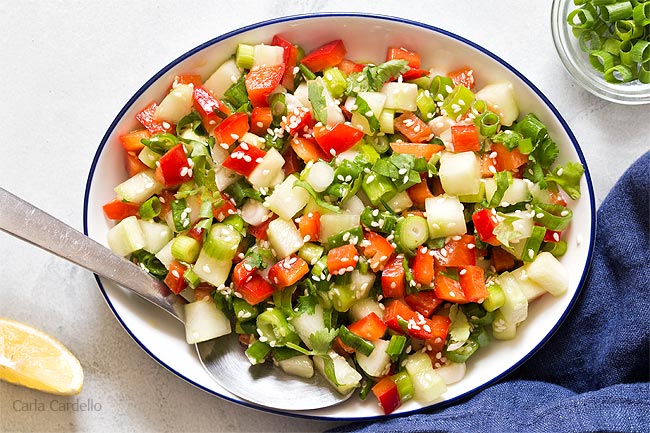 How To Make Green Onion Salad
Make sure your knife is sharpened because it's going to be a lot of dicing. As you chop each ingredient, add them to a bowl large enough for tossing everything together.
Next, in a separate smaller bowl or mason jar, whisk together your lemon juice, ginger, olive oil, and salt. Taste and adjust as needed.
It may taste a little too salty than you're used to, but it'll mellow out once you toss everything together.
Refrigerate for about 15-30 minutes before serving. Usually I refrigerate it while I finish making dinner so it's nice and cold when ready.
Making Green Onion Salad Ahead Of Time
Although making this green onion salad recipe is easy, the prep can be a little labor intensive with all of the dicing.
Luckily, you can make it ahead of time! I do this often when I have family visiting so I don't have to worry about it when they arrive.
For best results, serve your onion salad within 24-48 hours of making (although I've eaten leftovers later in the week).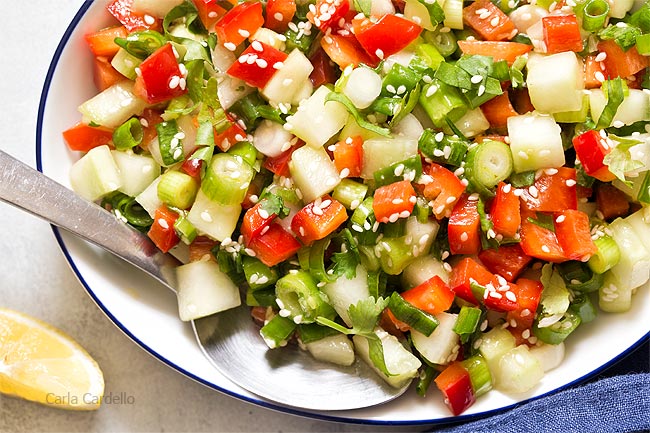 What To Serve With Green Onion Salad

Now that you have your easy side dish, what do you make for dinner? Here are some of my favorite recipes to serve with your green onion salad recipe: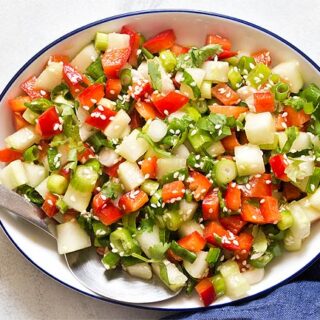 Green Onion Salad
This Green Onion Salad with cucumber and bell pepper then tossed in a lemon ginger vinaigrette is a healthy and easy vegan side dish. Serve it alongside pasta, salmon, roasted chicken, and more.
Ingredients
4 green onions, sliced
1 cup diced cucumber (peeled and deseeded)
1 cup diced sweet bell pepper (any color)
2 tablespoons chopped cilantro
1 tablespoon sesame seeds
Dressing
2 1/2 tablespoons olive oil
2 tablespoons ginger paste or freshly grated ginger
2 tablespoons fresh lemon juice
1/4 teaspoon kosher salt (may need less if using table salt)
Instructions
In a large mixing bowl, add green onion, cucumber, bell pepper, cilantro, and sesame seeds.
In a small bowl or mason jar, whisk together the olive oil, ginger, lemon juice, and salt. Taste and adjust. It should taste a bit salty as it'll season the entire salad.
Add the dressing to the vegetables then mix until coated. Refrigerate for at least 15 minutes before serving. Store in the refrigerator for up to 1 week.
Recommended Products
As an Amazon Associate and member of other affiliate programs, I earn from qualifying purchases.