Haluski (Cabbage and Noodles) is a Polish dish with buttery egg noodles and fried cabbage often served during Lent and is the perfect recipe to use up leftover cabbage. Very popular in Pittsburgh!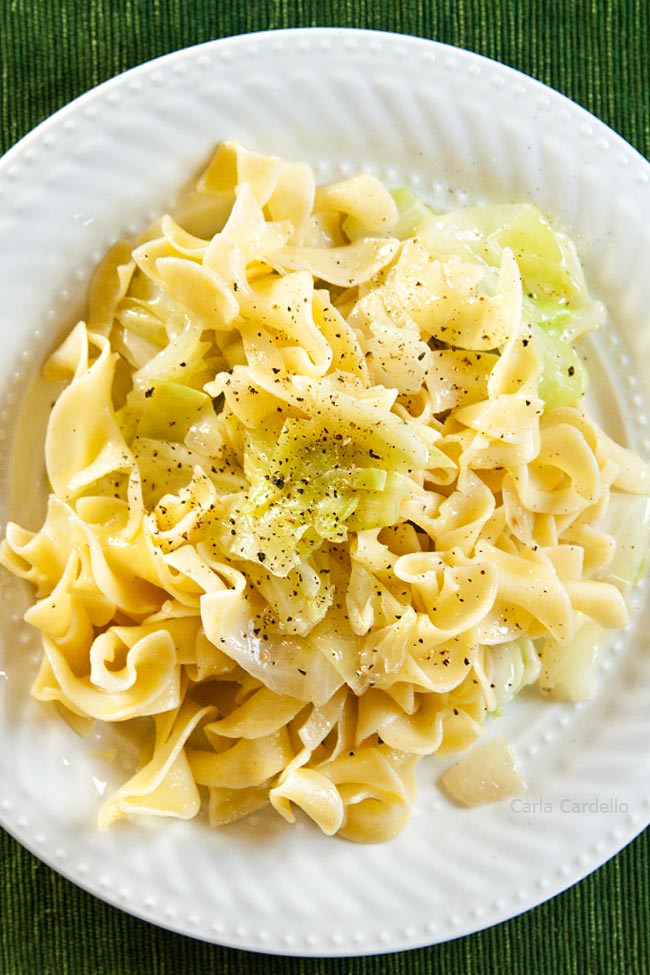 Are you familiar with haluski? Is it a Pittsburgh thing or something? I know you're expecting dessert, but I have a problem.
When I lived in south central PA, nobody knew what it was. It kills me because it's one of the easiest meals you can throw together.
Haluski is a cabbage and noodles recipe I've eaten at least once a month growing up. You always find it as a side to fish fries during Lent.
I made a big batch of it and brought it to lunch so I could educate my coworkers. They all asked for the haluski recipe, so it's probably safe to say it was a huge success.
Fast forward to today, I make this cabbage and noodles at least 1-2 times a month when cabbage is in season, which is usually late fall until early spring.
This recipe for haluski is the easiest dinner you can make with only 4 ingredients. Saute your cabbage and onion in butter while the noodles are cooking. Before you know it, dinner is ready.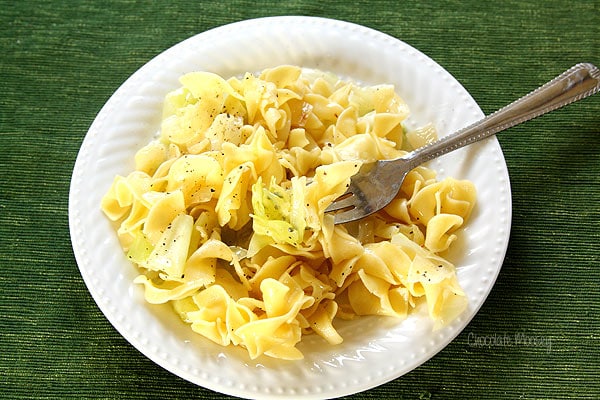 What is haluski?
Haluski is egg noodles tossed with sauteed cabbage, onions, and butter. It's one of those dishes I request from my mom when I visit for dinner.
I also order it when I go to fish fries for Lent. If they don't serve haluski, I won't eat there.
Ironically, nobody in my family is Polish. I guess it's just something us Pittsburghers eat all the time regardless of ethnicity.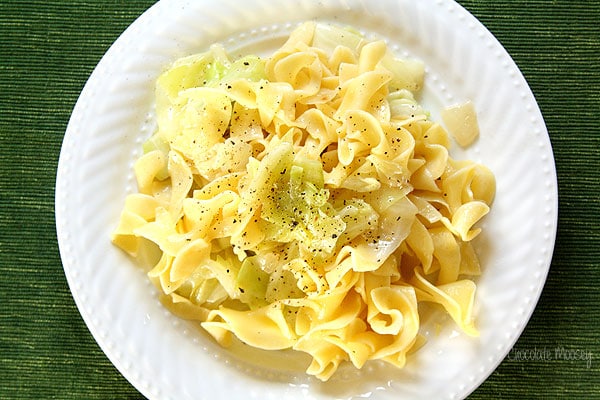 What is the origin of haluski?
Growing up, I've always known haluski to be a Polish dish.
However, as you can read in the comments below this post, a lot of Eastern European countries and even the Pennsylvania Dutch have their version.
Got your own story to tell? Share it with me in the comment section!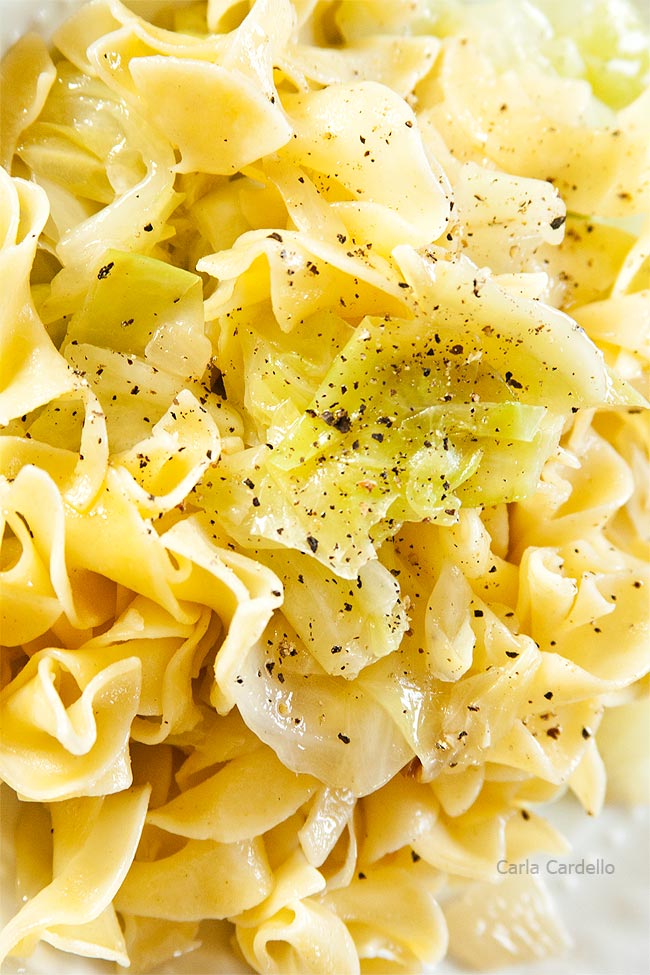 Ingredients For Haluski
This haluski recipe is made up of 4 easy ingredients:
Egg noodles: Traditionally haluski is made with homemade egg noodles, which has more of a homey feel to it. However, I rarely make my own pasta so I buy wide egg noodles.
Butter: The sauce to cabbage and noodles is lots of butter.
Onion: It adds another layer of flavor to the cabbage.
Green cabbage: It's not haluski without the cabbage! I only call for 1 pound, so look for the smallest head of cabbage. Chances are you'll have leftovers, so you can make haluski again or save it for another meal.
Salt and pepper: For seasoning
Some recipes call for cooking bacon directly in the pan then frying the cabbage and onion in the bacon fat.
My mom never did that, but feel free to add it!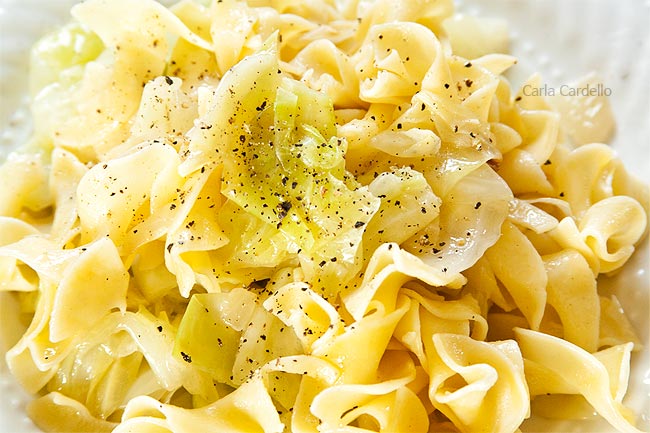 How To Cut Cabbage
Not sure how to chop cabbage? I wrote a separate guide with step by step photos for how to cut cabbage.
Before you begin, make sure your chef's knife is super sharp. A dull knife means you're more likely to slip and cut yourself on such a sturdy vegetable.
To make this recipe for haluski even faster, chop up the whole head of cabbage at once and keep leftovers tightly sealed in the refrigerator.
That way when you're worn out from a long day at work, you can throw things in a pot and have dinner ready in roughly a half hour.
How To Make Haluski
First, bring a large pot of water to a boil. Once boiling, add a big handful of salt then your egg noodles. Cook until al dente, about 10-12 minutes.
While the water is boiling, melt your butter in a Dutch oven or large 12 inch skillet. I like to use a Dutch oven because it gives you more room to stir.
Once melted, sauté your cabbage and onion until caramelized and soft. I start this when I add the noodles to the boiling water. By the time I drain the noodles, the cabbage is done.
Add your noodles to your cabbage mixture and stir together. Add more butter if needed then season with black pepper.
My mom has a habit of putting lots of black pepper on top of things. Normally I'm good without it, but no matter how hard I try I can't eat haluski without black pepper.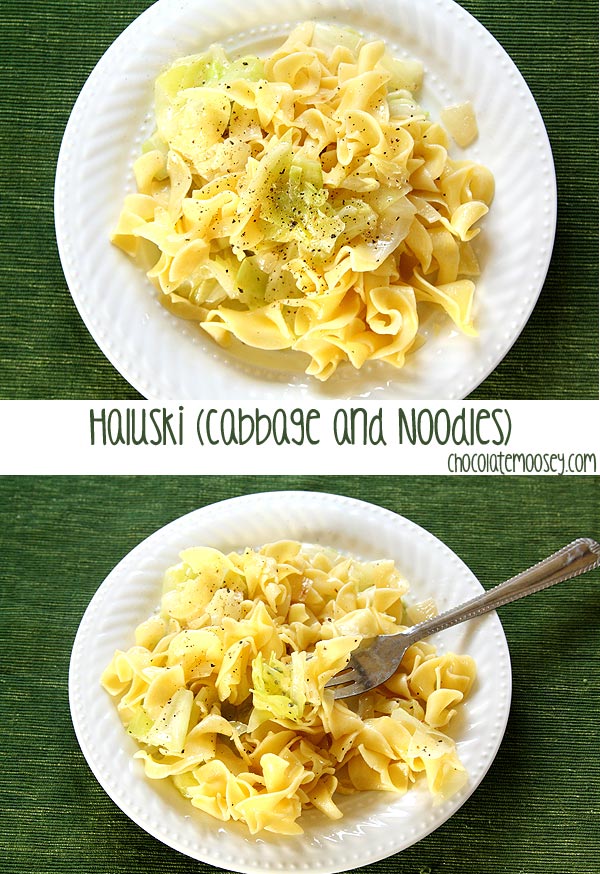 What To Serve With Haluski
I eat noodles and cabbage as a main dish, but others make it as a side. Here are some recipes for serving haluski:
What To Do With Leftover Cabbage

Now that you have enough chopped cabbage to last all week, check out my recipes for what to do with leftover cabbage including: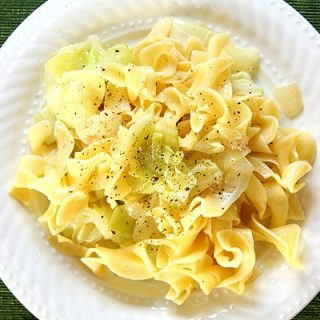 Haluski (Cabbage and Noodles)
Haluski (Cabbage and Noodles) is a Polish dish with buttery egg noodles and fried cabbage often served during Lent and is the perfect recipe to use up leftover cabbage. Very popular in Pittsburgh!
Ingredients
8 ounces uncooked wide egg noodles
6-8 tablespoons unsalted butter
1/2 cup diced white or yellow onion
1 pound green cabbage, chopped (roughly half a head of small cabbage) (learn how to cut cabbage)
Salt and black pepper, to taste
Instructions
Bring a large pot of water to boil. Once boiling, add a handful of salt and egg noodles. Cook according to package directions, about 10-12 minutes. Drain when done.
Meanwhile, in a large Dutch oven or 12 inch large skillet over medium heat, melt 6 tablespoons butter.
Add the onion, cabbage, and a big pinch of salt. Saute for 15-20 minutes or until cabbage is brown and fork tender.
Add the cooked noodles to the cabbage mixture and toss to coat. If it's a little dry, add the remaining 2 tablespoons butter. Season with black pepper and taste to adjust for salt.
Recommended Products
As an Amazon Associate and member of other affiliate programs, I earn from qualifying purchases.
Originally published on August 14, 2012