One Skillet Pasta Primavera
Get your daily serving of vegetables with One Skillet Pasta Primavera with a creamy Parmesan sauce! Customize your dinner by adding chicken, shrimp, and/or your favorite vegetables.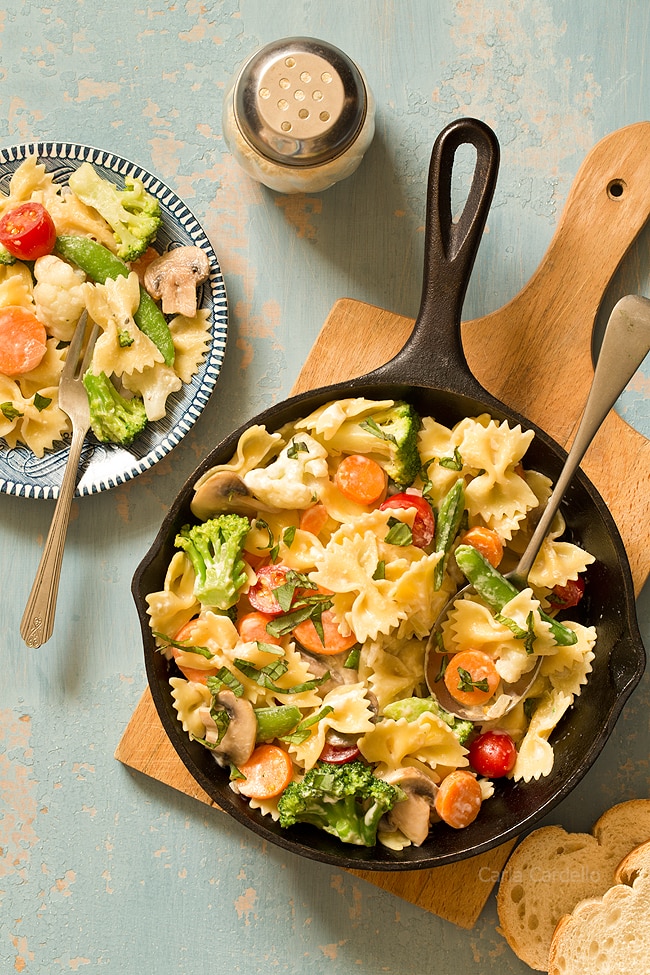 Here it is – the first recipe made in my new (to me) kitchen! Ok it's technically not the *first*meal I made. A frozen pizza was my first meal (no shame) then
maple chicken
. But this is the first recipe I photographed in my new apartment, so there's that.
This is probably an odd time to write about One Skillet Pasta Primavera. First, the name translates into spring pasta. Last I checked, we are nowhere near spring. Second, I didn't use half the vegetables found in traditional pasta primavera. But that's ok. I've been slacking hardcore on eating my vegetables lately with the move, and I've been wanting to eat pasta primavera for awhile now, seasons be damned.
But before I talk about the recipe, there are a few lessons I learned from moving I want to pass along to you:
Don't make ANY plans while you're simultaneously moving. You need all the energy you can get. Trust me – you can't afford to be sick the weekend of moving (like I was).
Hire movers for the furniture. And as suspected, the couch got stuck in the hallway at the new place. That is the second time that couch almost didn't make it. This time it wasn't my problem getting it in. And I made sure to tip the movers because those guys were heroes.
Eat your fruits and vegetables. Moving means you're cleaning out the fridge so you don't want to buy groceries nor do you have the energy (or groceries) to cook, so you eat out. A lot. Remember when I mentioned I got sick? Not only was the room spinning, my stomach felt like crap from all the junk I was eating. When I could finally stand again, I went to the store and bought bananas, juice, and salmon. My stomach started to feel better from all the freshness.
That last point is the reason I've been craving all the vegetables. I won't pretend pasta primavera is healthy because of the creamy Parmesan sauce (although you can lighten it up with half and half), but it's packed FULL of vegetables.
Also – it's made in ONE skillet, which means less dishes to do. It seems impossible considering there's pasta involved, but it's definitely doable to cook everything all in one pan.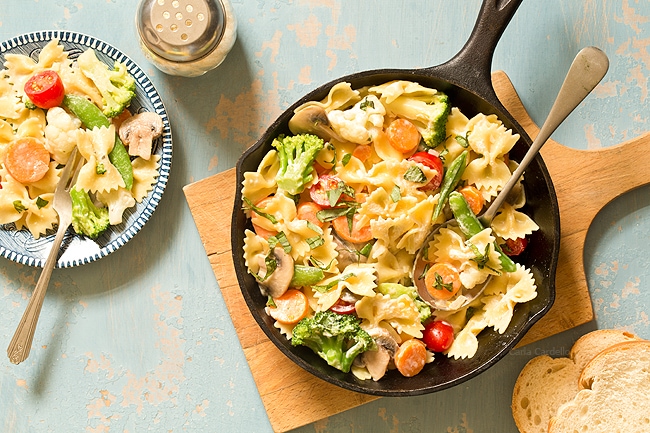 As I mentioned last week, moving really exhausted me. I may be single, but I almost always have weekend plans, whether it's attending a planned event, going on a road trip, or exploring Pittsburgh in general. From January until June I had culinary school on the weekends. It's been awhile since I had a weekend of doing nothing.
My weekends during the move didn't change (in fact I think August became busier than usual), so in addition to my usual weekending, I also had to move and attend to client emails and calls. It shouldn't have been a surprise I got sick the weekend of my move. All of a sudden the room started spinning, and I could barely stand up. The exhaustion and stress caught up to me.
Now I'm mostly settled in (still unpacking the home studio space), it's time to get back on track with dinners. My meal planning has been a big fat zero lately, and as I mentioned I was craving vegetables big time. My first trip to the grocery store was mainly produce.
What's awesome about pasta primavera is you can use almost any vegetable on hand. I used a frozen medley of broccoli, cauliflower, and carrots then added frozen sugar snap peas and fresh tomatoes. You can use fresh versions of those vegetables. Or you can add zucchini and bell pepper. The choice is yours!
You can also add chicken or shrimp for extra protein and use other shapes of pasta, like penne or shells. Just make sure the cooking time is roughly the same (10-13 minutes).
One Skillet Pasta Primavera
Yield: 4 servings
Prep Time: 15 minutes
Cook Time: 30 minutes
Total Time: 45 minutes
Get your daily serving of vegetables with One Skillet Pasta Primavera with a creamy Parmesan sauce! Customize your dinner by adding chicken, shrimp, and/or your favorite vegetables.
Ingredients
1 tablespoon olive oil
1 cup sliced mushrooms
1/2 cup chopped onion
Pinch of salt
1 clove garlic, minced
2 cups frozen broccoli, cauliflower, and carrot medley
1 cup frozen sugar snap peas
3 cups vegetable or chicken broth, room temperature
8 ounces dry farfalle (bow tie) pasta
1/4 cup heavy whipping cream or half-and-half, room temperature
1/4 cup grated Parmesan cheese
1 tablespoon lemon juice
1/2 cup halved grape tomatoes
1 tablespoon fresh chopped basil
Optional Ingredients (see Notes on how to add the following)
Another pasta shape
1 large boneless skinless chicken breast, patted dry, cut into 1/2 inch pieces, and lightly salted
8 ounces shrimp, peeled, deveined, and patted dry
Other vegetables on hand, such as zucchini or bell pepper
Instructions
In a deep 12-inch skillet, heat the oil until hot. Add the mushrooms, onion, and pinch of salt. Cook until softened, about 5 minutes. Add the garlic and cook 1 minute.
Add the broccoli, cauliflower, carrots, and peas. Cover with a lid and cook until hot, about 5 minutes. Transfer the vegetables to a bowl and keep warm.
Add the broth and pasta. Bring to a boil. Boil uncovered until the pasta is al dente, about 10-13 minutes. At this point most of the liquid will be absorbed. There may be a small amount, which will be absorbed as the pasta sits.
Stir in the cream, Parmesan cheese, lemon juice, cooked vegetables, tomatoes, and basil. Remove from the heat and serve immediately.
Notes
If your skillet isn't big enough: You can cook the pasta separately according to package directions then stir into the cooked vegetables. Omit the broth from the recipe.
If using another pasta shape: Use another shape with a similar cooking time, such as penne or shells.
If using chicken: Add the chicken between Steps 1 and 2. Cook until brown, about 3 minutes then flip and cook until the chicken is fully cooked, another 3-5 minutes. Transfer to a bowl and keep warm. Continue with Step 2.
If using shrimp: Add the shrimp between Steps 1 and 2. Cook 2-3 minutes then flip and cook another 2-3 minutes or until the shrimp are pink and no longer transparent. Transfer to a bowl and keep warm. Continue with Step 2.
If using other vegetables: Sauteing fresh vegetables without a lid should be sufficient enough to cook them. I use a lid to help speed up cooking frozen vegetables.
This post may contain affiliate links. As an Amazon Associate and member of other affiliate programs, I earn from qualifying purchase.