Slow Cooker Gyro Rice Bowls
Whether you pronounce it jy-roh or yee-roh, one bite of these small scale Slow Cooker Gyro Rice Bowls with homemade tzatziki sauce will transport you to Greece. Recipe makes 4 servings, enough to realistically feed 1-2 people.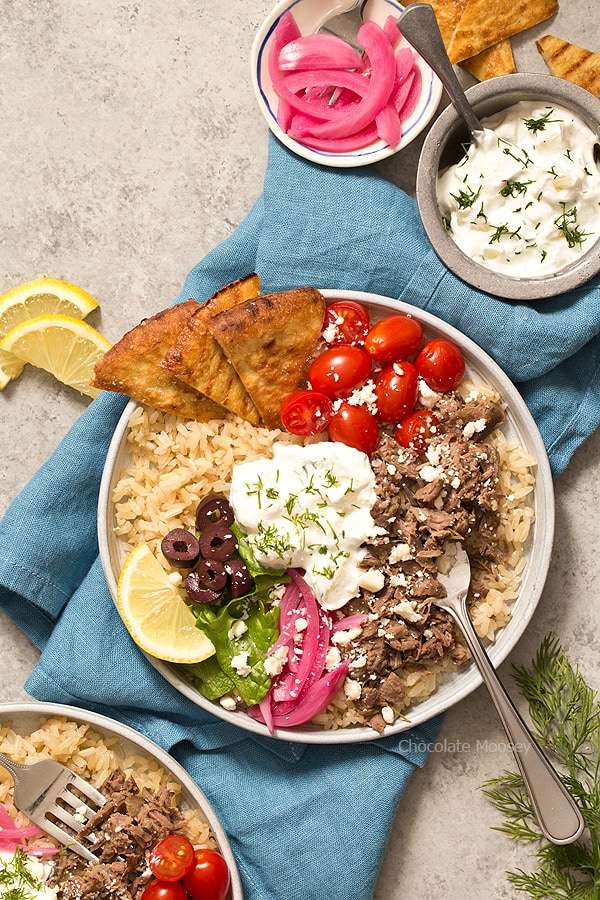 How do you pronounce gyro? Here in Pittsburgh we say jy-roh even though the authentic Greek pronunciation is yee-roh. Everything's great until you travel out of town and left standing in a long gyro line wondering "ok exactly how do I say gyro so I can order one without looking like an idiot?" Since they sold only gyros, I got away by saying "one, please". Problem solved (until next time).
I wanted to make another slow cooker recipe but was stuck on ideas. I was telling my friend about this dilemma when she blurted out without hesitation "gyro bowls!" Apparently a Greek restaurant near her makes these rice bowls topped with everything you'd find in a gyro. I love gyros so much, I ran with the idea and made these Slow Cooker Gyro Rice Bowls topped with everything you love about Greek food – shredded lamb, tomatoes, pickled red onion (or raw), lettuce, kalamata olives, feta, and homemade pita chips served over brown rice. Or as chefs on cooking challenge shows often say, I made deconstructed gyros.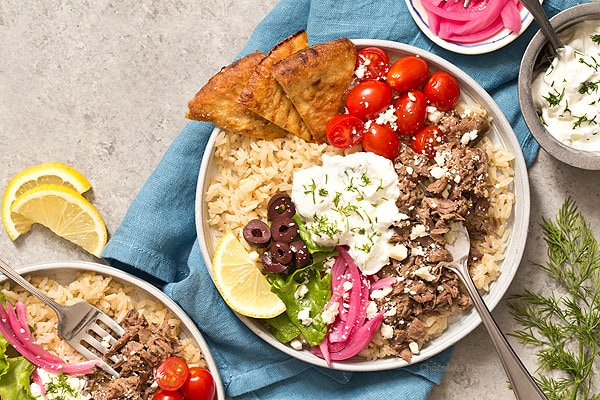 Gyros are Greek sandwiches made of thinly sliced meat (usually lamb or beef) that turns on a tall vertical pole called a spit then layered onto pita bread with tomatoes, lettuce, onion, and tzatziki (cucumber yogurt sauce). I've probably been eating gyros since before I can remember because my parents bought (and still buy) gyro kits from the store where they supply you with the meat, pita, and tzatziki.
The biggest challenge for this recipe was figuring out what cut of lamb to buy. As I talked about with my Slow Cooker Salsa Chicken, my biggest peeve is most slow cooker recipes make too many servings. I like to keep it around 4 servings for my 6 quart slow cooker – 2 helpings per person or leftovers for lunch the next day. However, when buying a boneless leg of lamb you're usually forced into buying a minimum of 3 pounds, usually more. I knew you could buy a lamb shank, a smaller cut of meat, but I couldn't find any. Finally after checking three grocery stores, I saw butterflied leg of lamb pieces at the Whole Foods counter. I bought two small pieces, equaling about 1 pound of meat total. If you're not as lucky, you can either portion a leg of lamb into future meals (such as my Chipotle Barbecue Lamb Kabobs) or you can substitute a smaller cut of beef, such as chuck roast.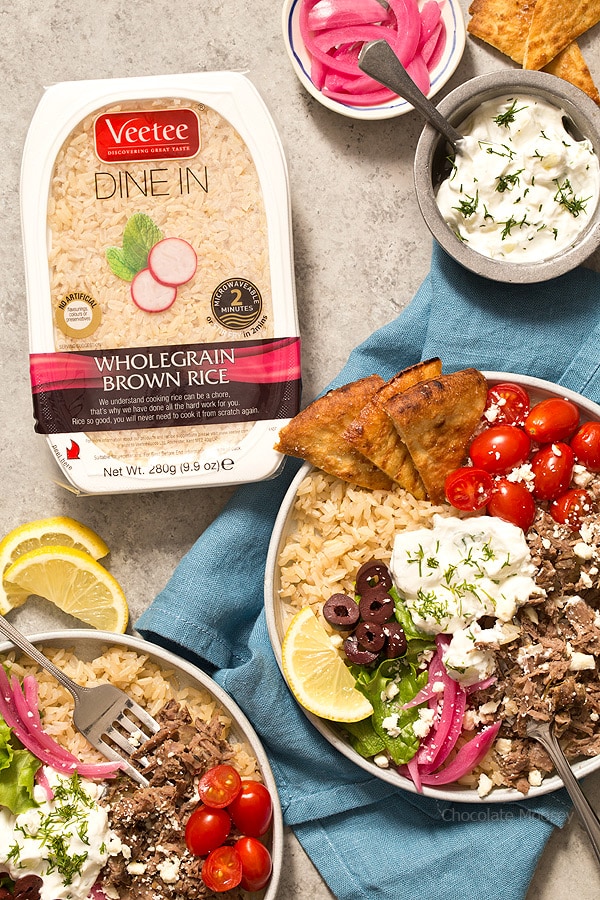 The purpose of using a slow cooker is to have dinner ready after a long, busy day of work without doing anything. The last thing you want to do is wait another 20 minutes to prepare the rice for serving. That's where
Veetee Rice
comes in handy because it's microwavable rice ready in 2 minutes. It's convenient and fast, making it ideal for when you're pressed for time or energy. I used whole grain brown rice for its nutty flavor, but you can also use white long grain rice. Check out their
store locator
to find their products near you.
Slow Cooker Gyro Rice Bowls
Ingredients
1 pound boneless leg of lamb* (see Note)
1/2 teaspoon salt
1/2 teaspoon dried rosemary
1/2 teaspoon dried oregano
1/4 cup chopped onion
1 clove garlic, minced
1/4 cup beef stock or broth
2 trays Veetee Dine-In Whole Grain Brown Rice
Tomatoes, pickled red onion, kalamata olives, lettuce, and feta cheese for serving
Tzatziki Sauce
3/4 cup plain Greek yogurt
1/2 cup chopped cucumber, peeled and seeded
1 teaspoon fresh lemon juice
1 tablespoon fresh chopped dill
1/4 teaspoon garlic powder
Instructions
In a 6-quart slow cooker, add the lamb. Using a spoon or your hands, rub in the salt, rosemary, and oregano on top. Top with onion and garlic. Pour stock/broth over top.
Cover and cook on high for 4-6 hours or on low for 8-10 hours or until lamb is cooked and easily falls apart with a fork.
Shred the lamb with 2 forks. Stir everything together until the juices are absorbed back into the meat (you may need to let this sit for a few minutes before stirring again).
Cook the rice in the microwave according to package directions. Place rice in the bottom of each serving bowl then top with shredded lamb, tomatoes, pickled red onion, olives, lettuce, feta, and tzatziki sauce (recipe below).
For the tzatziki sauce (can be made ahead of time)
In a medium bowl, mix together the yogurt, cucumber, lemon juice, dill, and garlic powder. Refrigerate for at least 1 hour before serving.
Notes
Note about buying meat: My local Whole Foods had butterflied leg of lamb pieces where I could easily buy 1 pound. If you're not as lucky, you can either portion a leg of lamb into future meals or you can substitute a smaller cut of beef, such as chuck roast.
Disclosure: This post is sponsored by Veetee Rice and also contains Amazon affiliate links. Thank you for supporting me and the companies I work with as sponsored posts help pay for the costs of running Chocolate Moosey, including website hosting and groceries for recipe development.
This post may contain affiliate links. As an Amazon Associate and member of other affiliate programs, I earn from qualifying purchase.