Spicy Beer Shrimp (Dinner For Two)
A quick dish of Spicy Beer Shrimp served over rice or a baked sweet potato gets dinner on the table in almost no time.
I'm a baker at heart, but I also love to cook.
Usually you have two groups – either you really really like baking or you really really like cooking. A lot of times I hear "oh well I'm not a baker" or "I'm not a really great cook."
And although I always choose baking over cooking, hey this woman still needs to eat dinner.
That's why I've been featuring more and more savory recipes over the years as this blog grows.
I may never be ready enough to compete on Chopped, but I do know how to make a killer home meal.
The one beauty of cooking is looking in the fridge and coming up with dinner with some ingredients you need to use up – shrimp, beer, tomato paste.
Put them all together (with a few other things) and Spicy Beer Shrimp is born.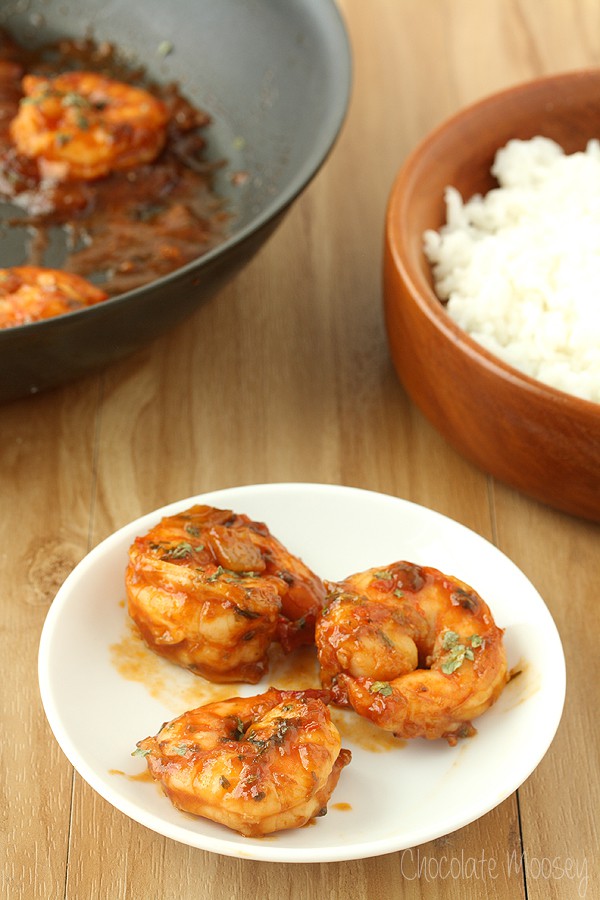 What I love about shrimp is they don't take long at all to cook.
And since you cook them in the sauce in this dish, you can have shrimp ready in under 30 minutes (assuming the shrimp are already peeled and deveined. That's probably the most time consuming part).
Serving with rice and green onion salad turns this into a filling meal.
If you want to stay away from rice, you can serve this shrimp on top of a baked sweet potato.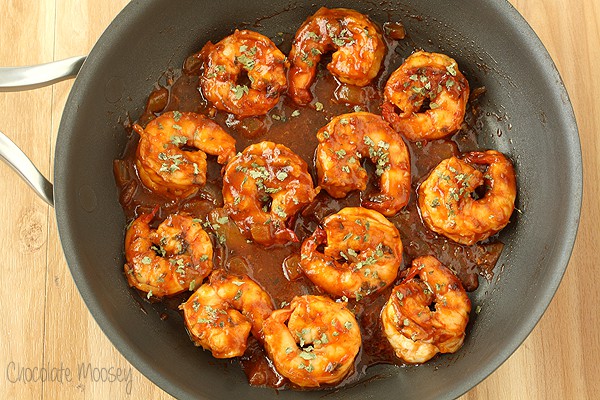 The beer I used in my sauce was a stout beer since I've been making Guinness recipes with it the past month or so.
To achieve the same results as me, use a stout beer. However, most beers will work (nothing fancy like strawberry beer).
The rule of thumb is if you like the beer as drinking beer, then you should like the beer in your cooking.
If you use a cheap beer that you normally wouldn't drink, then you probably won't like it in your cooking.
Spicy Beer Shrimp
Yield: 4 servings
Prep Time: 30 minutes
Cook Time: 20 minutes
Total Time: 50 minutes
A quick dish of Spicy Beer Shrimp served over rice or a baked sweet potato gets dinner on the table in almost no time.
Ingredients
1 tablespoon olive oil
1 tablespoon unsalted butter
1/2 cup chopped white or yellow onion
1 garlic clove, minced
2 tablespoons tomato paste
2/3 cup beer, any flavor (substitute stock/broth for a non-alcoholic version)
1/4 cup sweet chili sauce (homemade or store bought)
1/8 teaspoon cayenne pepper
16 ounces (1 pound) raw shrimp, peeled, deveined, and patted dry
1 tablespoon fresh chopped cilantro
1 tablespoon lime juice
Cooked rice or baked sweet potato, for serving
Instructions
In a large skillet, heat the oil and butter until melted. Add onion and a big pinch of salt. Cook until soft and starting to brown, about 5-8 minutes.
Add the garlic and cook for 1 minute.
Stir in the tomato paste and cook for 30 seconds. Add the beer, sweet chili sauce, and cayenne. Bring to a boil. Boil for 2-3 minutes or until the sauce starts to thicken.
Turn it down to a simmer then add the shrimp in a single layer without crowding the pan. Cook for 3-4 minutes or until pink on the bottom. Flip then cook another 3-4 minutes or until the shrimp is fully pink and cooked through.
Stir in the cilantro and lime juice. Serve over rice or baked sweet potato.
—-
If you enjoyed this Spicy Beer Shrimp, you may also like these recipes:

General Tso's Sweet Chili Shrimp

Asian Shrimp Tacos with Mango Salsa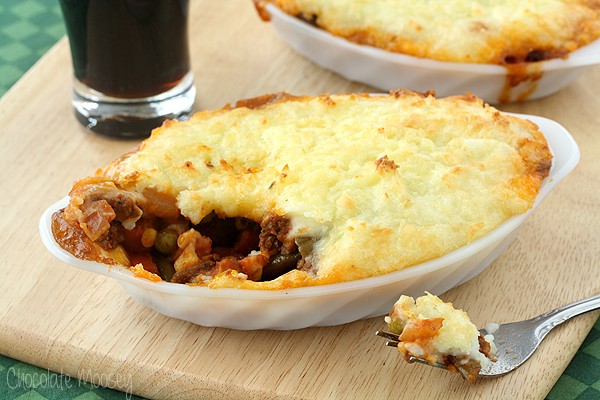 Guinness Shepherd's Pie For Two

Guinness Beef Stew
This post may contain affiliate links. As an Amazon Associate and member of other affiliate programs, I earn from qualifying purchase.