Don't just drink your beer – eat it for dessert with this fudgy Chocolate Stout Pretzel Ice Cream packed full of chocolate covered pretzels and caramel sauce.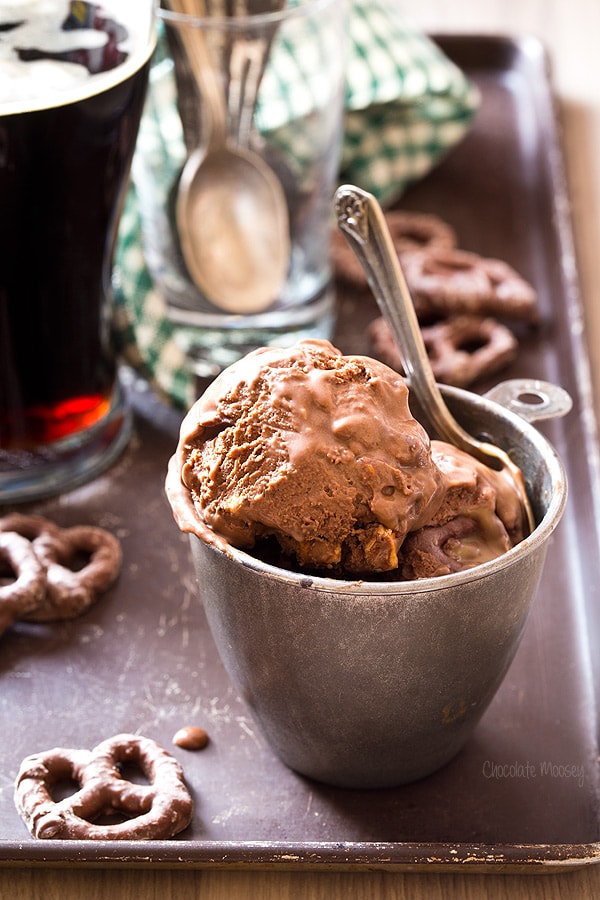 It's been awhile since I used my ice cream maker. It's not that I stopped eating ice cream in the winter but rather haven't been motivated to make any. It's hard to be motivated to make something ice cold when you look outside and shiver at the sight of 6 inches of snow covering your car, knowing you have to spend 5-10 minutes digging out while bracing the below-zero wind chill. Then when the wind blows the snow back into your face, it's over.
With the weather being unusually warm, I wanted ice cream. However, a lot of local ice cream stands are still closed for the winter. Sure, I could buy a pint at the grocery store, but the flavor I wanted isn't one you can buy – Chocolate Stout Pretzel Ice Cream with chocolate covered pretzels and caramel sauce. I've had the idea for this ice cream recipe since St. Patrick's Day last year when I was making my chocolate stout brownies. I knew the combination would make a killer ice cream, especially since I always make my chocolate ice cream on the fudgy side. Then I wanted some crunch in every bite, and since beer and pretzels go hand in hand, I opted for chocolate covered pretzels. To finish it off, I added a generous helping of caramel sauce, just because I can.
Using chocolate covered pretzels helps ensure the pretzels stay crunchy after churning them in with the ice cream. The last thing you want is to bite into a soggy pretzel! The salt of the pretzels balances out the sweetness from the
chocolate
and
caramel sauce
as well as enhances the bitterness of the stout, which also helps balance the sweetness.
Because alcohol doesn't freeze, this chocolate stout ice cream will be softer than normal, but you'll still be able to scoop it. On the plus side, that means you can eat it straight from the freezer and not wait for it to thaw for a few minutes like traditional homemade ice cream.
Bonus recipe: Add a few scoops to a blender, pour in some leftover stout, and enjoy your boozy milkshake.
Items you may need (affiliate links):
Chocolate Stout Pretzel Ice Cream
Total Time:
5 hours
40 minutes
Don't just drink your beer – eat it for dessert with this fudgy Chocolate Stout Pretzel Ice Cream packed full of chocolate covered pretzels and caramel sauce.
Ingredients
1 cup heavy whipping cream
1 tablespoon cocoa powder
4 ounces semisweet chocolate, chopped
1/2 cup whole milk
1/3 cup granulated sugar
1/8 teaspoon salt
2 egg yolks, room temperature
1/2 cup stout beer
1/2 teaspoon vanilla
1 1/2 cups chopped chocolate-covered pretzels
1/2 cup caramel sauce (homemade or store bought)
Instructions
In a large saucepan over medium heat, bring 1/2 cup cream and cocoa powder to a boil, whisking often to blend the cocoa. Reduce the heat and simmer for another 30 seconds, whisking constantly.
Remove from the heat and stir in the chocolate until smooth. Stir in the remaining 1/2 cup cream.
Pour the mixture into a large bowl, scraping the pan as much as possible. Place a mesh strainer on top of the bowl.
In the same saucepan over medium heat (no need to clean it), warm the milk, sugar, and salt.
In a separate small bowl, add the egg yolk. Slowly pour some of the warm milk into the yolk, whisking constantly, then scrape it all back into the saucepan.
Continue cooking over medium heat, stirring often, until the mixture thickens and coats the back of a spatula or spoon (170F on a thermometer).
Remove from the heat and pour through the mesh strainer into the chocolate mixture. Stir in the beer and vanilla.
Place the bowl in an ice bath and cool until room temperature. When cool, refrigerate for at least 1 hour or until cold.
Once the ice cream mixture is cold, freeze it in your ice cream maker according to the manufacturer's instructions. During the last few minutes of churning, add the chocolate covered pretzels. Transfer to an airtight container and layer with the caramel sauce. Freeze until firm, roughly 4 hours or overnight.
Recommended Products
As an Amazon Associate and member of other affiliate programs, I earn from qualifying purchases.
Source: Adapted from
The Perfect Scoop
(affiliate link)