Stovetop Guinness Beef Stew For Two
This hearty Stovetop Guinness Beef Stew For Two made with stout beer, potatoes, carrots, and peas is the ideal comfort food cure for the winter blues. Perfect for St. Patrick's Day dinner for two.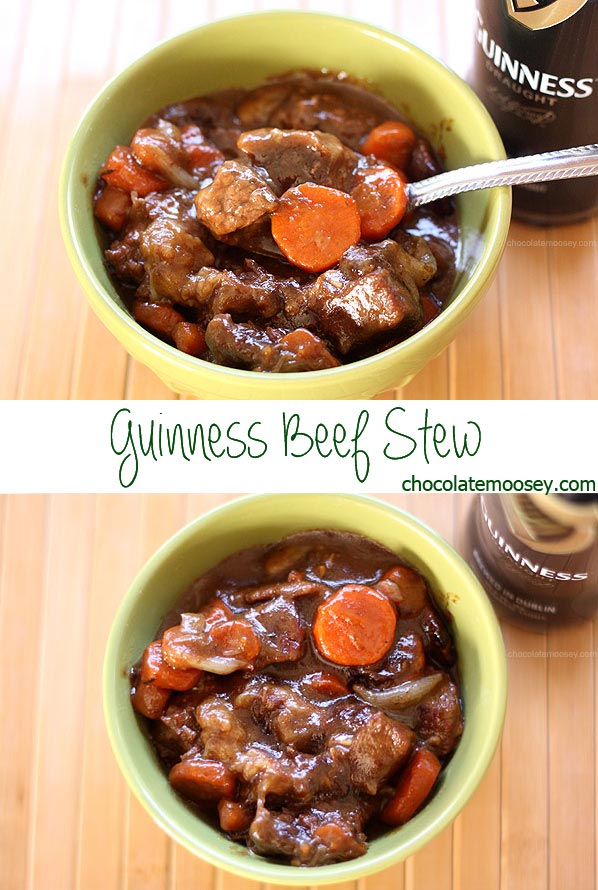 It's been pretty gloomy here in PA. I mean, that's pretty typical for weather here, but it's still hard to deal with sometimes.
As much as I love listening to the rain, I want my sunshine back.
Of course the best way to help cheer any person up is some nice, hearty comfort food.
I've been dying to try this Stovetop Guinness Beef Stew For Two for a long time now, but because it takes a few hours to cook, I can only make it on the weekend when I'm not working.
Most of the cooking time is hands off, so it's great to make while you are doing housework. Just think of it as a reward for vacuuming the carpet.
Stovetop Guinness Beef Stew is a hearty homemade dinner for two made with potatoes, carrots, peas, and stout beer. Because of the Irish beer, it's perfect to serve up with mini Irish Soda Bread or Irish Soda Bread Muffins for St. Patrick's Day.
I updated the recipe since taking the photos, so although I don't show any potatoes or peas, I added both the actual recipe listed below.
How To Make Homemade Beef Stew On The Stove
There is a little bit of work in the beginning with browning the meat, so it's not quite set it and forget it. You don't want to skip this part because browning adds another layer of flavor to your beef.
Without browning, the meat becomes anemic and bland. Please don't skip this part.
Once you finish adding all of the ingredients, you can let it cook on the stove while you're off doing other things. Just don't forget to set a timer!
Want to make beef stew faster? Check out my Instant Pot Beef Stew For Two where using a pressure cooker helps cook the meat faster without sacrificing tenderness.
Even though this is a small batch recipe, you still want to use a large pot or Dutch oven (affiliate link) to ensure there is enough room to cook and stir without overcrowding.
Make sure it has a tight fitting lid because you'll need to cover the pot after you add the beef.
The key to making beef stew tender is by cooking it low and slow. That's why it takes roughly 2 hours to cook because you're waiting for the fat in the meat to break down.
What cut of beef is best for stew?
The best cut of beef for stew is boneless chuck roast because it won't dry out after cooking and is more affordable than a more tender cut. The marbling breaks down during the long cooking process, making the meat fork tender.
I highly recommend cutting a chuck roast yourself. If you buy the pre-cut stew meat, they usually don't have enough fat on them for stew. You definitely need some beautiful marbling for flavor.
Since this recipe is scaled down for two servings, you only need 1/2 pound of meat. However, the smallest chuck roast I could find at the store was 1.5 pounds, which is a lot for 1-2 people!
If your store has a butcher counter, ask them to cut it down for you.
If not, you can divide the meat into 1/2 pound portions when you get home and freeze the rest. That way in the future all you have to do is grab what you need for your next dinner.
What is the best beer for beef stew?
The best beer for beef stew is a stout beer such as Guinness because it is robust and can hold up to the beefiness in the dish.
The beer cooks off in the stew, leaving behind its flavor. You certainly won't get drunk off of this stew as most of the alcohol evaporates, but there still are trace amounts.
If you don't want to consume any beer at all, check out my non-alcoholic Stovetop Beef Stew For Two recipe.
One question I get a lot is can beef stew be frozen? Answer – yes, with some adjustments.
First – If you know ahead of time you're freezing it, you'll want to undercook the carrots and potatoes, about 15-20 minutes instead of 30 minutes. The vegetables in stew tend to be softer after freezing, so undercooking will help with that.
If you didn't plan ahead and freeze it after fully cooking the vegetables, the stew will still be fine. Sometimes I find myself picking out the potatoes if they're too soft, but you'll have to use your best judgment when reheating.
If they're still a bit crunchy after thawing, you can reheat the stew until they're more tender. It's better to cook it more later than to overcook it in the beginning.
Second, because I use cornstarch to thicken it, there's a chance the gravy may separate when reheating.
If you're meal prepping and not eating the stew right away, you can leave out the cornstarch altogether then add it when reheating.
However, if you already ate dinner and want to freeze some leftovers, you can still freeze it with cornstarch.
If the gravy does separate after reheating, you can take some of the separated gravy, whisk it in a separate bowl with cornstarch, then add it back in. That should smooth the sauce again.
Leftover Beer Recipes

Because this recipe doesn't use a whole bottle of beer, you'll have some extra. If you don't drink the rest, here are some recipe ideas using leftover beer:
Stovetop Guinness Beef Stew For Two
Yield: 4 servings
Prep Time: 30 minutes
Cook Time: 1 hour 30 minutes
Total Time: 2 hours
This hearty Stovetop Guinness Beef Stew For Two made with stout beer, potatoes, carrots, and peas is the ideal comfort food cure for the winter blues. Perfect for St. Patrick's Day dinner for two.
Ingredients
1/2 pound beef chuck roast, cut into 1-inch pieces
Salt and pepper, to taste
1 tablespoon vegetable oil
1 small onion, quartered
4 garlic cloves, peeled
1/2 cup stout beer, such as Guinness
1/2 cup beef broth or stock
1 tablespoon Worcestershire sauce
1 teaspoon brown sugar
2 large carrots, cut into 1-inch pieces
1 large Russet potato, cut into 1-inch pieces
1 sprig thyme + 1 teaspoon fresh thyme leaves
1 bay leaf
1/2 cup fresh or frozen peas
1 tablespoon lemon juice
1 tablespoon cornstarch (optional - see recipe)
1 tablespoon water (optional - see recipe)
Instructions
Season the beef on both sides with salt and pepper.
In a large Dutch oven over medium heat, heat oil. Add the beef in a single layer and cook until brown, about 3–5 minutes. Flip and cook until brown, about 2–3 minutes. Transfer to a bowl and keep warm.
In the same pot, add onion and a big pinch of salt. Cook until softened, about 5 minutes. If the pot is dry, add a little more oil. Add garlic and cook 1 minute.
Gradually stir in beer, beef broth, Worcestershire sauce, brown sugar, and 1/2 teaspoon salt, scraping up any brown bits on the bottom of the pan. Bring to a boil.
Once boiling, turn the heat down to a low simmer. Add the beef and any juices from the bowl, thyme sprig, and bay leaf. Cover and simmer until beef is tender, about 1 hour, stirring occasionally.
Add carrots and potatoes. Cover and cook 30 minutes or until the vegetables are tender.
Stir in peas and thyme leaves. Cook until the peas are hot, about 1 minute. Remove the thyme sprig and bay leaf.
Optional - If there's still liquid left in your pot: Mix together cornstarch and water until smooth. Stir into the pot then bring to a simmer. Cook until thickened, about 3 minutes. Let cool for 10 minutes before serving.
Recommended Products
As an Amazon Associate and member of other affiliate programs, I earn from qualifying purchases.
Source: Adapted from
Irish Pub Cooking
(Amazon affiliate link)
This post may contain affiliate links. As an Amazon Associate and member of other affiliate programs, I earn from qualifying purchase.