Nutella Ice Cream (Eggless, No Cook)
Nutella Ice Cream is a rich chocolaty eggless ice cream made in a blender. No cook homemade ice cream made with only 5 ingredients.
If I had to choose my favorite type of dessert in the whole world, it would be ice cream.
Every time I travel, I make sure to stop for ice cream at least once each day of the trip. Sometimes I'll stop at two places in one day if I can't narrow down my choices.
It must be homemade by the shop or a local brand they carry. No national names here.
In 2019 I went to NYC specifically for a self-made ice cream tour, hitting 10 spots in 5 days.
I even used to run an ice cream review account, but life got too busy to keep up. There are days I dream of starting it up again, but I know I don't have the time right now.
Locally I hit my favorite spots at least 1-2 times a week. If I'm going to be in a certain area, I'll stop for ice cream.
So it shouldn't be a surprise I have my own collection of homemade small batch ice cream recipes, which all make roughly 1 pint.
After all, this is a small batch blog because I certainly don't need to eat an entire quart of homemade ice cream by myself.
Since my Peanut Butter Ice Cream is one of my favorites, I wanted to share another variation I love: Nutella Ice Cream.
It's an eggless ice cream made with Nutella that doesn't require any cooking. Add everything to a blender then freeze.
That's especially useful if it's 90+F degrees outside and you can't bear to turn on your stove.
Although eggs are a popular ice cream ingredient, this easy Nutella ice cream recipe doesn't need any.
They're often used to make homemade ice cream rich and creamy. Luckily for us, Nutella achieves that same texture without eggs.
Made with only 5 ingredients, this recipe for Nutella ice cream is going to be your new summer favorite.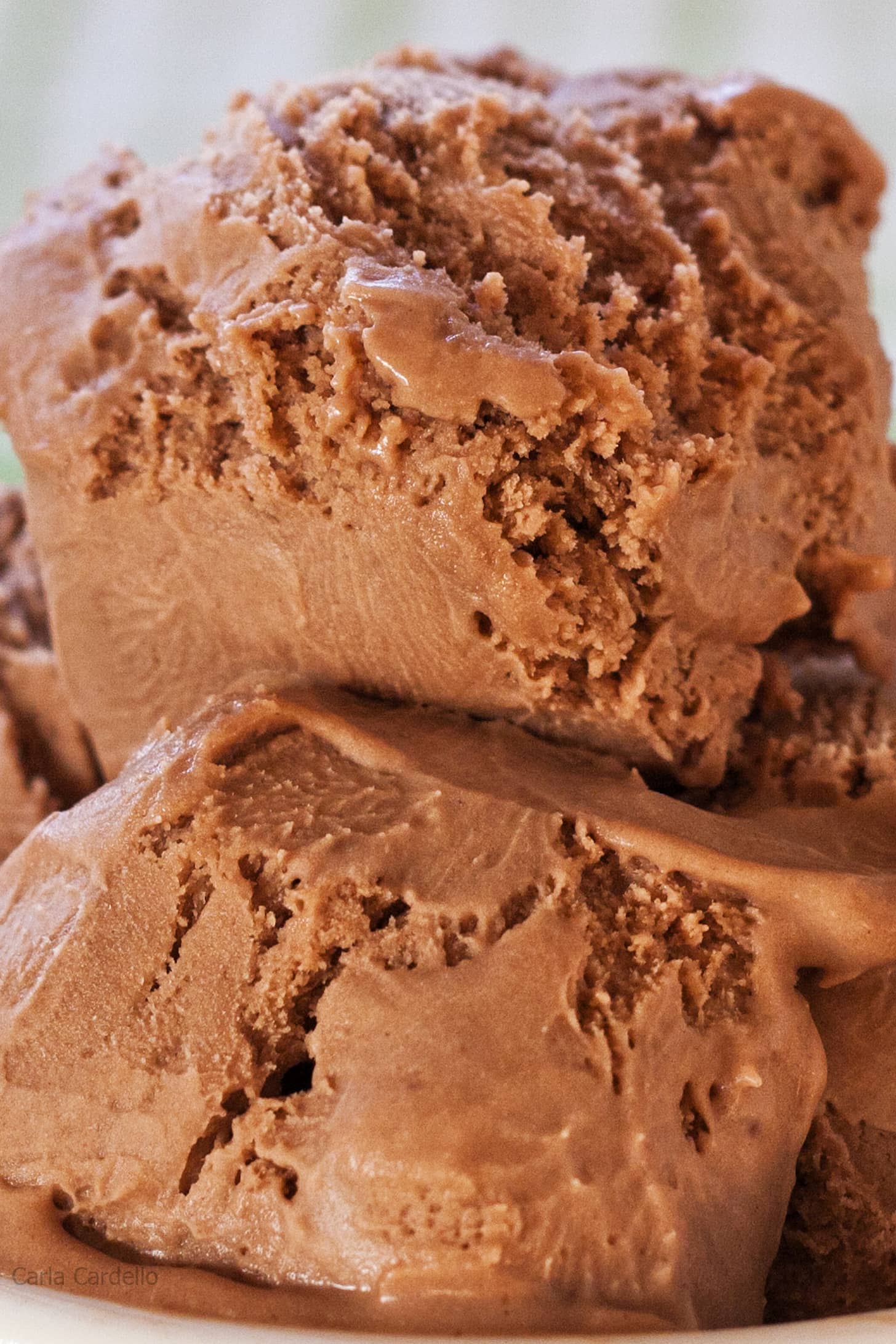 What is Nutella?
Nutella is a chocolate hazelnut spread with a consistency similar to peanut butter. Instead of grinding peanuts, you grind hazelnuts and cocoa.
I remember my first spoonful of Nutella. I was studying abroad in Ireland when one of my housemates shared her jar with me. Where has this been all my life?!
I originally thought it was strictly a European product, so you can imagine how wide my eyes lit up when I found out how common it is in the US.
It's such a huge craze that I've seen regular jars, small jars, mini to-go packets, jars as big as your head.
It's used the same way as peanut butter – on sandwiches, with a spoon, in cookies, in frosting, with a spoon. Pretty much you consume Nutella with a spoon, but it's more fun in ice cream.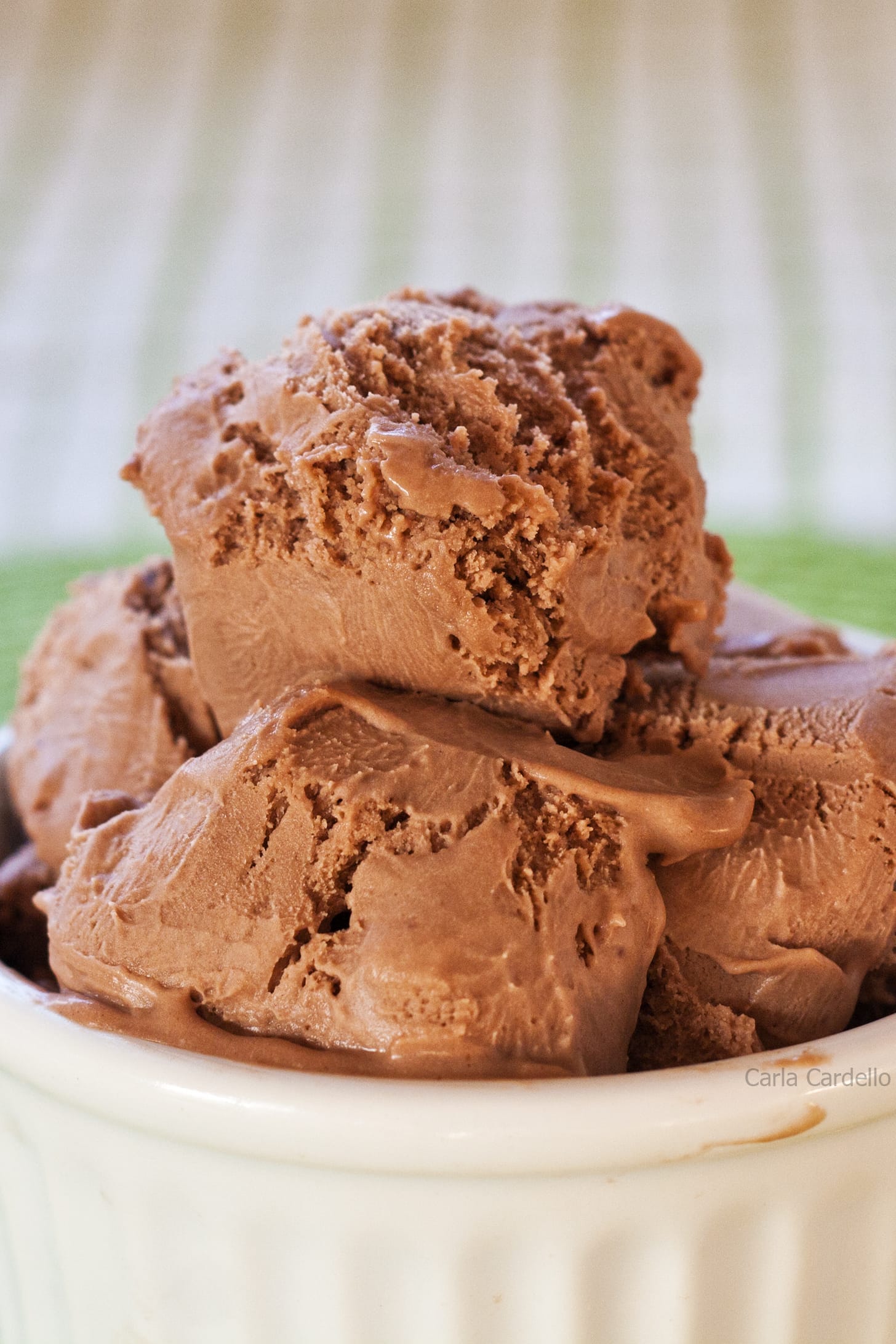 Which ice cream maker should I buy?
The easiest way to churn your Nutella ice cream recipe is with an ice cream maker. I own this 1.5 quart ice cream maker.
Although you can buy smaller models, I like having the option to scale up or down, depending on the occasion. You never know when you might need to make a quart for an ice cream cake or for a party.
Most ice cream models (including the one I use) require you to freeze the canister at least 18-24 hours ahead of time.
This is important because if you churn in a room temperature canister, the ice cream will not be cold enough to freeze. You'll need to plan accordingly (or store your canister in your freezer indefinitely).
Most machines (including mine) tell you it takes 20 minutes to churn. I find most pint recipes take about 15 minutes since there is less mixture to freeze.
At this point you can eat it at the soft serve stage or you can transfer to a container and freeze until scoopable.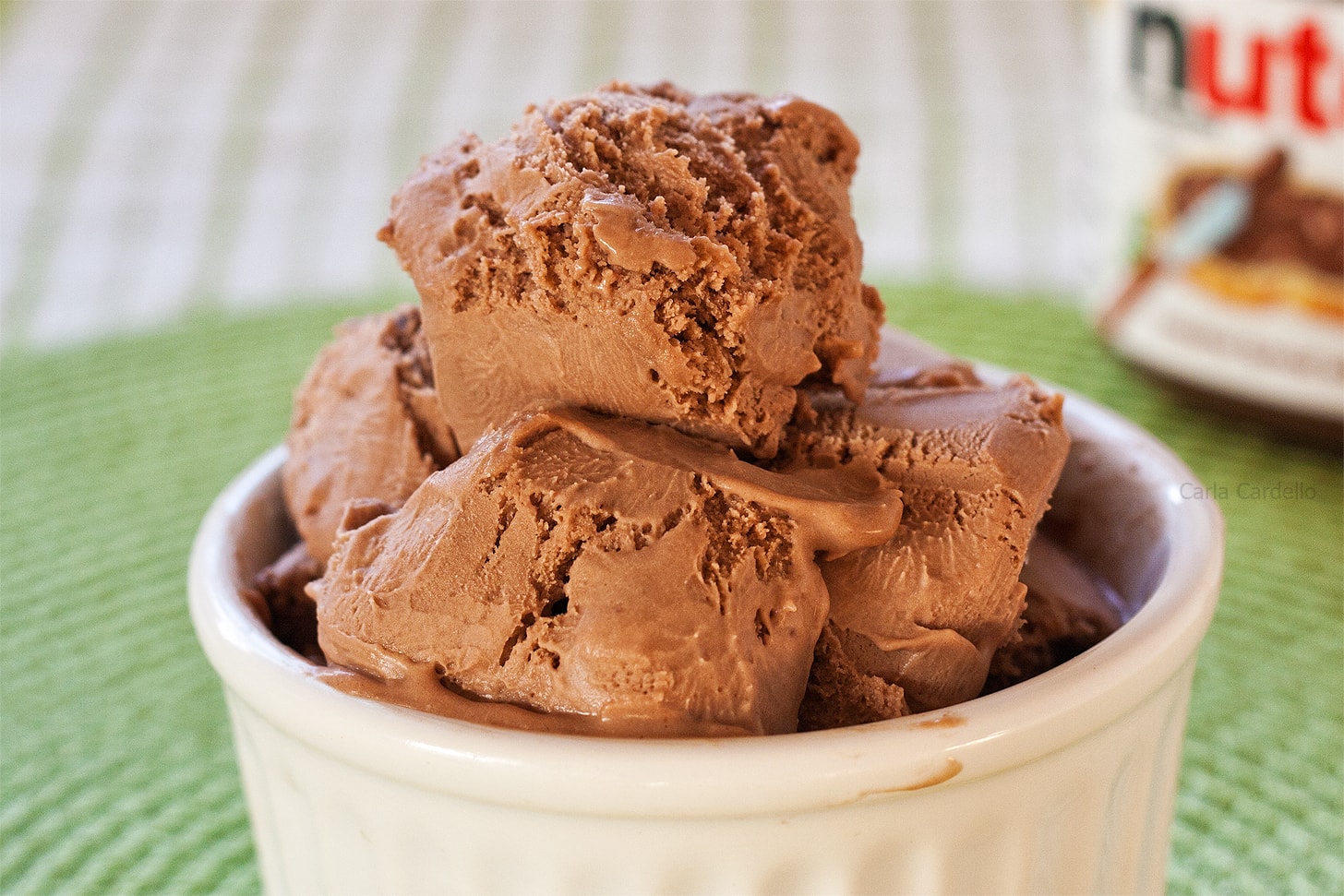 Ingredients For Nutella Ice Cream
To make homemade Nutella ice cream, you'll need the following ingredients:
Nutella: Although you can use any chocolate hazelnut spread, Nutella does taste the best. You can also make homemade Nutella if you're feeling extra ambitious.
Sugar: Although Nutella is sweet on its own, you still need sugar to help lower the freezing point. Otherwise your ice cream is now be an ice block.
Heavy whipping cream: Can't have ice cream without cream! Heavy cream has a high milk fat content, which contributes to the silky smooth texture. Please do not substitute. The lower milk fat you use, the icier your ice cream will be.
Vanilla: Brings out the chocolate flavor. Without it, your ice cream will be one note.
Salt: Also enhances flavor so it's not bland.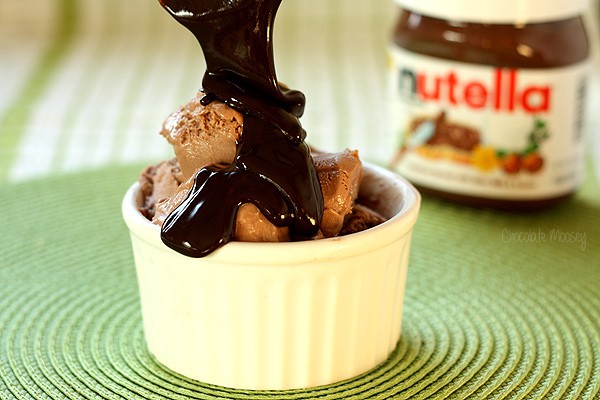 How To Make Nutella Ice Cream
This recipe for Nutella ice cream is so easy to make, it'll take you longer to gather and add your ingredients to the blender than to actually blend it.
Here's how to make it:
Blend together Nutella, sugar, heavy cream, vanilla, and salt until smooth.
Transfer to a bowl and refrigerate until cold, about 1 hour. It's important your mixture is cold before churning or it won't be cold enough to freeze in the machine.
Churn ice cream according to your machine's instructions then transfer to a freezer-safe bowl.
Freeze until firm, about 4 hours or overnight.
Do you need an ice cream maker to make homemade ice cream?

For the longest time, I made ice cream by hand; I didn't have the money (nor the room) for an ice cream maker.

Churning in a machine ensures there are no ice crystals forming while it freezes. Once you understand this reasoning, you'll realize a machine is a luxury, not a necessity.

Of course if you plan on making lots of ice cream, investing in a machine is your best bet.

But if you're only making it once or twice a year, you can certainly make it by hand. It'll require more attention, but it's worth it!

Start by pouring your already-chilled ice cream base into a pan with deep edges (think 8×8 pan).

Every 30 minutes or so, take your ice cream out, whisk to break up ice crystals forming, then set back into the freezer.

Repeat for the next few hours or until your ice cream is mostly solid and becomes too hard to whisk.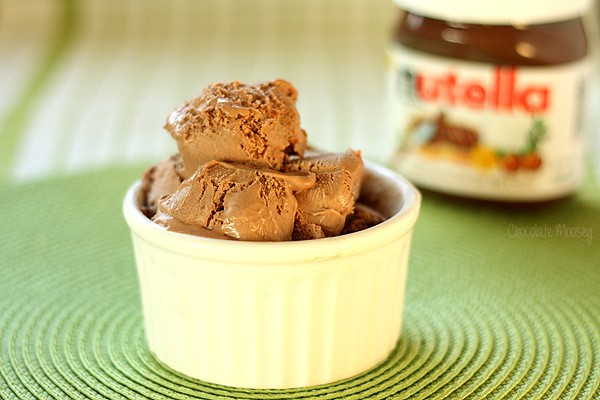 How To Store Homemade Ice Cream
Storing ice cream is just as important as making it because if you don't freeze it properly, your eggless ice cream will have ice crystals forming on the outside and possibly even become freeze burnt.
I use these small round freezer-proof plastic containers, which hold exactly 1 pint of ice cream.
You can easily find them (or something similar) in the storage container aisle of your store. Make sure it says freeze-proof as not all containers are created equal.
You can use other containers, such as specialty ice cream containers (which are more expensive than plastic storage containers but also much cuter), a loaf pan tightly wrapped in plastic wrap, or even a glass baking pan with a lid.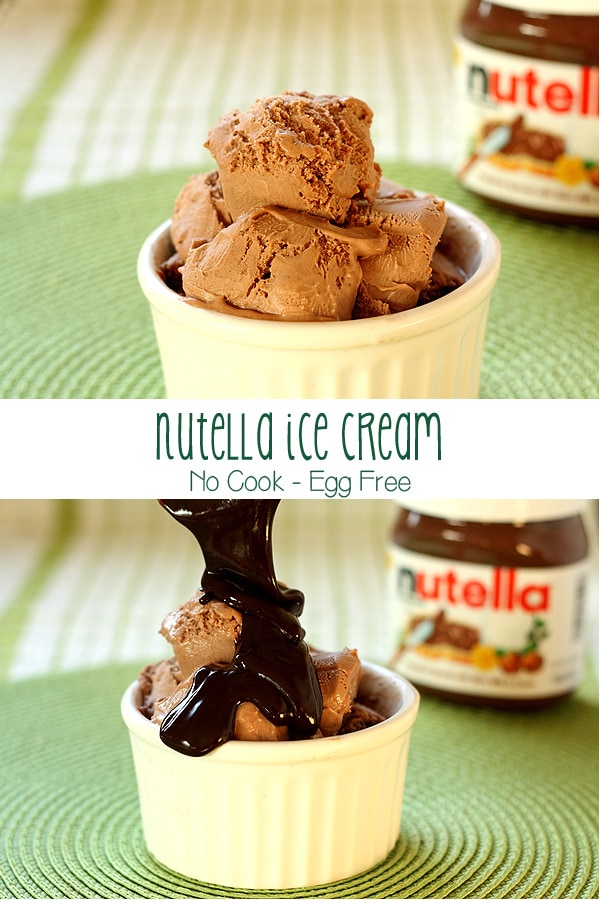 How To Serve Nutella Ice Cream
Your Nutella ice cream can be served perfectly as is, but sometimes you want a little extra.
Pour Nutella sauce or hot fudge sauce on top for a double dose of chocolate.
Or balance your ice cream with some strawberry sauce.
For something a little less sweet, garnish with homemade whipped cream, chocolate whipped cream, or peanut butter whipped cream.
What To Do With Leftover Nutella

Since you won't use a whole jar of Nutella for this no cook ice cream recipe, you'll have leftover. Here are more recipes using Nutella: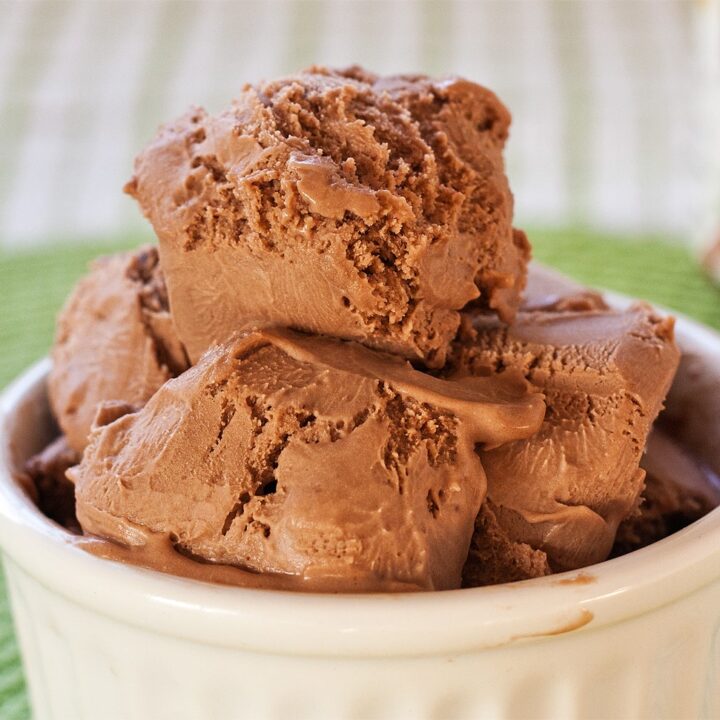 Nutella Ice Cream
Yield: 1 pint
Prep Time: 15 minutes
Freeze Time: 4 hours
Total Time: 4 hours 15 minutes
Nutella Ice Cream is a rich chocolaty eggless ice cream made in a blender. No cook homemade ice cream made with only 5 ingredients.
Ingredients
1/3 cup Nutella
1/4 cup granulated sugar (do not reduce or substitute)
1 + 1/3 cup heavy whipping cream, cold (do not substitute)
1/4 teaspoon vanilla extract
1/8 teaspoon salt (preferably kosher)
Instructions
In a blender on low speed, blend together Nutella, sugar, heavy cream, vanilla, and salt until smooth. Do not use high speed or it may curdle. Transfer to a bowl and refrigerate until cold, about 1 hour.
Churn in an ice cream maker according to the manufacturer's instructions or by hand. Transfer to a freezer-proof airtight container then freeze until firm, about 4 hours or overnight.

Store in the freezer for up to 2 weeks.
Recommended Products
As an Amazon Associate and member of other affiliate programs, I earn from qualifying purchases.
First published September 4, 2012
This post may contain affiliate links. As an Amazon Associate and member of other affiliate programs, I earn from qualifying purchase.