Chocolate Guinness Brownies
These decadent fudgy Chocolate Guinness Brownies are chocolate stout brownies made from scratch with stout beer and topped with an easy chocolate glaze. Whether you make them for St. Patrick's Day or make them all year round, one thing is for sure – you need to make them ASAP.
I always forget how much I love chocolate and
stout beer
together until March rolls around.
Someone remind me why I don't pair chocolate and beer all year long?
They go hand in hand like peanut butter and jelly, salt and pepper, cream and sugar.
For the past several years, I've been wanting to pair them together in these fudgy Chocolate Guinness Brownies, but every year I somehow get distracted.
Not this year. This is the year of the Guinness brownie in all its fine fudgy glory.
We are not going to discuss how many brownies I ate, but I will say I'm glad I gave them away the next day because it would've been too dangerous to keep around.
To make these chocolate stout brownies from scratch even better, I topped them with a thin chocolate glaze so they weren't so naked.
Who wants to eat a naked brownie anyway?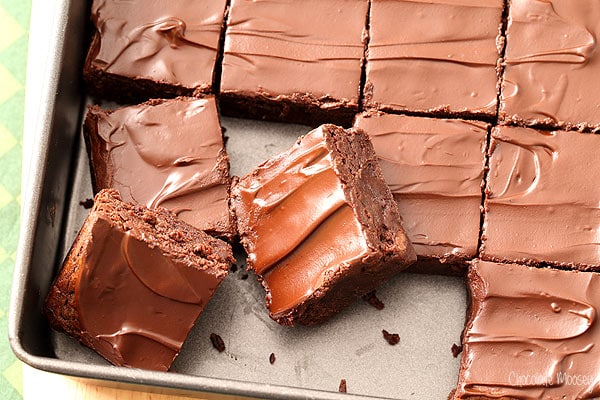 This time of year with
St. Patrick's Day
coming up, I always get "homesick" for Ireland as it's been 8 years since studying abroad in Limerick.
In fact, I just finished up a conversation with a few people about our trips to Ireland. I cannot wait to plan a trip back.
One of the things I regret not doing in Ireland was visiting the Guinness factory. Back then, I wasn't a huge foodie like I am now.
In fact, it was probably the year where I learned how much I really loved being around food as it was the first year I was forced to cook on my own and when I started my blog.
Someday I plan on going back to Ireland to revisit the landscape and to focus on the food scene.
What is stout beer?
Stout beer refers to any dark beer with a smooth body and a heavy, creamy head. Guinness is the most popular stout.
Guinness is my go-to stout beer, but you can also use local stouts too. I know a few breweries in Pittsburgh that make a great stout beer for baking.
How To Make Brownies From Scratch
Making brownies from scratch is SO easy, there's no need to buy brownie mix.
The brownie batter is made all in one pan on the stovetop, meaning less dishes to wash.
First, you melt together the butter and chocolate. Then you whisk in your cocoa powder, sugar, and salt.
It'll look grainy, but this is perfectly fine. Whisk in your egg and vanilla to smooth out the batter then whisk in the beer.
Finally, stir in your flour to thicken the batter.
How To Bake Brownies With Beer
If you're new to baking with alcohol, don't worry – a good bit of the alcohol bakes off, leaving behind the flavor and not so much the effects of drinking alcohol.
That means you won't get drunk from eating these Guinness brownies and can serve them to everyone, including kids.
What can I use instead of beer?
Don't want to use Guinness in your recipe? Substitute an equal amount of coffee. The coffee will still enhance the chocolate flavor.
Don't want to use coffee either? You're better off making my Small Batch Fudge Brownies recipe instead.
This recipe has been developed to compensate for the extra liquid, so simply leaving it out won't work.
How To Substitute For Unsweetened Chocolate
Unsweetened chocolate is chocolate without any sugar added to it (hence the name). This is most definitely something you don't want to eat on its own.
However, it's the perfect base for chocolate desserts because you control the amount of sugar added.
If you don't have any unsweetened baking chocolate in your pantry, you can easily substitute semisweet chocolate. Reduce the sugar down to 1 cup.
If you don't have any baking chocolate at all, you can substitute 6 tablespoons cocoa powder + 2 tablespoons vegetable oil.
How do you check if brownies are done?
Fudge brownies are hard to check for doneness because a toothpick inserted in the center will come out slightly gooey.
You want this slight gooeyness because if your toothpick is clean, you overbaked your brownies.
Visually, your brownies are done with the edges pull away from the sides and the middle no longer looks wet. The center should be dry on top when you lightly touch it.
When in doubt, it's best to underbake your brownies than to overbake them. Overbaking will result in a dry, cakey brownie.
More Guinness Recipes

Since you'll more than likely have beer leftover, here are more recipes using Guinness:
Chocolate Stout Brownies
Yield: 8-10 servings
Prep Time: 15 minutes
Cook Time: 35 minutes
Total Time: 50 minutes
These decadent fudgy Chocolate Guinness Brownies are chocolate stout brownies made from scratch with stout beer and topped with an easy chocolate glaze.
Ingredients
1/2 cup (4 ounces or 8 tablespoons) unsalted butter, cut into 8 pieces
2 ounces unsweetened chocolate, chopped
1/2 cup unsweetened cocoa powder
1 1/4 cups granulated sugar
1/4 teaspoon salt
1 egg, room temperature
1 teaspoon vanilla extract
1/2 cup stout beer, such as Guinness*
1 cup all-purpose flour
1/2 cup semisweet chocolate chips
For the glaze
4 ounces semisweet chocolate, chopped
2 tablespoons (1 ounce) unsalted butter
Instructions
Preheat oven to 350F. Line an 8x8 pan with parchment paper.
In a large saucepan, melt together the butter and unsweetened chocolate.
Remove from the heat and whisk in the cocoa, sugar, and salt (mixture will be grainy - keep going).
Beat in the egg and vanilla then whisk in the beer.
Switch to a rubber spatula then stir in the flour and chocolate chips, being careful not to overwork the batter.
Spread the batter into the pan and bake for 25-30 minutes or the edges pull away from the pan and the middle no longer looks wet. Cool completely.
Once the brownies are cool, make the glaze: In a heatproof bowl over a saucepan of simmering water (do not let the bowl touch the water), melt together the semisweet chocolate and butter until smooth. Spread on top of the brownies and let harden before serving (you can chill in the refrigerator to speed up the process). Store in an airtight container for up to 1 week.
Recommended Products
As an Amazon Associate and member of other affiliate programs, I earn from qualifying purchases.
Source: Adapted from
The Mom 100
This post may contain affiliate links. As an Amazon Associate and member of other affiliate programs, I earn from qualifying purchase.