Mexican Mocha
Coffee meets hot chocolate in this Mexican Mocha recipe! The cinnamon and chili powder give your spicy coffee a nice kick to wake you up when you need it the most.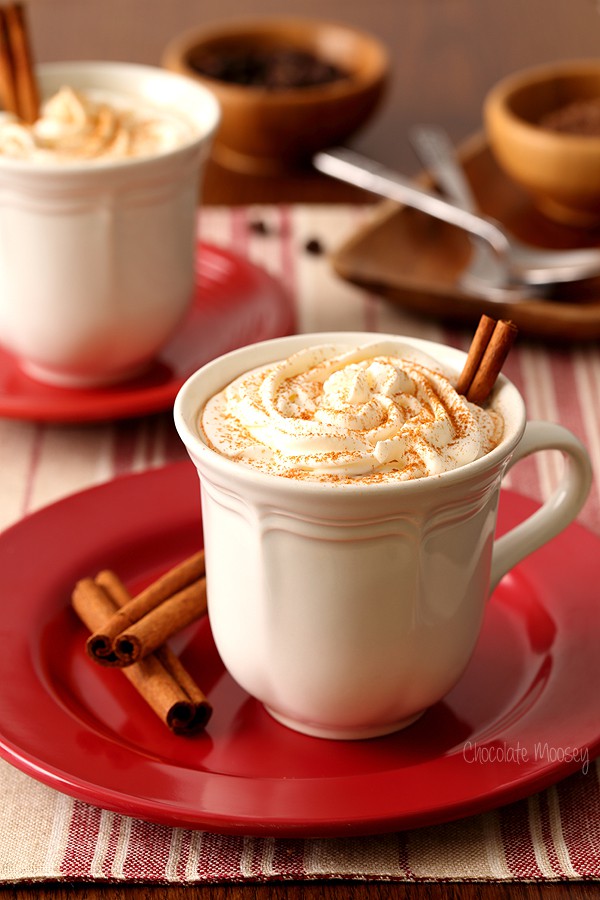 Hi, my name is Carla and I'm addicted to coffee.
Every single morning I have a cup. Some afternoons I have a second cup.
I'm addicted to coffee houses and expensive specialty drinks. I'm addicted to coffee beans and that beautiful coffee aroma.
I'm a coffee snob addicted to lattes and mochas.
Coffee plays a huge role in my life. Meeting a friend? Let's meet for coffee. Traveling on the Turnpike? Better grab a coffee for the drive. Having a bad day? Coffee will fix that.
I love both the taste of coffee and those specialty coffeehouse drinks like Smores Mocha.
It's also a little embarrassing about how much money I spend on coffee. I've invested in a Chemex and a bean grinder, which totally helps, but it also takes time.
Time to grind the beans. Time to warm up the water. Time to fold the filter. Time to clean up.
And although under normal circumstances this makes me sound like I'm a lazy whiner, have you ever made coffee before you were awake? There are times where I need coffee to make coffee.
I have tried to make coffee without water before. Other times without putting the filter in place. My favorite was without the coffee pot. I really do need coffee to function.
Then there are those days where I need an extra cup in the afternoon. Although I prefer plain in the morning, I usually drink flavored in the afternoon.
My latest obsession is making a Mexican Mocha at home. Coffee meets hot chocolate with a bit of spice from cinnamon and chili powder.
Yes, chili powder. It sounds crazy, but I promise it's crazy good.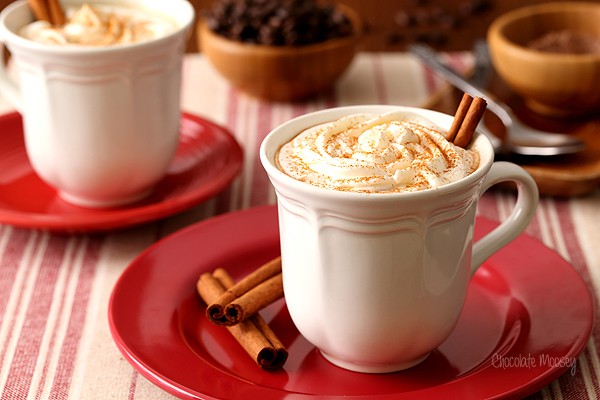 What is a mocha?
Technically speaking, mocha ingredients are espresso, steamed milk, and chocolate syrup, although some coffee shops may opt to use cocoa powder instead.
My Mexican mocha recipe is coffee, regular not-steamed milk, and a cocoa powder mixture.
Even though this spicy coffee isn't a true mocha, let's pretend it is because it sounds much better than Mexican Spiced Chocolate Coffee drink.
What makes a Mexican mocha?
You're probably wondering what makes this recipe a Mexican mocha.
Often Mexican coffee contains cinnamon and chili powder. Although not all Mexican spiced recipes contain chili powder.
"Chili powder?! In coffee?!" You say.
Don't be alarmed! This drink isn't meant to be spicy like my Buffalo chicken wings recipe.
The heat is subtle, a little throat tingling if you will. I personally love it, but if you're still not a fan you can leave out the chili powder.
Can't get enough Mexican spice? Check out my Mexican Hot Chocolate Brownie Cookies and Mexican Marshmallow Sandwich Cookies.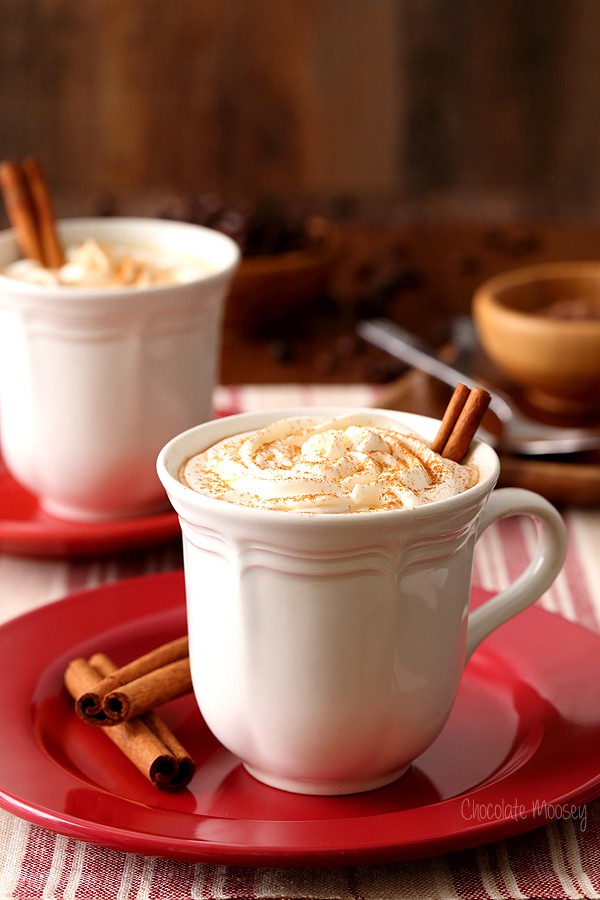 Ingredients for Mexican Mochas
To make your Mexican coffee with cinnamon and chili powder, you'll need the following ingredients:
Powdered sugar: Balances the unsweetened cocoa powder.
Cocoa powder: Adds chocolate flavor without being overly sweet like most syrups.
Cinnamon: Mexican coffee often has cinnamon in it.
Chili powder: I used Aleppo chili powder, but if yours is spicier (or milder), then you may need to play with the amount.
Coffee: Make your coffee any way you want. I personally make pour over coffee, but you can use drip coffee or even a single serve cup machine.
Milk: Any type of milk will work. I personally used whole milk.
Whipped cream: Not necessary, but for a special treat serve your spicy mocha with homemade whipped cream on top.
How To Make Mexican Mocha
Making your Mexican mochas is super easy!
First, mix together your powdered sugar, cocoa powder, cinnamon, and chili powder. Add this to the bottom of your coffee mug.
Next, add your hot coffee and stir until dissolved. Then add your milk.
If desired, top with whipped cream and more cinnamon.
Can you make Mexican Mochas ahead of time?
Yes! Sorta.
As you can see, my Mexican mocha recipe makes a single serving.
However, you can make a large batch of the spicy cocoa mix ahead of time then add a few tablespoons each time you make coffee.
You can even add the cocoa mix to Hot Chocolate For One to make a spicy hot chocolate without coffee.
More Hot Drink Recipes

Loved your Mexican mocha? Check out these other recipes for hot chocolate and coffee: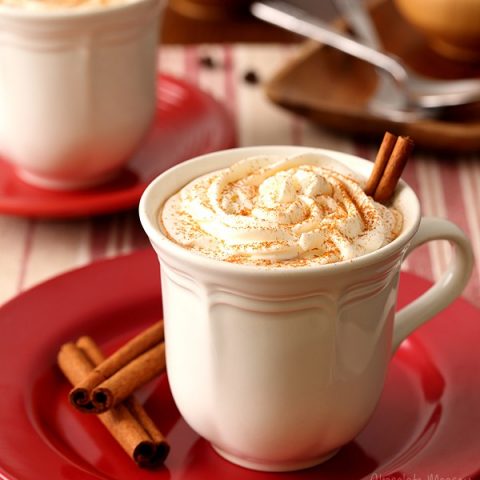 Mexican Mocha
Yield: 1 serving
Prep Time: 5 minutes
Total Time: 5 minutes
Coffee meets hot chocolate in this Mexican Mocha recipe. The cinnamon and chili powder give your spicy coffee a nice kick to wake you up when you need it the most.
Ingredients
2 tablespoons powdered sugar
1 tablespoon unsweetened cocoa powder
1/4 teaspoon ground cinnamon
1/8 - 1/4 teaspoon chili powder (depends on spice level)
1 cup (8 ounces) hot coffee
1/4 cup milk, any preference
Whipped cream, for serving (homemade or store bought)
Instructions
In the bottom of a coffee mug, stir together the powdered sugar, cocoa powder, cinnamon, and chili powder.
Pour in hot coffee and stir until dissolved then stir in milk. Top with whipped cream and sprinkle with cinnamon, if desired.
Originally published November 24, 2014
This post may contain affiliate links. As an Amazon Associate and member of other affiliate programs, I earn from qualifying purchase.