Small Batch Red Velvet Cupcakes with cream cheese frosting are moist and delicious homemade cupcakes from scratch without a cake mix. Recipe makes 6 cupcakes.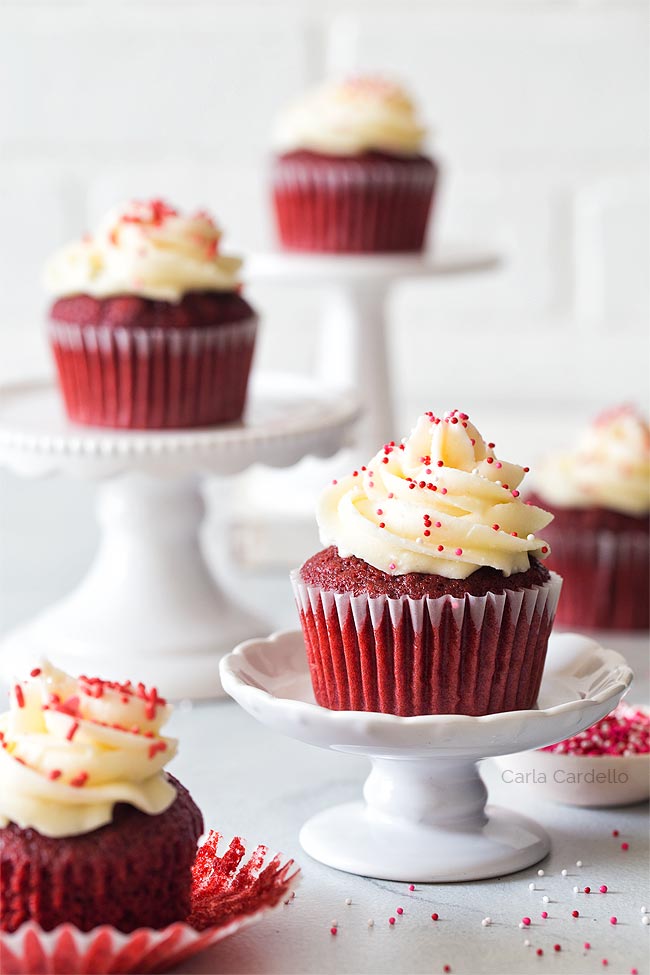 I'm backkkkk! Did you miss me?
I took some time off, but honestly I wish I was more mentally rested. Usually I'd travel somewhere to get away from work, but as you can imagine that wasn't doable.
And let me tell you – it's tough to not work while staying home.
I did make homemade babka for the first time and made a few nice meals. Things I've been too busy to make.
Anyway, I'm back working on more small batch recipes! Today's post is inspired by Valentine's Day coming up.
My 6 inch red velvet cake is so popular, I decided to turn the recipe into Small Batch Red Velvet Cupcakes with cream cheese frosting.
They are moist and delicious cupcakes with a subtle chocolate taste. The small batch cream cheese frosting adds tanginess to balance the sweetness of the cake.
This recipe for red velvet cupcakes makes 6 servings, or 6 cupcakes. Another fine example of small batch cupcakes for you to eat.
Of course this small batch red velvet cupcake recipe isn't restricted to only Valentine's Day, but it's often popular in February due to its red color.
You can also make them green and red for Christmas or all year round for someone's birthday.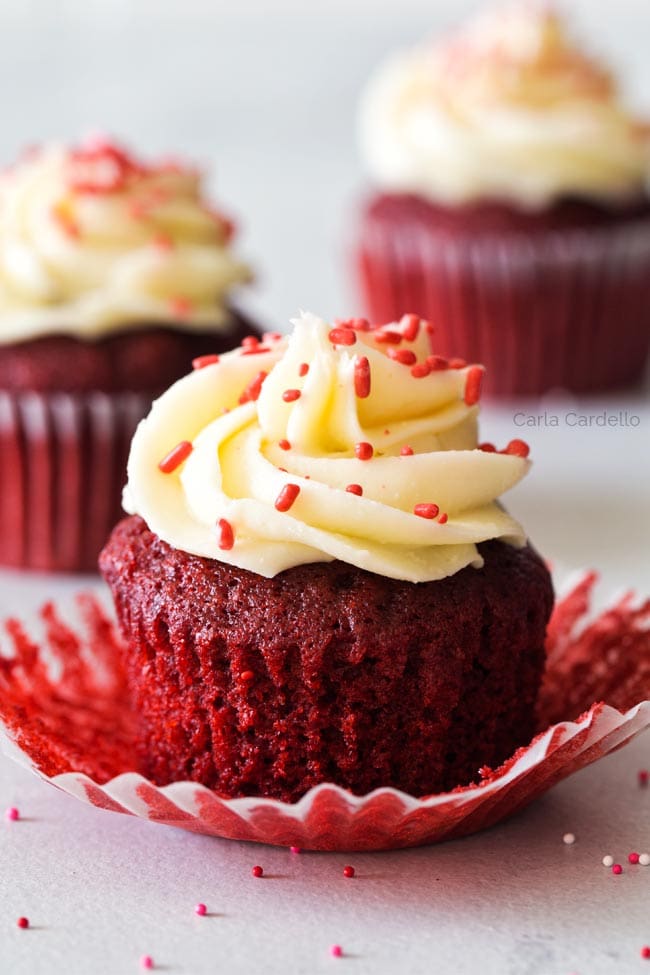 What is red velvet cake?
If you were to google red velvet cupcakes, you'll notice not every recipe is the same.
Some used only butter. Some used only oil. Some used both butter and oil. Some used a lot of cocoa. Some only used a tablespoon. One recipe even used only egg whites.
So what exactly is it?
Red velvet cake is a subtle chocolate cake flavored with buttermilk and vinegar then enhanced in color with red food coloring.
It's not a vanilla cake with red food coloring, yet it's not just a chocolate cake with such a small amount of cocoa powder.
What is the difference between chocolate cake and red velvet cake?
The difference between chocolate cupcakes and red velvet cupcakes is the amount of chocolate used.
Chocolate cupcakes have a deep rich chocolate flavor, thanks to melted chocolate and cocoa powder. The brown color is also too dark for red food coloring to shine through.
Red velvet cupcakes use a small amount of cocoa powder, allowing the red to shine through. It's not meant to be a rich chocolate cake.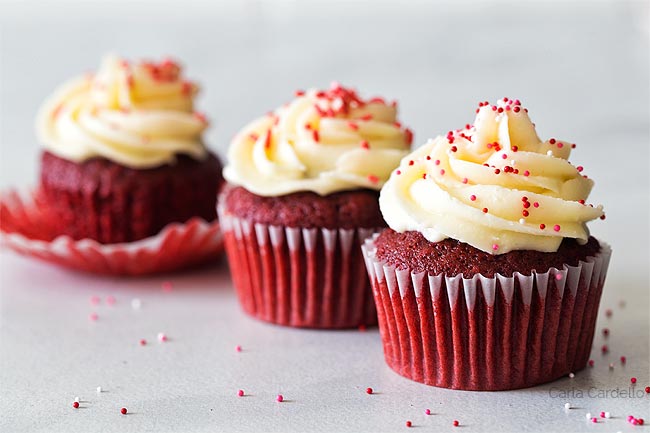 Red Velvet Ingredients
The ingredients that make red velvet cupcakes unique are cocoa powder, buttermilk, vinegar, baking soda, and red food coloring.
The chemical reaction among these ingredients helps give red velvet a natural deep maroon color, which is often enhanced with food coloring.
If you're ever reading a red velvet recipe without those ingredients, run. Don't make it.
For the fat, you want to use a neutral flavored oil such as vegetable oil. Using all oil rather than butter allows the tangy buttermilk flavor to shine while also making a moist cake.
I saw some recipes using butter. However, if you used butter, its flavor would overpower the buttermilk and vinegar.
Red velvet cake also uses whole eggs. I saw one recipe using only egg whites, which is wrong because red velvet cake is not a white cake.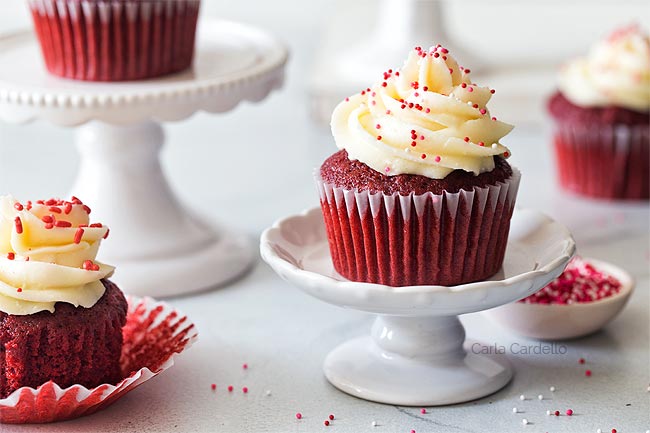 How To Make a Small Batch of Red Velvet Cupcakes
Like most cupcake recipes, first you beat together the fat and sugar. Then you beat in the egg followed by food coloring, vinegar, and vanilla.
Next, you want to alternate adding your dry ingredients with the buttermilk. This method is important.
Adding the buttermilk all at once could saturate the batter, causing it to split.
However, adding all of the dry ingredients at once will thicken the batter greatly and will likely overmix, causing a tough cake.
Add the dry ingredients in three additions while adding the buttermilk in two additions, beginning and ending with the dry ingredients.
Fill your cupcake liners about 2/3 of the way full. They will rise a good bit, so you don't want them too full.
You should also get 6 cupcakes. If you only get 5, chances are you may have filled your liners too full.
How long do you bake small batch cupcakes?
You bake red velvet cupcakes at 350F for about 20 minutes.
It's important your oven temperature is accurate with an external thermometer and not rely on the dial. I highly recommend investing in an oven thermometer. It's inexpensive and will help prevent you from ruining your cake and wasting ingredients.
To tell if your cupcakes are done, insert a toothpick in the center. If it comes out clean, the cake is ready. A few crumbs and dye are ok, but you definitely don't want wet batter.
What can I use instead of buttermilk?
Buttermilk is necessary because its acidity reacts with the baking soda and cocoa powder. If you're going to substitute for buttermilk, you need to make sure its replacement is also acidic.
To substitute for buttermilk, use 1/4 cup whole milk plus 1 teaspoon lemon juice or vinegar. Let sit for 5 minutes until it curdles.
What kind of food coloring should I use?
I used liquid food coloring, the kind you add by the drop.
You can also use gel or paste, but the amount used will vary. The color will bake out a little, so make your batter a little brighter than what you want.
Why did my cake not turn red? I used food coloring!
Some of my international readers outside of the U.S. have mentioned they use red food coloring, but their cake turns out brown.
I don't know the answer without studying the colorings they used, but for comparison purposes I use McCormick red food coloring.
The ingredients are Water, Propylene Glycol, FD&C Reds 40 and 3, and 0.1% Propylparaben (Preservative).
Make sure your food coloring doesn't use natural colorings such as beetroot, which will dull during baking.
How do I get red food coloring off my counter?
Food coloring is messy, leaving stains everywhere including your countertop.
To remove red food coloring, cover the stain with some liquid dish soap. Let sit about 1 minute then use a wet paper towel to remove. Repeat until the stain is gone.
Why are my cupcakes overflowing?
The most challenging part about baking cupcakes is making sure you don't overfill (or underfill) the paper liners before baking.
Too much batter and the cupcakes will overflow, flatten, and sometimes even sink in the middle after cooling.
Too little batter and they won't rise to the top of the liner.
I find with this red velvet cupcake recipe, you want to fill the liners about 2/3 full.
What I do is measure a one big scoop into the bottom of 6 liners then I go back and finish filling each one with the remaining batter.
This helps me distribute the batter more evenly so the last cupcake has just as much batter at the first. I hate when you get to the end and realize you don't have enough batter left.
What kind of frosting do you use for red velvet cupcakes?
Traditionally, you frost red velvet cupcakes with cream cheese frosting.
I published my Small Batch Cream Cheese Frosting in a separate post, which makes just enough to frost 6 cupcakes without leftovers.
Don't want to use cream cheese? Check out my full list of small batch frosting recipes to mix and match.
How To Store Cupcakes
To store unfrosted cupcakes, place them in an airtight container (deep enough so you don't mess up the frosting). Let them sit at room temperature for up to 1 week.
You don't need to refrigerate naked red velvet cupcakes. However, once you add cream cheese frosting you do need to refrigerate them.
Let sit at room temperature for about 15-30 minutes before serving to get rid of the chill.
Can you freeze red velvet cupcakes?
Like with most cakes, yes you can freeze red velvet cupcakes.
To freeze unfrosted cupcakes, place them on a cookie sheet and freeze for an hour. Once firm, wrap each one in plastic wrap then stick in a freeze-safe plastic bag. Freeze for up to 3 months.
If you're worried they'll get squashed in the freezer, you can put the plastic bag in a container to maintain their shape.
How To Freeze Frosted Cupcakes
Although I recommend freezing unfrosted cupcakes, you can also freeze frosted cupcakes.
To freeze frosted cupcakes, place them on a cookie sheet and freeze for an hour. Once firm, place each one in a deep enough container that won't squash the frosting. Freeze for up to 3 months.
How To Thaw Frozen Cupcakes
To thaw frozen cupcakes, place them on a wire rack and let them come to room temperature, about 30 minutes.
More Small Batch Cupcake Recipes

Looking for more recipes for small batch cupcakes? You can check out my full list of small batch cupcake recipes.

Some of my favorites are:

Don't want to make cupcakes? Check out my full list of 6 Inch Cake Recipes.
Equipment You Will Need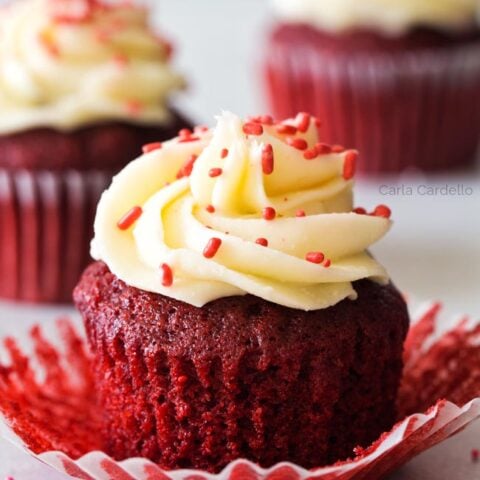 Small Batch Red Velvet Cupcakes
Small Batch Red Velvet Cupcakes with cream cheese frosting are moist and delicious homemade cupcakes from scratch without a cake mix.