Small 6 Inch Cherry Vanilla Layer Cake with a cherry filling in between two layers of vanilla cake from scratch. Made in 6 inch round cake pans.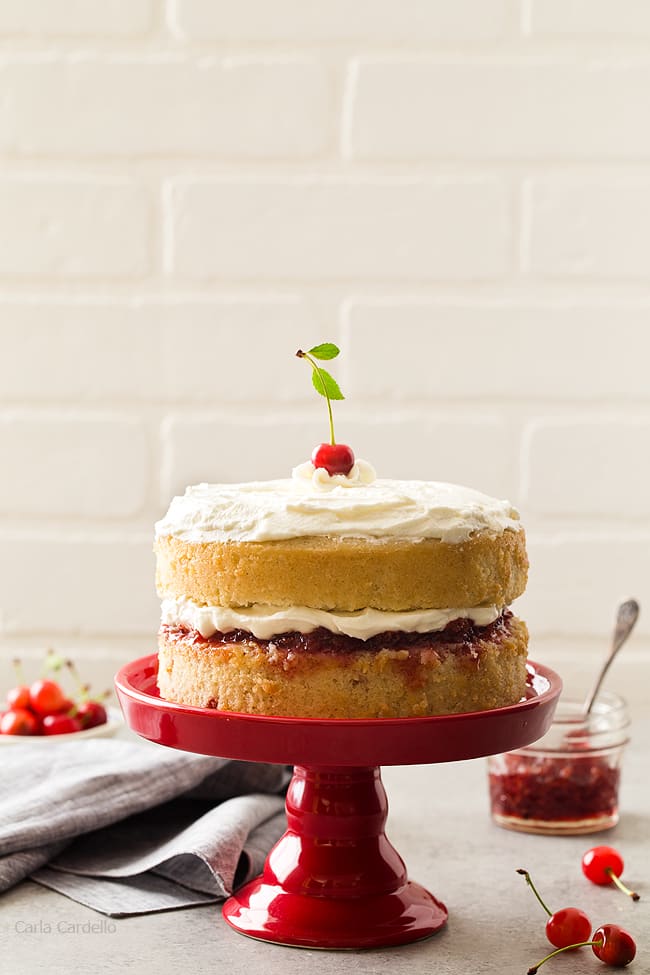 Remember the
sour cherry jam recipe
I posted? It's making another appearance as a cake filling for this Cherry Vanilla Layer Cake. It's a two layer vanilla cake recipe with a homemade sour cherry jam filling in the middle then topped with whipped cream from scratch.
Confession – the main reason I made this vanilla layer cake is to use the red cake stand I bought at Target. Sometimes I buy really cool props but then never use them, so I had to find an excuse #foodstylingproblems
The second reason is because I picked a giant bucket of sour cherries. I first started picking cherries about 5 years ago when I lived in cow country. I spent 4 years in the middle of nowhere for a job, so I had to find ways to keep me busy on the weekends. When I moved back to Pittsburgh, I found a farm about 30 minutes away to continue the tradition.
To come up with this cake recipe, I worked backwards. I knew in order to match my cake stand, the filling had to be red. Hence the cherries. Then I started thinking about cake flavors that pair with cherry. I already have recipes for devil's food and funfetti, so vanilla bean came to mind.
What's different about this cake than my other layer cakes is I finally bought two 6-inch round cake pans. Normally I use 8-inch, but seeing I wanted to focus on smaller serving sizes, a 6 inch layer cake seemed fitting. But don't worry. If all you have are 8 inch pans, I'll tell you how to adjust the recipe (hint – you don't!).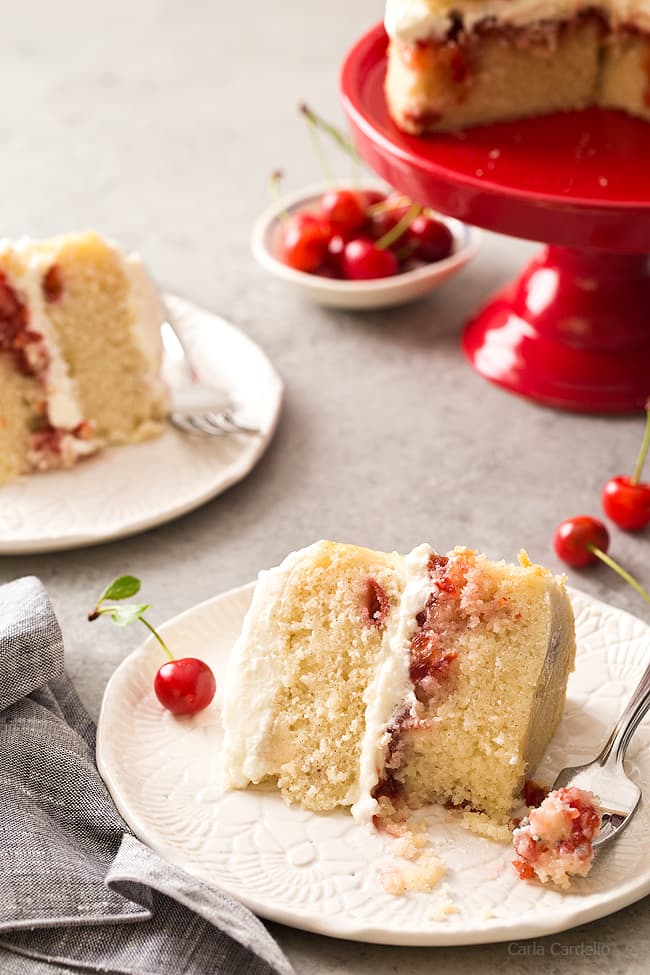 If you're looking to pick sour cherries in your area, start looking early. The season used to be early July, but each year it gets earlier and earlier due to the weather. And they say global warming doesn't exist…
If it's not fresh cherry season or if you don't want to make homemade jam, you can certainly buy a jar from the store. You can even change up the flavors with strawberry jam.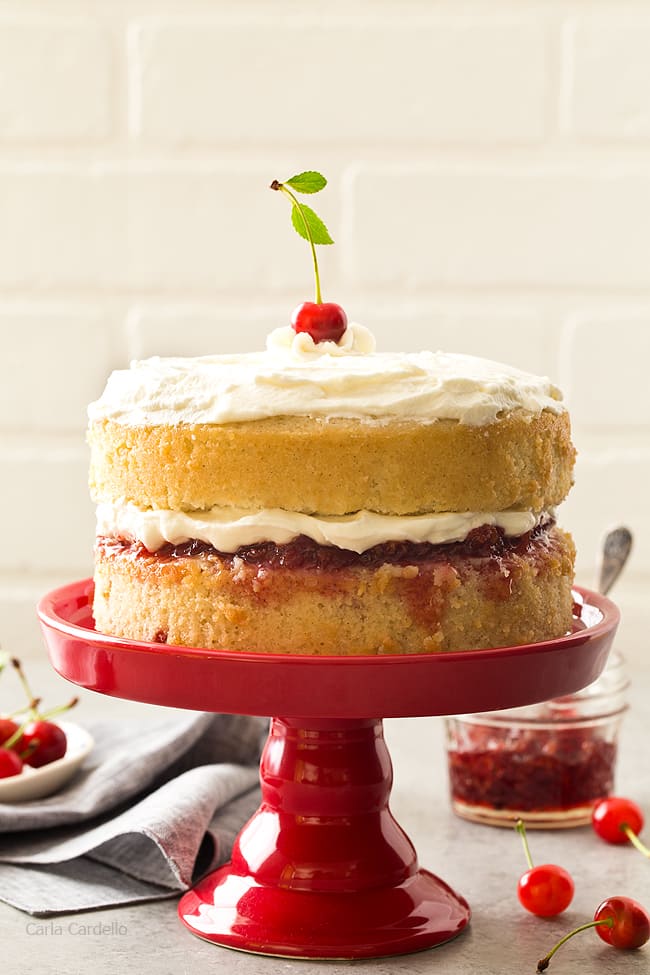 I get asked how to convert cake pans all the time. The good news is during my testing, I accidentally didn't math right and discovered the batter for one 8-inch cake pan that is 1 1/2 inches deep is equivalent to a 6 inch cake pan that is 2 inches deep. That means you don't have to adjust the ingredient list for an 8 inch pan (but only if it's 1 1/2 inches deep. It'll be too thin for 2 inch deep pans).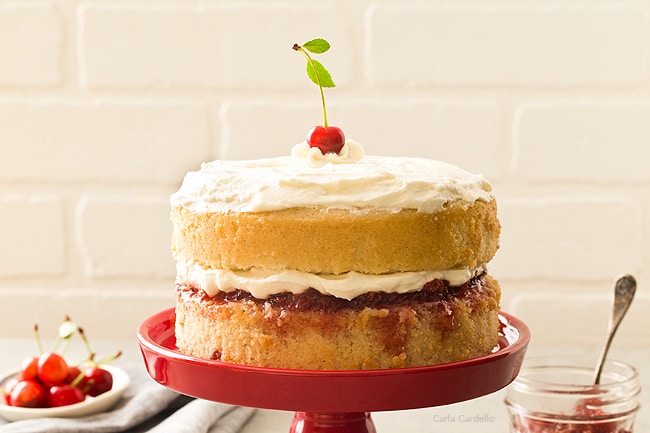 A light frosting seemed fitting for this cake, so I opted for homemade whipped cream rather than a heavy buttercream. Because whipped cream tends to weep (gets liquidy and no longer holds its shape), I added a bit of gelatin to stabilize it. If you're serving the cake right away with no plans for leftovers, you can skip the gelatin. However, if the assembled cake will be around longer than 24 hours, I highly recommend adding the gelatin.
Small 6 Inch Cherry Vanilla Layer Cake
Total Time:
2 hours
30 minutes
Small 6 Inch Cherry Vanilla Layer Cake with a cherry filling in between two layers of vanilla cake from scratch. Made in 6 inch round cake pans.
Ingredients
1/2 cup chopped sour cherries
1 3/4 cup all-purpose flour (when measuring, spoon the flour into the measuring cup and level it off)
1/4 cup cornstarch
2 teaspoons baking powder
1 teaspoon salt
1/2 cup (1 stick or 4 ounces) unsalted butter, softened
1 1/2 cups + 1 teaspoon granulated sugar
4 egg whites, room temperature
2 teaspoons vanilla bean paste or seeds from 1 vanilla bean
1 cup whole milk, room temperature
1 recipe Sour Cherry Jam
2 teaspoons cold water
1/2 teaspoon unflavored powdered gelatin
Double batch of Small Batch Whipped Cream
Instructions
Preheat oven to 350F. Grease two 6-inch wide x 2-inch deep round cake pans and line the bottoms with parchment paper.
In a small bowl, mix together the sour cherries and 1 teaspoon sugar.
In a large bowl, sift together the flour and cornstarch. Stir in the baking powder and salt.
In another large bowl with a mixer on medium speed, beat together the butter and remaining 1 1/2 cups sugar until creamy, 2-3 minutes. Beat in the egg whites, one at a time for 1 minute each, then add the vanilla.
On low speed add the flour mixture alternating with the milk, adding the flour in 3 additions and the milk in 2 additions (begin and end with dry ingredients). Drain the cherries and stir into the batter.
Divide the batter between the two cake pans and bake 30-35 minutes or until the tops are brown and a toothpick inserted in the center comes out clean. Cool for 15 minutes then invert cakes onto cooling racks. Cool completely.
Right before assembling: In a small bowl, add the water. Sprinkle gelatin over top and let sit 5 minutes. Once set, microwave for 10 seconds or until gelatin turns to liquid.
Make a double batch of Homemade Whipped Cream (get directions here), adding the liquid gelatin when you add the sugar.
If the cakes are not flat, trim the tops. Place one cake on a stand or plate. Spread cherry jam on top (you may not use it all). Spread half of the whipped cream on top. Top with the remaining cake. Add the remaining whipped cream.
Store the cake covered in the refrigerator. For best results, let the cake sit at room temperature for 30 minutes before serving.
Recommended Products
As an Amazon Associate and member of other affiliate programs, I earn from qualifying purchases.